5/24/07

After breakfast in the local Georgetown greasy spoon, we headed to points north.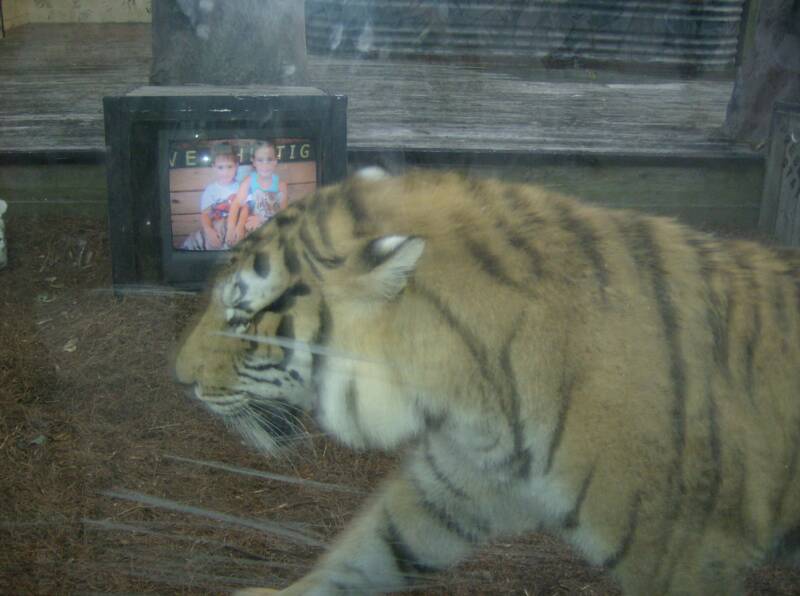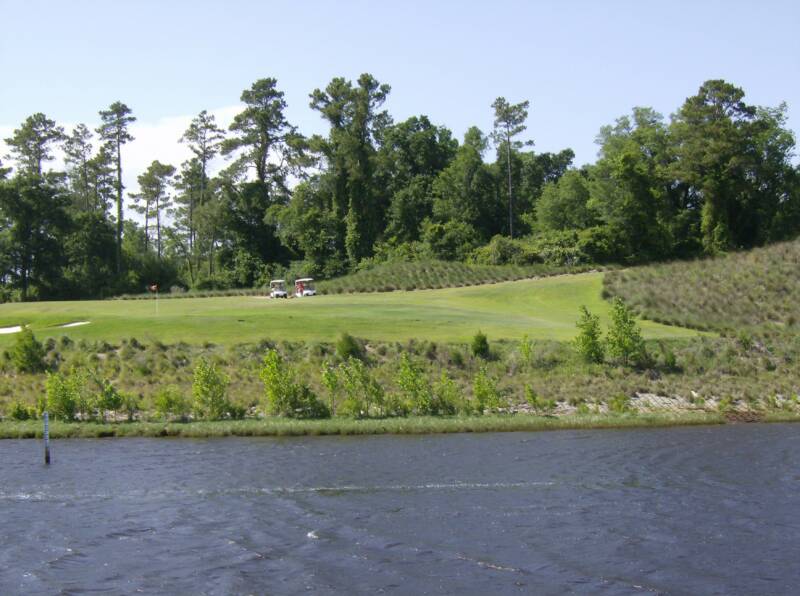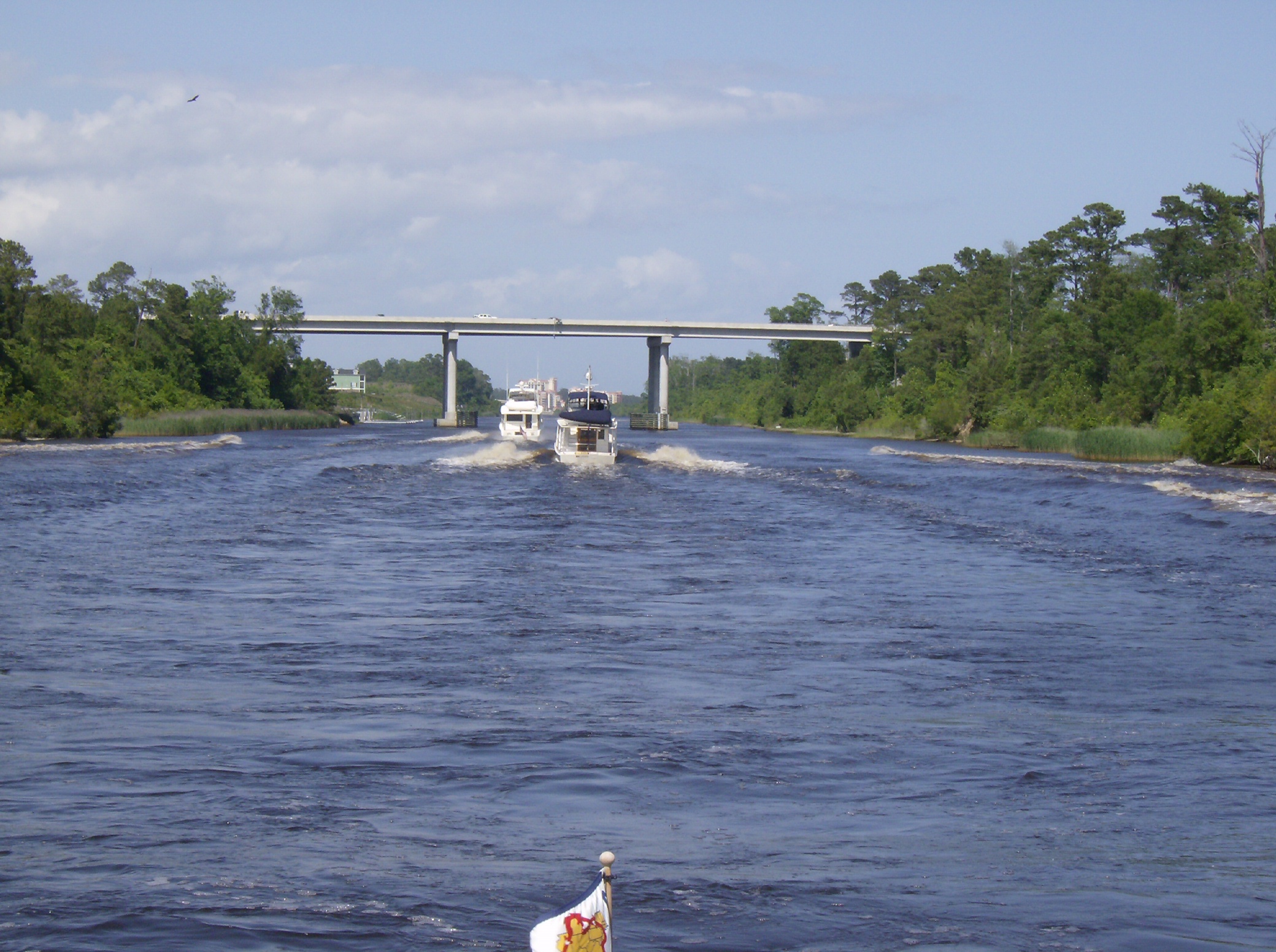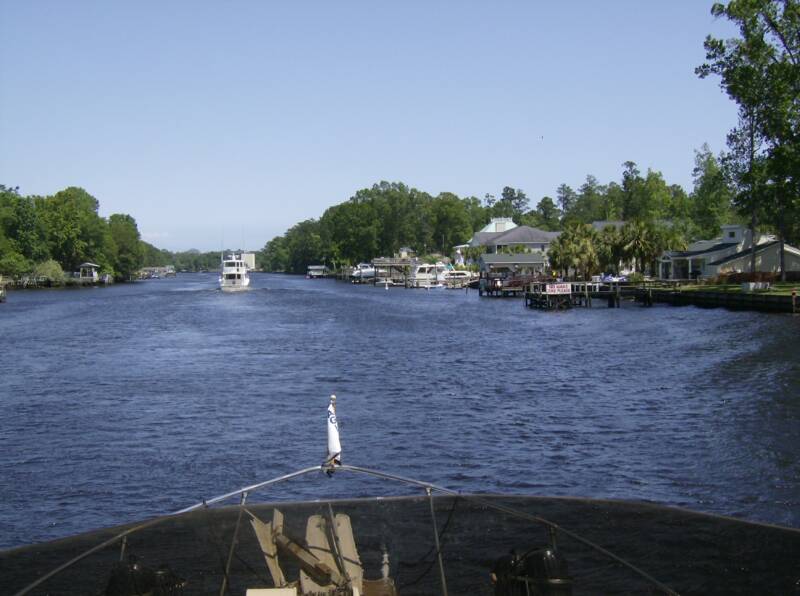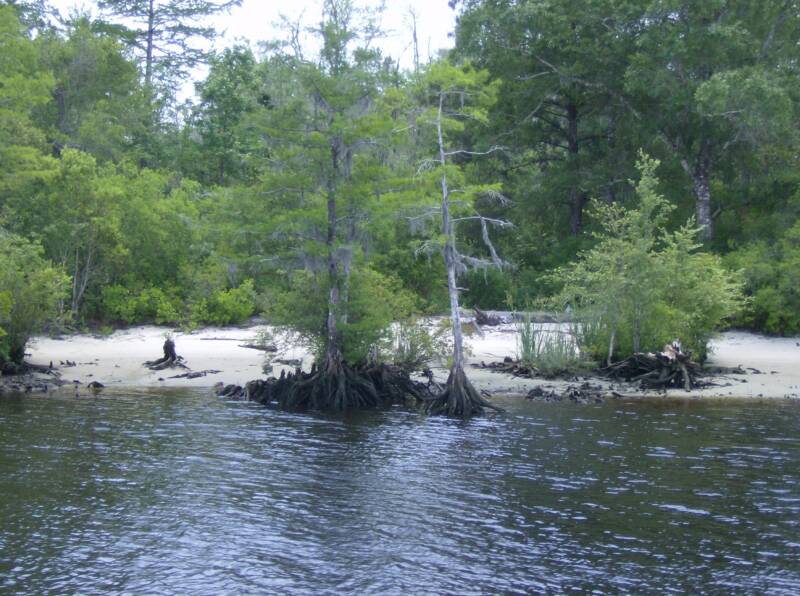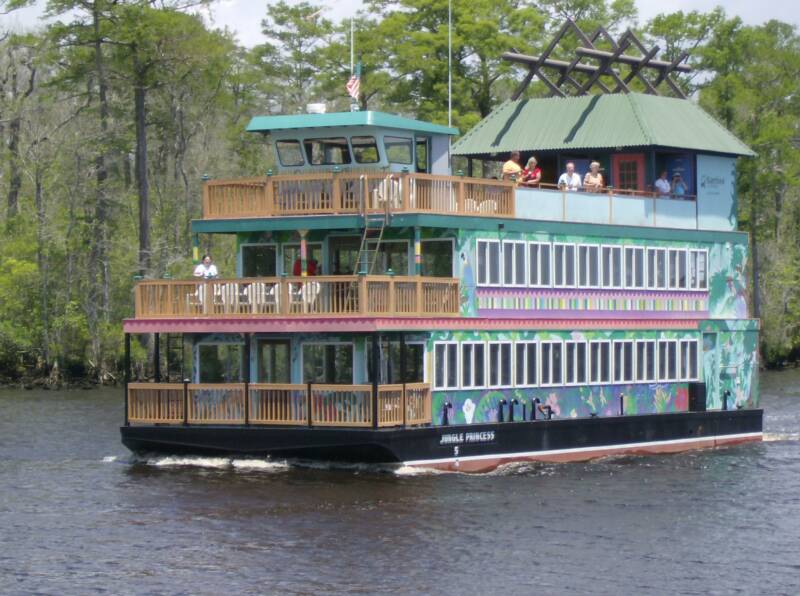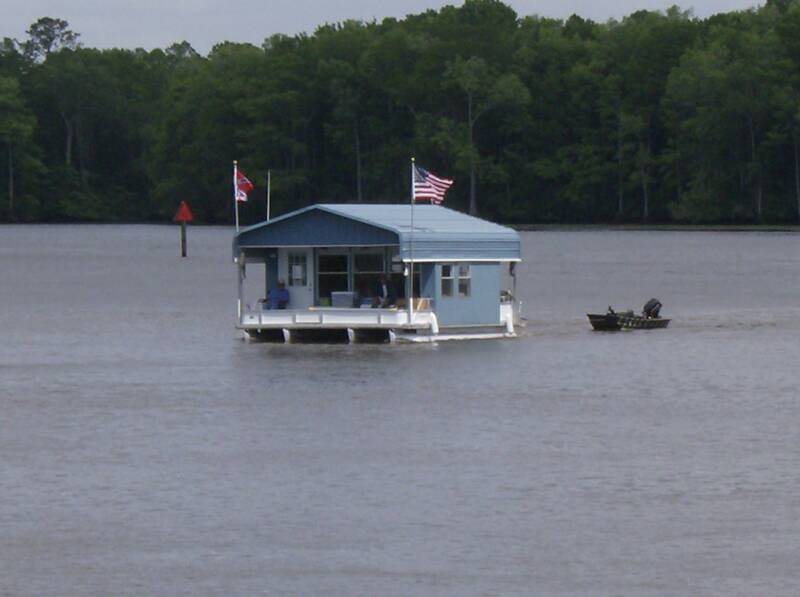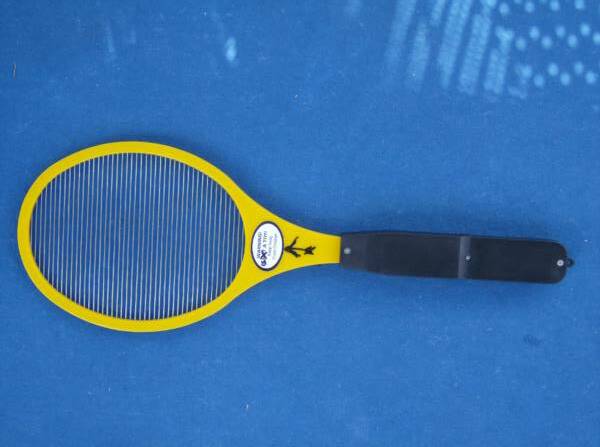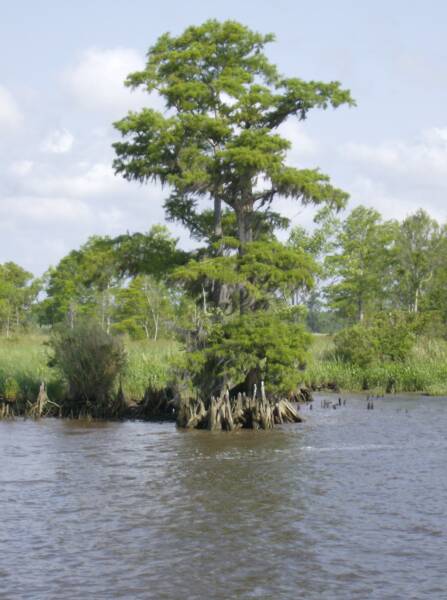 As we got a little farther north than Georgetown,   lots of cypress trees along the shore, and huge cypress trees. Much bigger than I have seen in Florida.

Later in the day, the shore became sandy, and we were in the Narrows.

So of course, while in the Narrows, this huge funky tour boat passed us,,,,,

Then Ted's Shed passed us. A home made floating cabin.

The nearer to Myrtle Beach, the more we had sighs of civilization. A nice change from Georgia...and speaking  of Georgia, home of the green headed biting horse fly, we have discovered the ultimate anti-fly weapon...The Zapper!

Powered by two AA batteries, the metal wires in the racket fry the little buggers, and it's lots of fun paying then SOB's back for our feeding them our blood all the way thru Georgia.

Unfortunately, since we got it, there have been NO FLIES!

The word must have gotten out.

This is your typical house south of Myrtle Beach. Please note the politically correct fishing boys on the dock.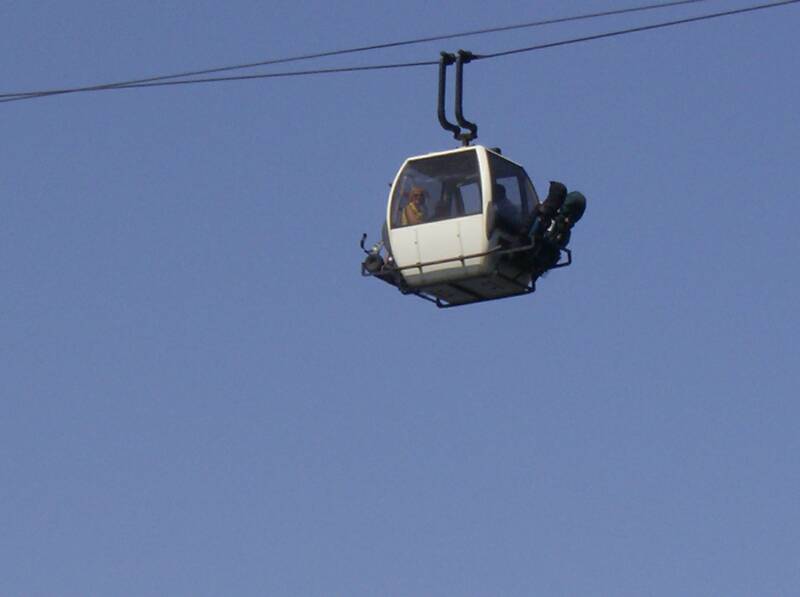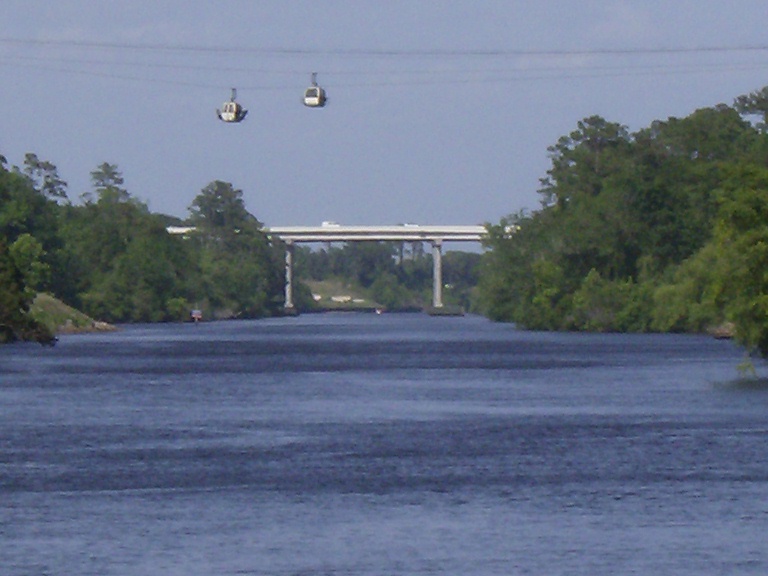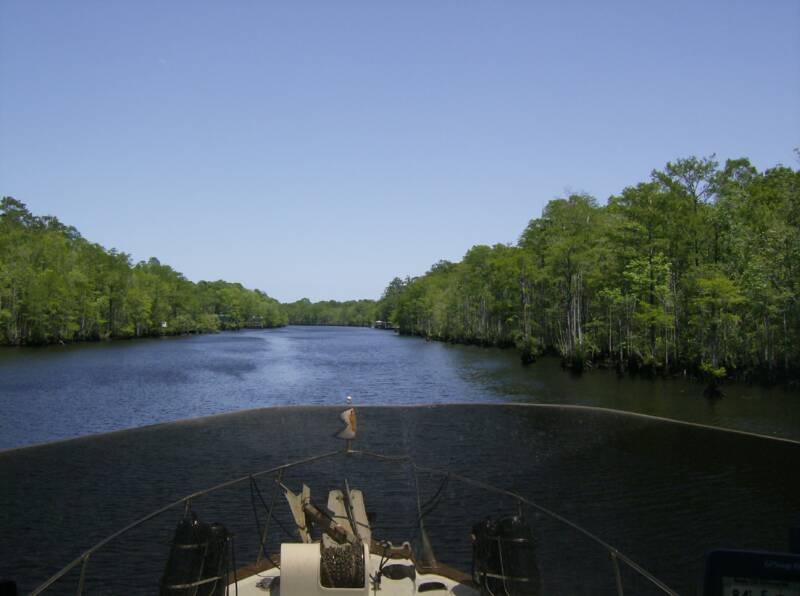 Yes, this is why it's called the "Narrows"

Myrtle Beach has lots of golf courses, and this 9th hole as a very difficult ruff, if you over shoot.

The really baby their golfers. This is the tram to take them and their bags across the waterway.

Parts of the Narrows are ROCK lined, so you really have to pay attention. Note where the waves are breaking along shore, that's how far the rocks are out in the channel.

Your probably asking yourself , why is this Tiger here? Because we docked at the landings,and it has a mall, a tourist area mall, with, yes , a tiger in a glass cage on display.

This lady golfer refused to wave, she just stared at us as we waved and passed under her.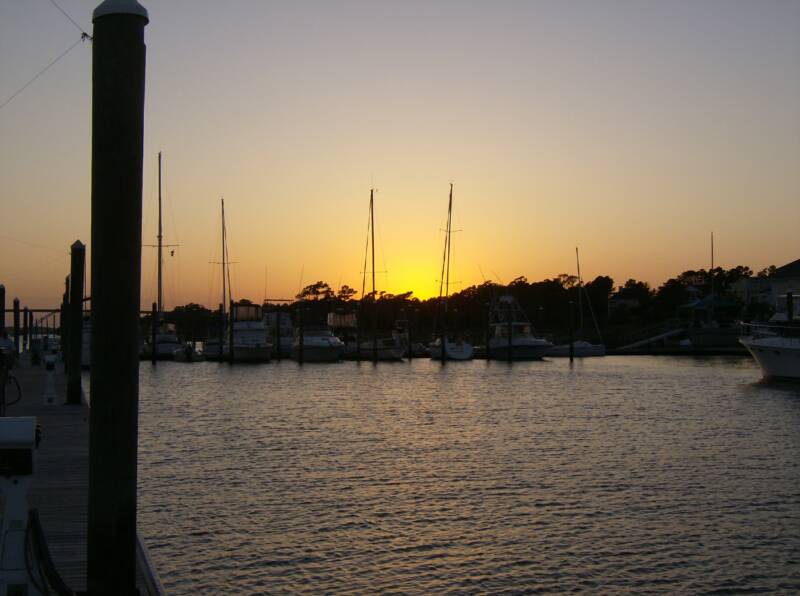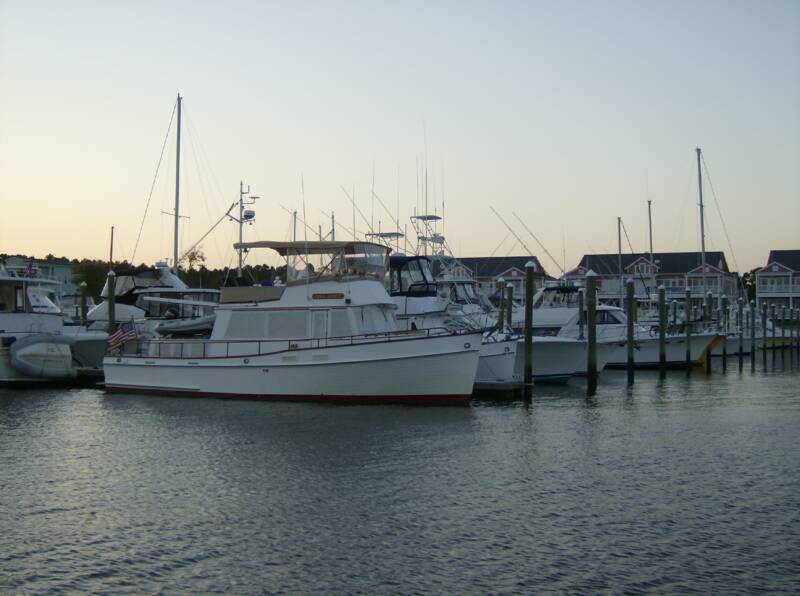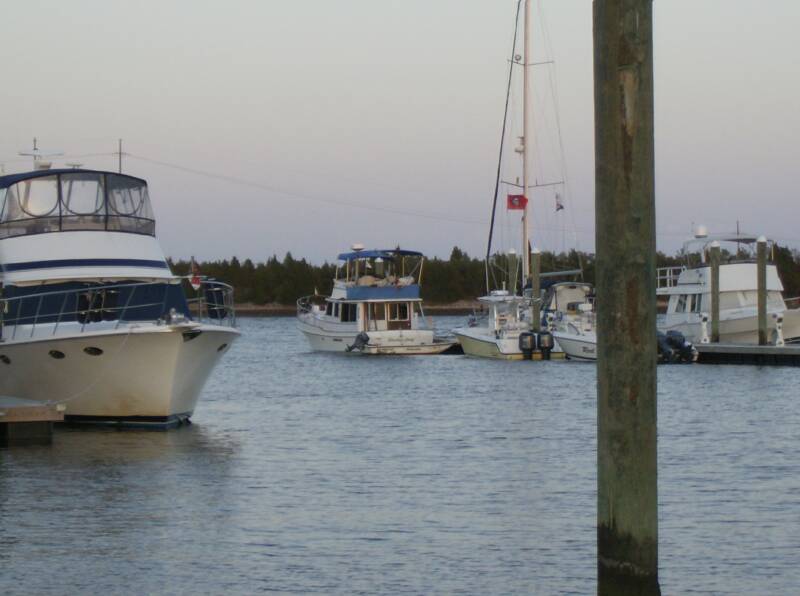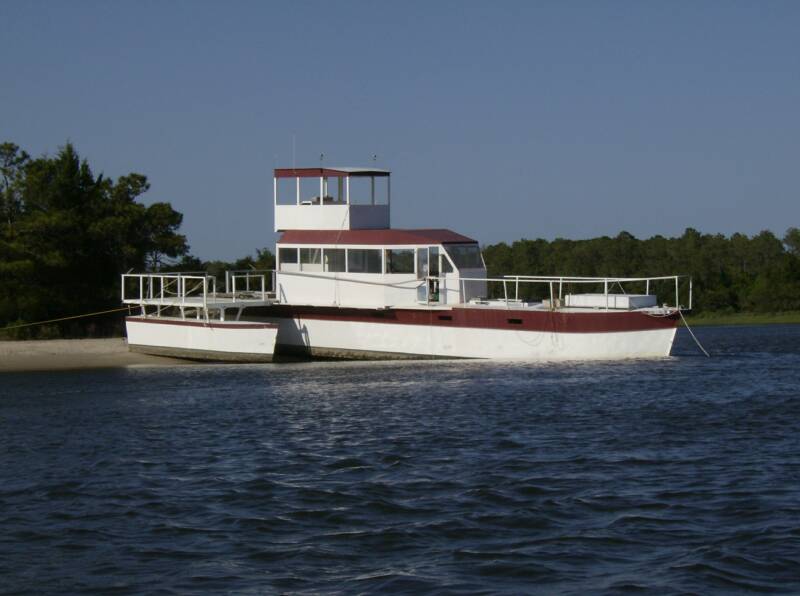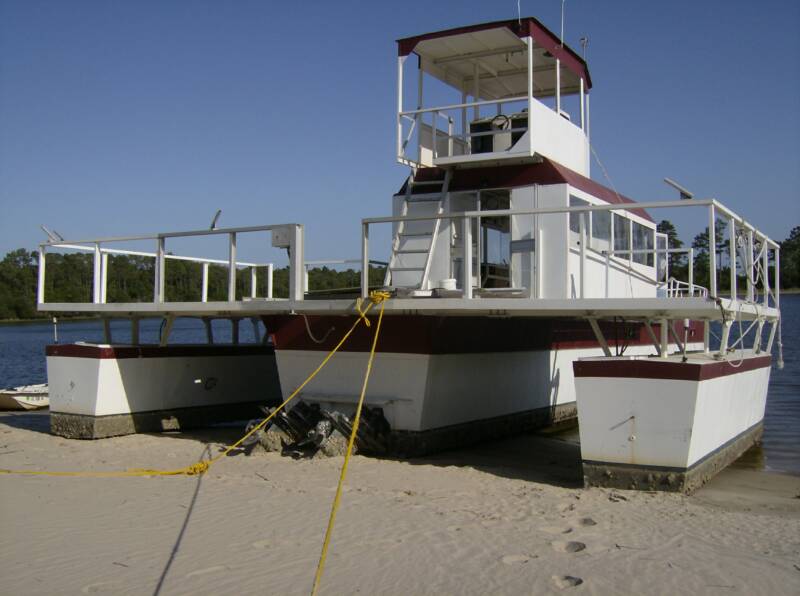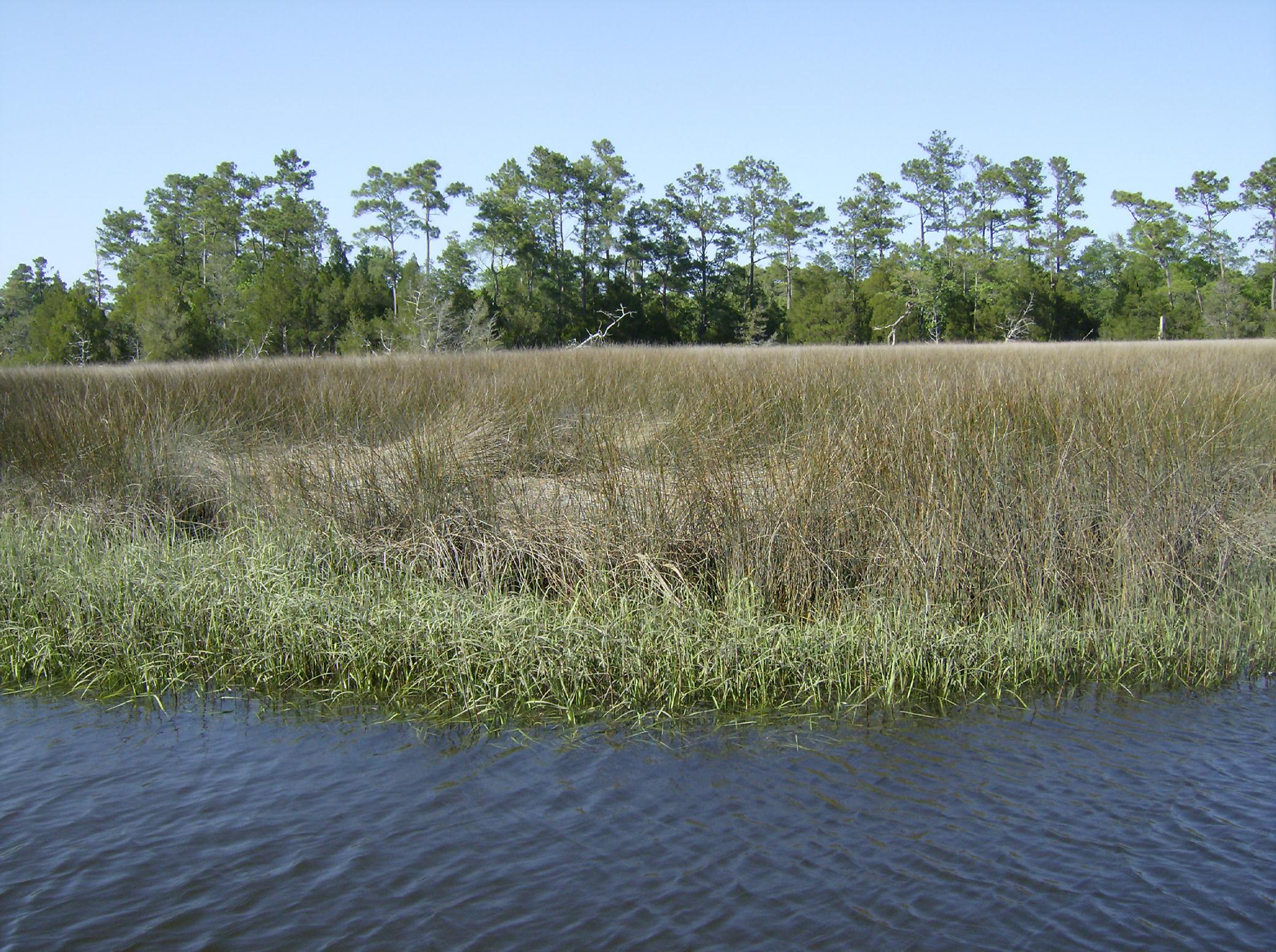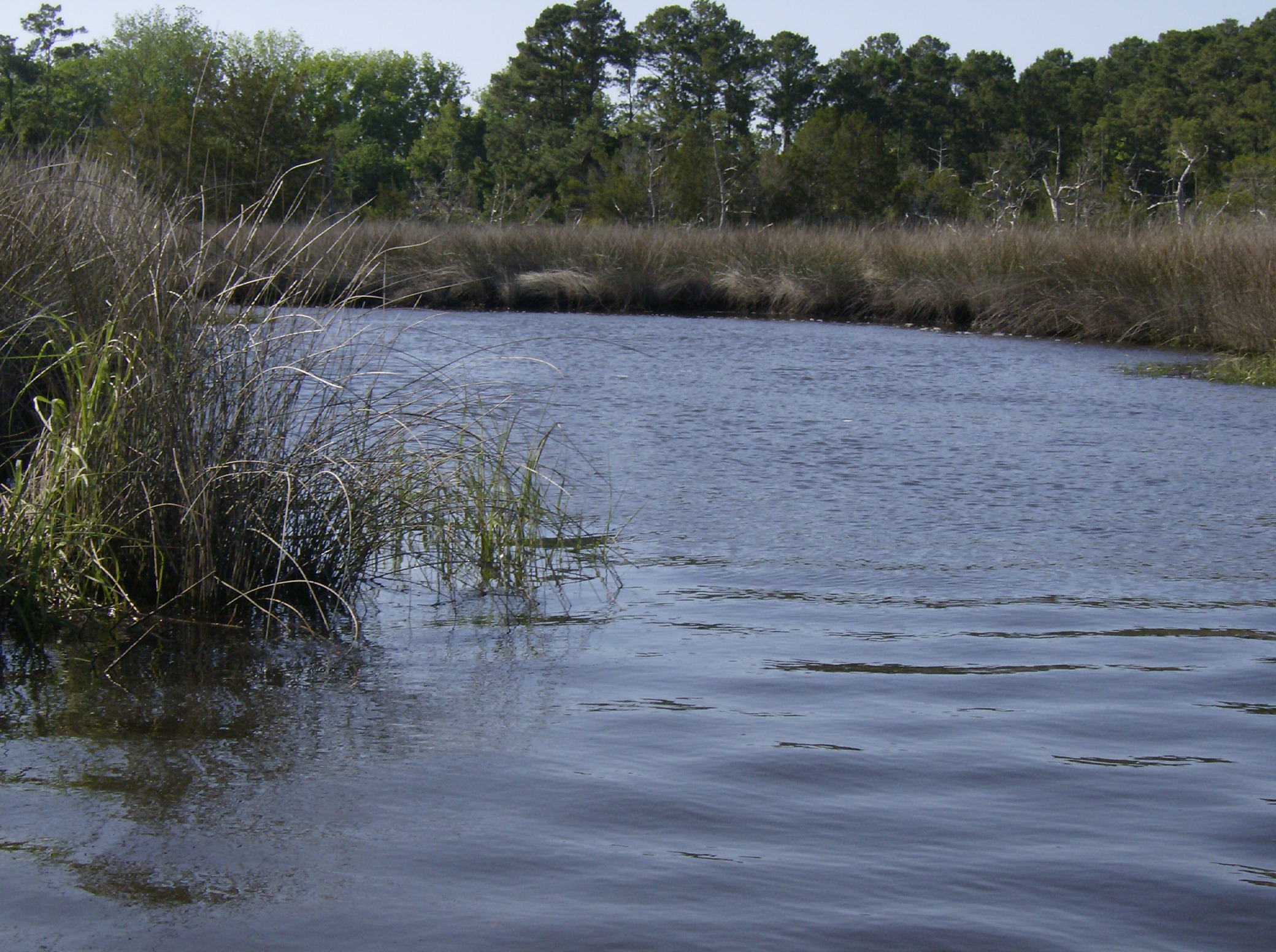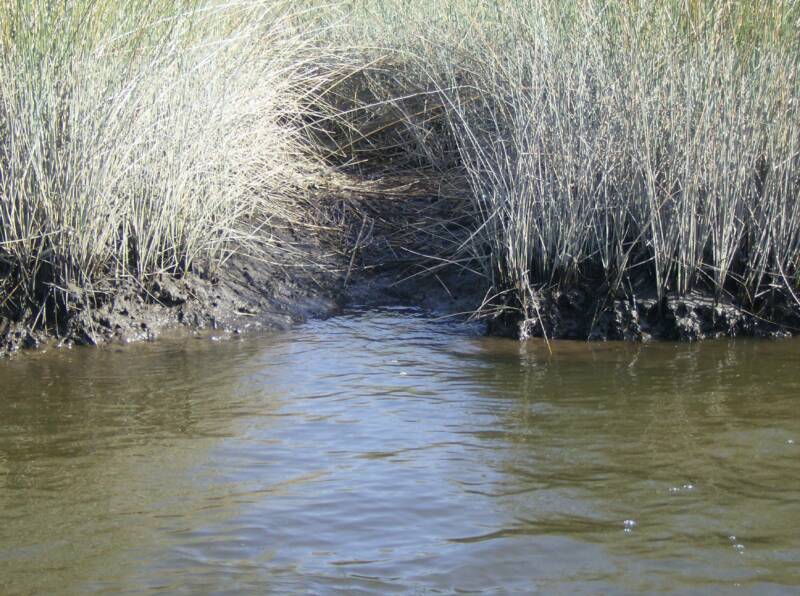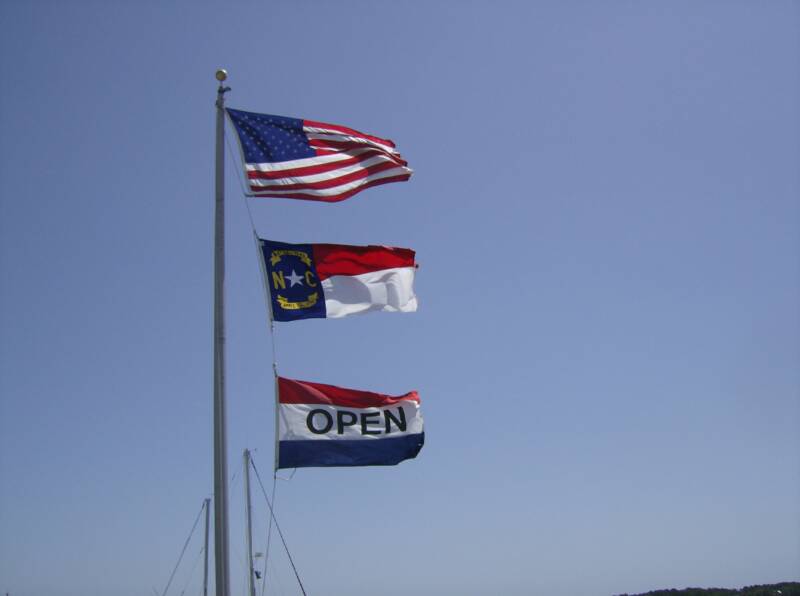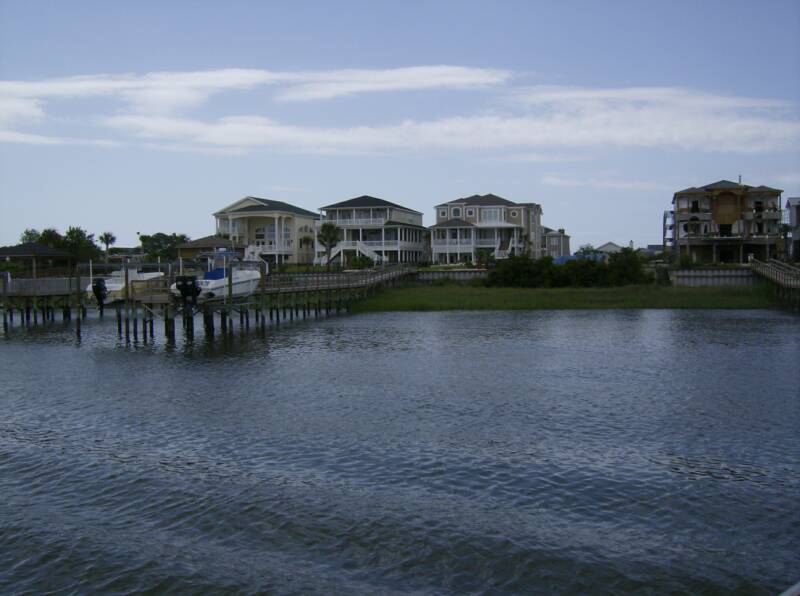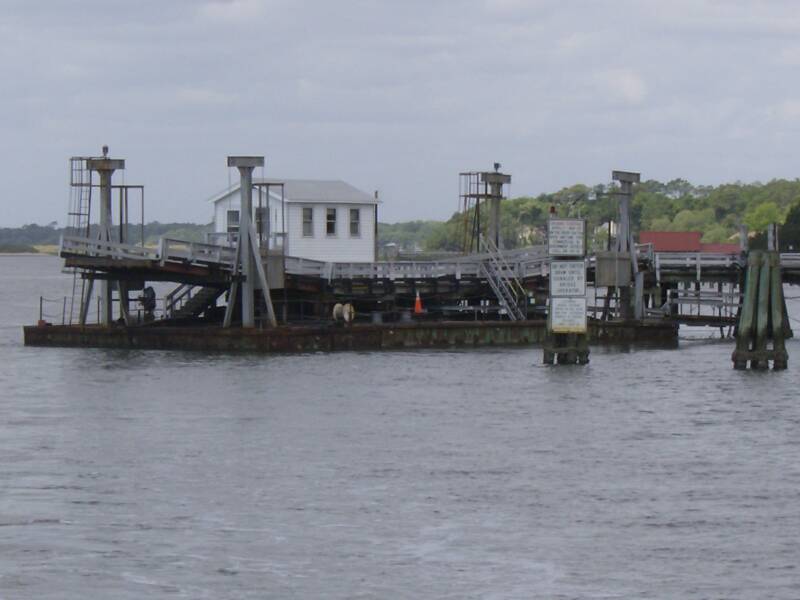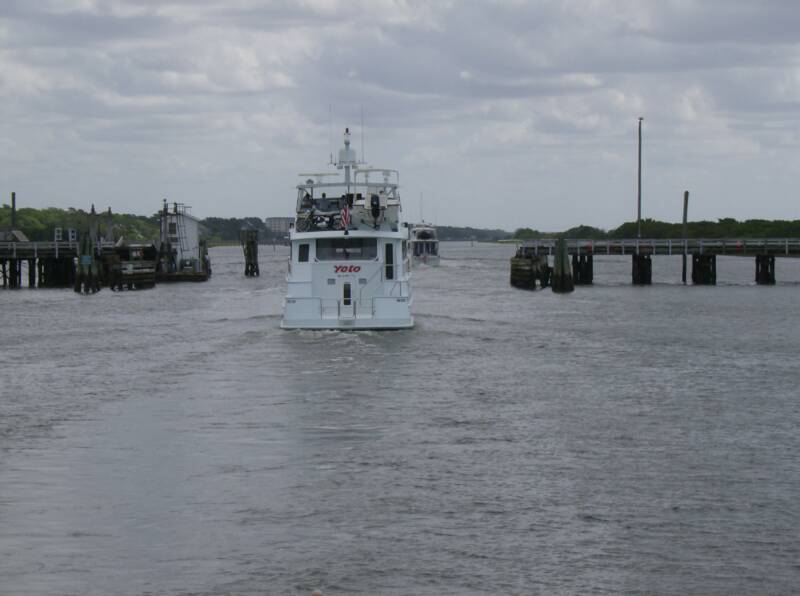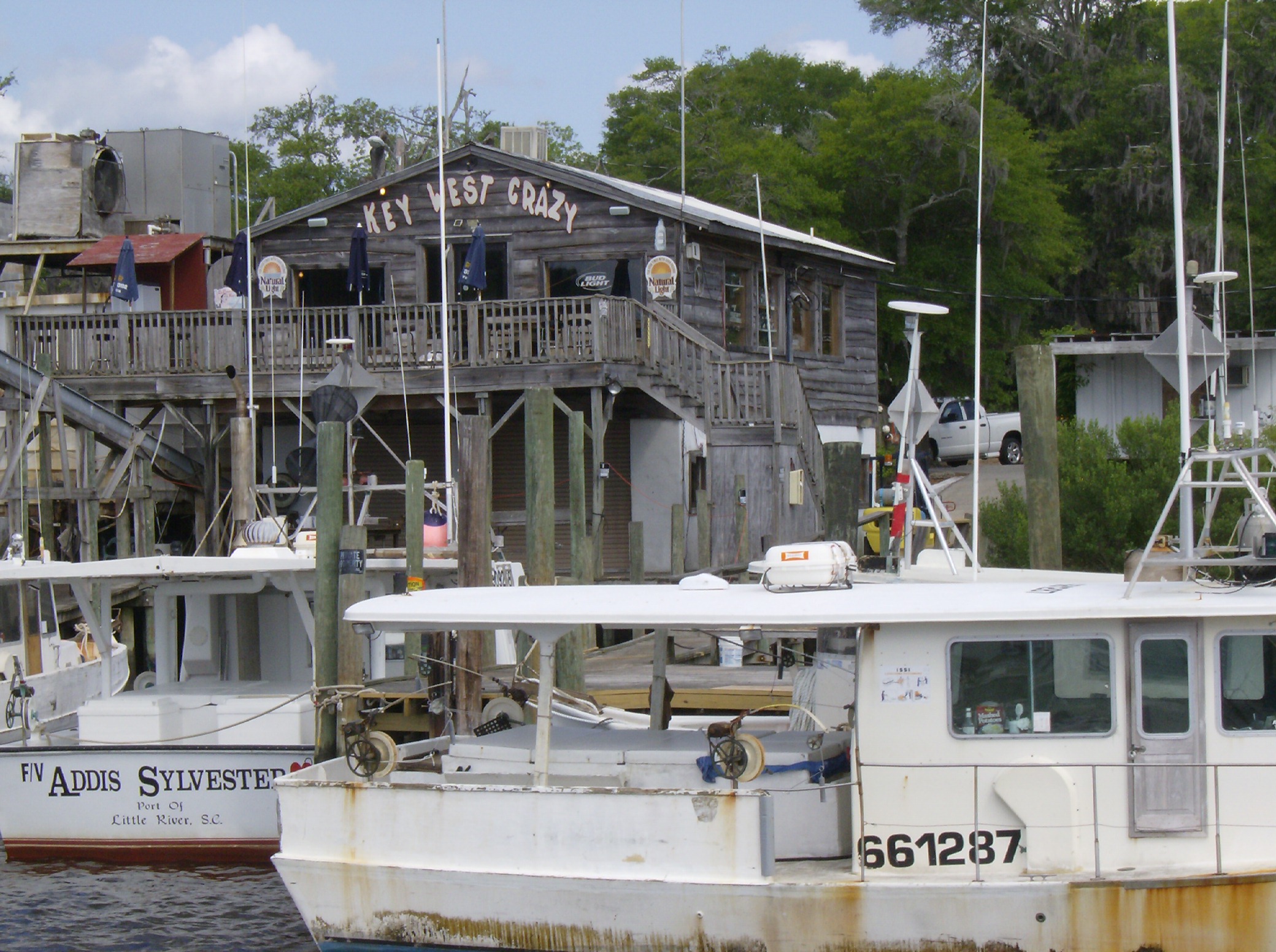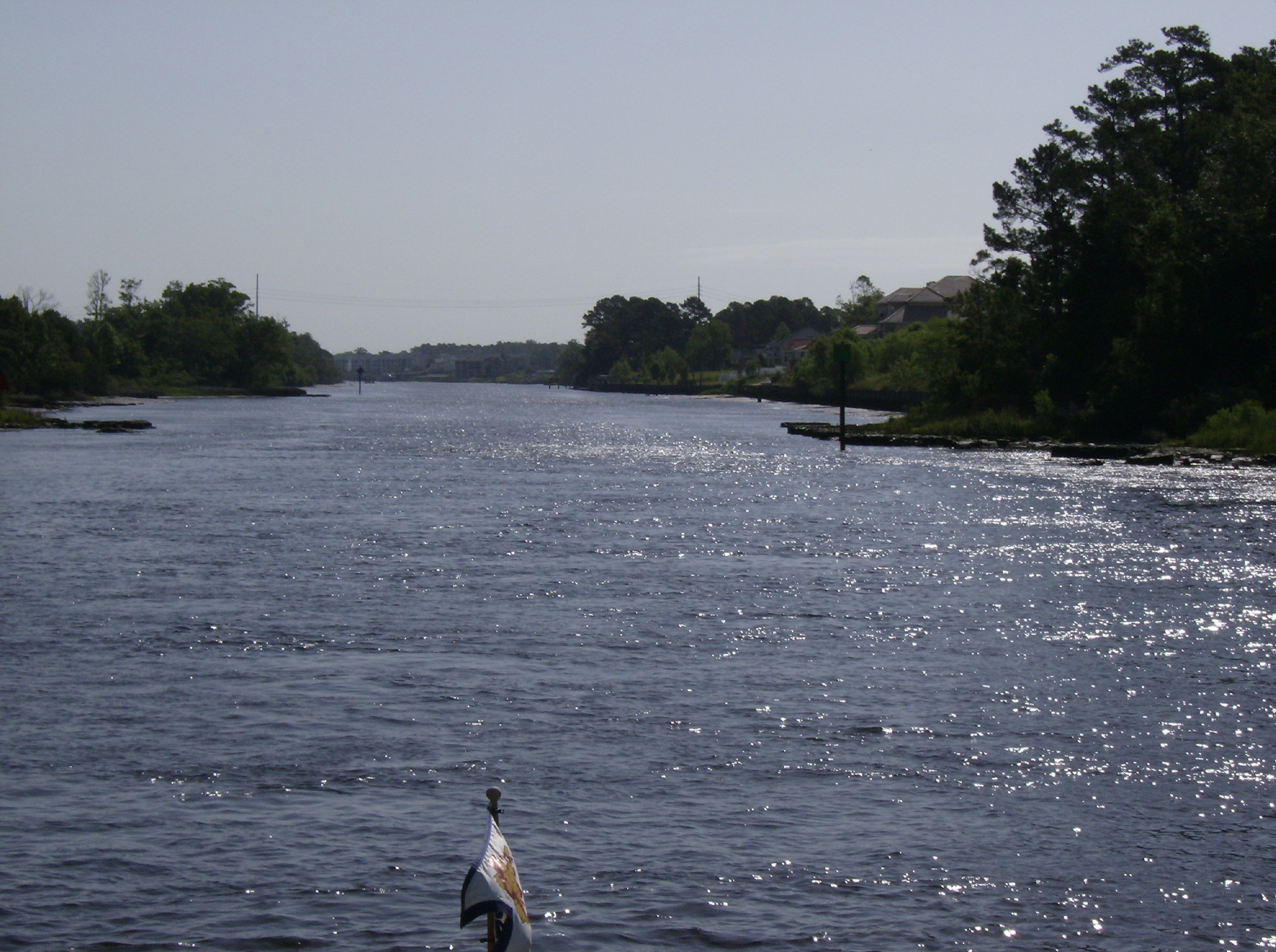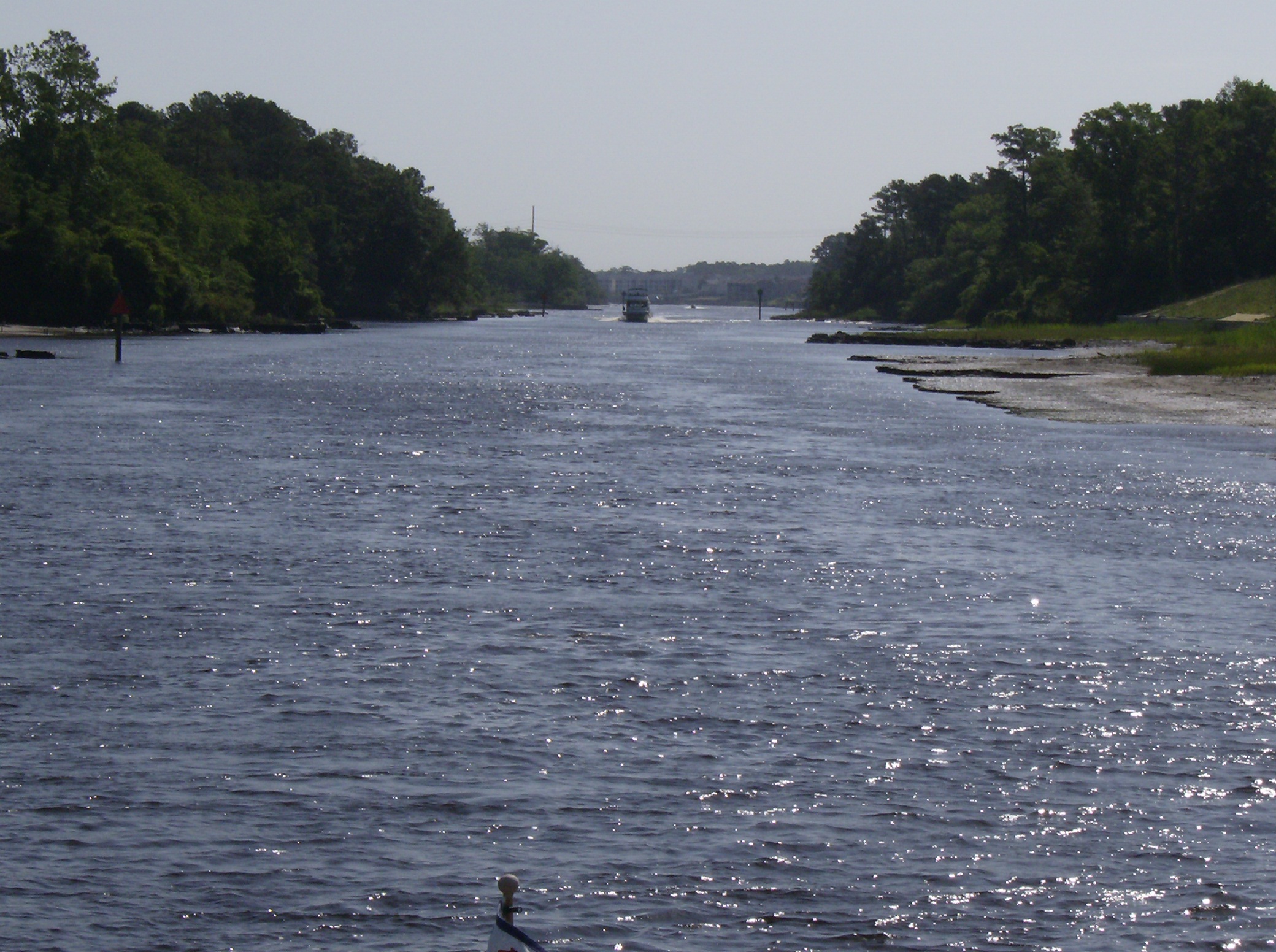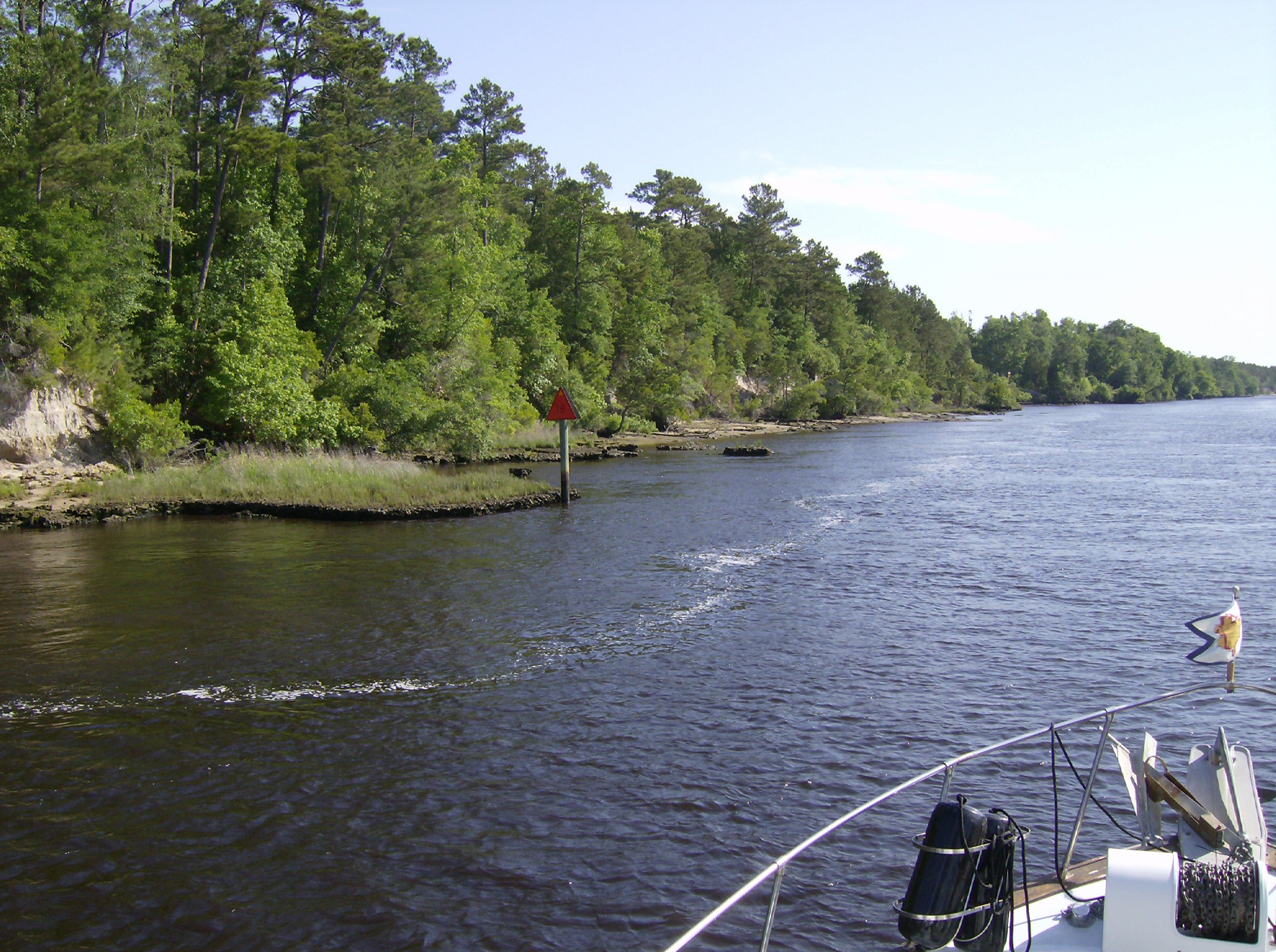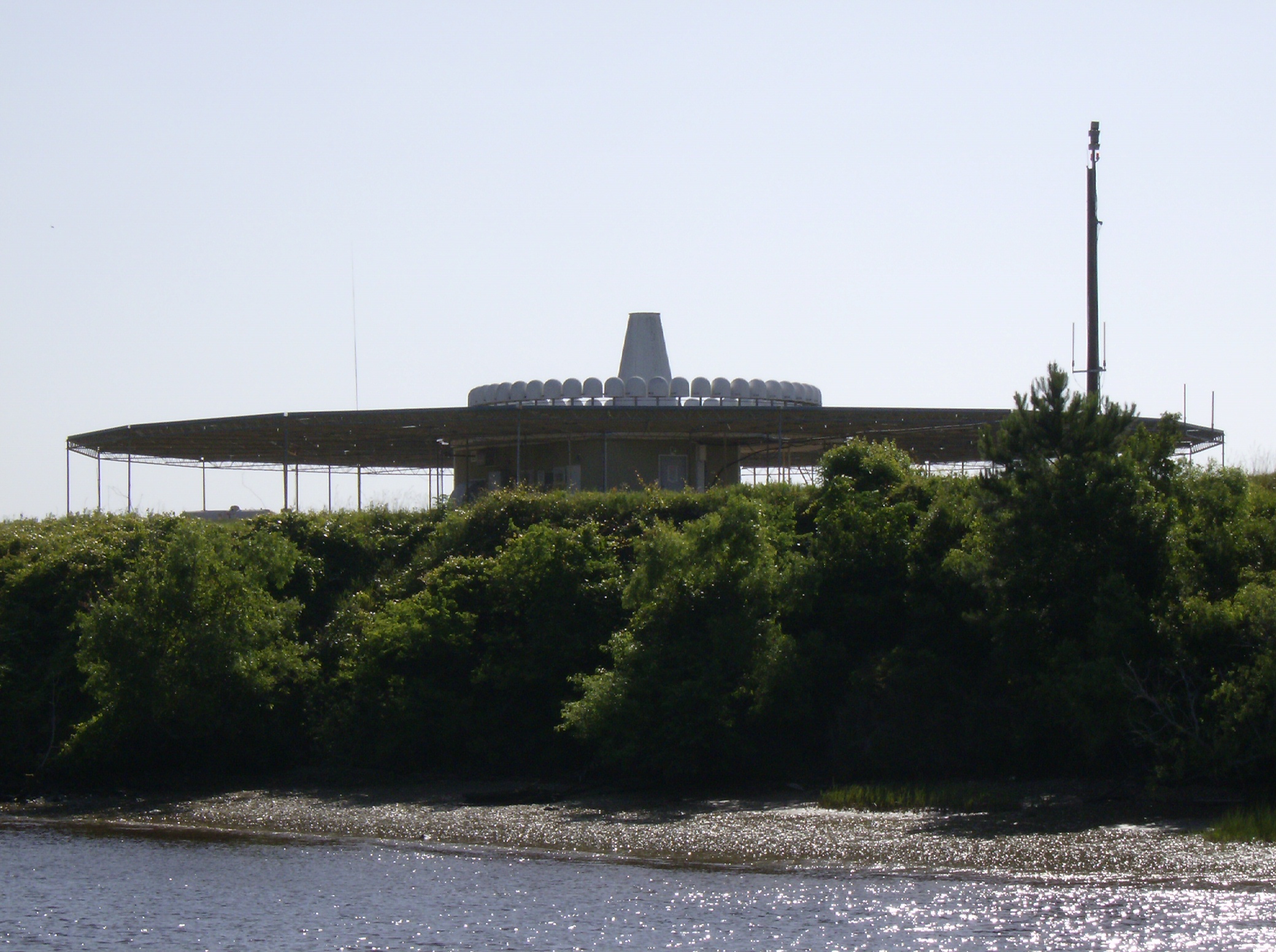 5/24/07

Up and out at 7am and outa here

Another place ya gotta pay attention, do ya think the red marker is really necessary?

Rocks and shallows were every where

We got lucky and made the timed opening of the world famous, one of a kind,  Pontoon Bridge, however, It was actually a floating barge, not a pontoon.

This guy has the best of three worlds, a 60 ft. yacht, a whaler dingy,and a Harley Davidson on the stern...but then, look at the size of the boat.

Some kind of an airport thing?

Since we are from the Keys, had to take this pic

The lady slept at South Port Marina, in North Carolina

The shorline has changed alot, again.

Had dinner at "Joshephs" Italian at the Marina, excellent food, and went to Joe's Grand Banks for drinks after.

Went exploring in the dingy and found this really strange boat, abandoned.

Went exploring this tidal creek....

Found this Alligator crawl ....

And this large den area, where the vegetation is pushed down

The end of an other excellent day

Today's lessons,

two things,

1. Bungee cords are very important on a boat

2. Try and plan your day ahead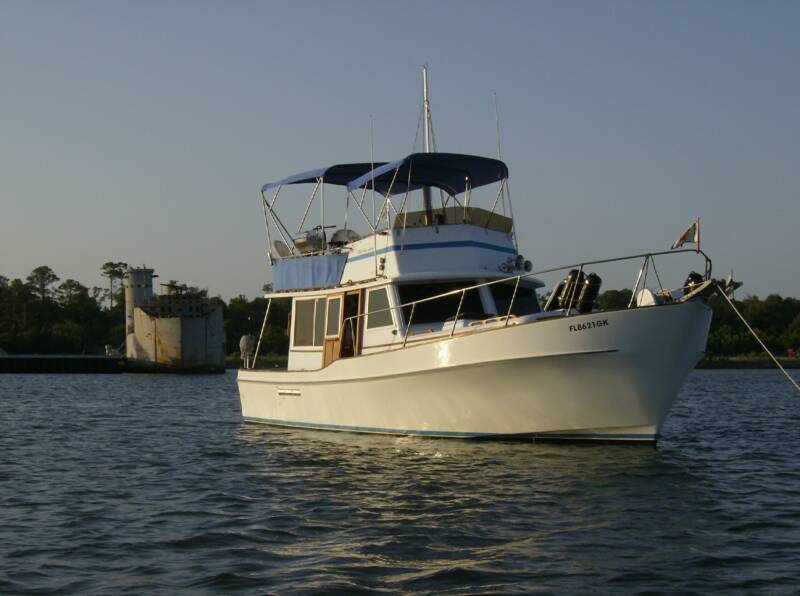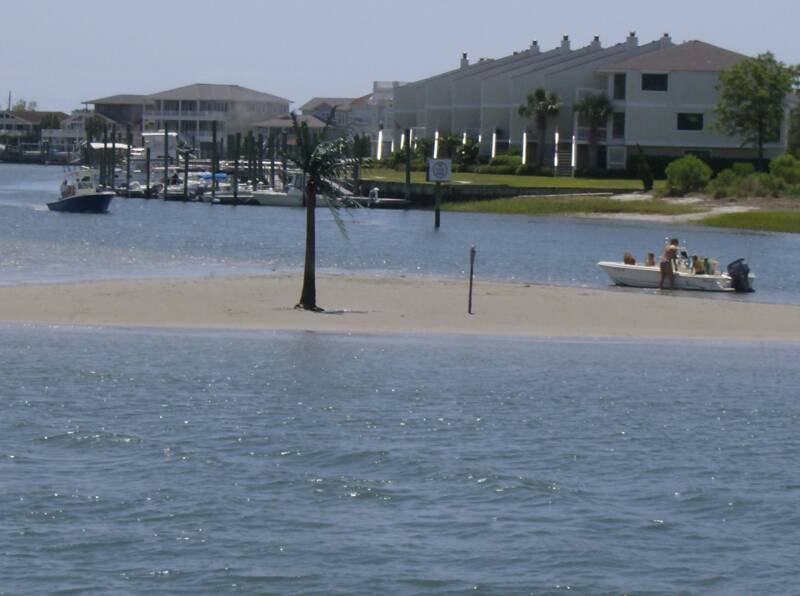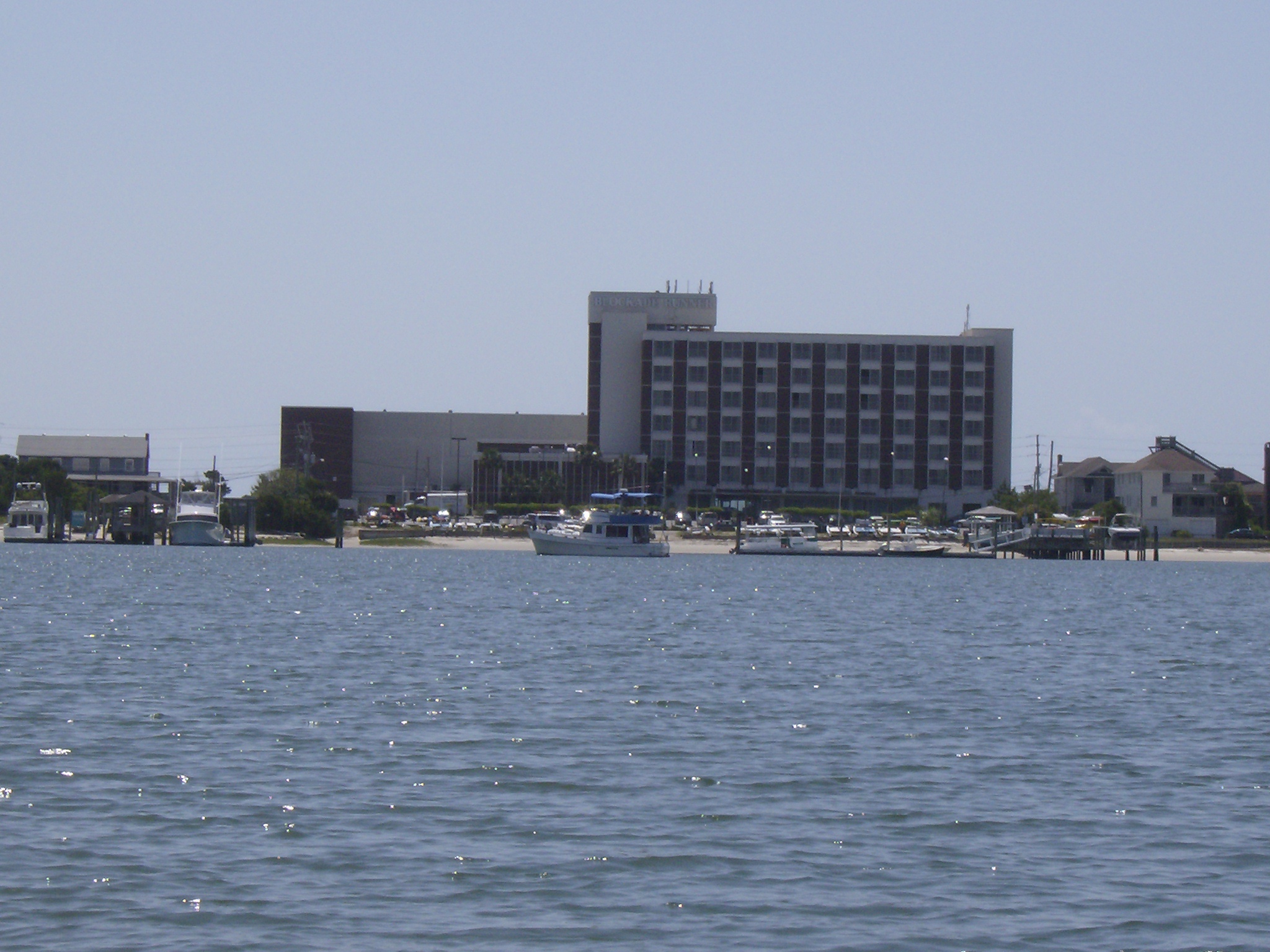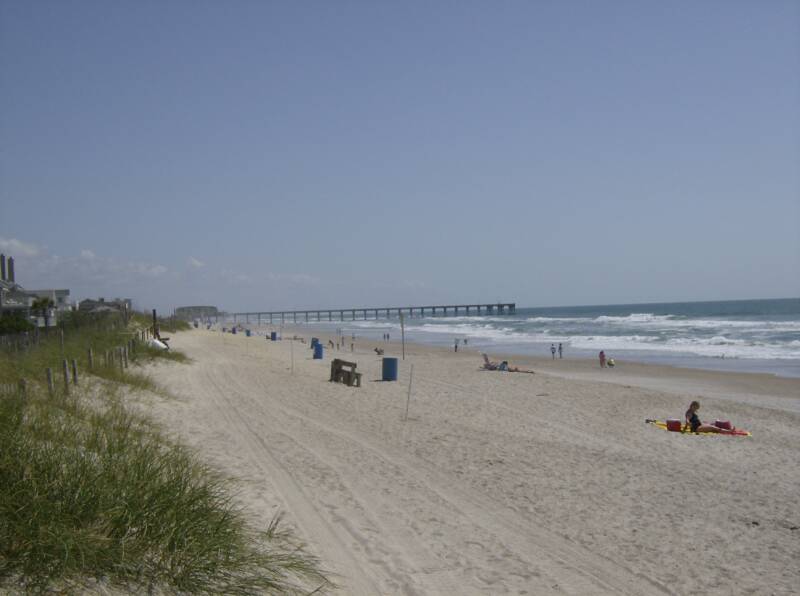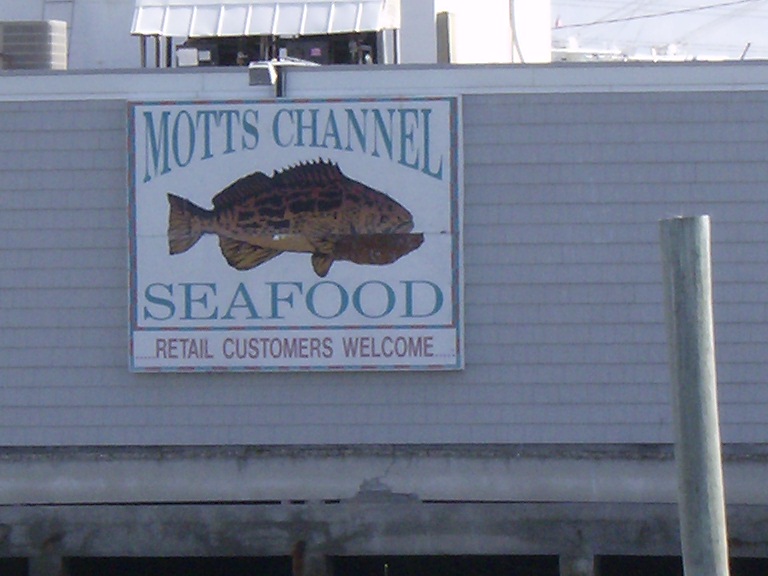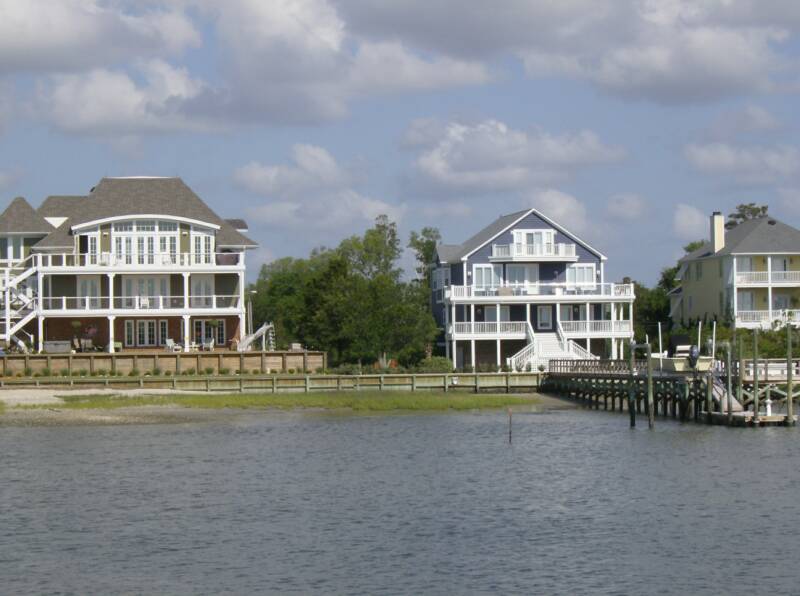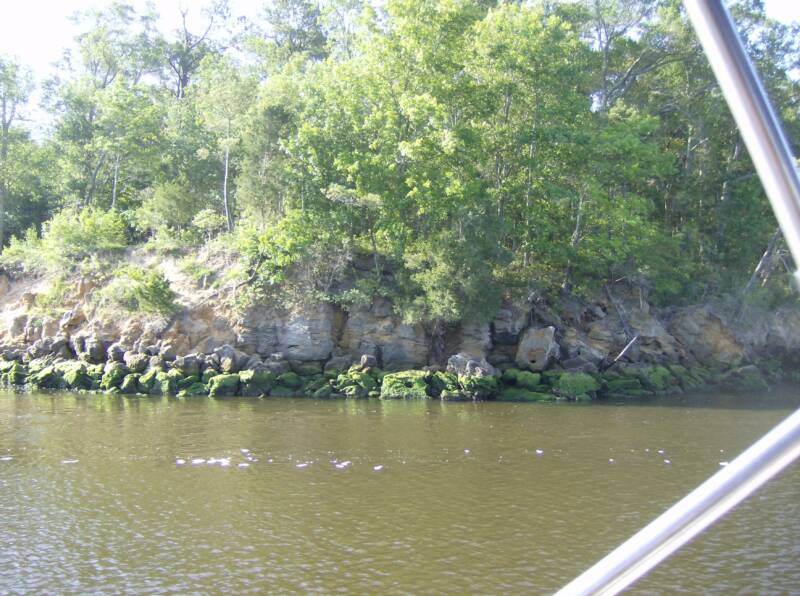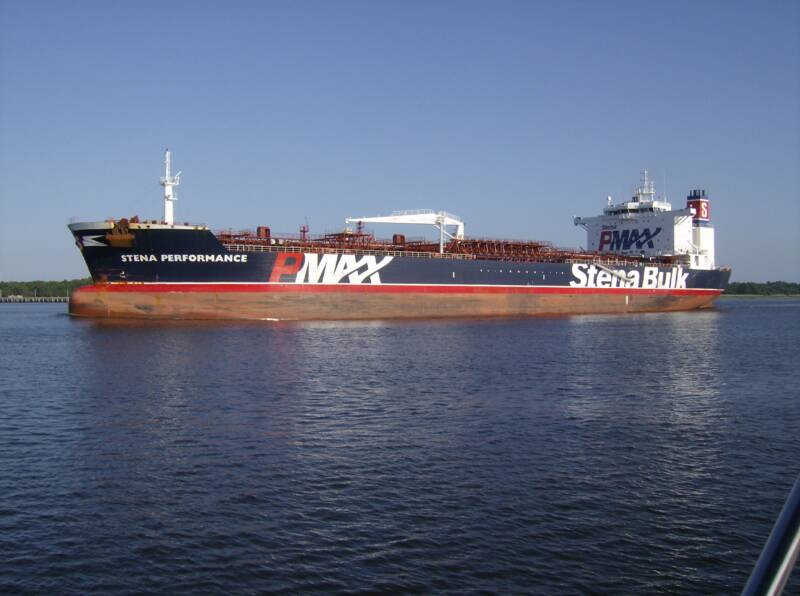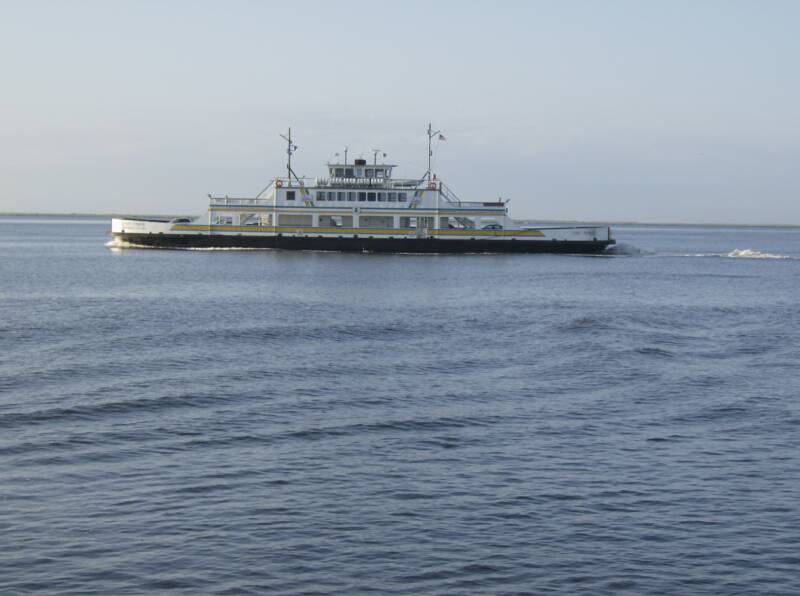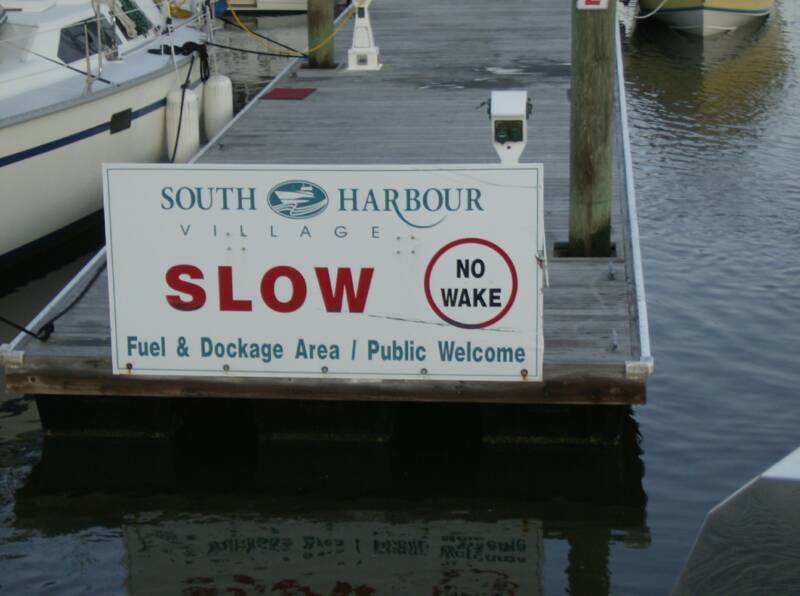 5/26/07

Heading north, of course. left about 7:30 am.

Passed this guy on one of the inlets,,man are they fast!

They always have the right of way

We stopped at Wrightsville Beach at Mott's Channel, in the anchorage, so we could go to Robert's Grocery and stocked up on supplies.

Picked up some very fresh Grouper filets, and left in a hurry to make the next bridge opening, only to get there and discover we could clear it anyway... der

Walked over to the beach,,,,

The geography is continually changing

We were gonna stop here but didn't have any quarters for the parking meter....:-}

The waterfront homes are looking different also

At the end of a long day, we dropped anchor at Le June Military Base, in their lagoon. Had a delicious grouper dinner, and explored the old ship anchored there.

Today's Lesson

The tide flows 50% of the time in one direction, and 50% of the time in the opposite direction. Then why is it , 70% of the time the tide is running against you?

5/28/07

Today is a short day, only 20 miles to Oriental. so we took our time getting started, and left at 7 am.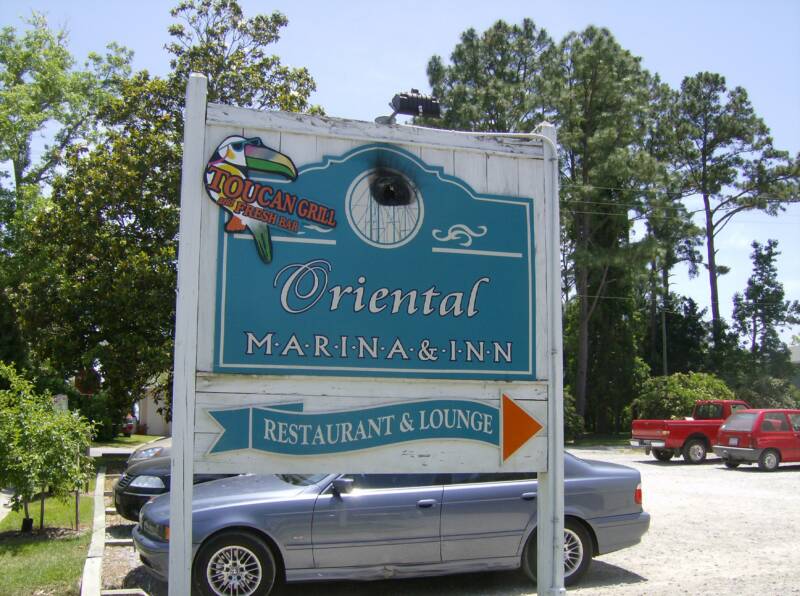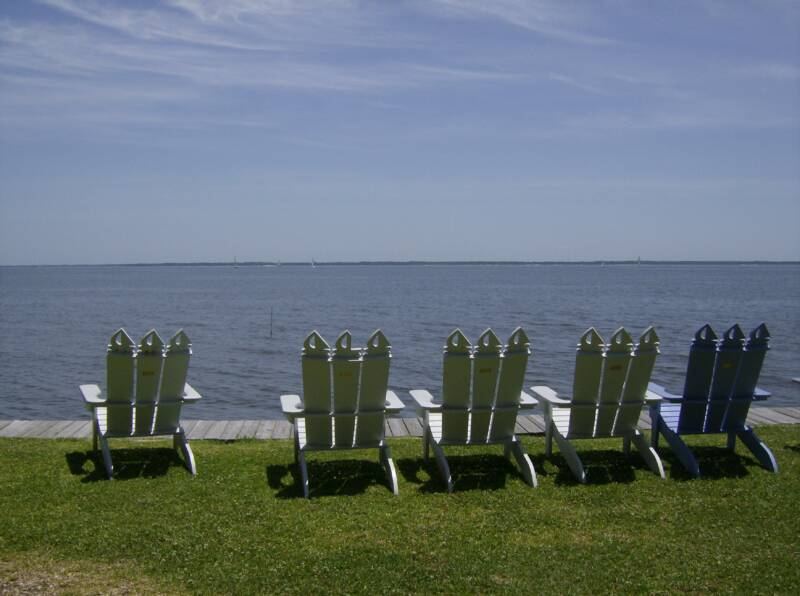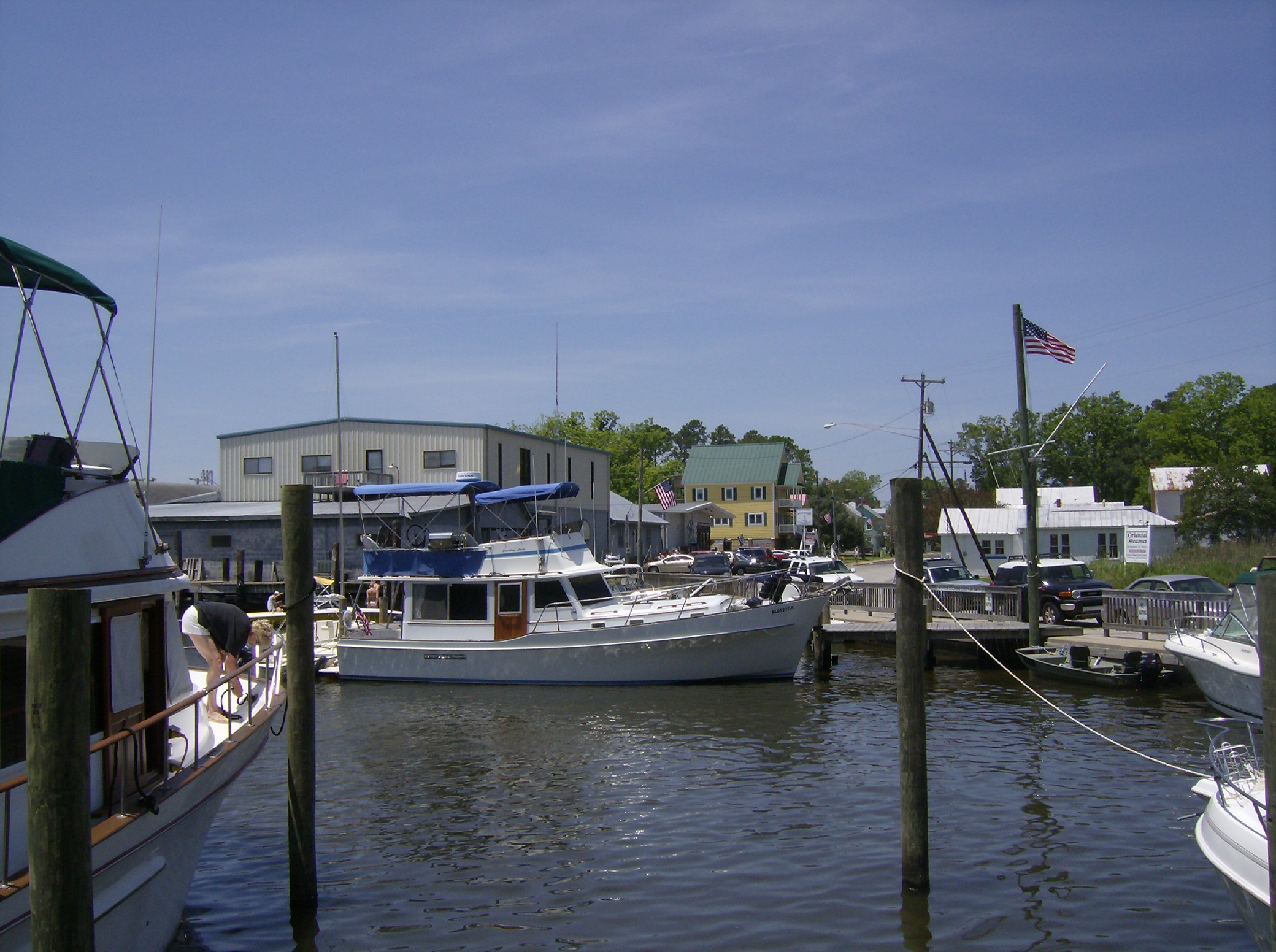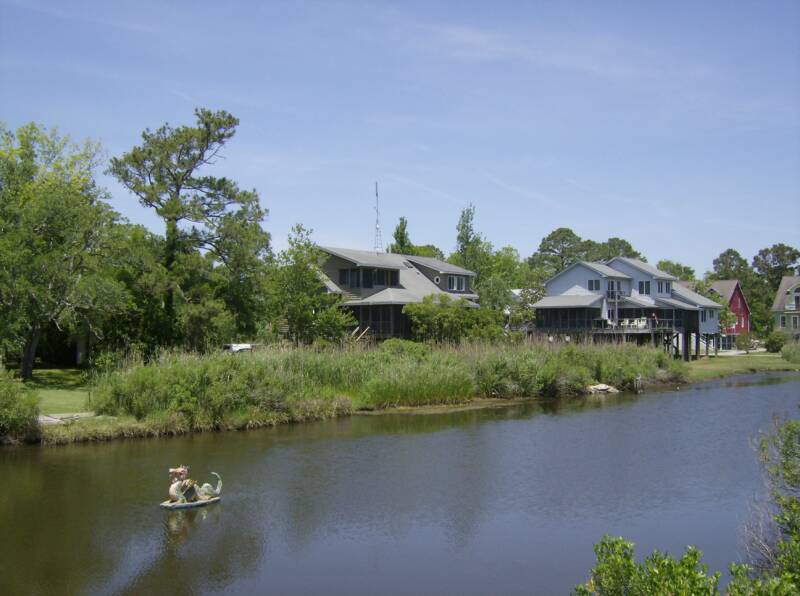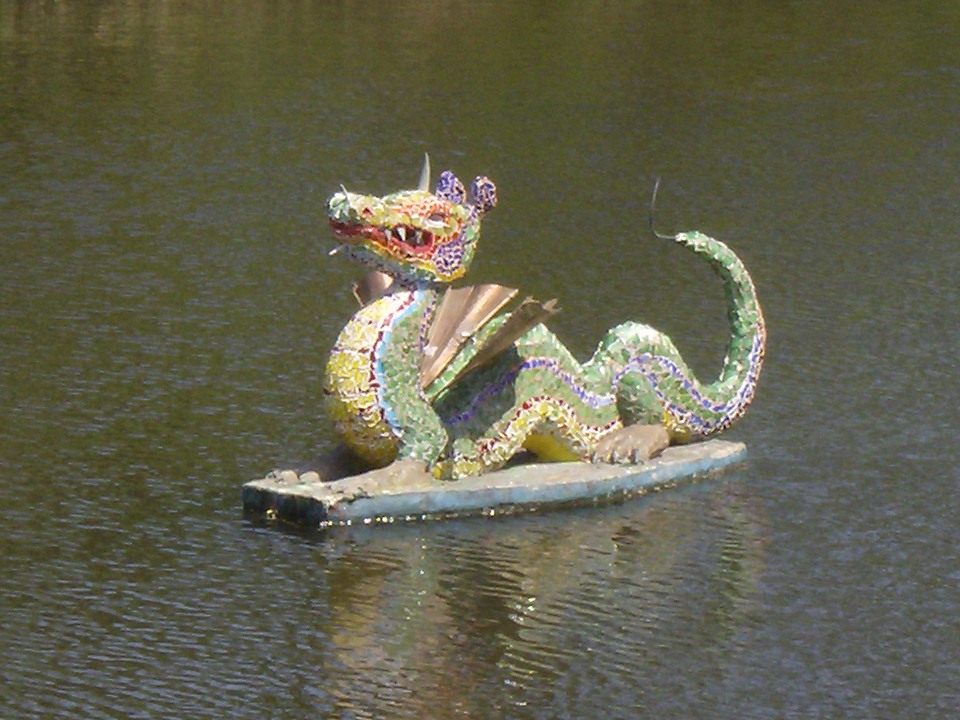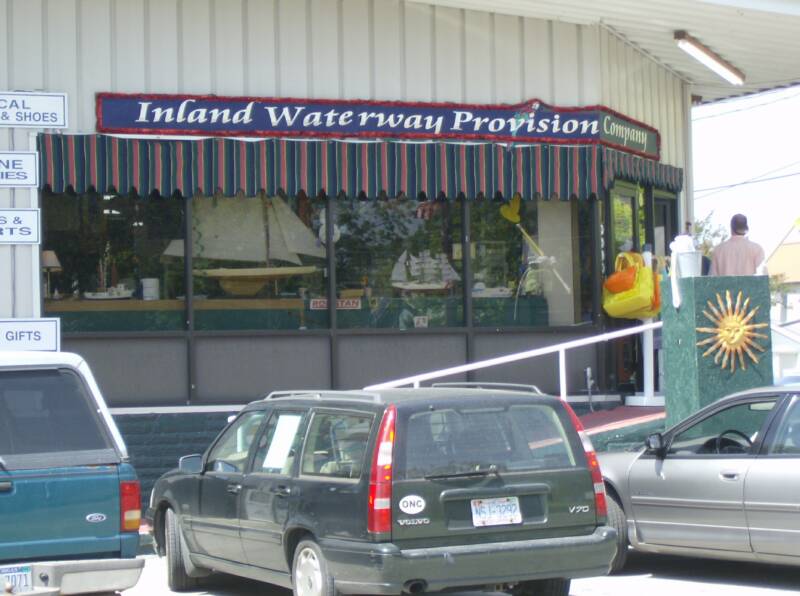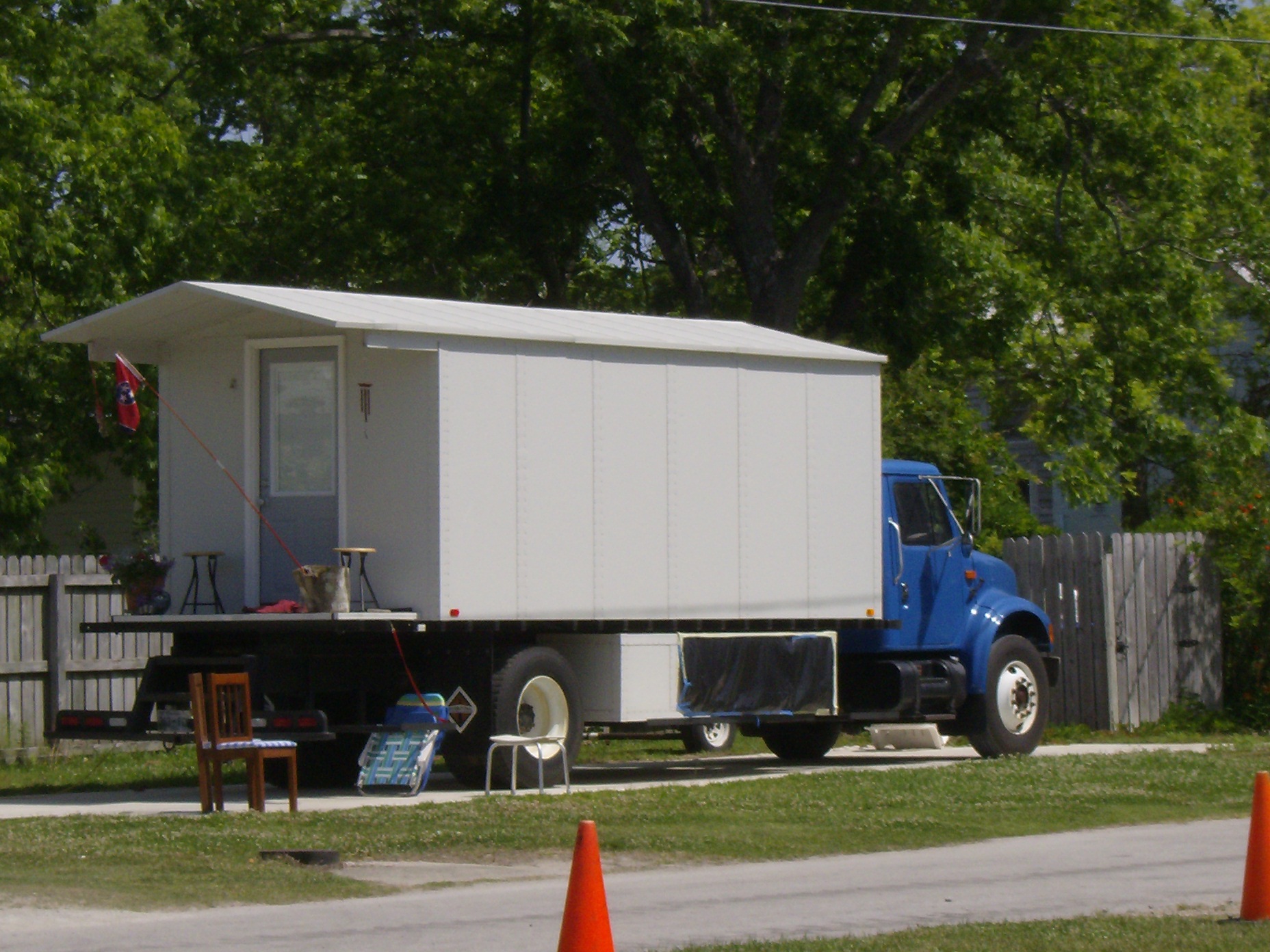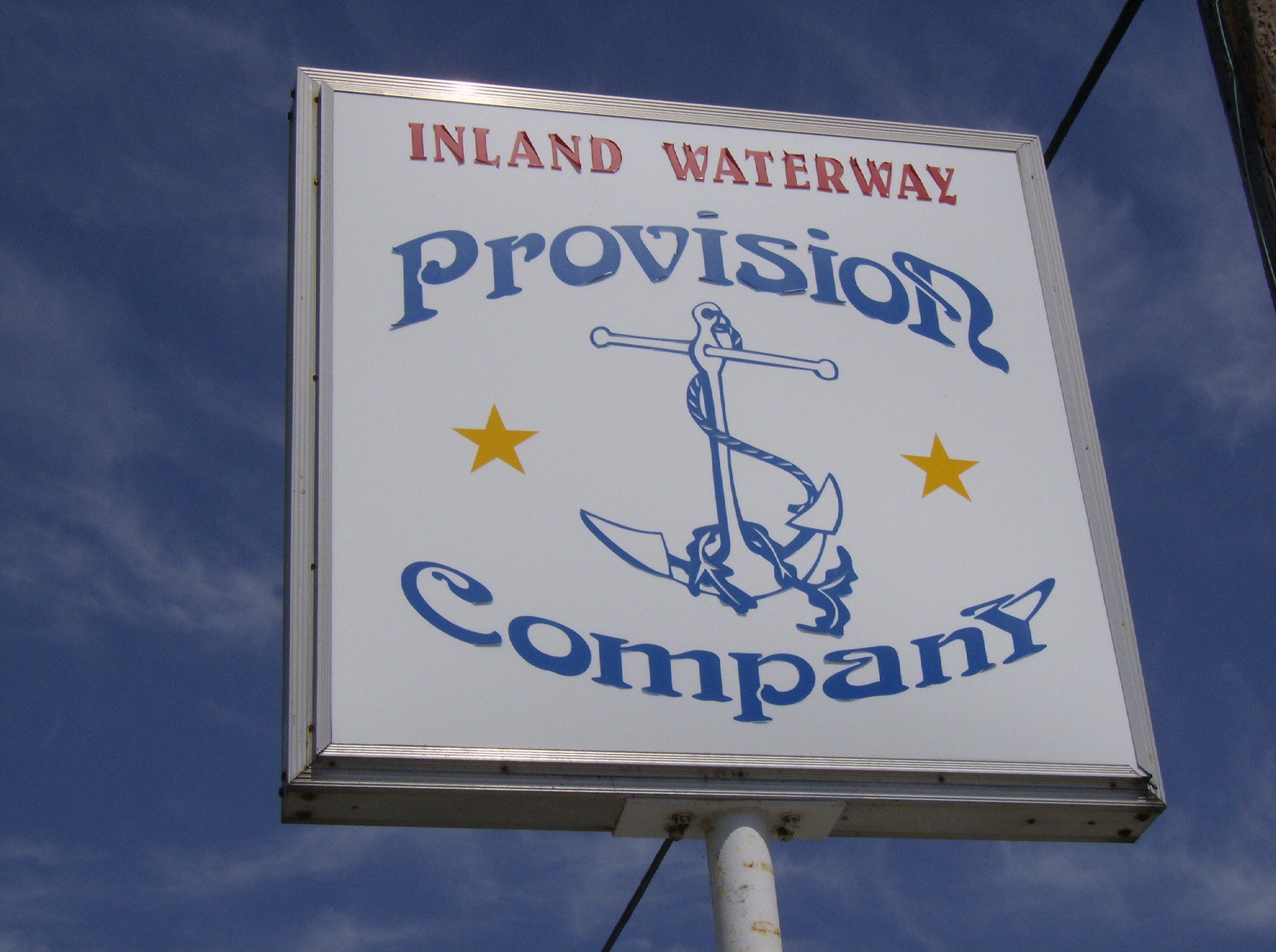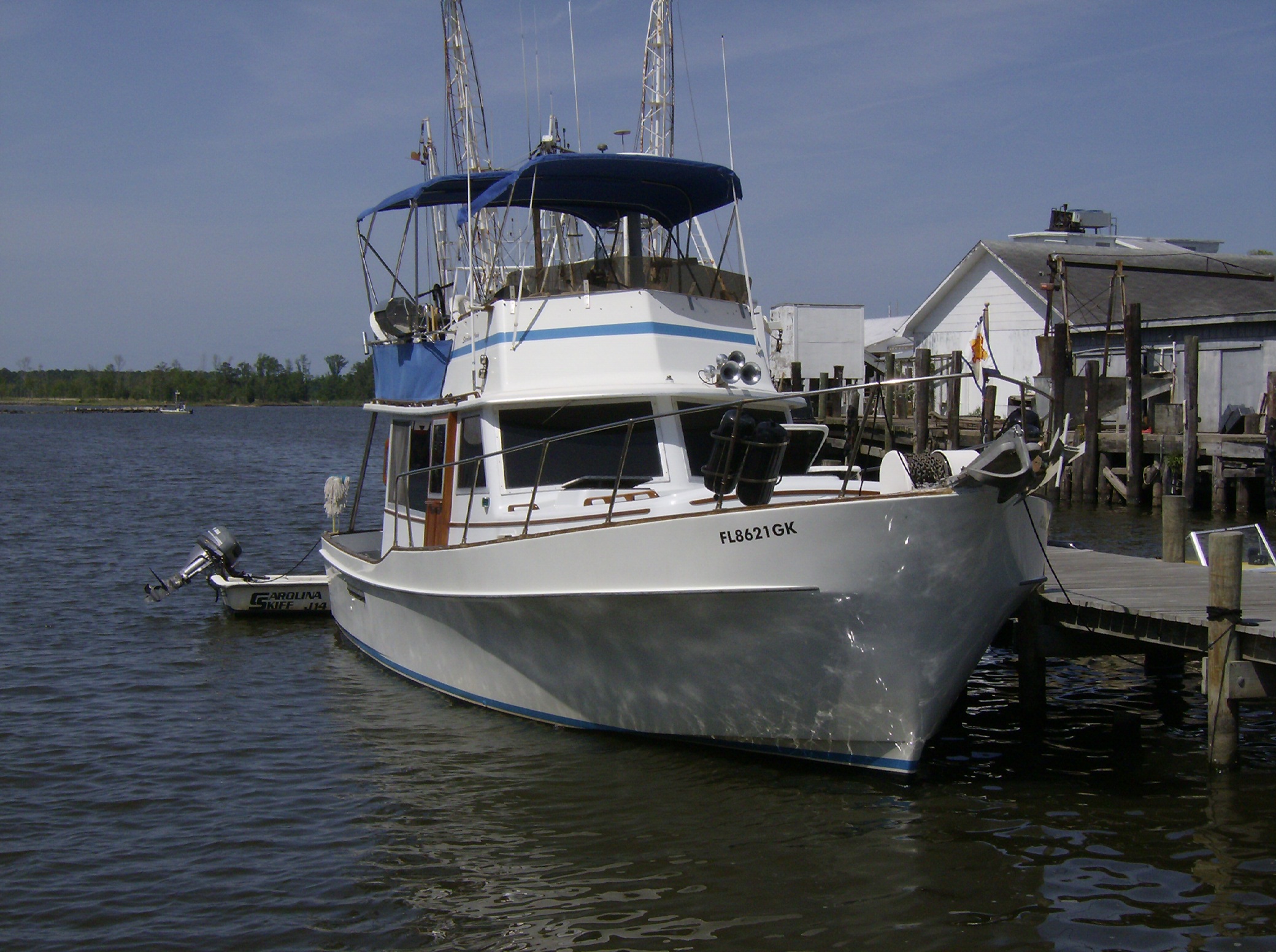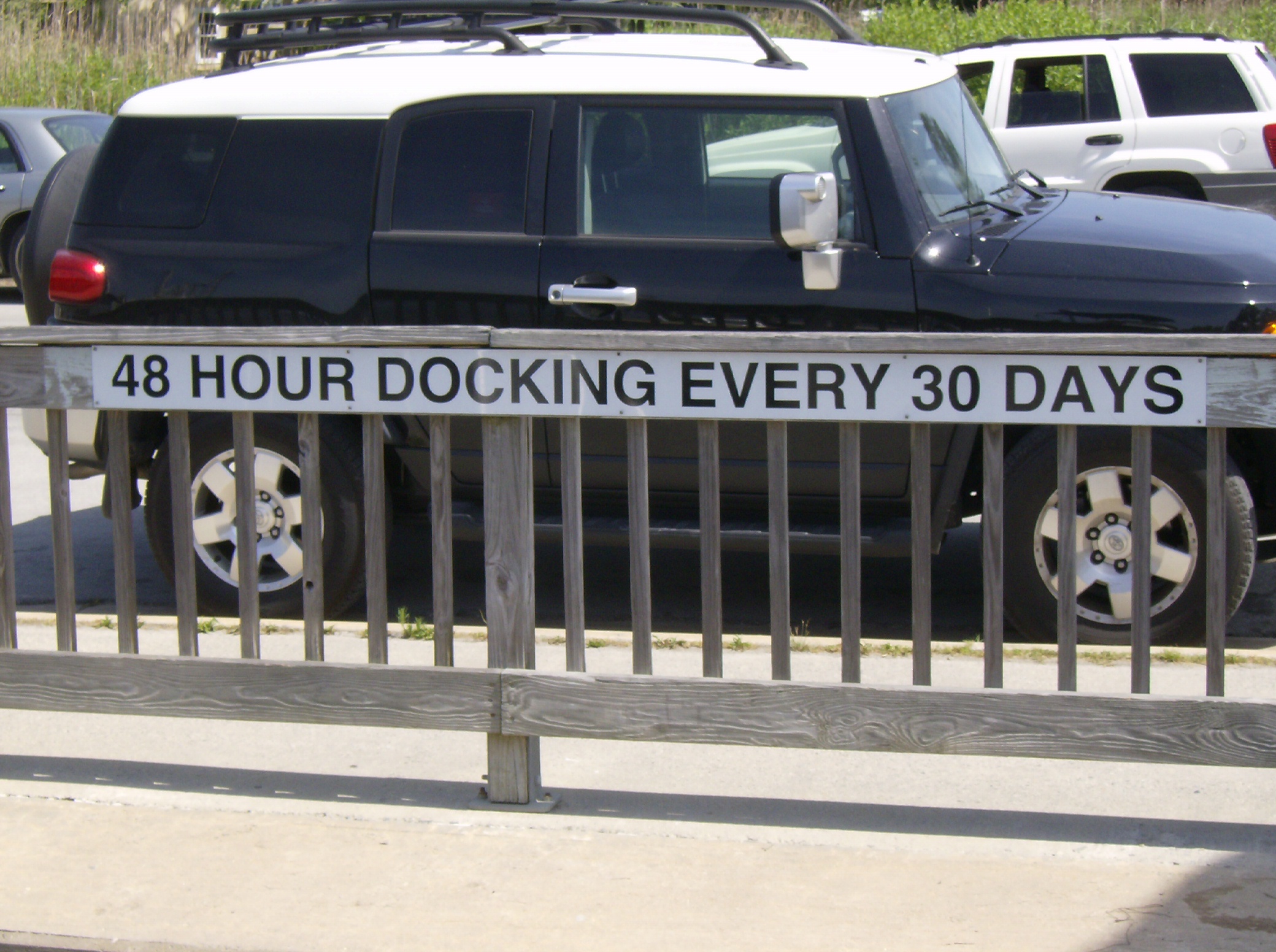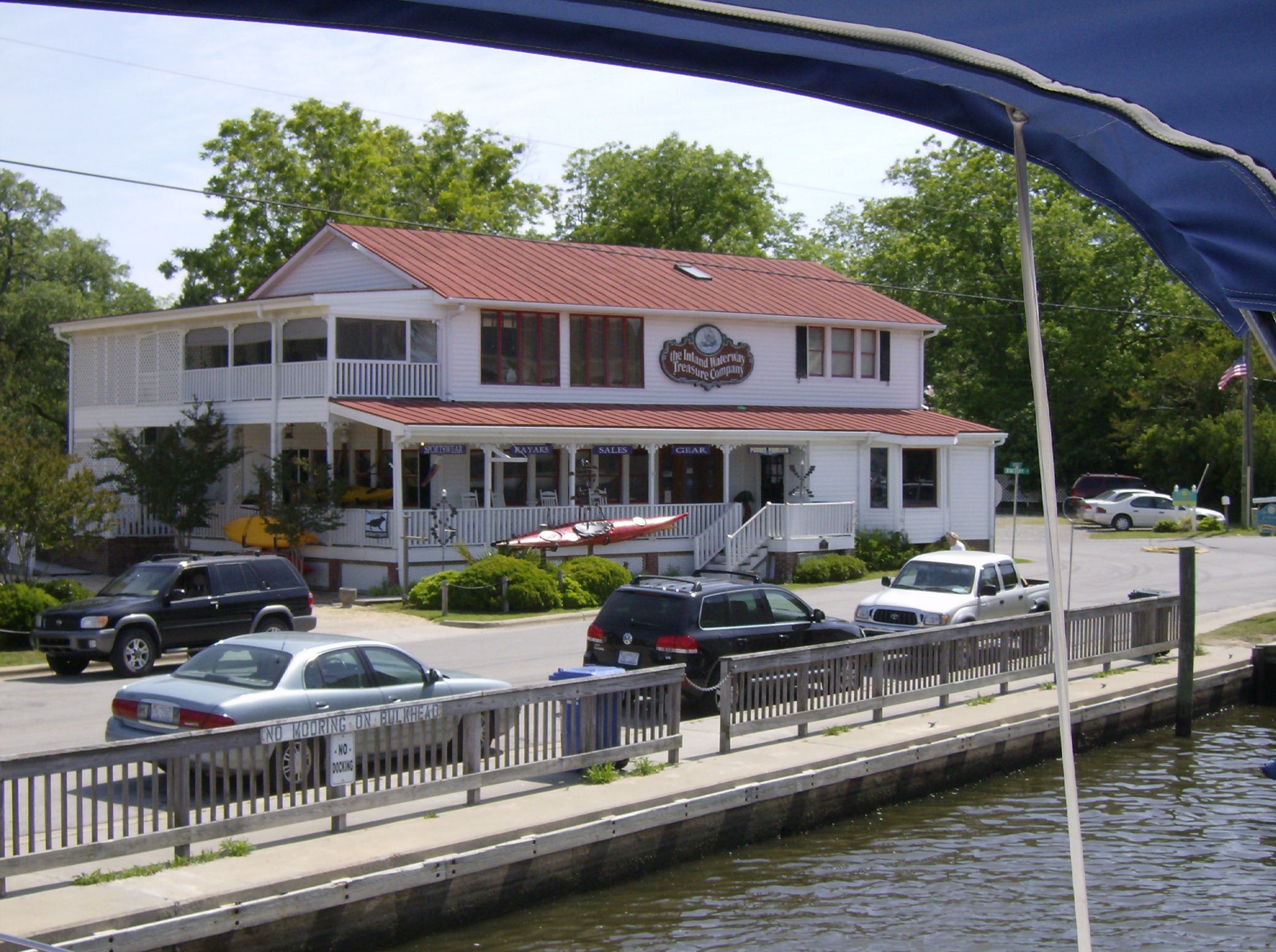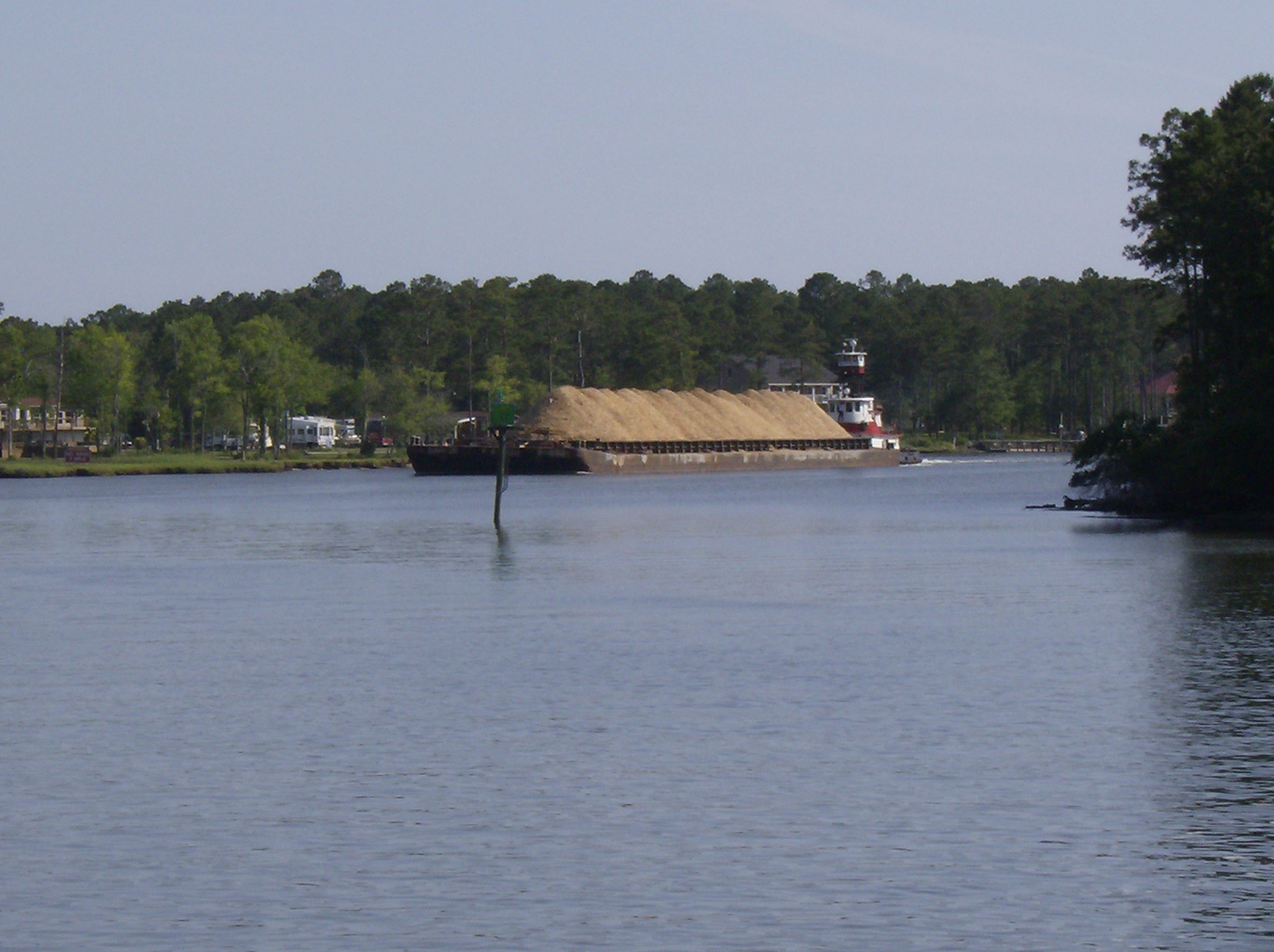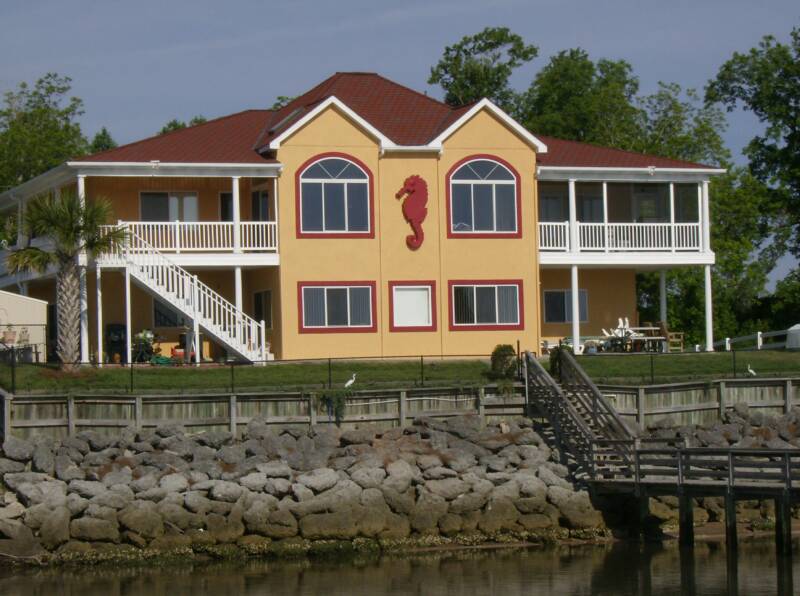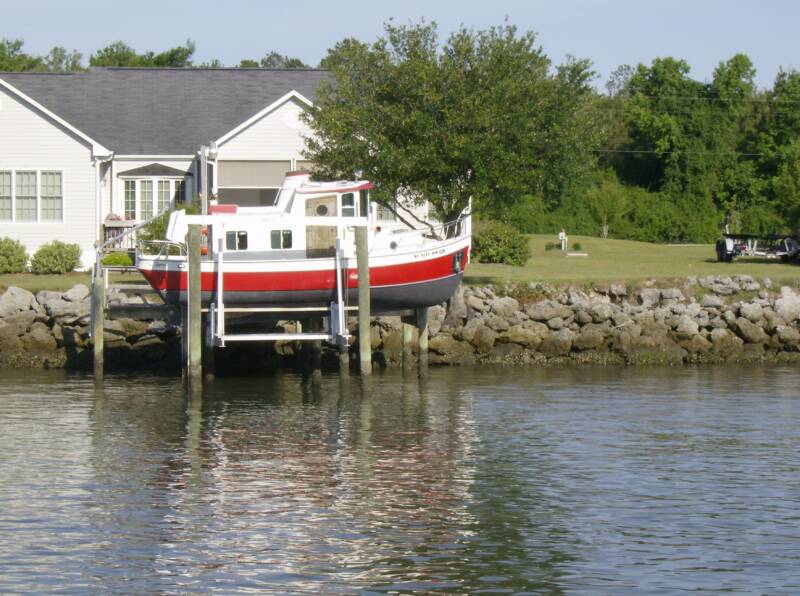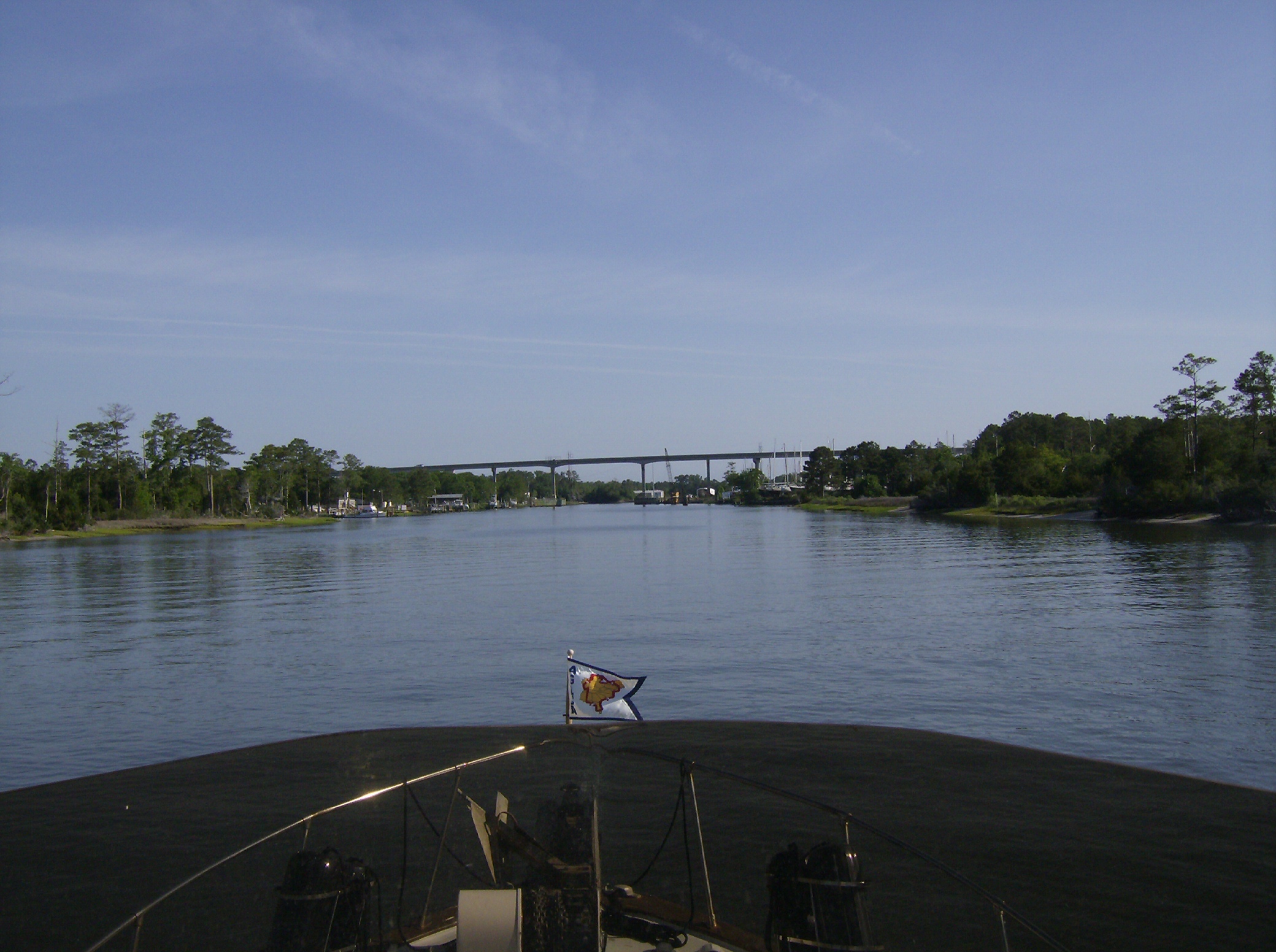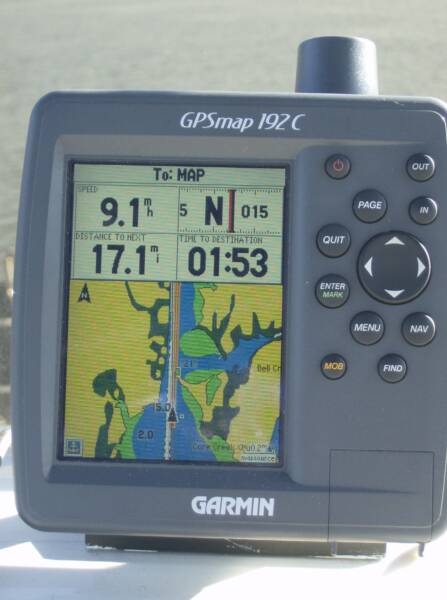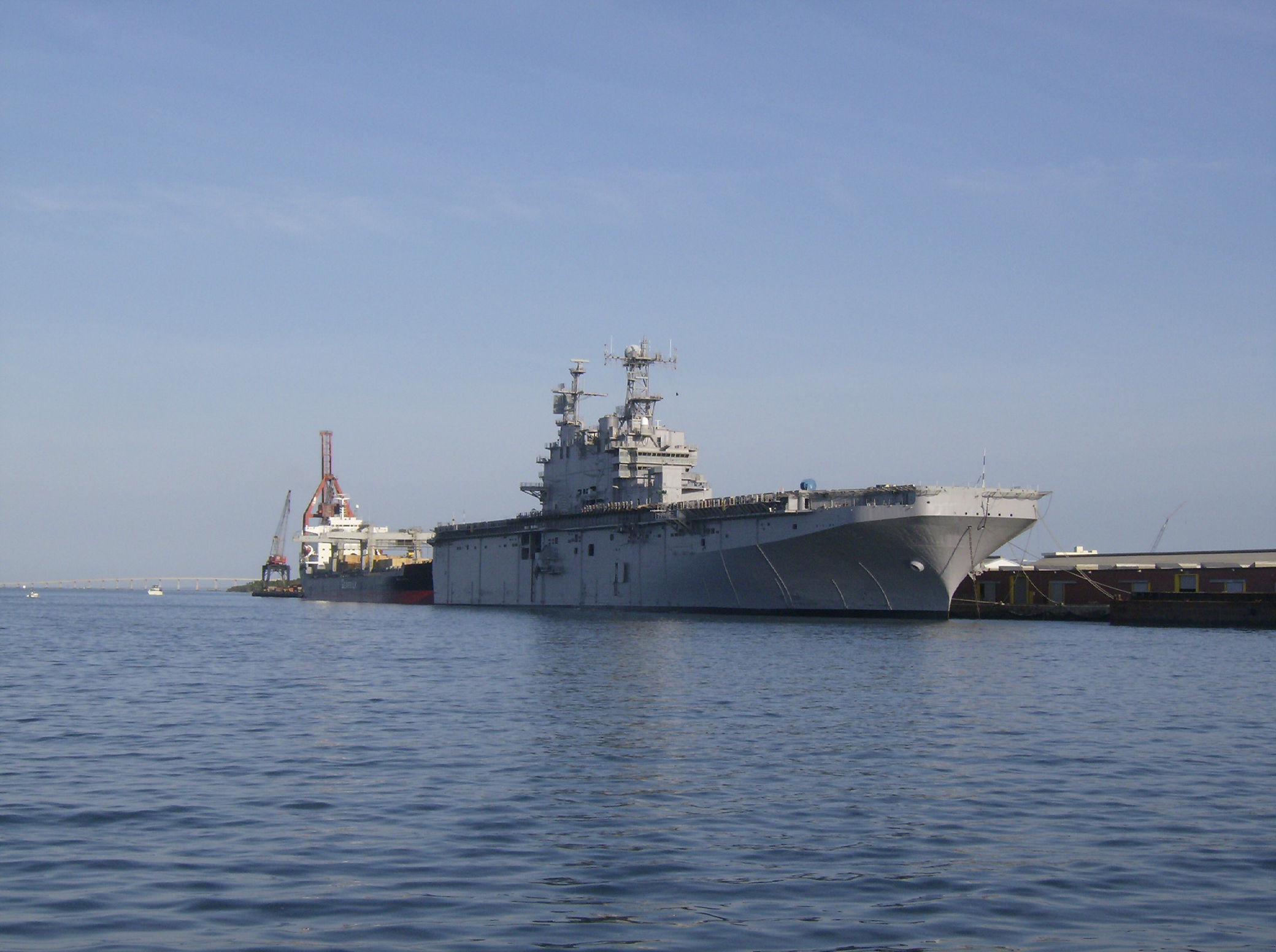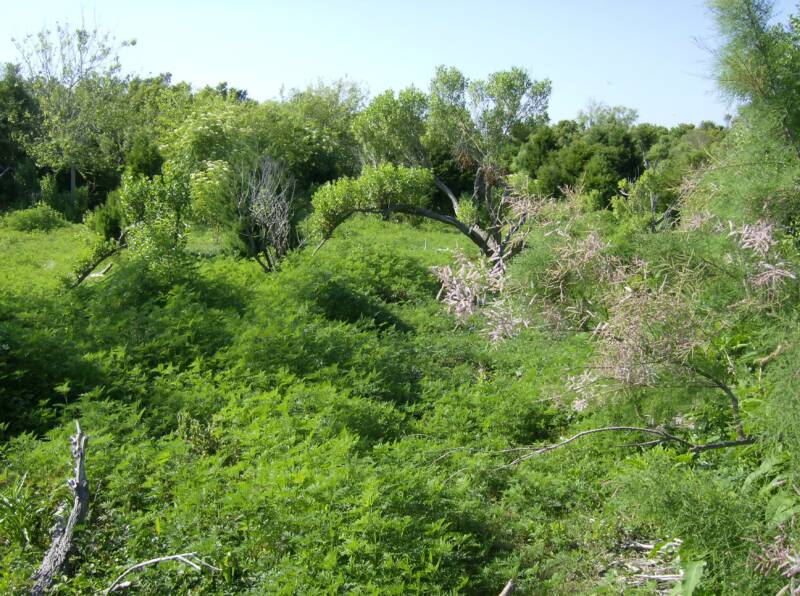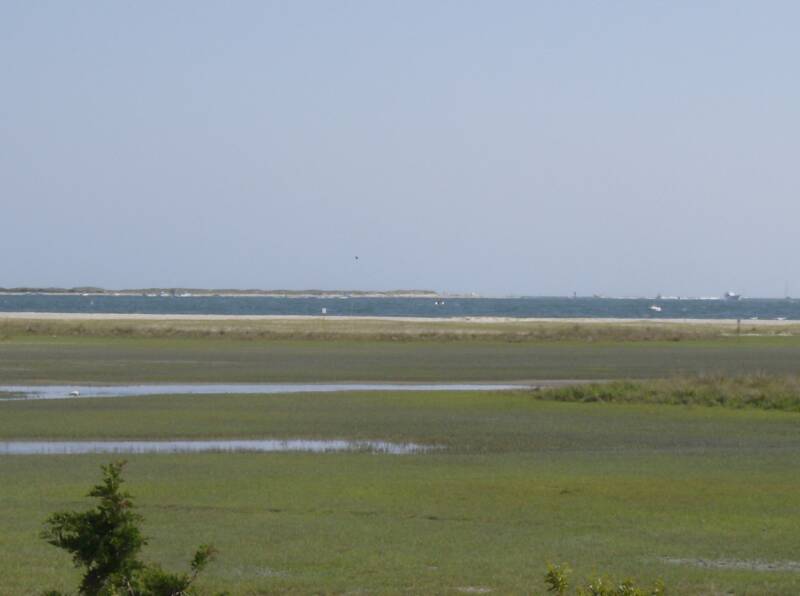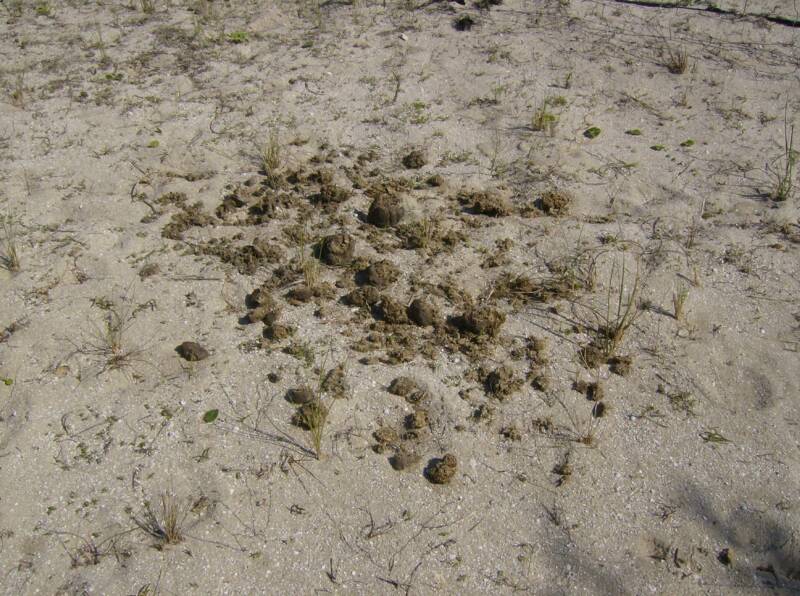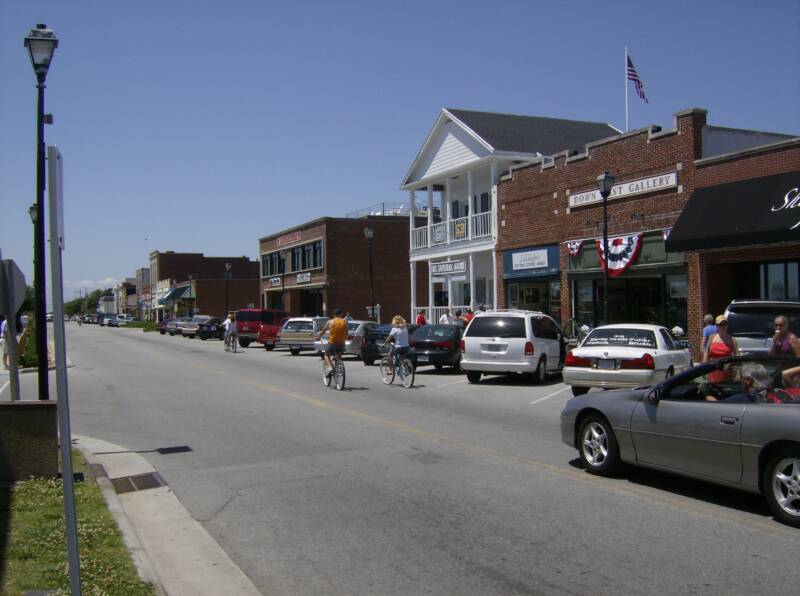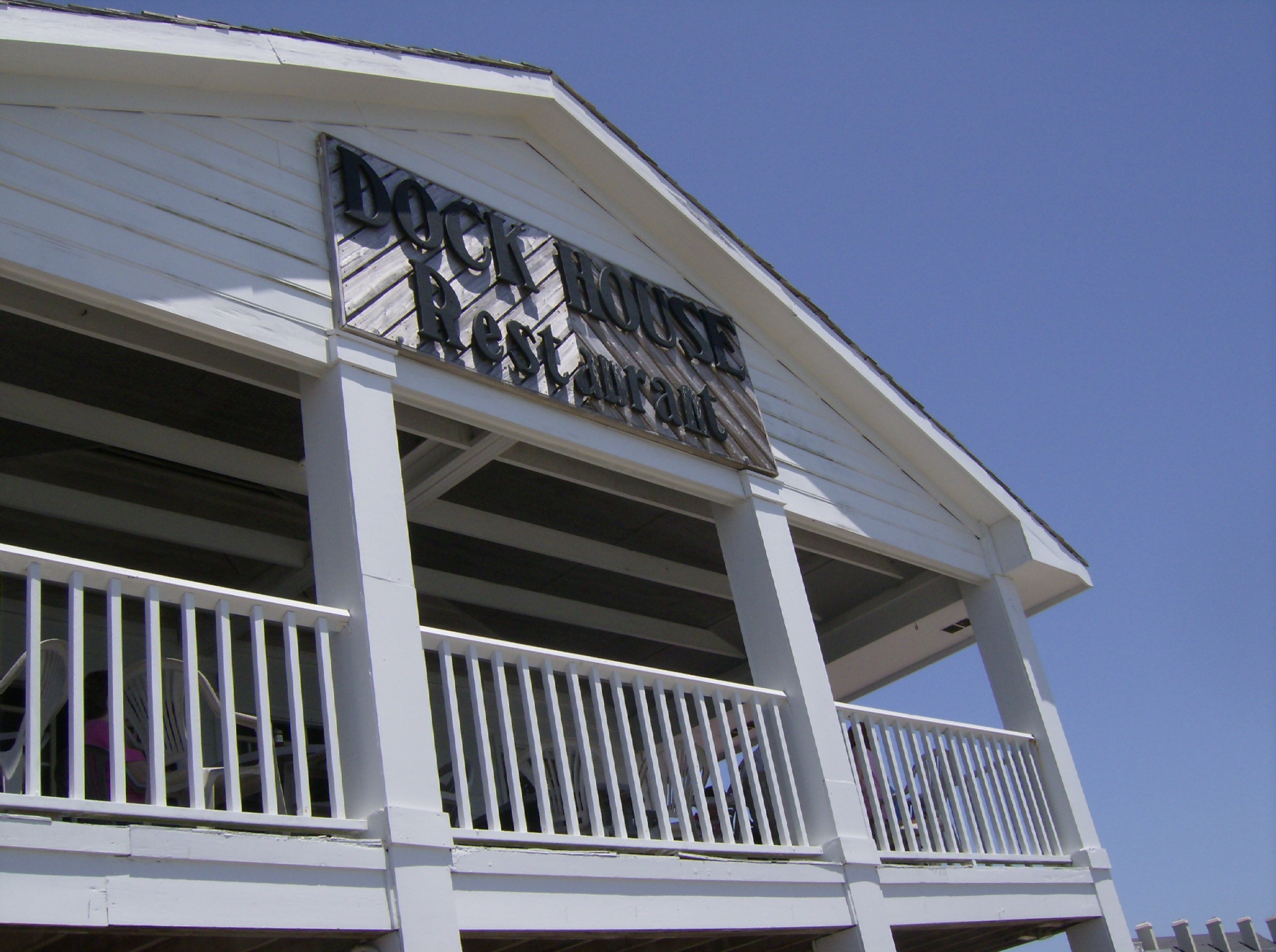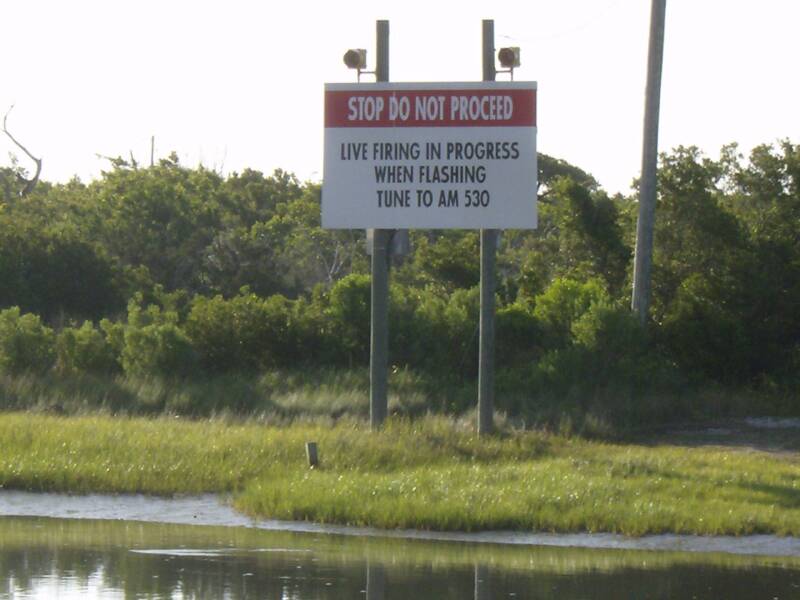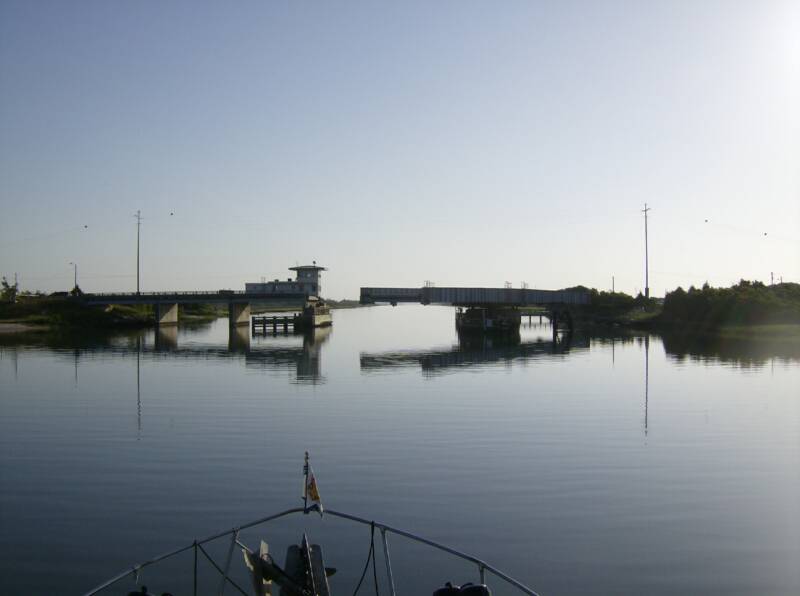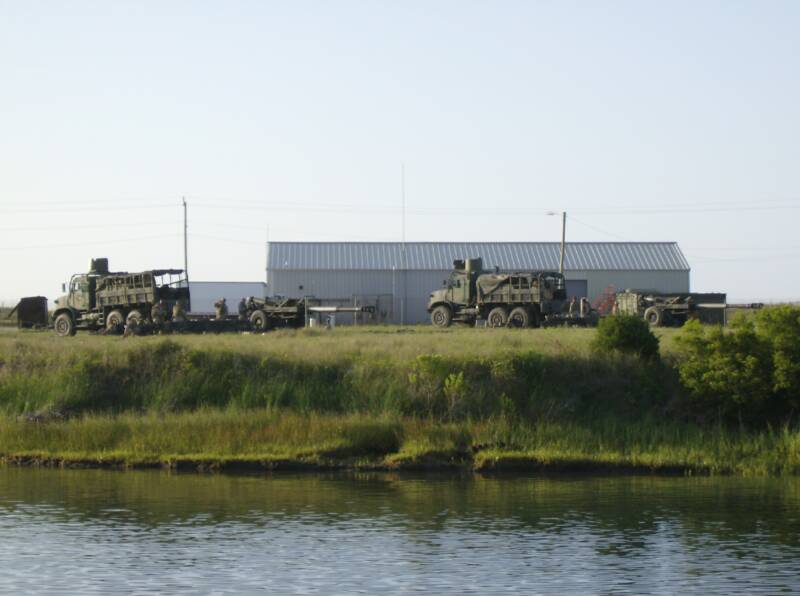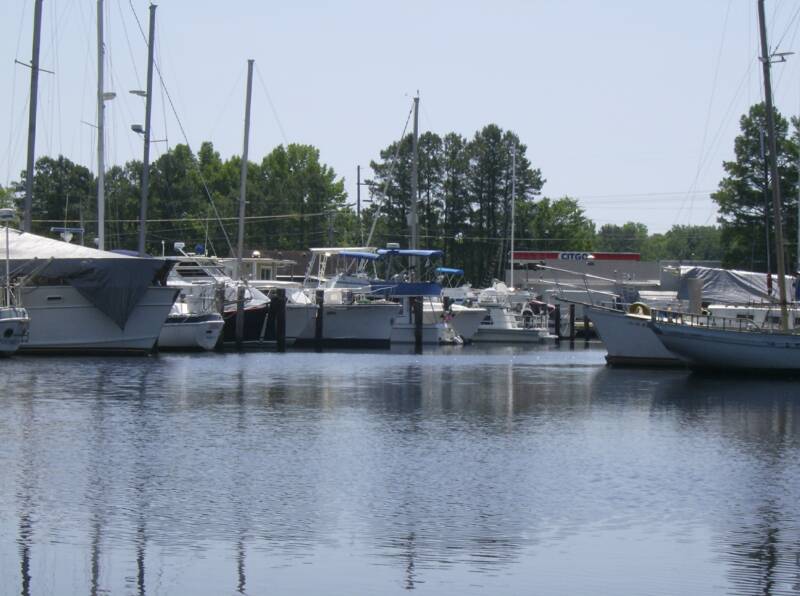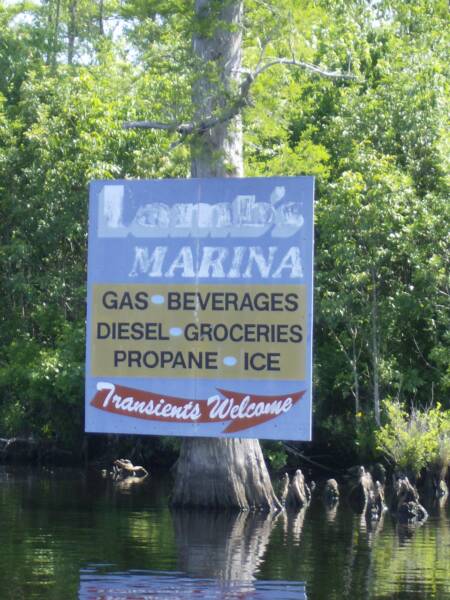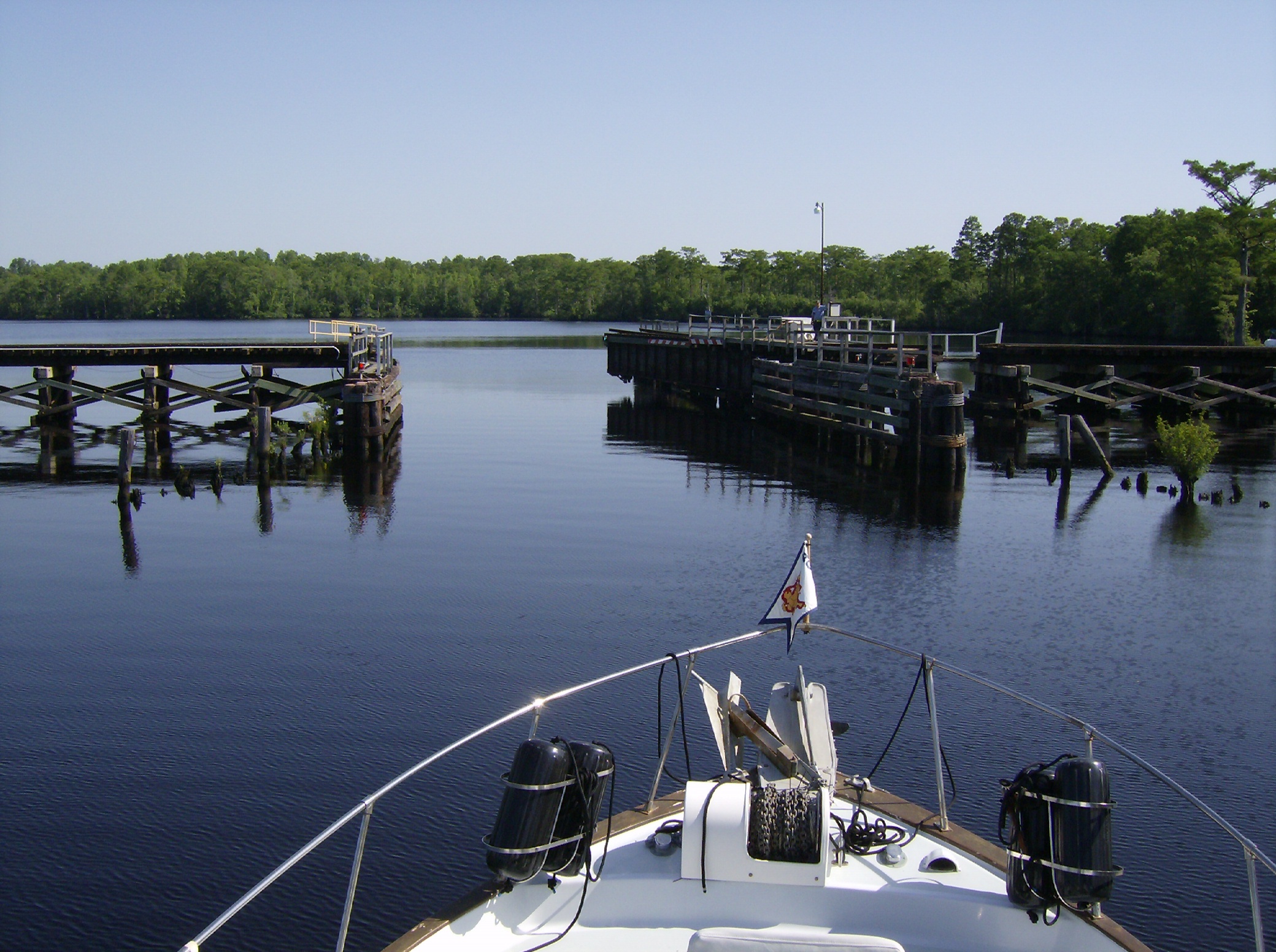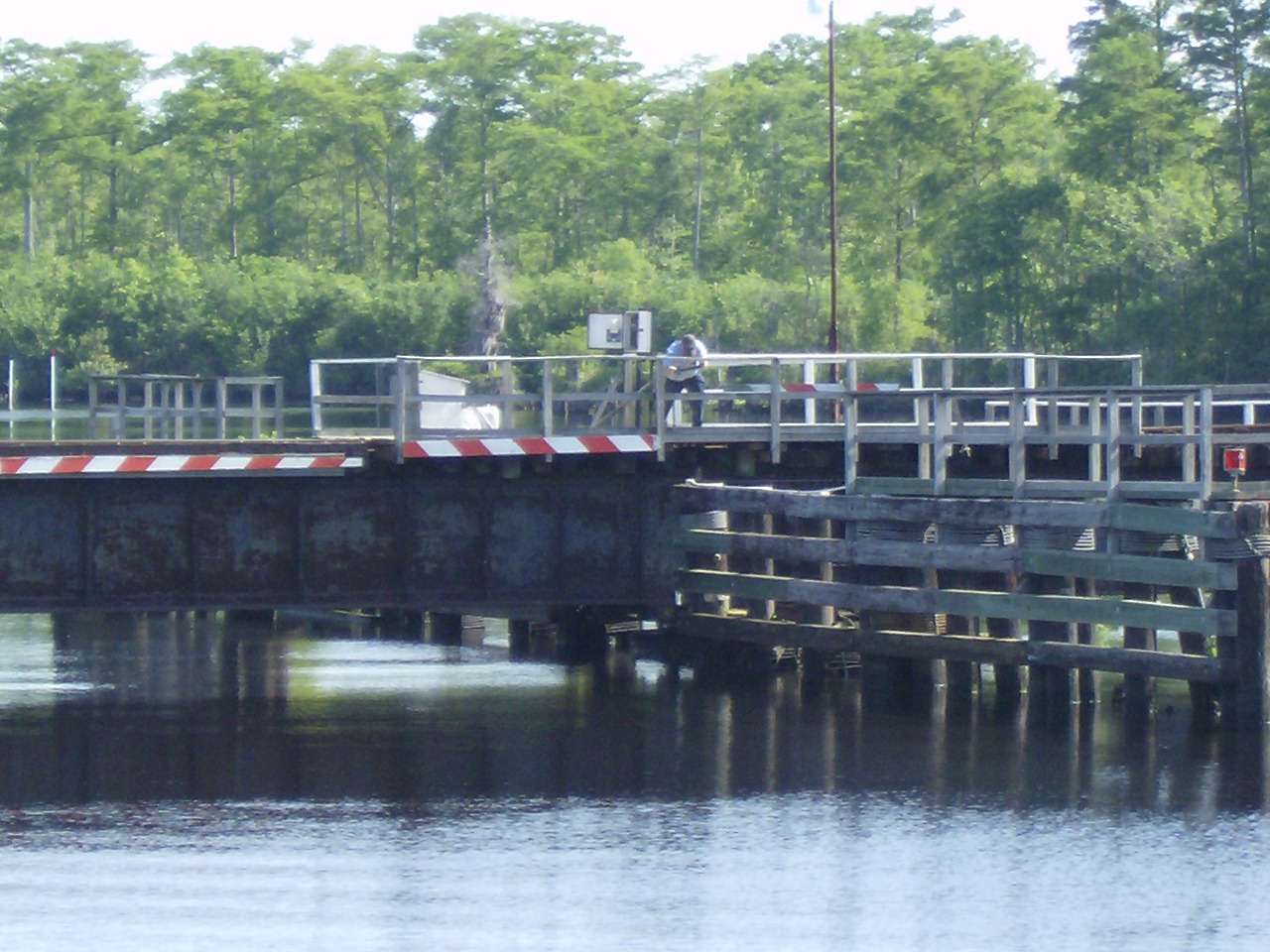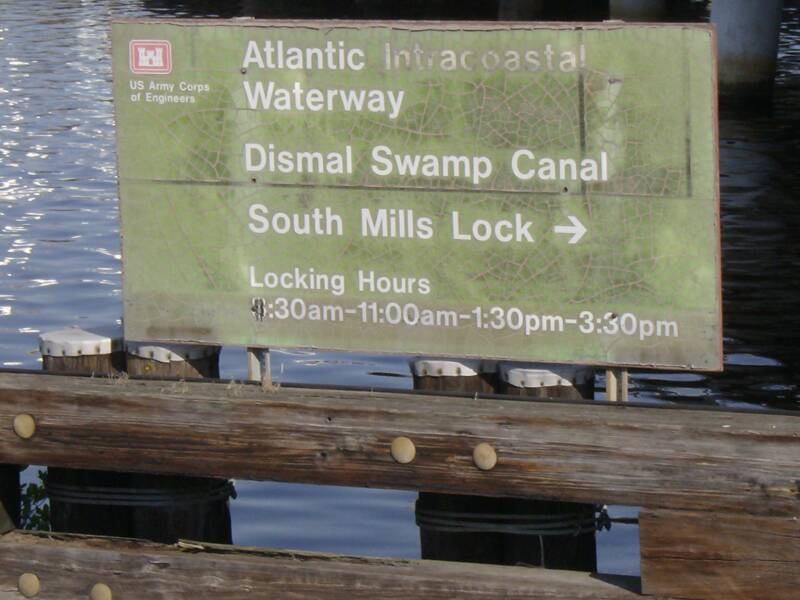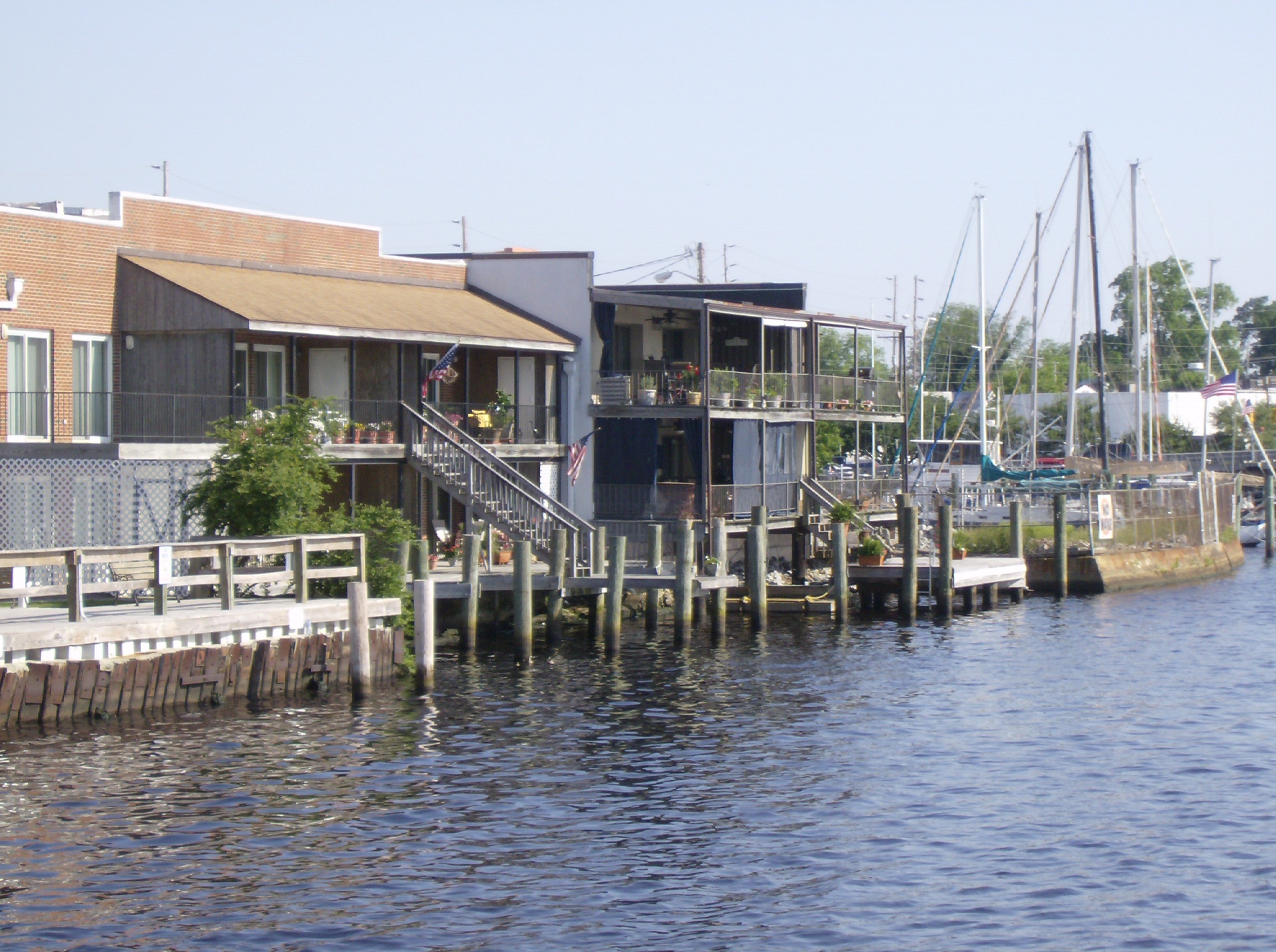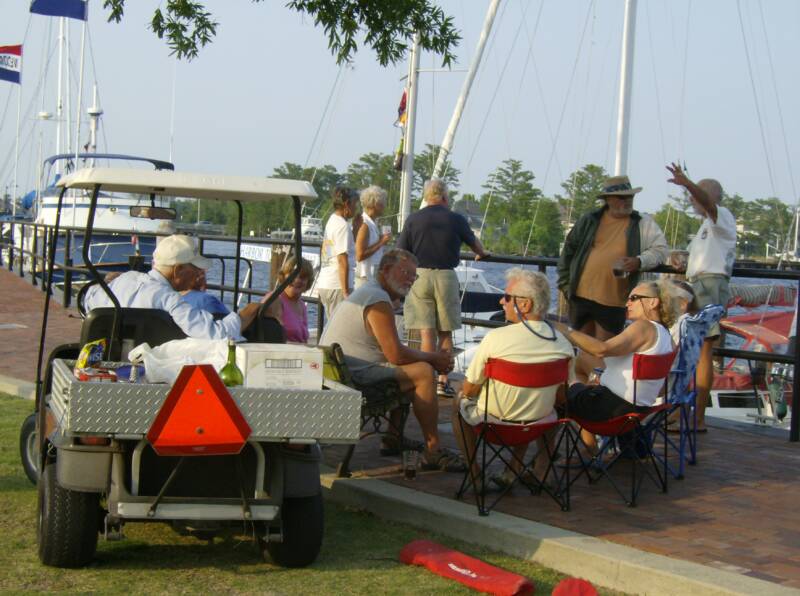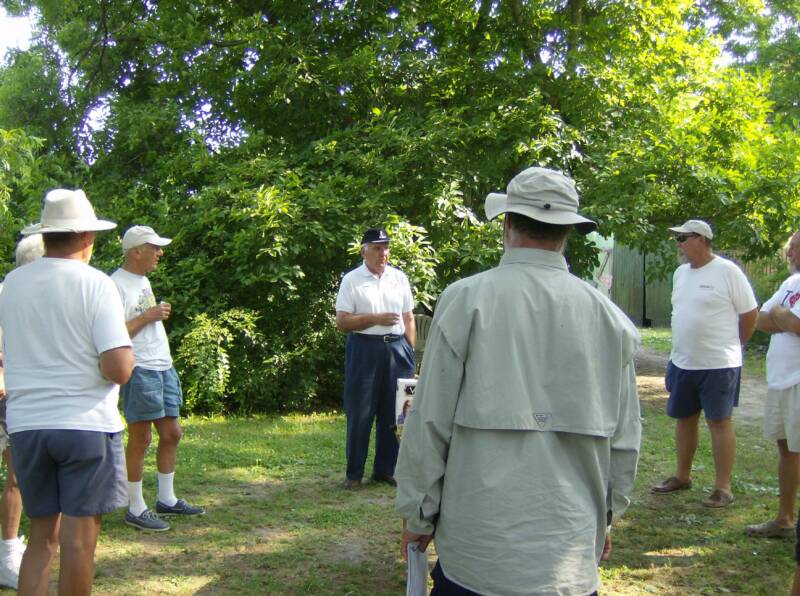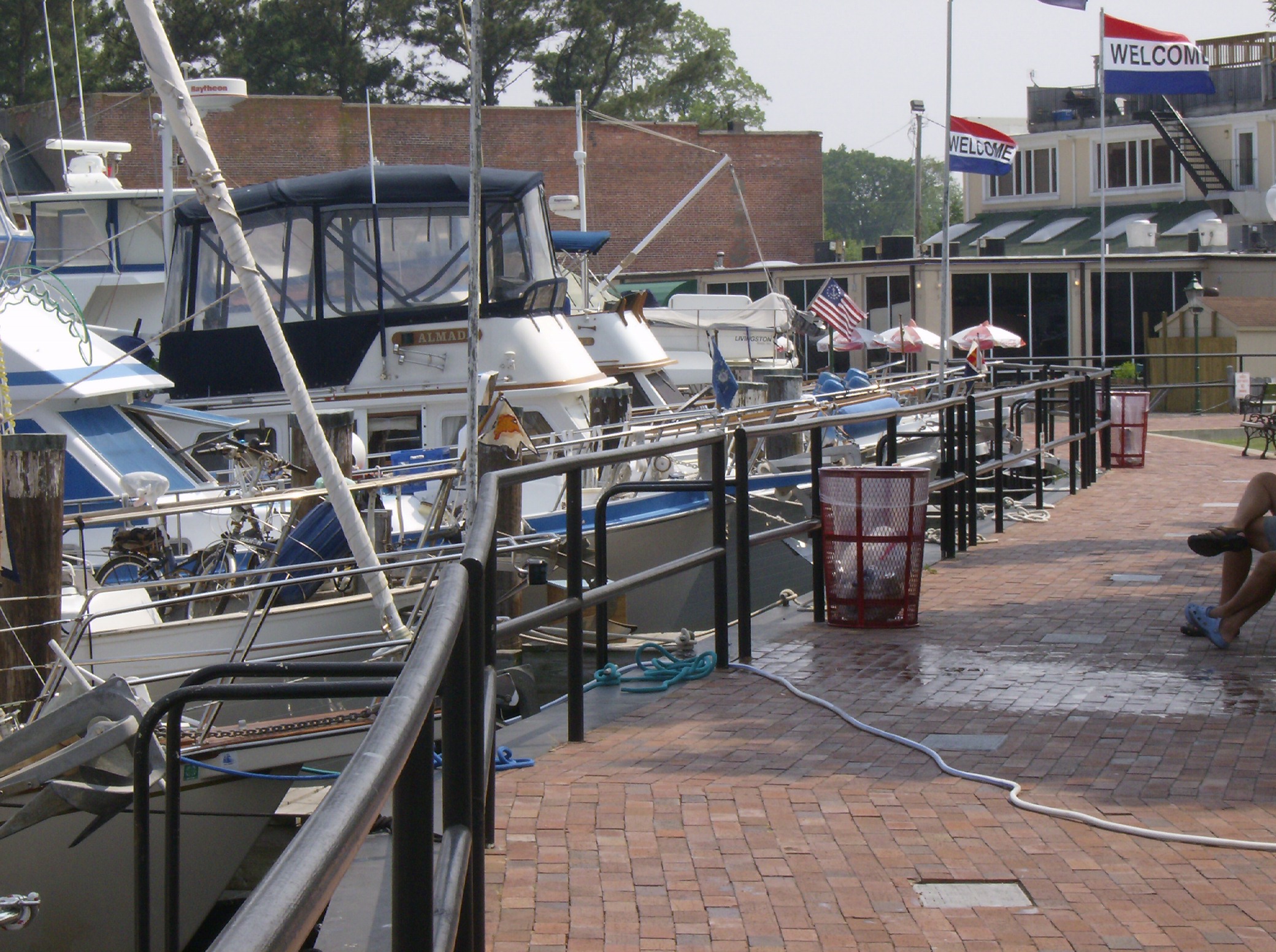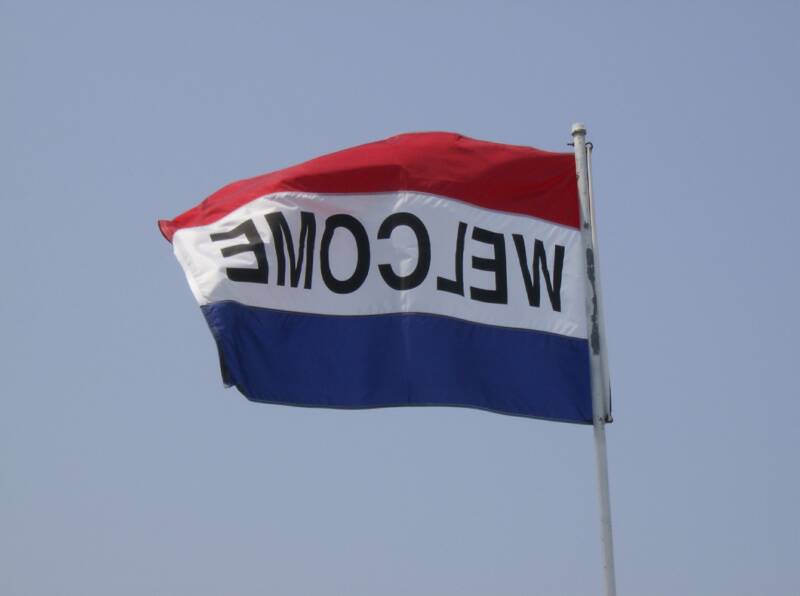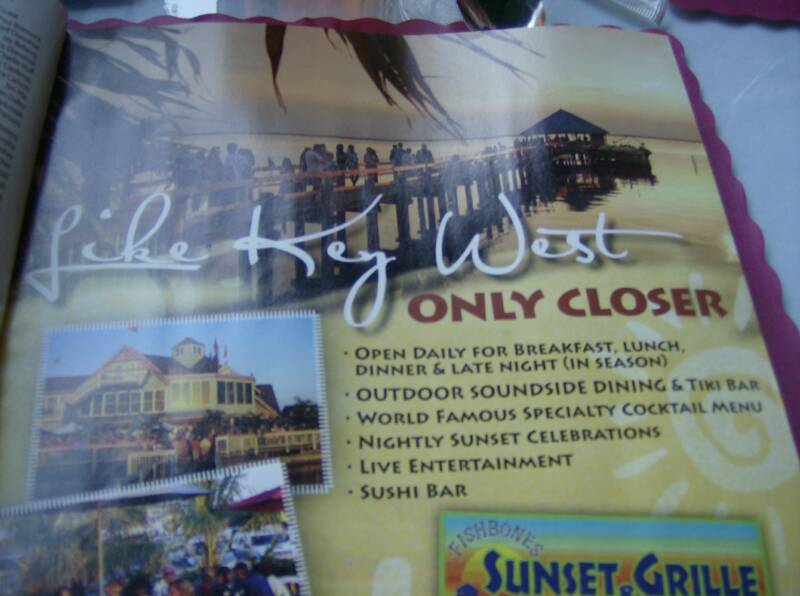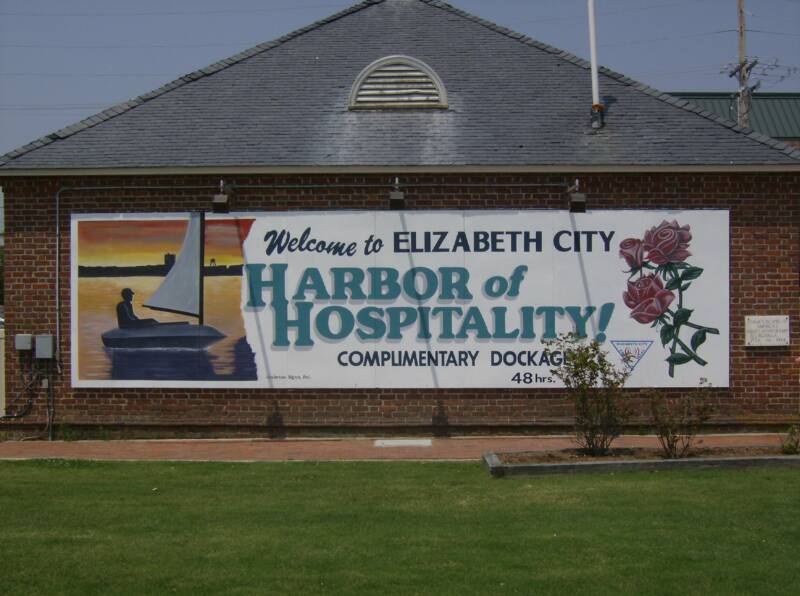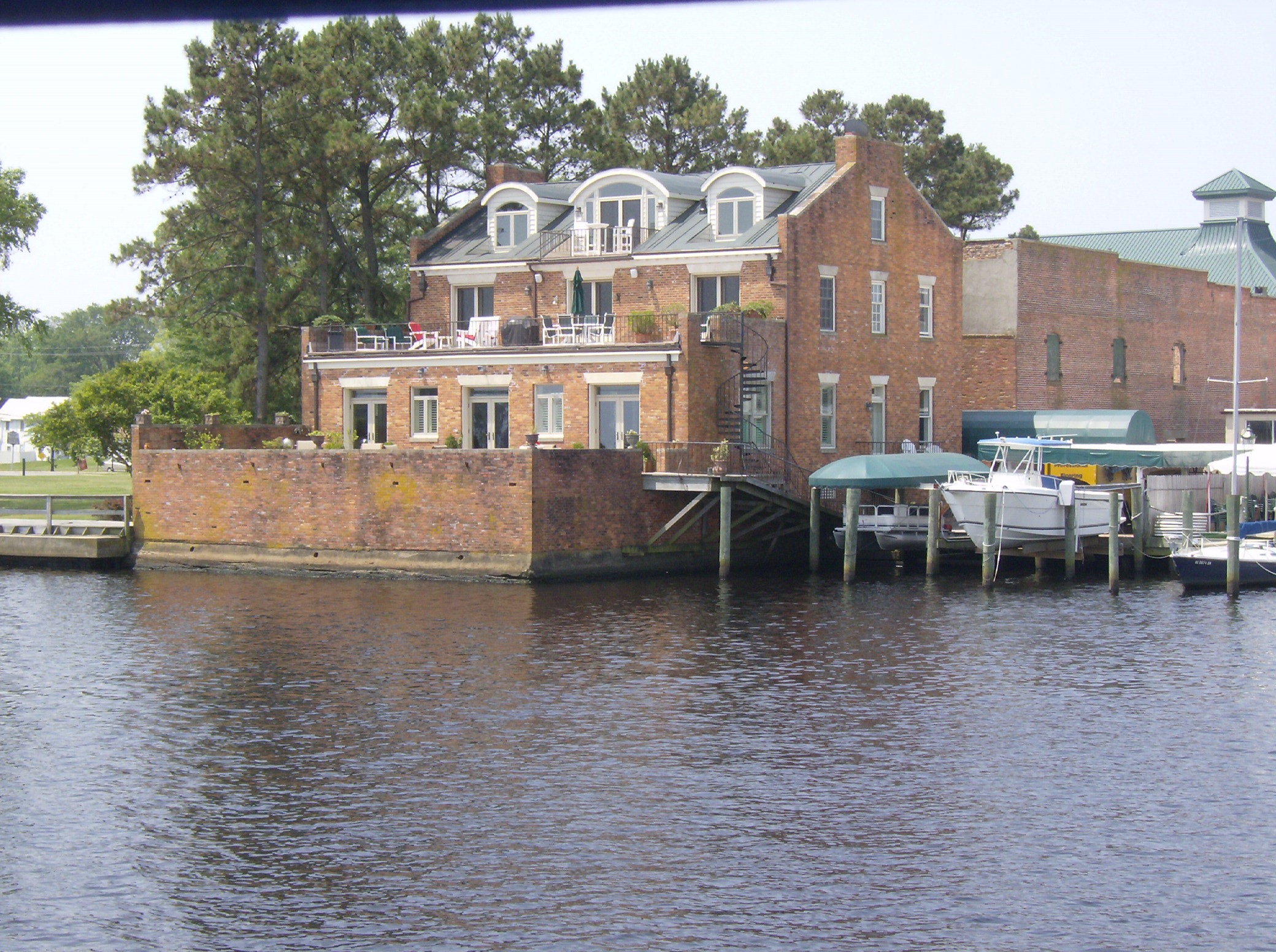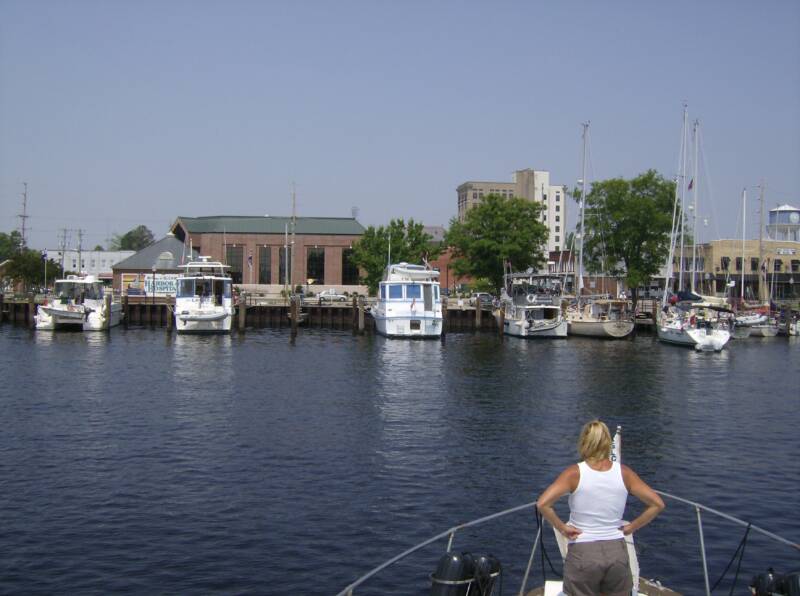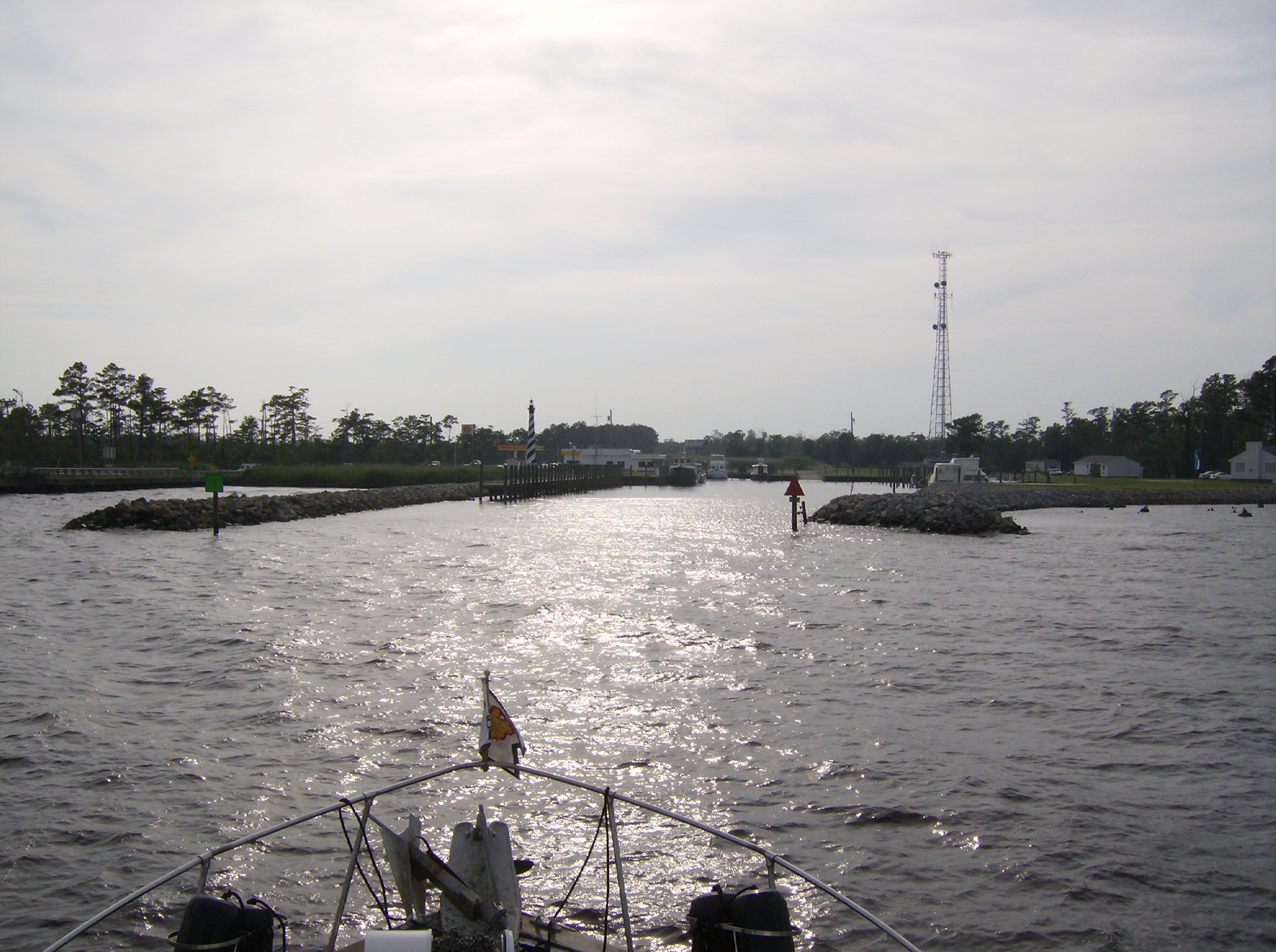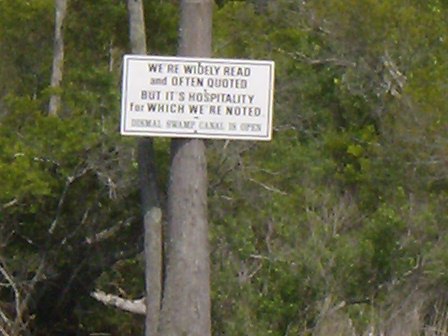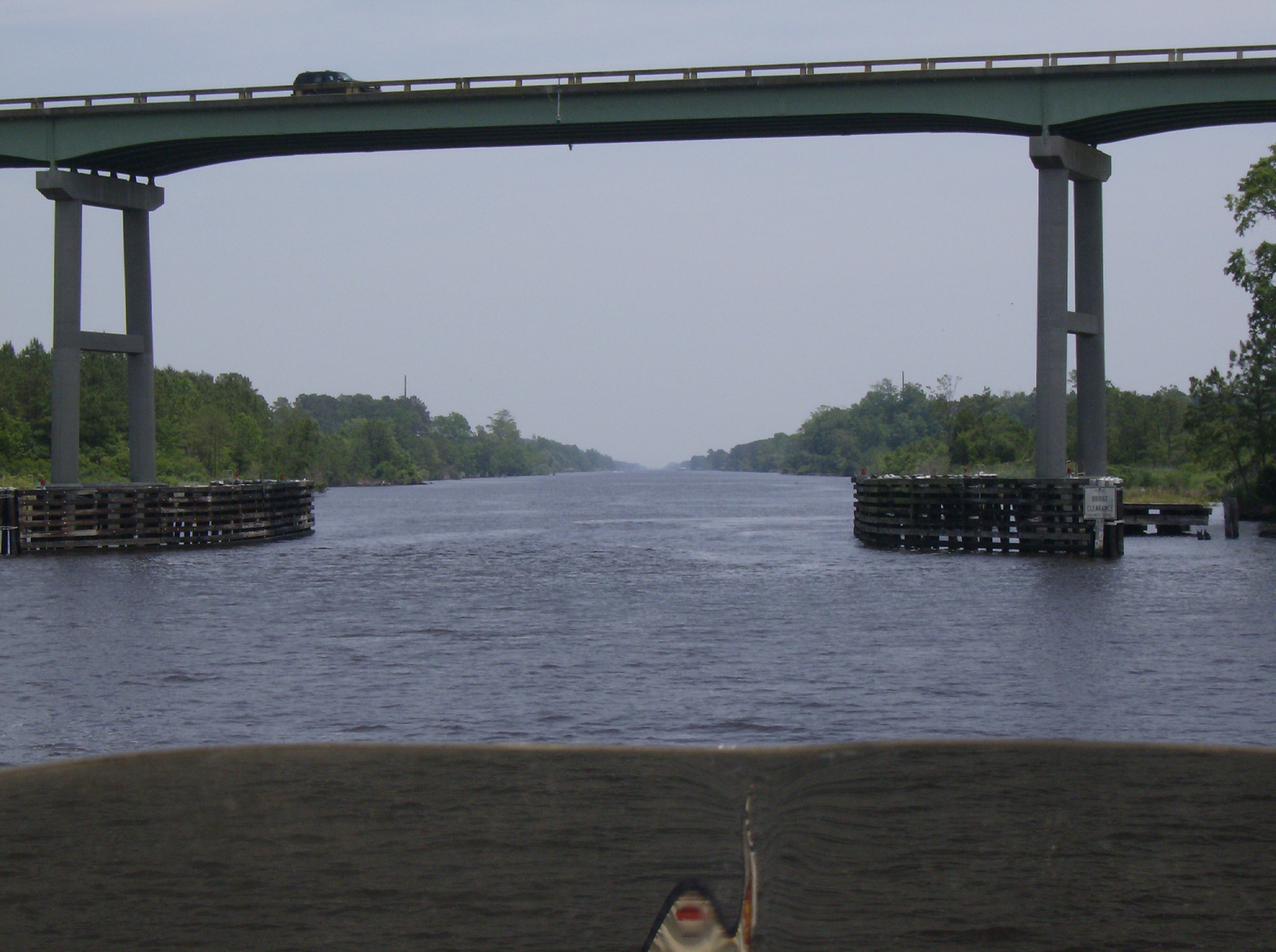 The homes keep gettin nicer, well kept, and different

We passed this guy, port to port, he was hauling wood chips. Figured he was hauling particle board , ,pre birth.

These guys were at the beaufort inlet

We anchored in front of the town.

Another neat little waterfront community

The island across the way was supposed to have wild horses on it,, but all we found were these purple plants, and....

..and a terrific view of the inlet.

There were no horses to be seen, but there was lots of horse droppings,, everywhere.

5/29/07

In the am it was an easy ride to a really great spot, Oriental, N.C.

We got real lucky, Oriental has two free docks, which we got one upon arrival! Right down town.

This was our front view, the coffee shop.

The icon for Oriental is dragons, they were everywhere. The Oriental Cam is located on the house to the left. For a while, we were on it.

This is a very well stocked marine and gift store , right at the docks.

"If your house, is on the back of  a big truck, you must be a red neck!"

Happy hourz were spent here, after a walking tour of the town,

Another view of the free dock

5/29/07

A long 100 mile day today, which you have to do sometimes.

Just before Camp LaJune, we saw this very effective  keep out sign.

The men were getting ready for maneuvers

This on schedule bascule bridge is run under orders by the USMC camp La Jun Comandant

This reminded me of the Lake Okeechobee waterway, less the palm trees.

Spent the night here, a very isolated marina, in fact the only one around, and luckily, the fuel was cheap so we filled her up.

This was the smallest tug I have ever seen!

Kind of like a Burma shave sign for the upcomming Dismal Swamp

5/30/07

Today, we had a 40 mile run, across and up the WIDE Alligator River, it was quite rough. No picture of the trip, too busy driving and dodging lobster pots. But, we followed two trawlers across so I didn't really need to navigate, and we arrived at Elizabeth City free docks about 1 PM.

The farther north we get, the more friendly the towns are.

This neat little town offers 14 plus free docks with water available to all boaters! Right downtown, with restaurants, bars, etc. all within walking distance.

There was no tide, so we made good time.

By 3 o'clock the free docks were nearly full, all doing the great loop! Wow , cruisers heaven@!!

Found this interesting ad for a local bar, truth is , this place is better than Key West if you ask me,

Around 4:30 , if there are 4 or more boats, the "Rose Buddies" put on a wine and cheese boaters get together at their house, 4 blocks west of the dock.
They also offer free advise about the Dismal Canal.

After which, of course , is the mandatory, dock party.

The gentleman in the golf cart is the original Rose buddy, 93 years old!

5/31/07

After breakfast in town, we headed out for the 9 am bridge opening. Today's Goal, Lambs Marina, 4 miles north, to store the boat for a trip back to Key Largo.

The bridge is operated partially by hand, and partially by electric motor.

It was the smallest bridge opening I have been thru yet, but then, we still have 5,000 miles to go.

We rounded the bend and there was the Marina, were we stored the Lady, for about 10 days, till our return from Key Largo, to continue, this Great Adventure........Stay tuned

Note the ship tied behind us.

Instead of grass, this guys has yellow flowers for a yard.

6/12/07

We had the day from airline hell! Left for the airport in Ft. Lauderdale (one and a half hours north of Key Largo) and had an on time take off at 12 ish,..long story short, din't get to the boat , after many delay, gate changes, etc. till 9:30 pm! But thats over now, we are back!!!