The Great Loop Adventure Begins!

Well FINALLY, here it is.

I have decided to bite the bullet and begin Americans best boating adventure, The Great Loop!
After years of planning, and lots of day dreaming, I have decided to just to start it and go from there. Not going to wait till the perfect time, as the perfect time may never come.

Here is Plan A

Having a Tour Boat business in Key largo,we will have to travel this trip a few weeks at a time, leaving the boat in storage, and then returning to the keys to later head north again..Not sure how far we will get by fall, but when it starts getting chilly, we will put the Lady in dry dock storage, not to return to her until the warm spring. At that time we will complete the Great loop, returning to Key Largo
Plan B

To be determined by necessity, if necessary..

Hope to keep this page updated so our friends and family can follow along.

4/15/07

The boat went in the yard Friday afternoon, we fixed two small leaks, cleaned and painted the bottom, coated the prop with STP (will let you know how that works out) and will re- splash the Lady Monday am for supplies and final preparations. As is usual, this will be a  "fixing you boat in Exotic Places" type of cruise. There are lots of things to fix and get to be ready, but if I wait till it's all done, I may never get to go.
This isn't dress rehearsal , So we leave Wednesday!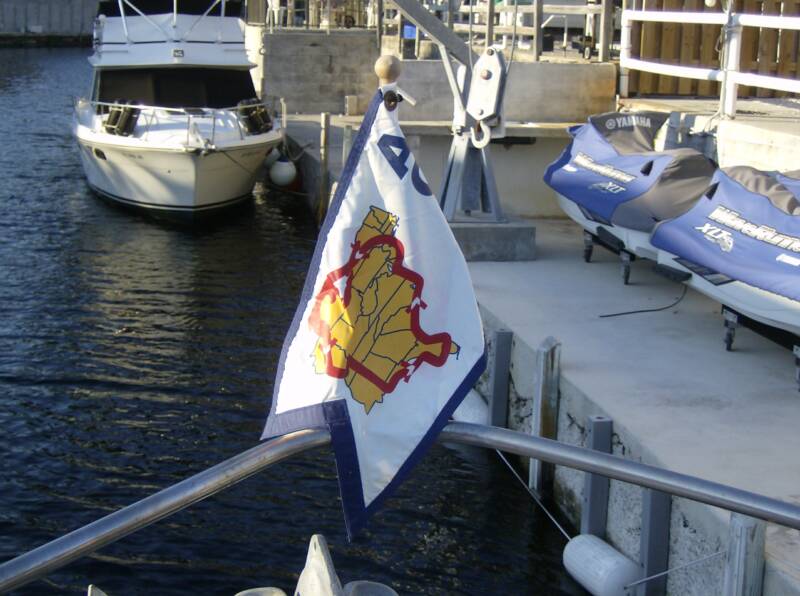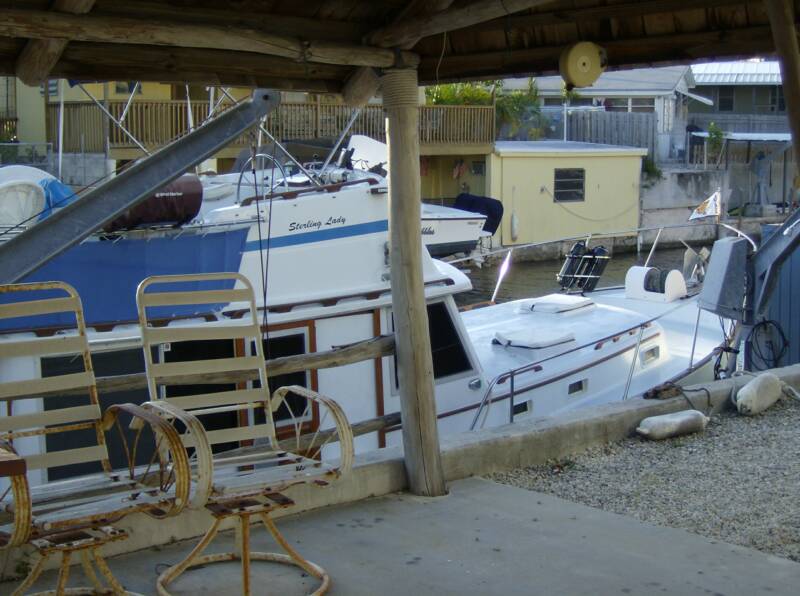 Many thanks to Joanie and Mark for letting me put the lady at their dock for stocking and supplies.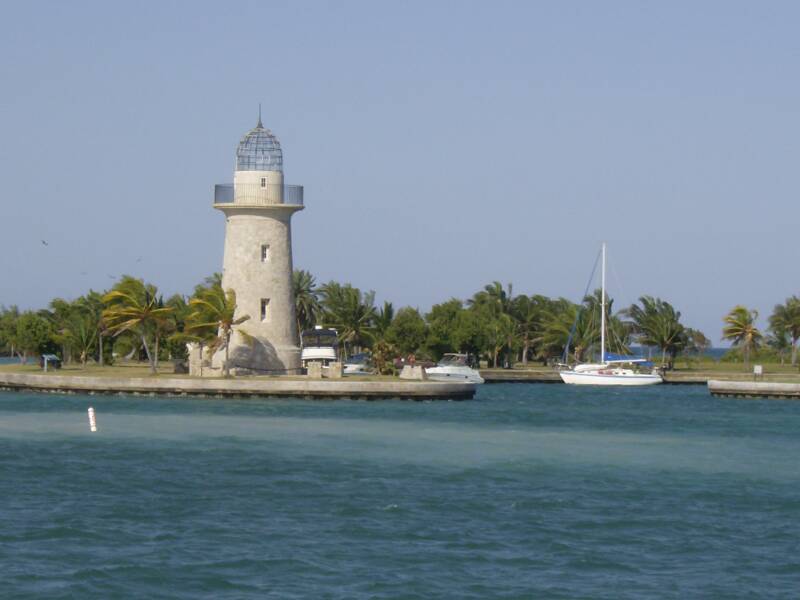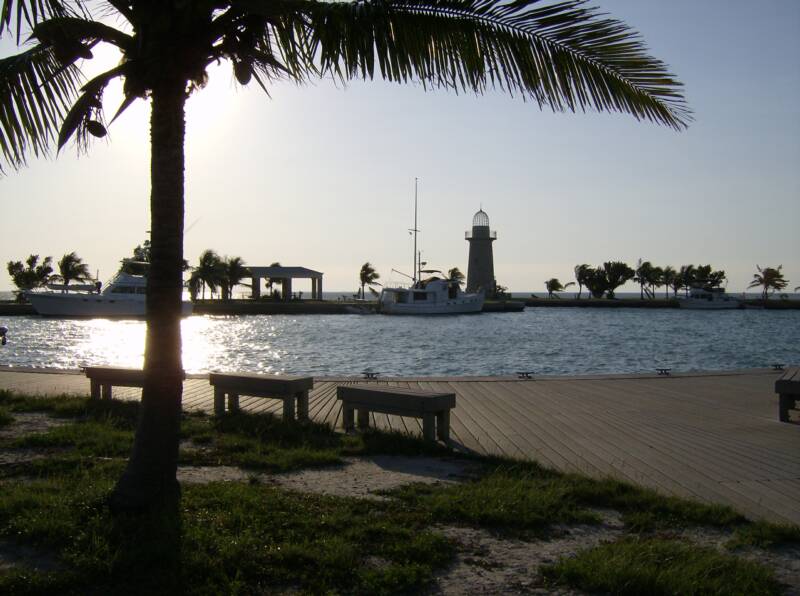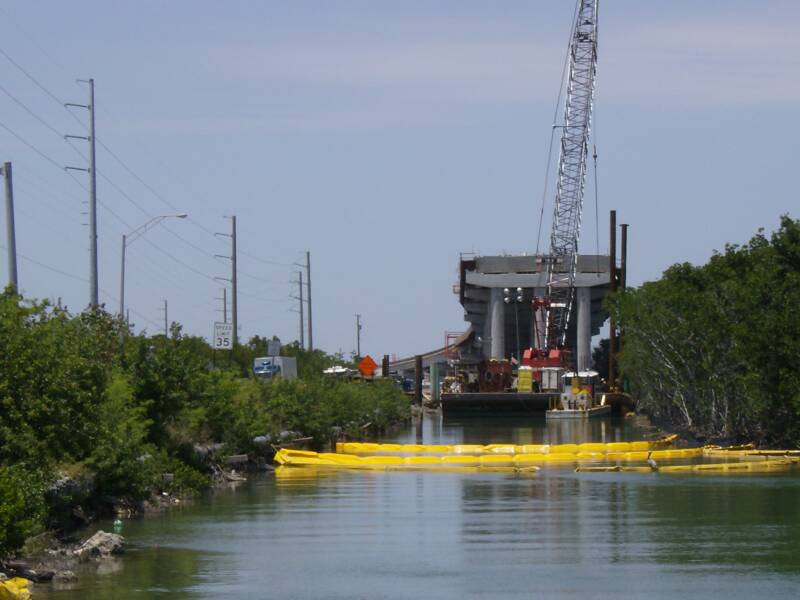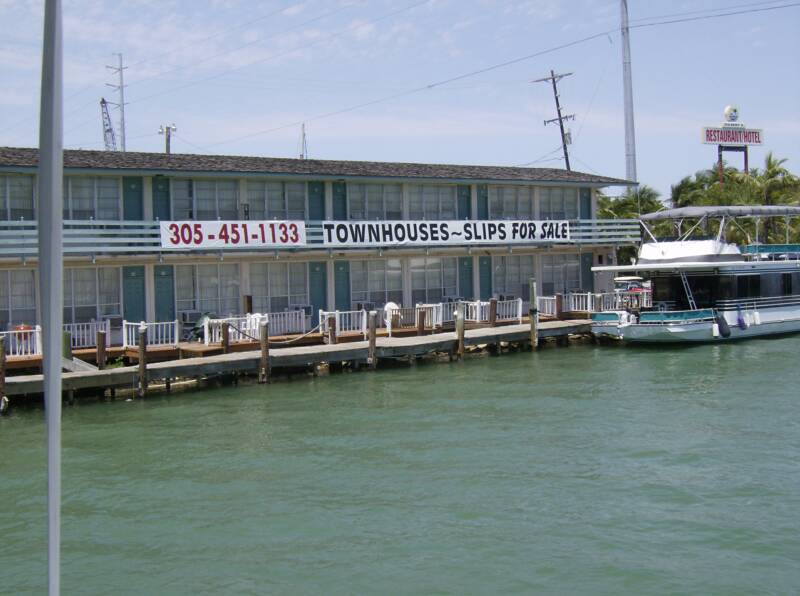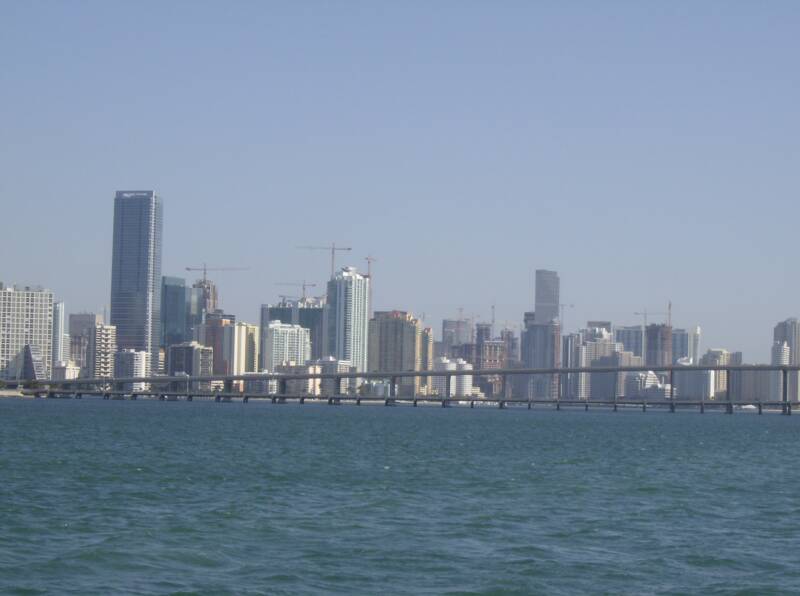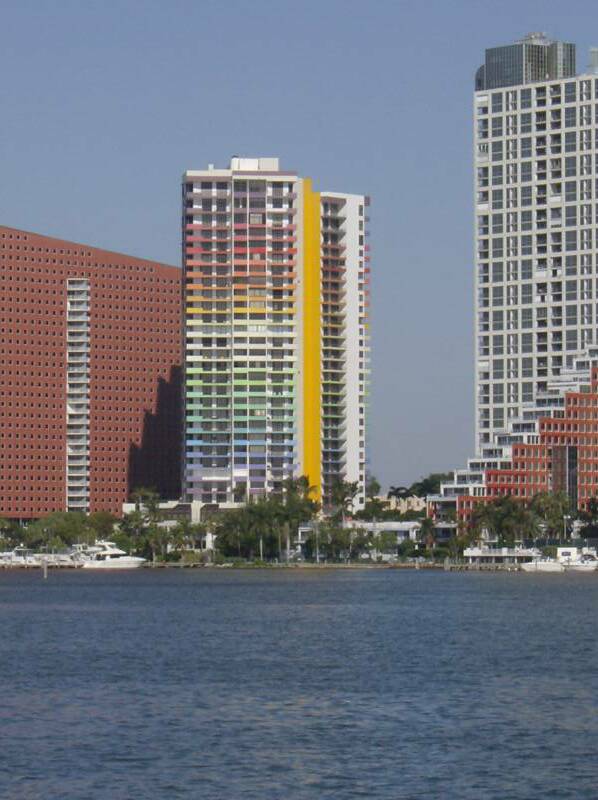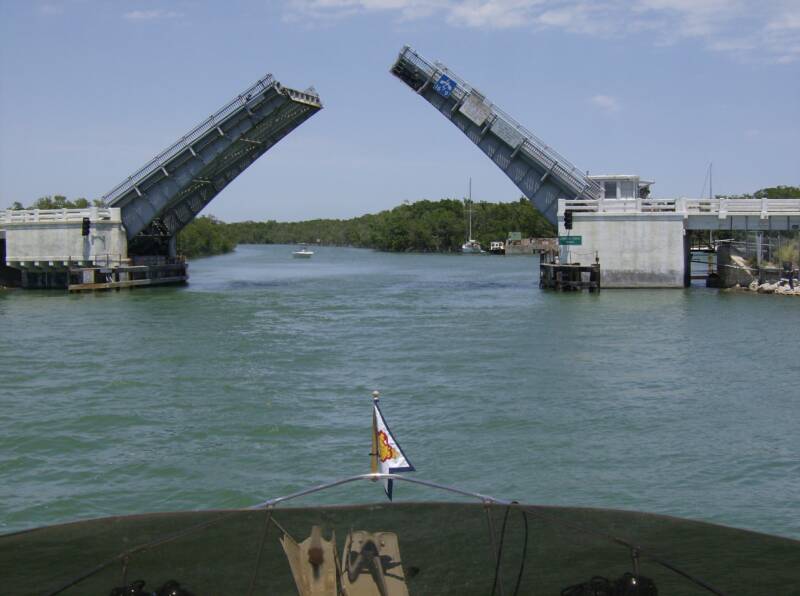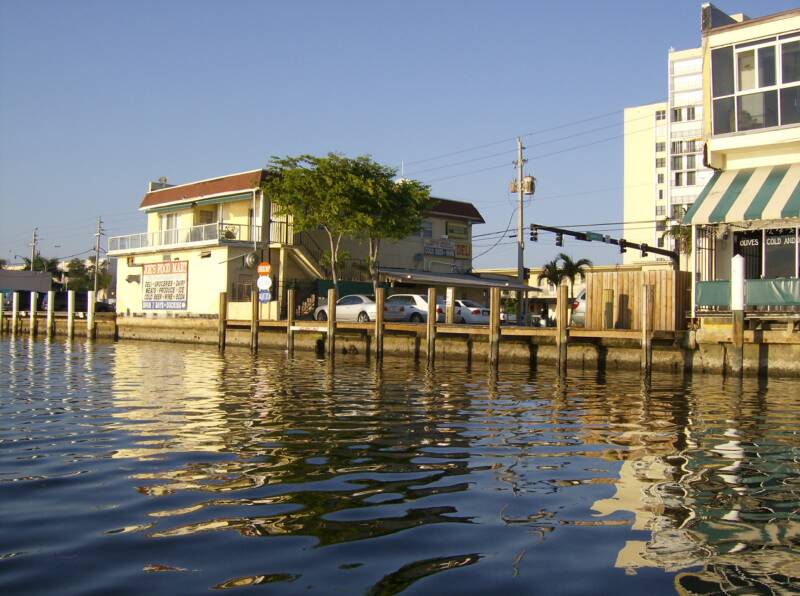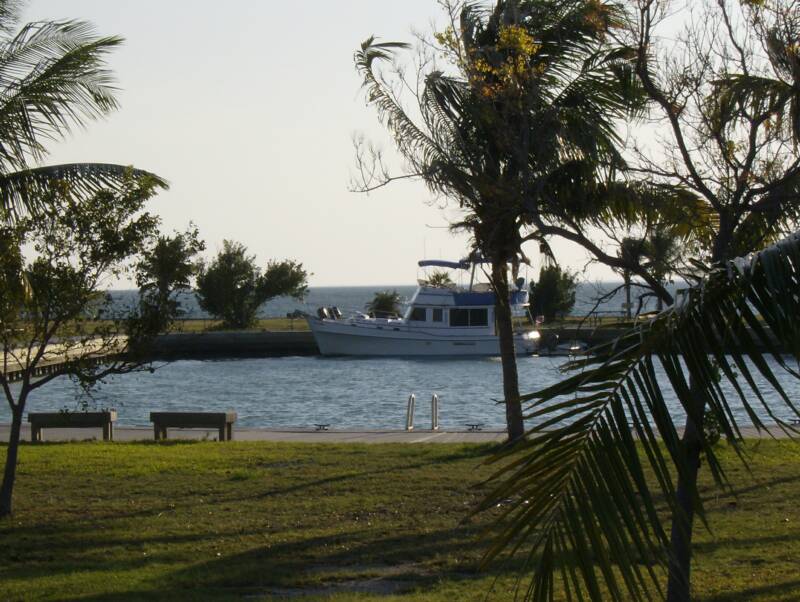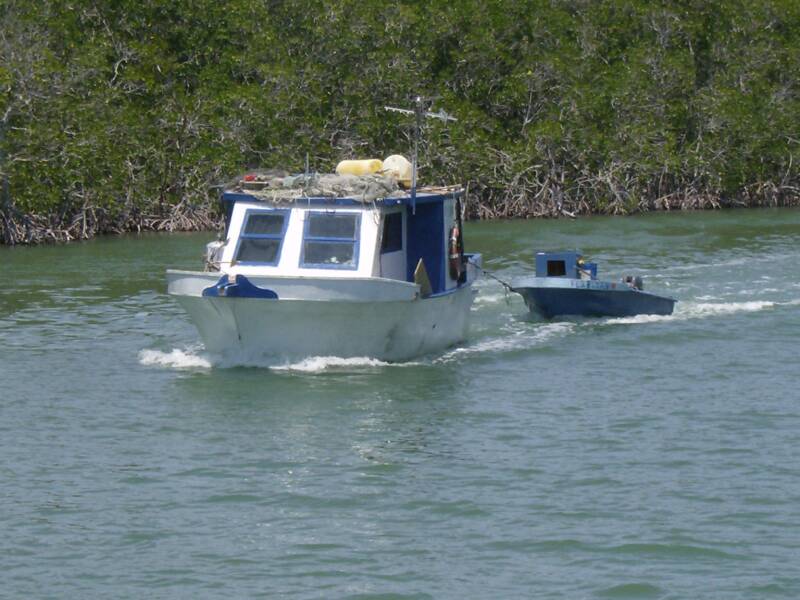 As we left Key Largo,  we were reminded of the attack of the condo's happening all over the island!

Jewfish Creek Bridge Beckons us Bye Bye

It'll be 2 years or more before the lady returns.

The final good bye was the new 3 lane highway bringing all the "miamians" to the keys, non stop! ekkk!

A sponge boat returning to Key Largo. sure I won't be seeing one of these for a while.

It was really windy, so we ducked into Boca Chita.

Boca Chita is a perfect round harbor, almost perfectly protected!

The Lady gently rested at Boca Chita

Next AM, we are comming to Miami, and points north. Counted 14 cranes building new condo's. God I hate Condo's!

One of many

artsy fartsy buildings in Miami

Spent the nite in Hollywood Fl. They have lots of bars , restaurants, and a convience store right on the water with a dock! This is it and it's open 7 days a week.

4/21/07

Up at the crack of dawn and off to LANTANA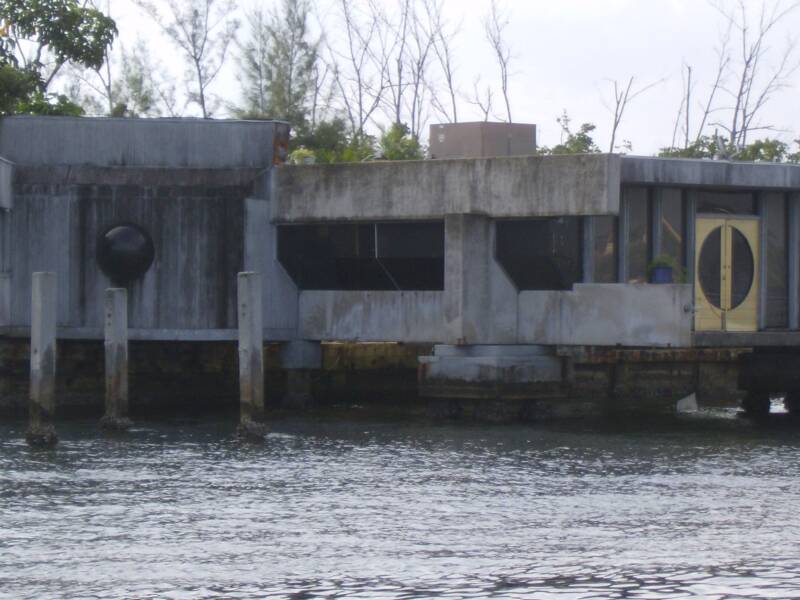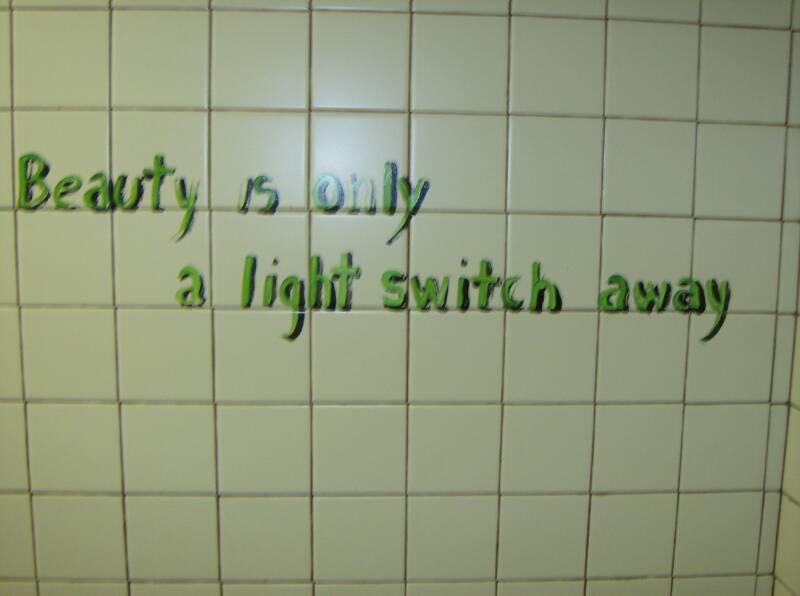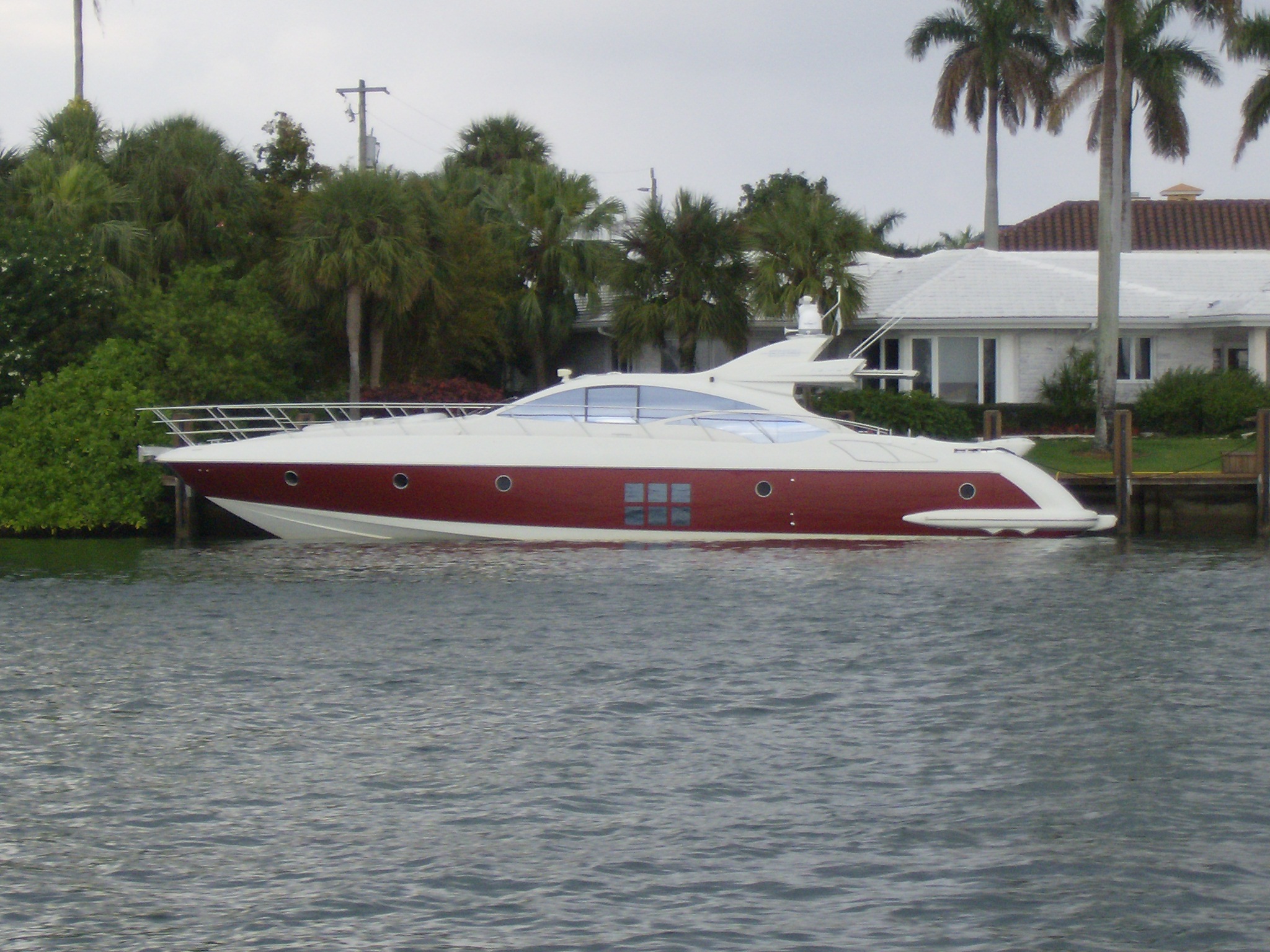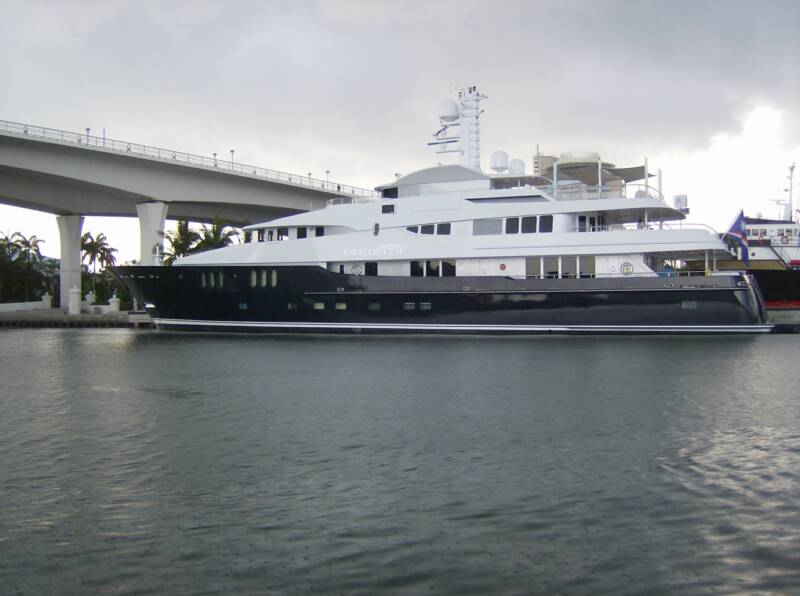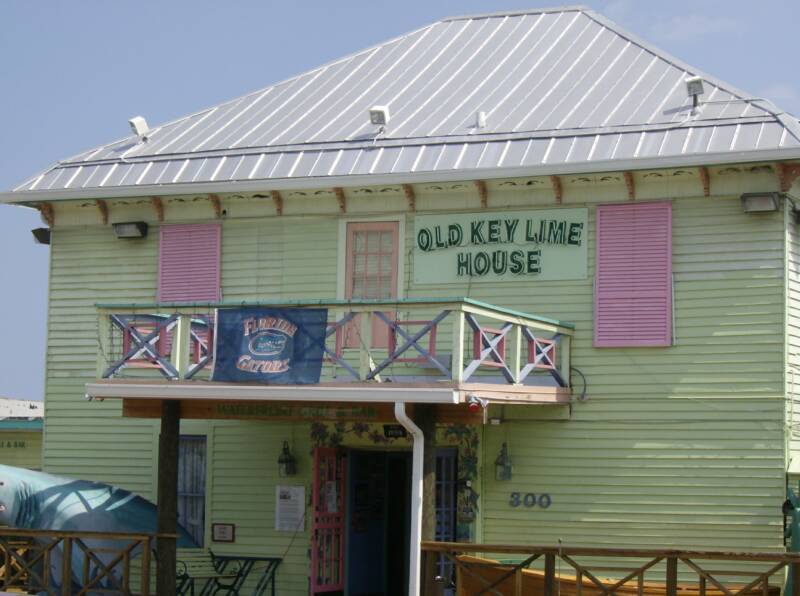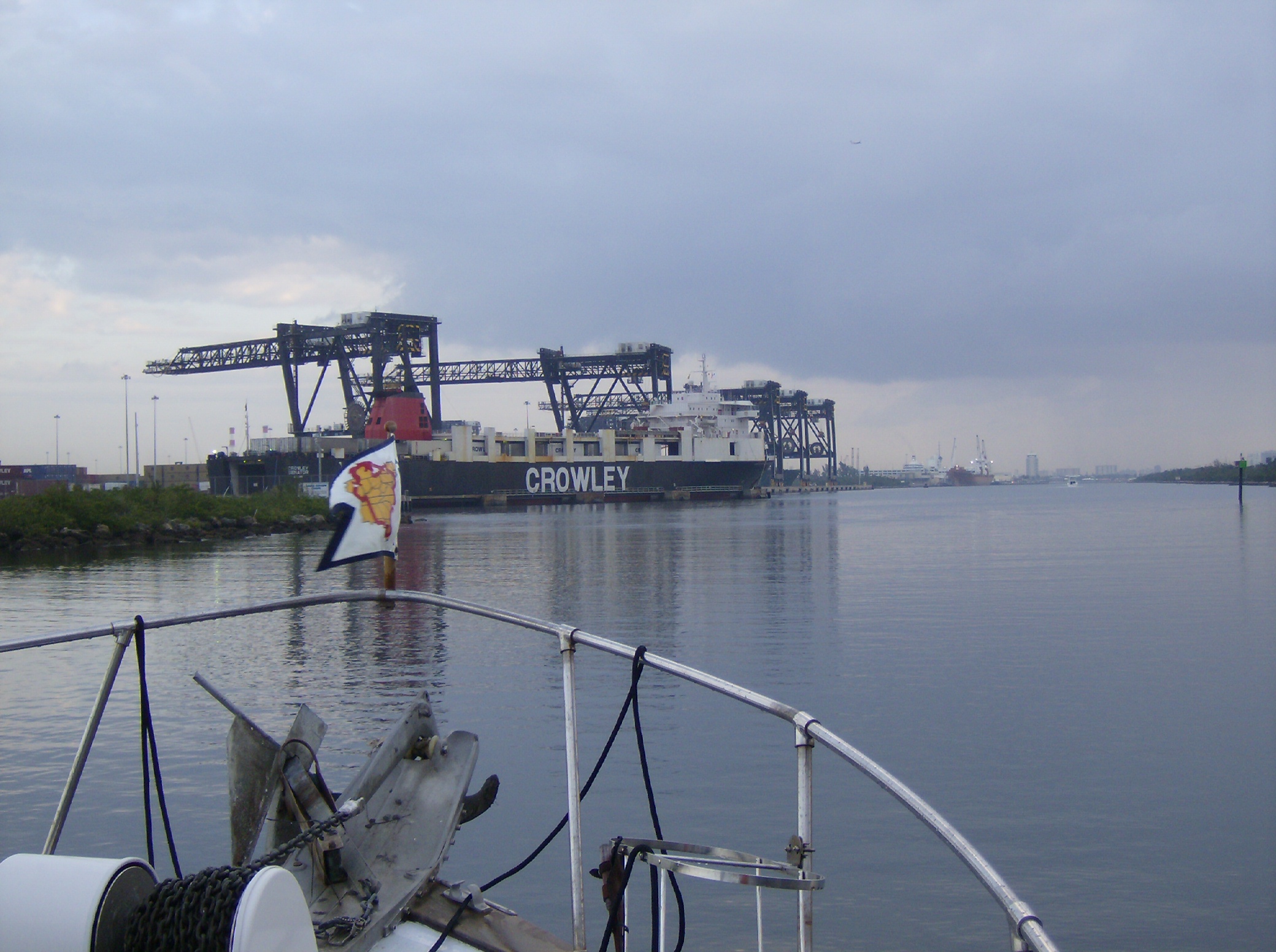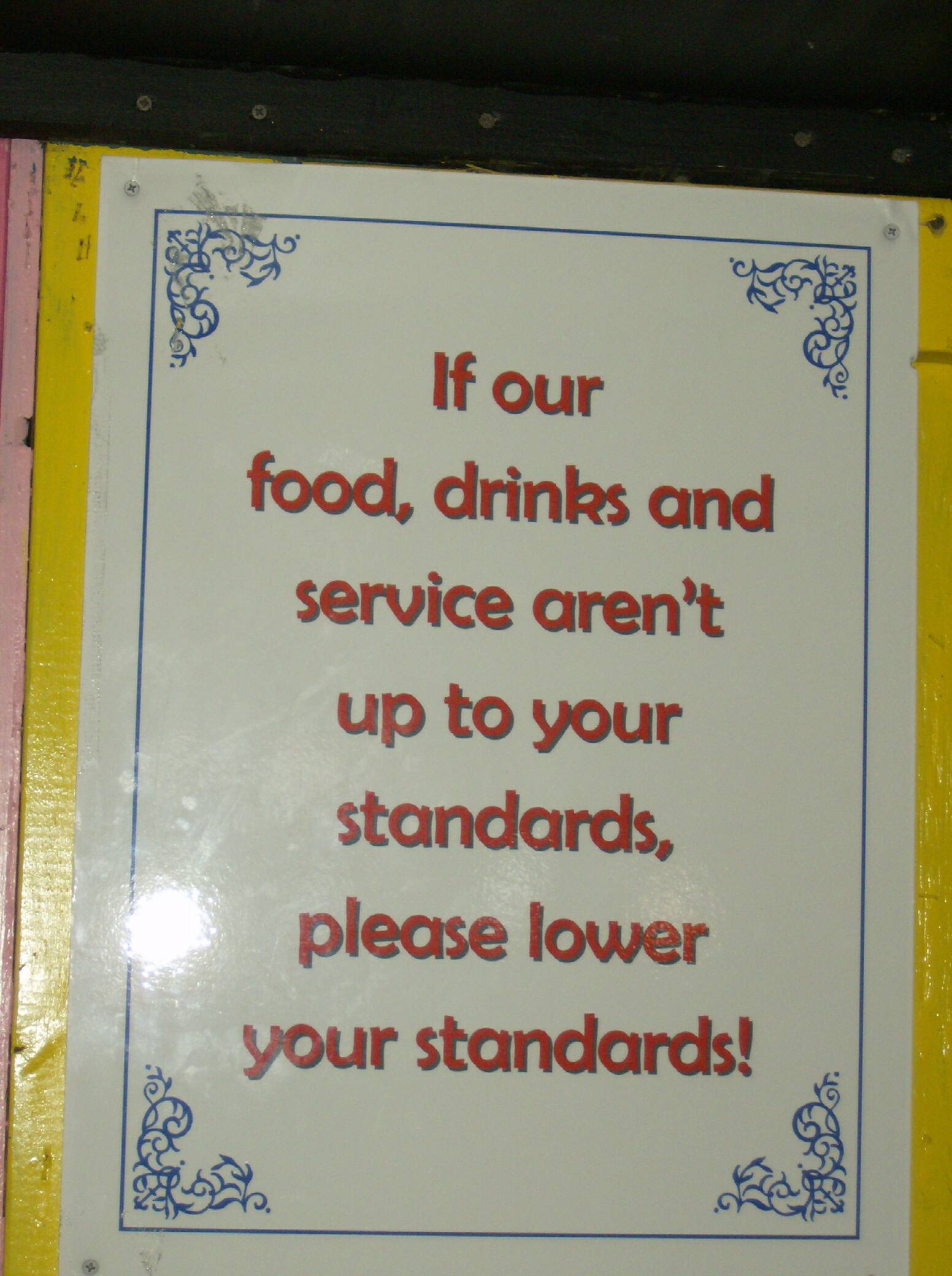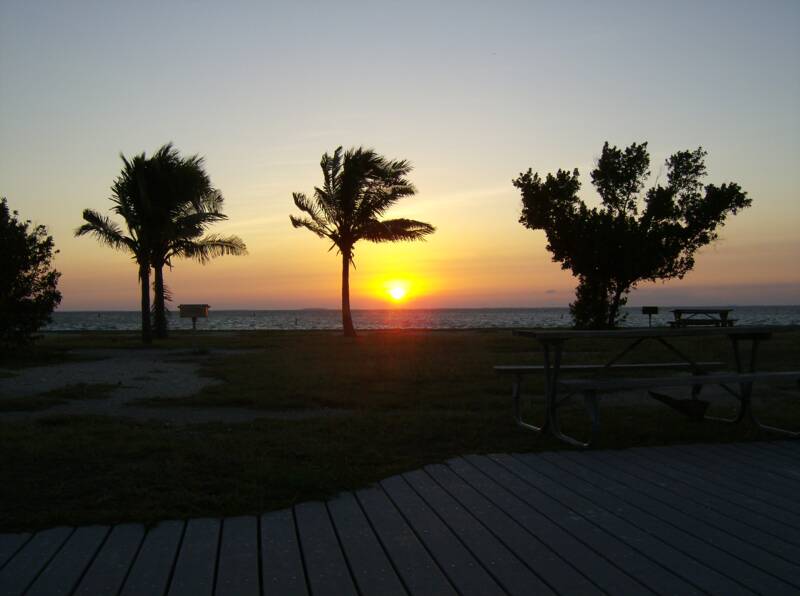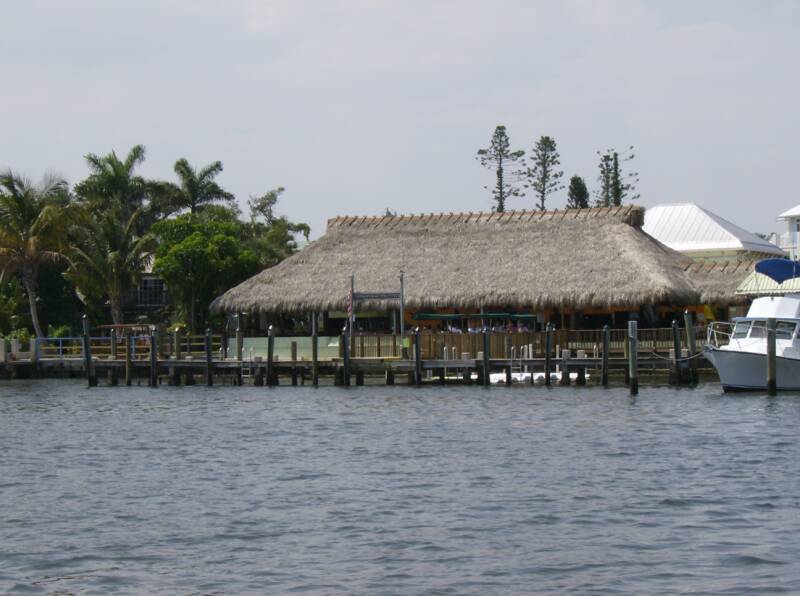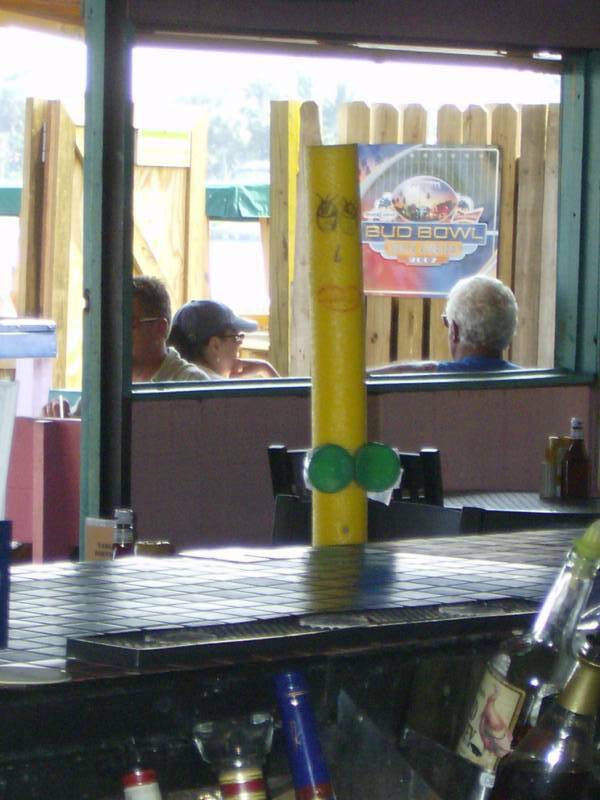 The Cranes at Port Everglades, just a few miles from

"downtown" Ft. Lauderdale

It's easy to tell your in Ft. Lickerdale, just look for the Mega Yachts !

A boat with pane windows on the side, and a "MODERN" house from the 60's.

(I remember it from then)

In the early PM we arrive at the Old Key Lime House, a personal favorite stop of mine. Cruisers , do not miss this, a piece of the "old keys" that time forgot  in Lantana.

Being true profesionals, we imediatly went to the happy hour at the tiki bar, and met this strange looking individual .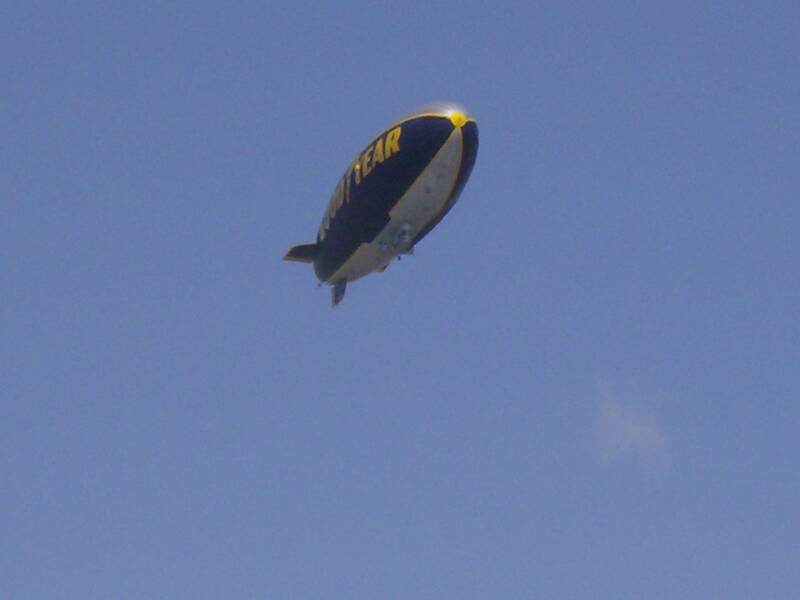 I did arrange to have the Goodyear Blimp buzz the boat .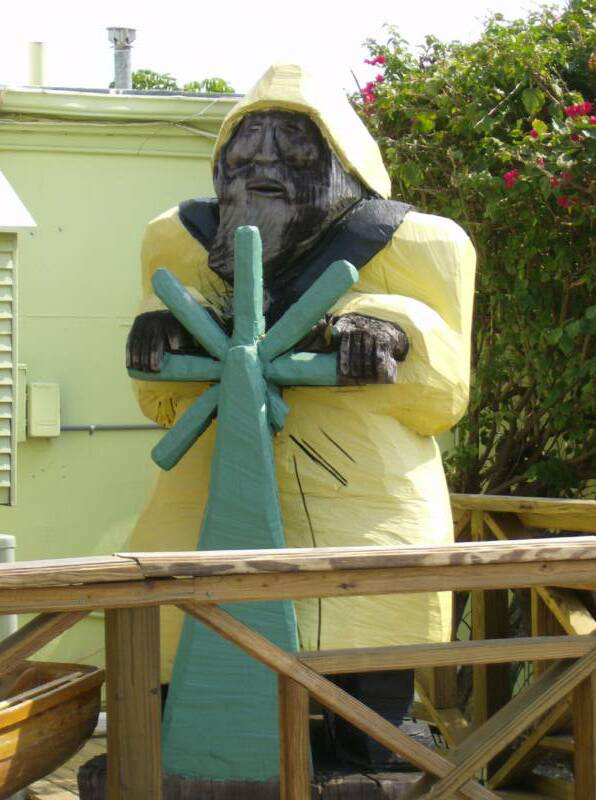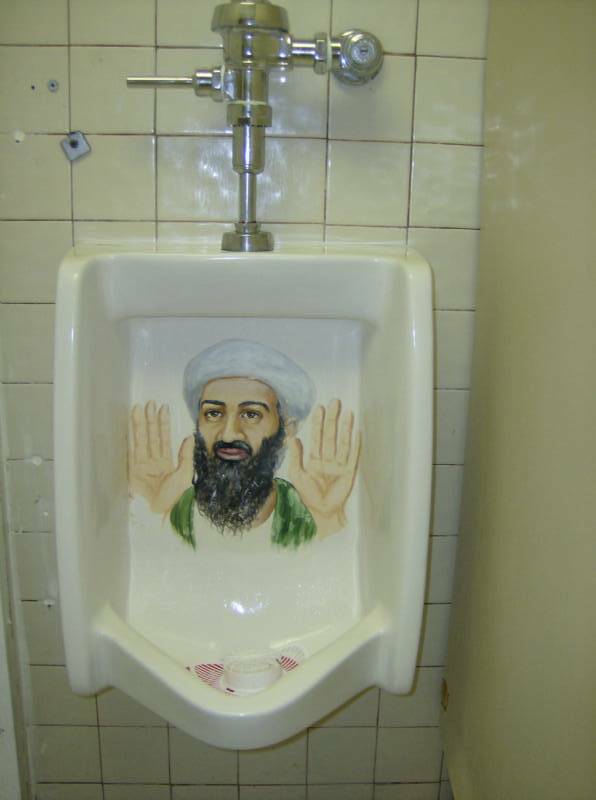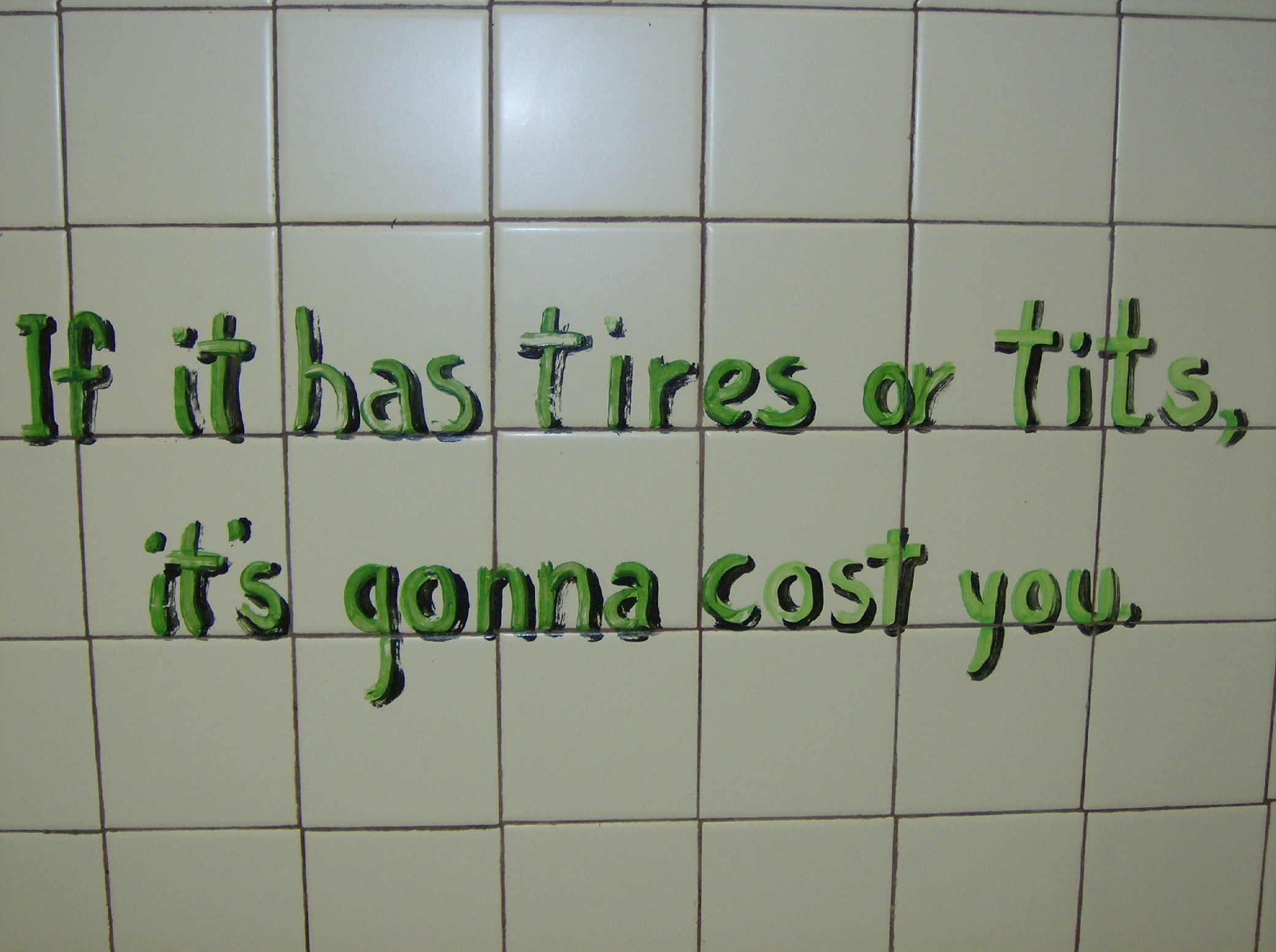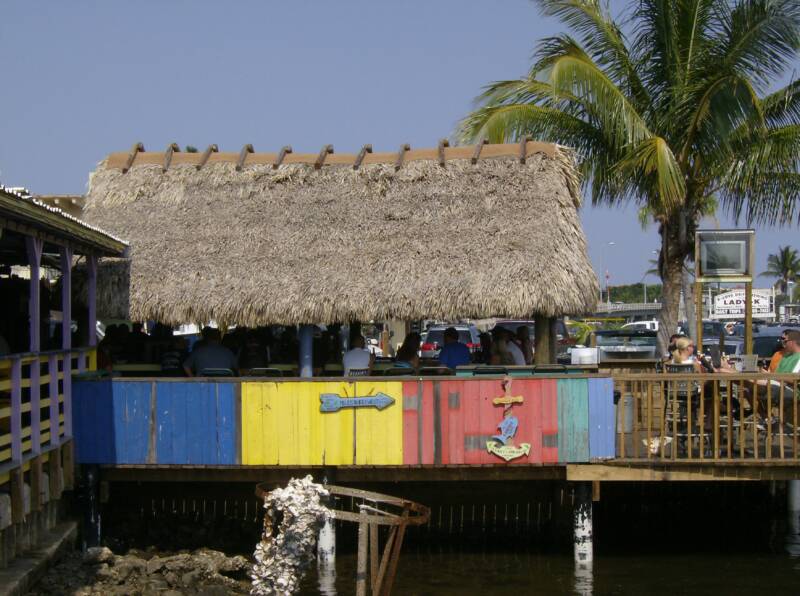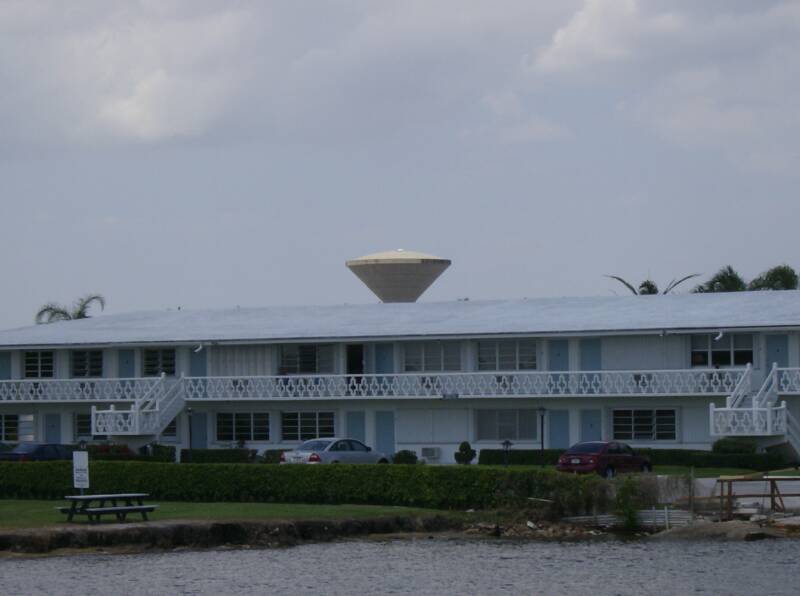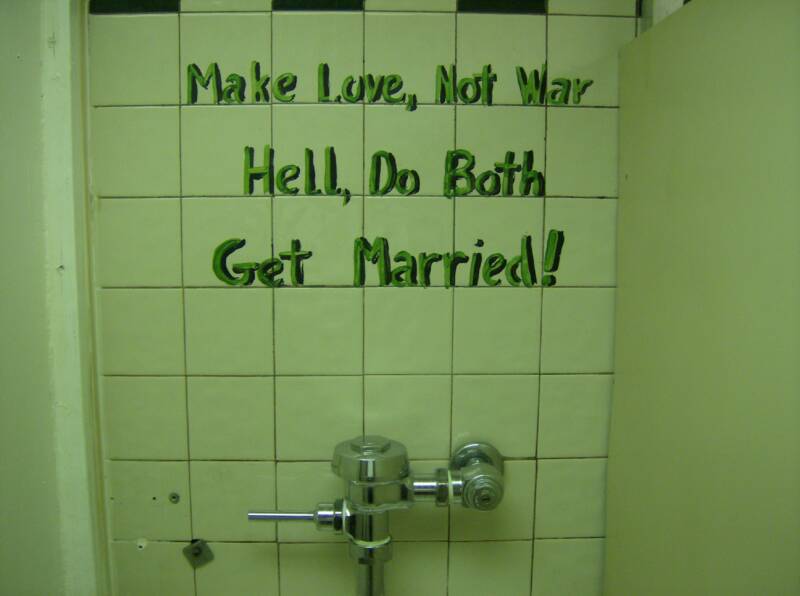 Now here's some of the reasons I like Lantana,,,,a lot!

and the tasteful signage....ya gotta love this bar!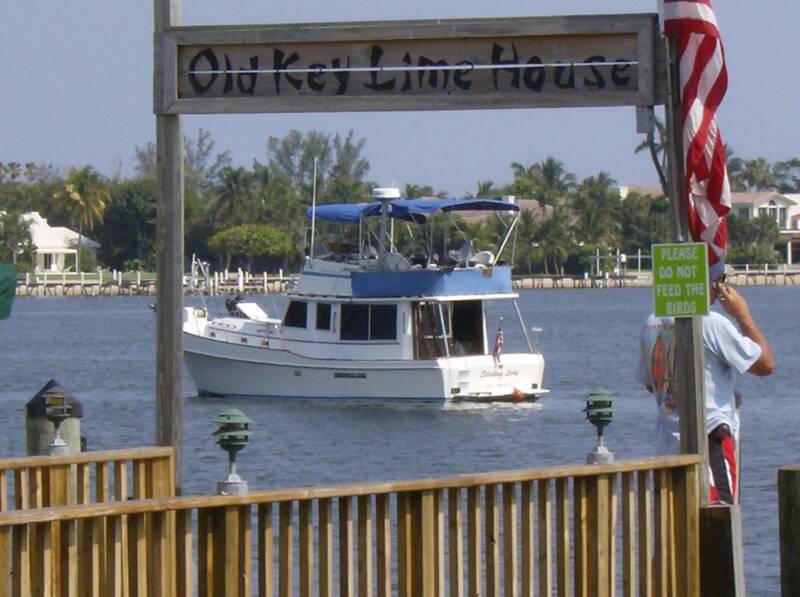 Just a short dingy ride home,, thank god.

4/22/07

Anchored up in Manatee Pocket, in Stuart  Fl. Lady is in the background, dinky dock in fore ground.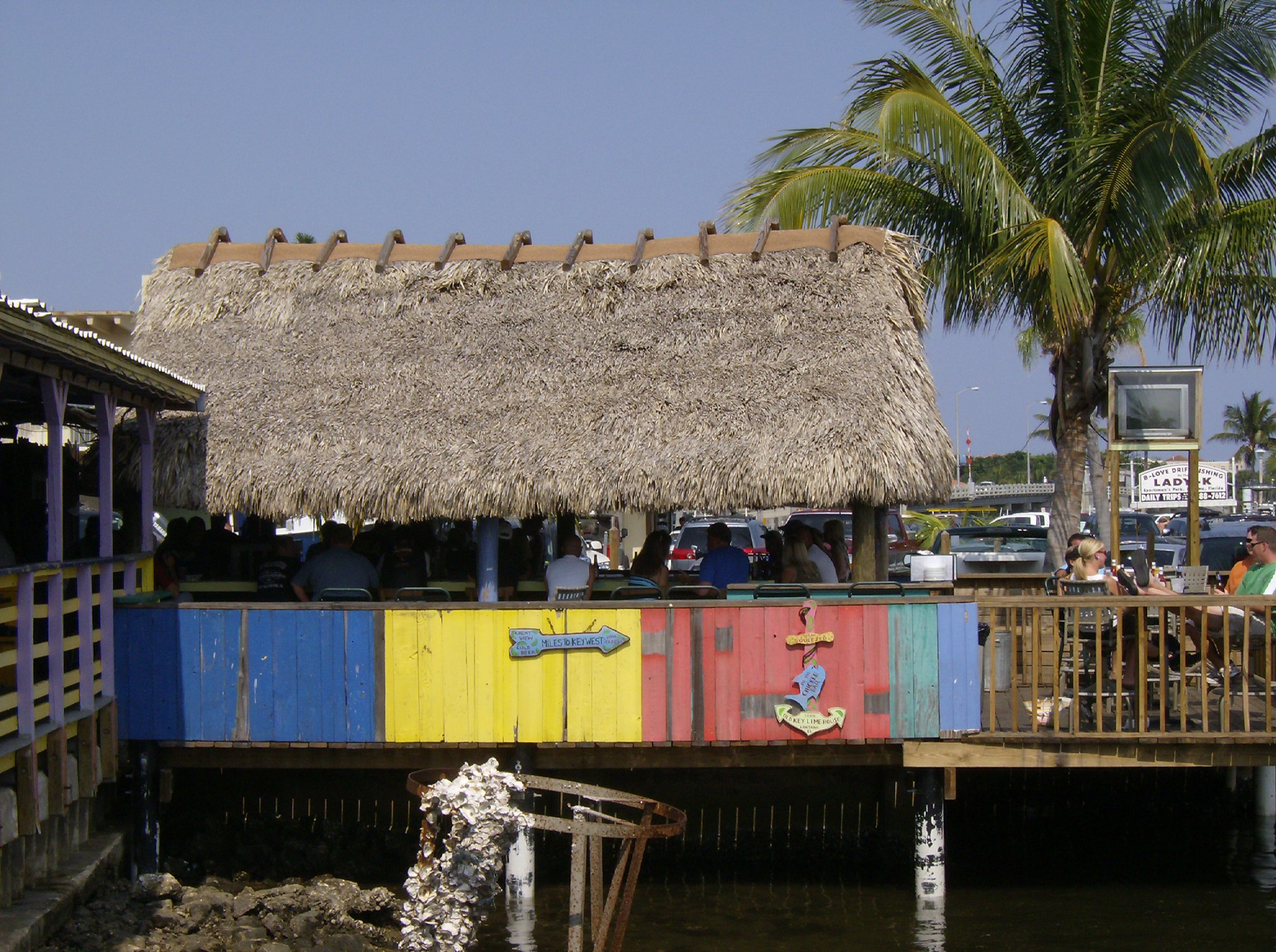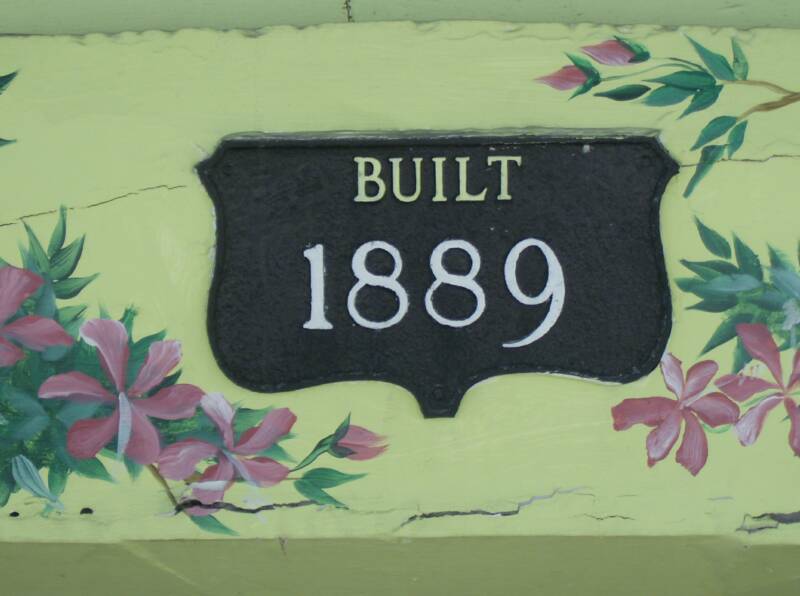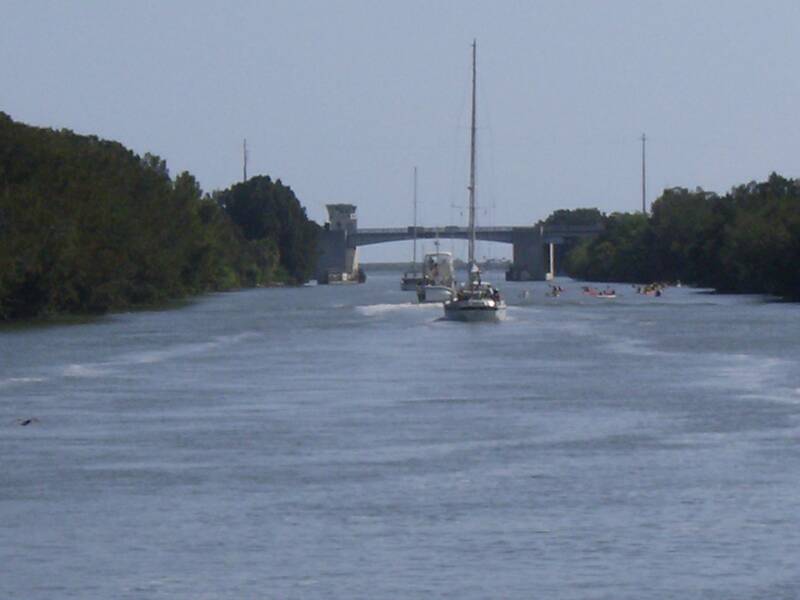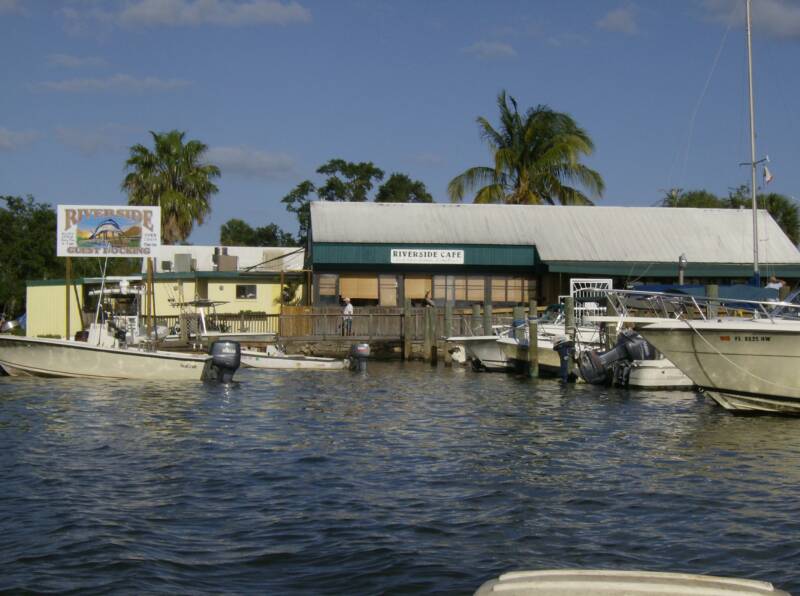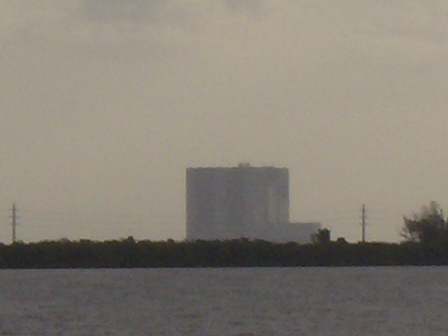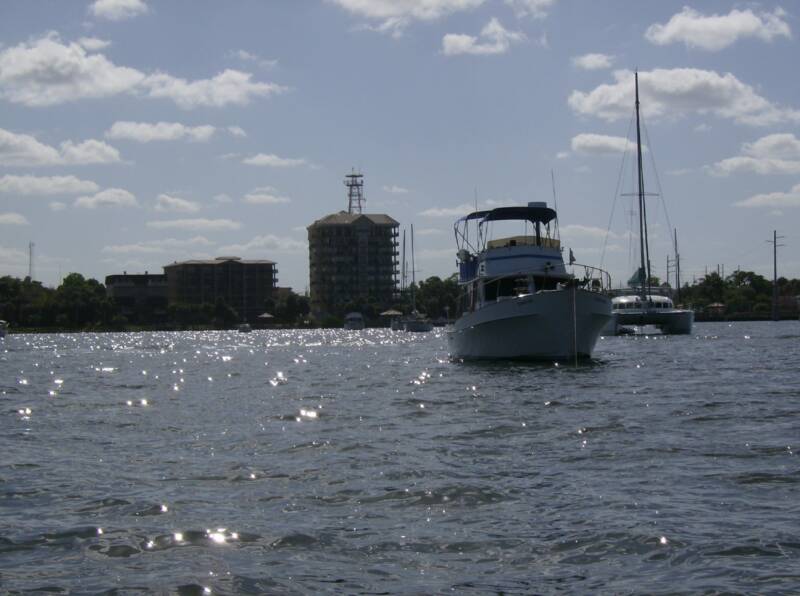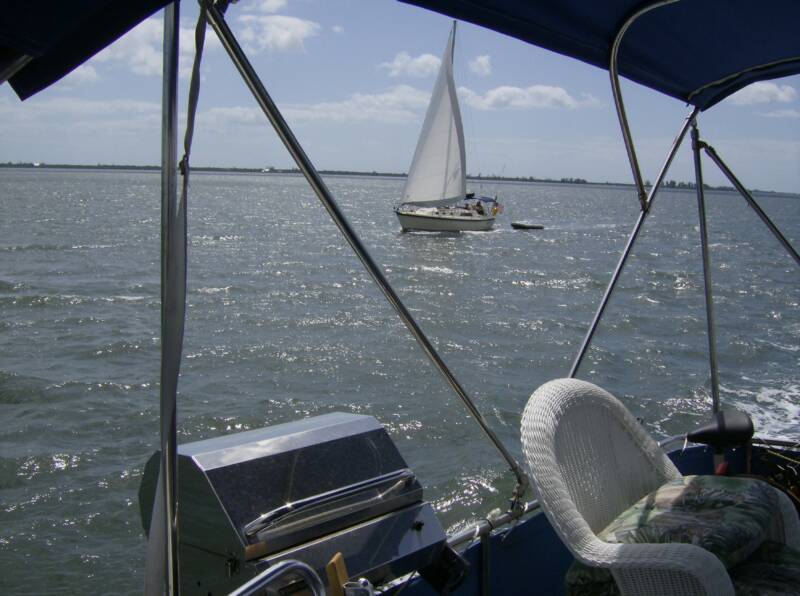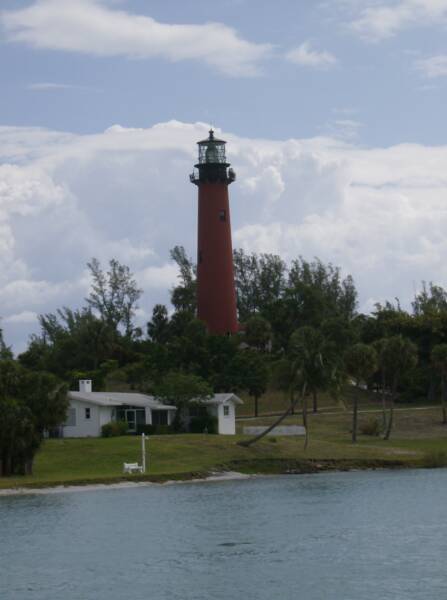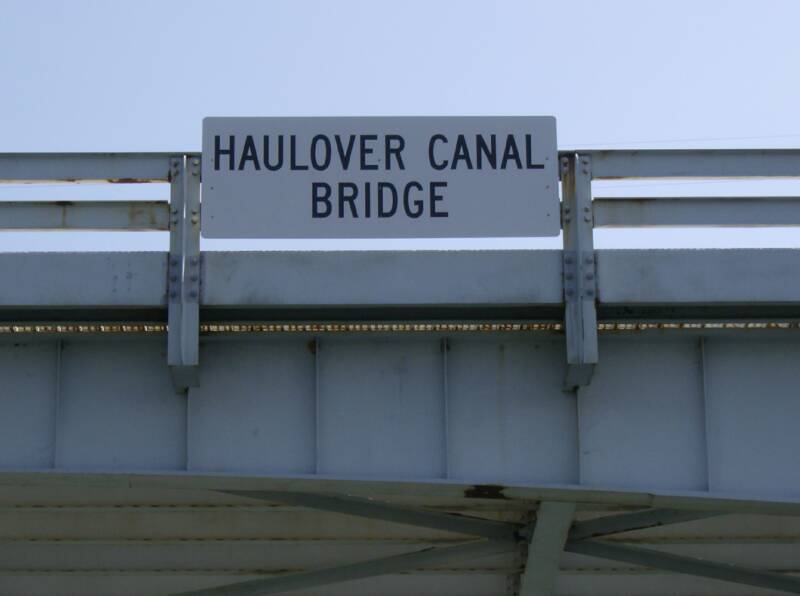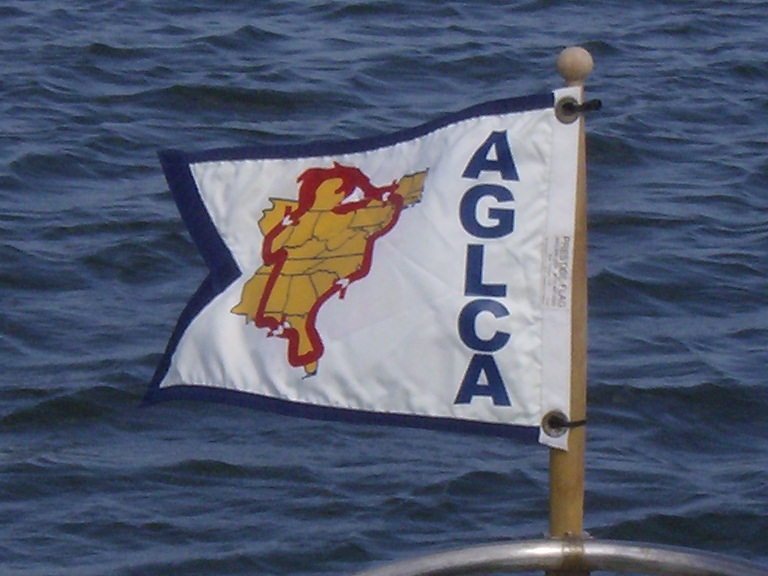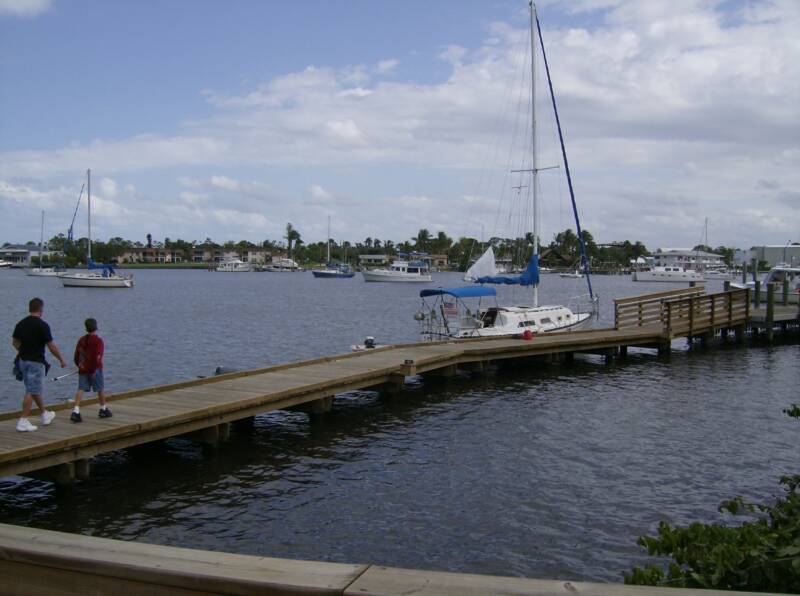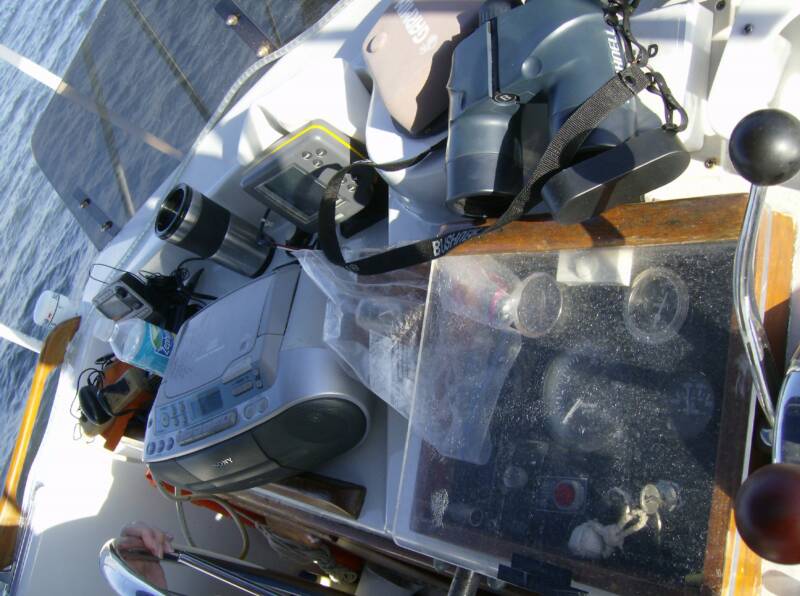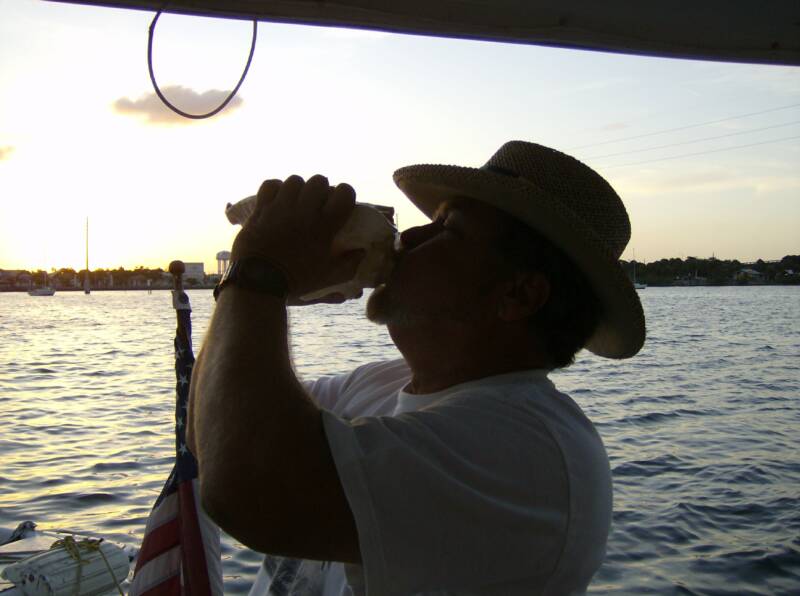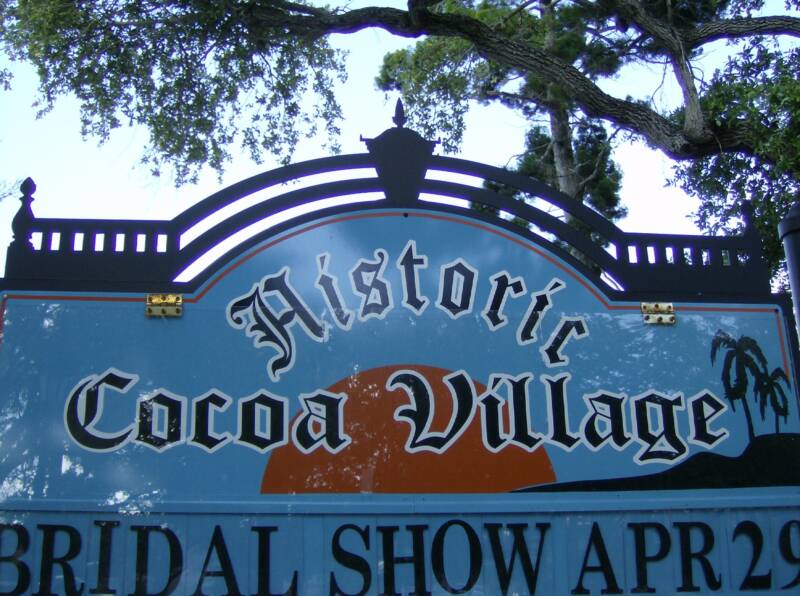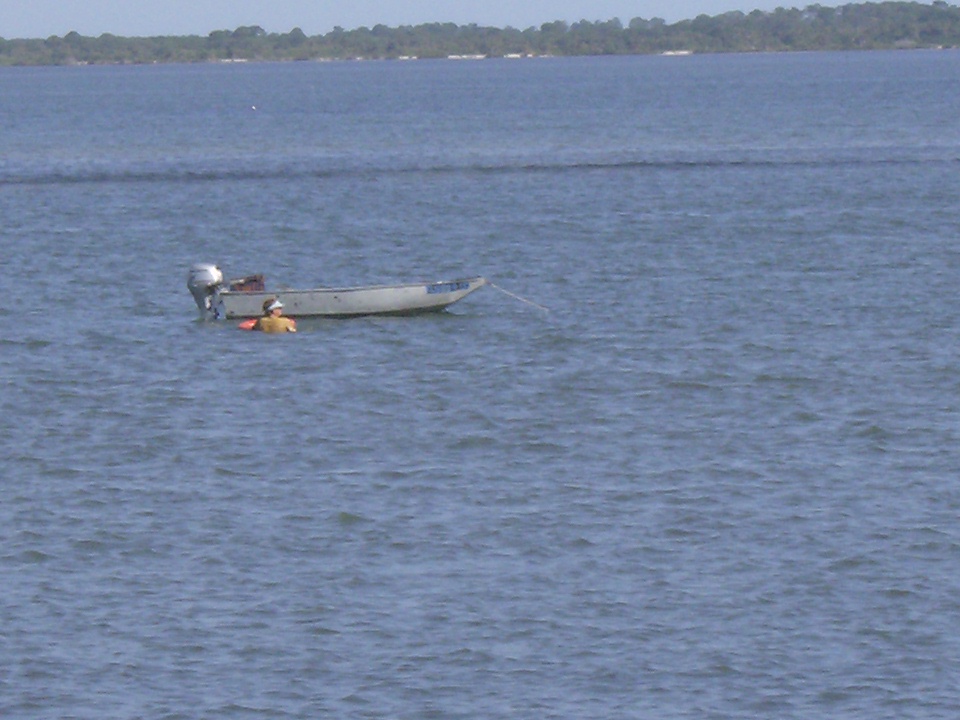 4/22/07

Got a mooring ball at Vero Beach city Marina, stocked up on supplies, and ended the day here, at the Riverside Bar.

4/23/07

Off to Coco, some 49 miles, a long day in the trawler kindom at 7.5 mph. Looking forward to getting into undiscovered cruising grounds up north.

Walked the historic town (and it was) and ended the day on on board for dinner, and a sunset conch blowing contest with the anchored sailboaters.

4/24/07

Up and dawn, and outa here as the sun came up. Todays goal, New Symrna beach.   We passed a sailboat, then,, we got passed!

Case you wondering, and  I know you are, this is what the helm of the Sterling

Lady looks like while under way. From left to right, Sirius tuner, inverter, water,coffee, radio for Sirius(powered by inverter) depth finder, bow thruster(covered by plastic bag)compass, binocs, dash, and shifter and throttle.

space is at a premium.

Passed the NASA Launch bldg, from  a distance

Haulover Cannal, full of boats and nature

In Mosquito lagoon, this  guy was clammng with his feet, and the water is COLD!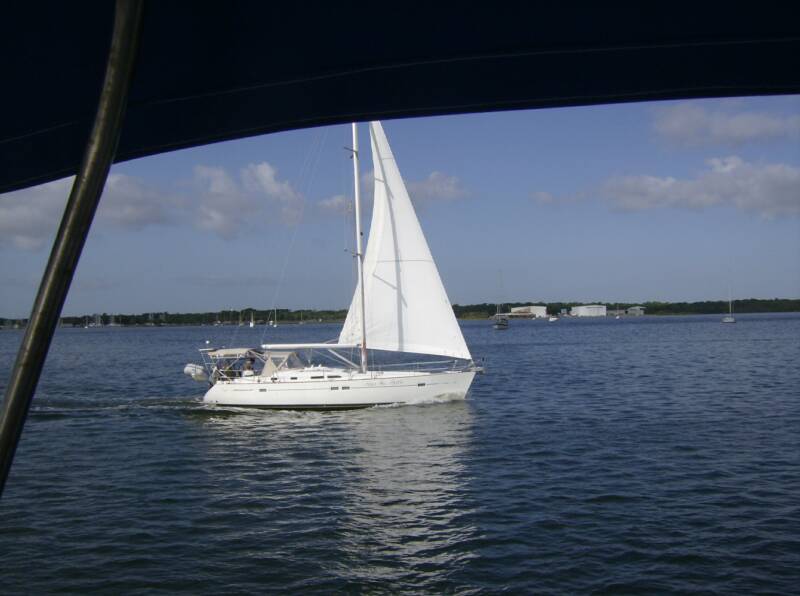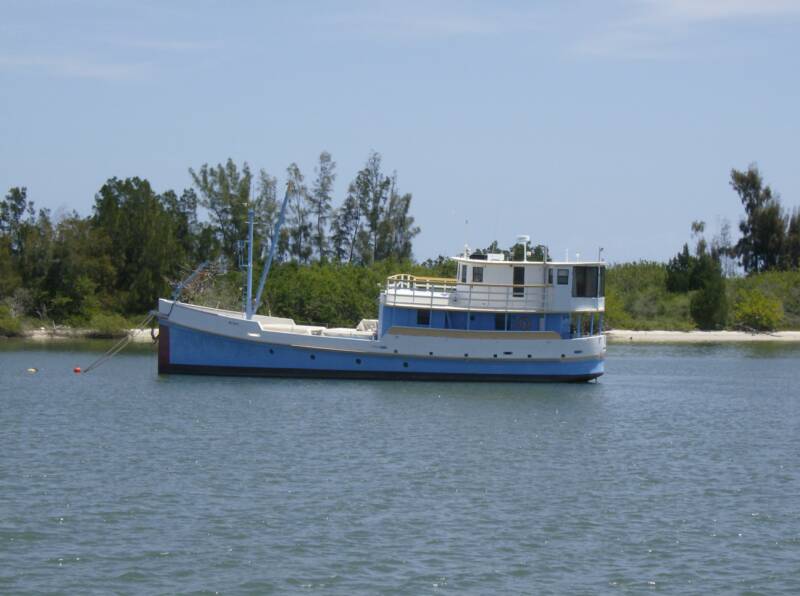 I totally fell in love with this steel hulled boat anchored in New Symrna Beach. If anyone knows the owner, please have him contact me! I want it!!!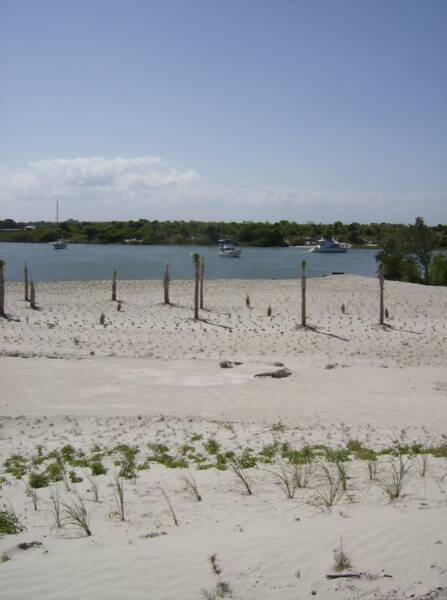 The lady slept at the Sand Piles, just north of New symrna

Tomorrow, Daytona Beach

4/25/07

Up early and an easy 2 hour run to Caribbean Jacks Marina, our first Marina in 6 days. Time for water, laundry, and boat washing and repairs.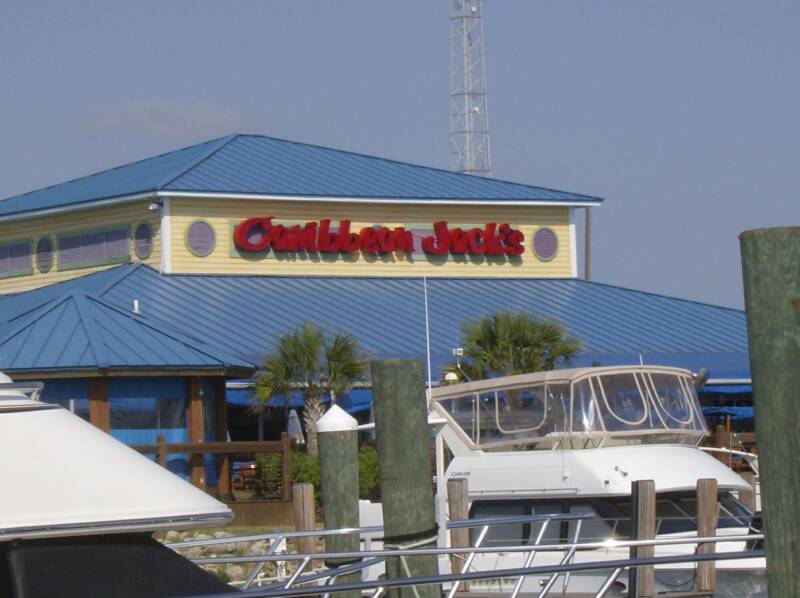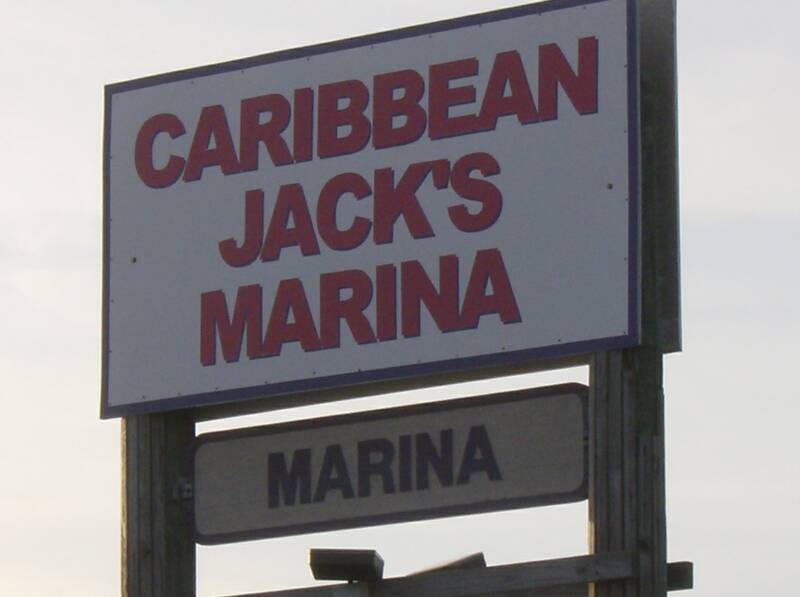 Oh look, a bar! and right on the property, and also they serve food.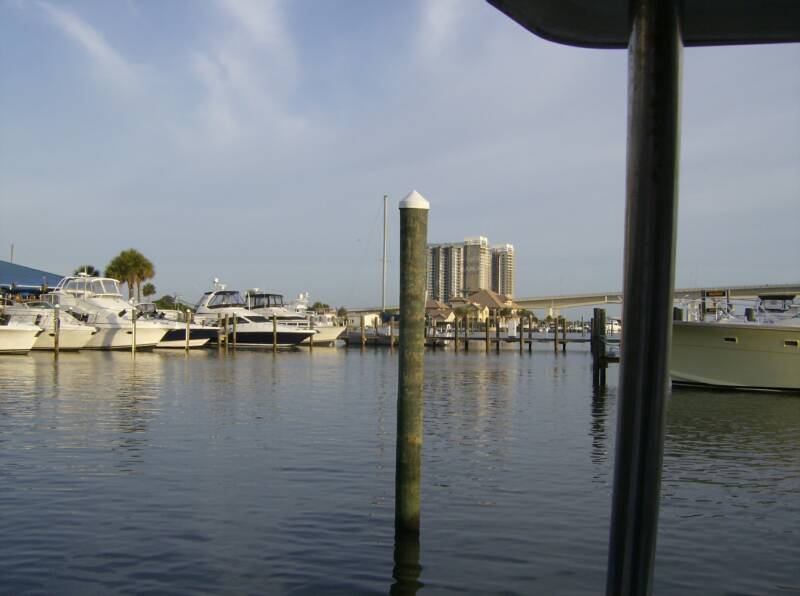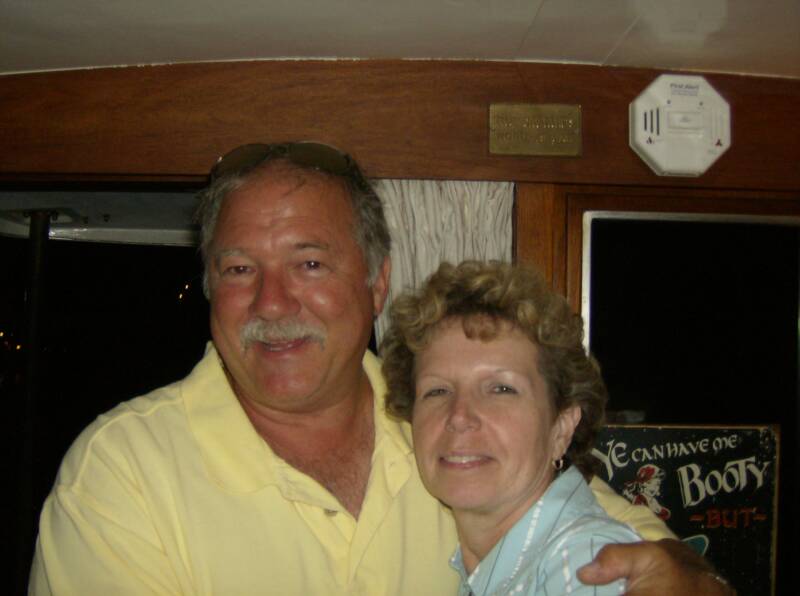 To friends from Daytona,

Gary and Cindy came by, and we visited the above mentioined resturant/bar Note Cindy was the DD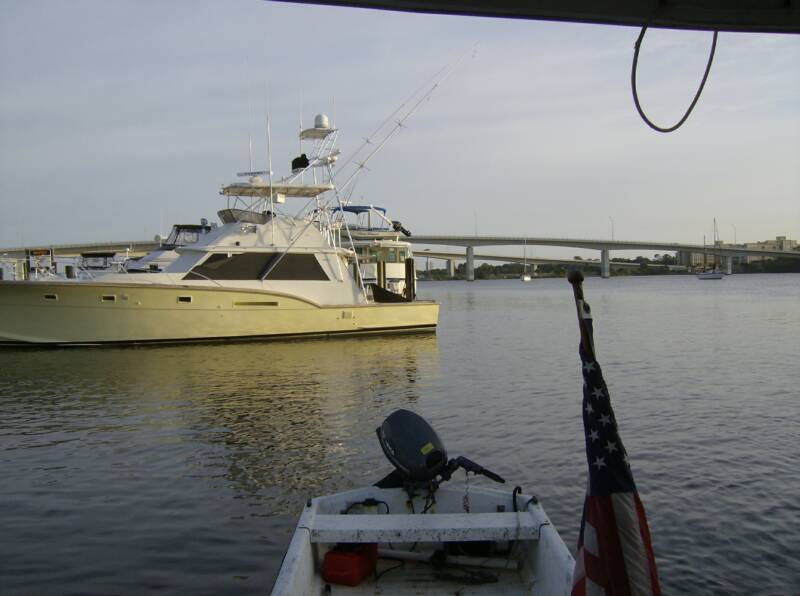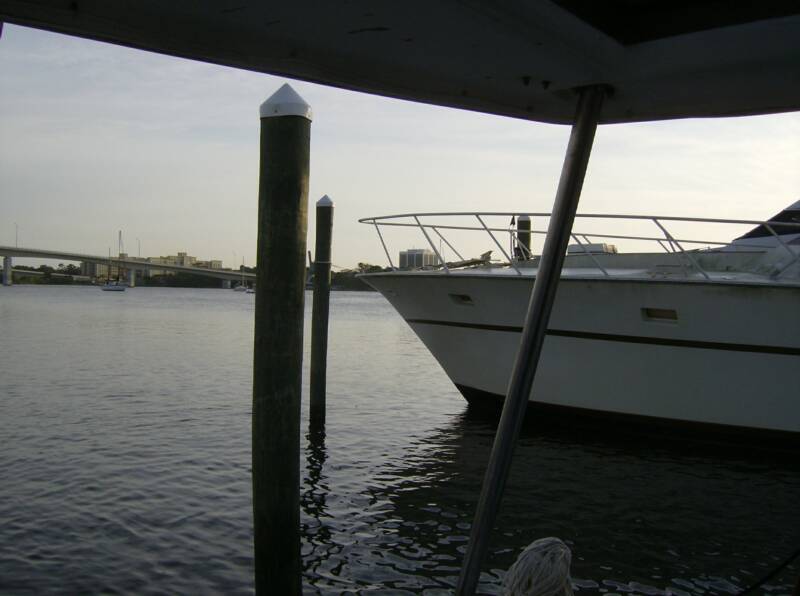 The Caribbean Jack Marina View,from the aft deck.

4/26/07

This AM we topped off the water tanks, did some laundry, and headed north late, about 10 am.

PS

And a special thanks to Gary and Cindy for letting us use her car for shopping, and Dinner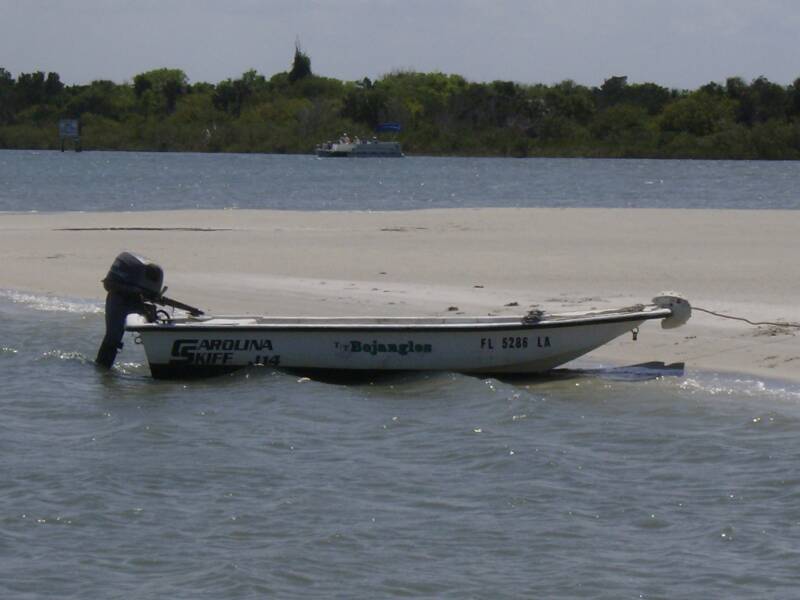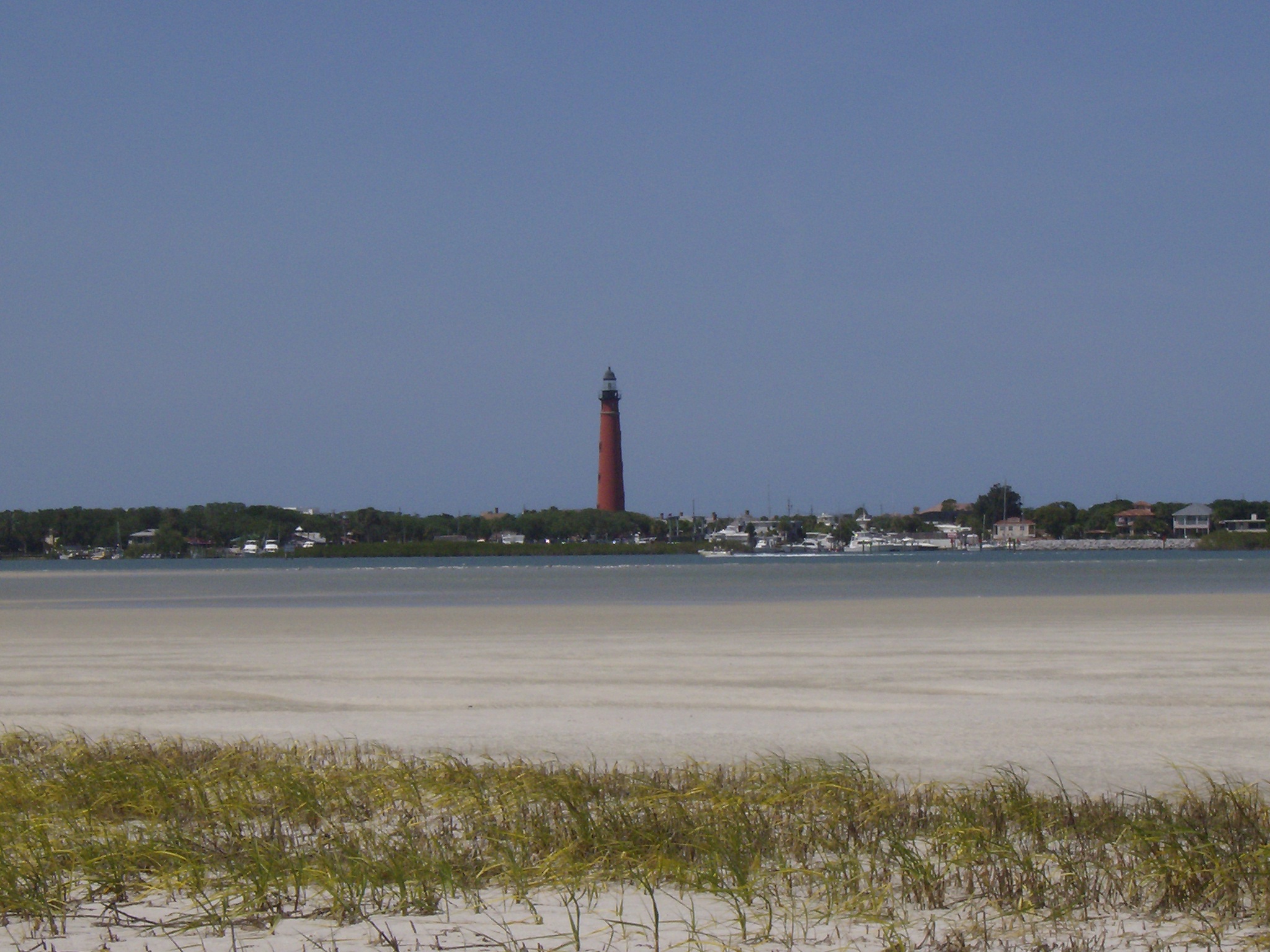 Nice secluded beaches with a great view of Daytona's Light house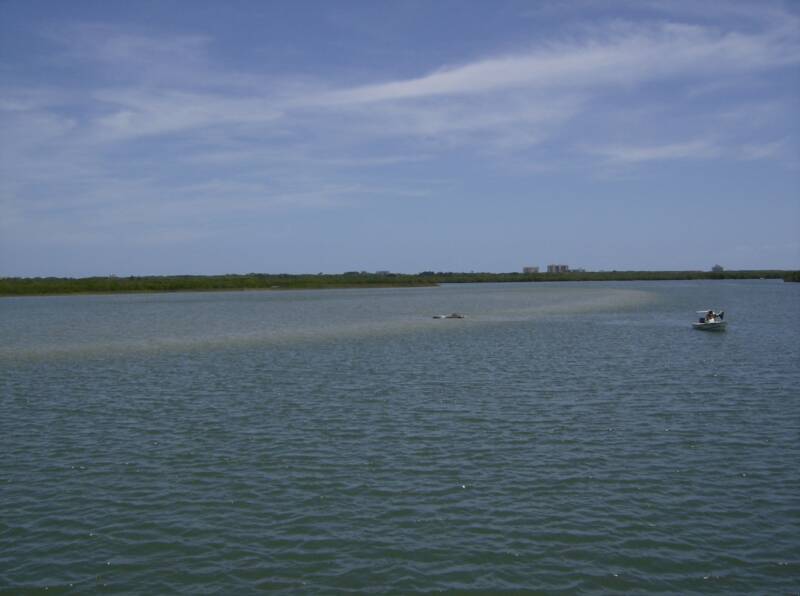 Those two rocks behind the boat are three Manatees, grounded on a sand bar with the tide going out. They ended up crawling out on their bellies.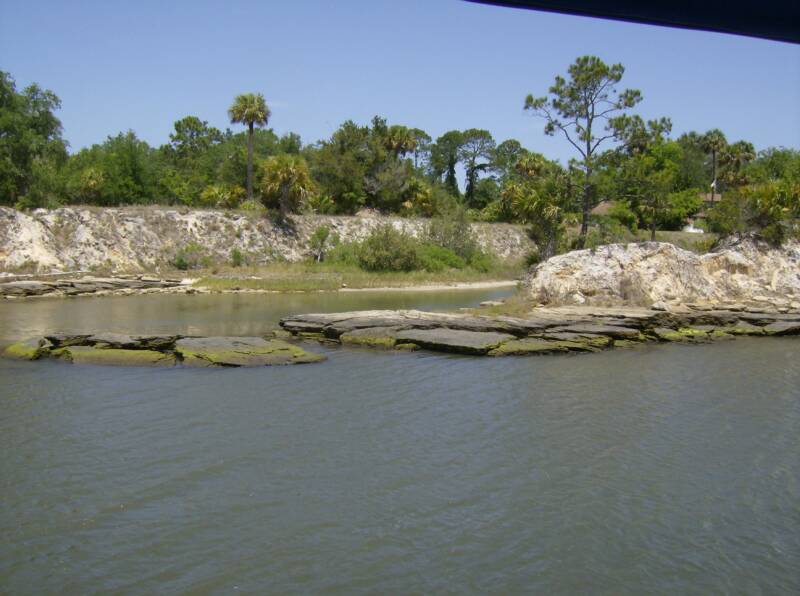 Once north of Daytona, the terrain changed drastically, quite different from southern Florida. Actual real rock,not coral like back home.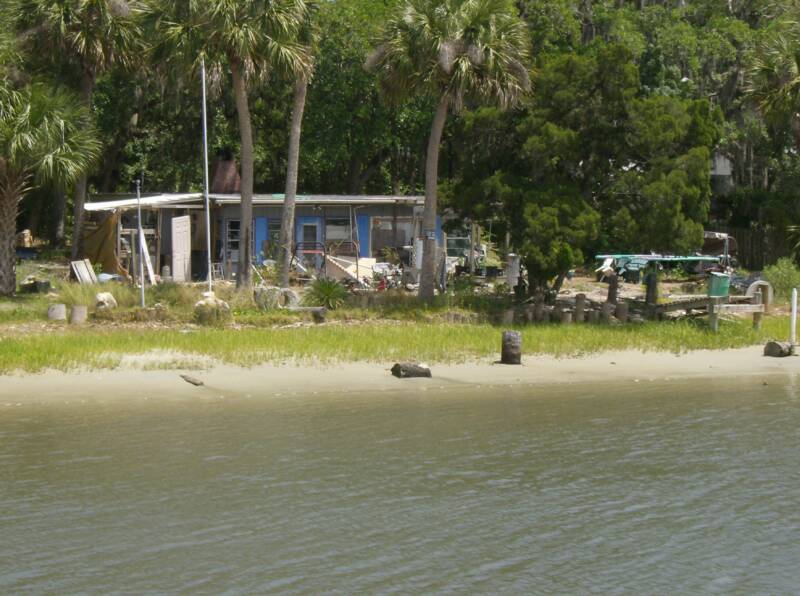 Here's what a half million dollar home on the ICW looks like at palm bay.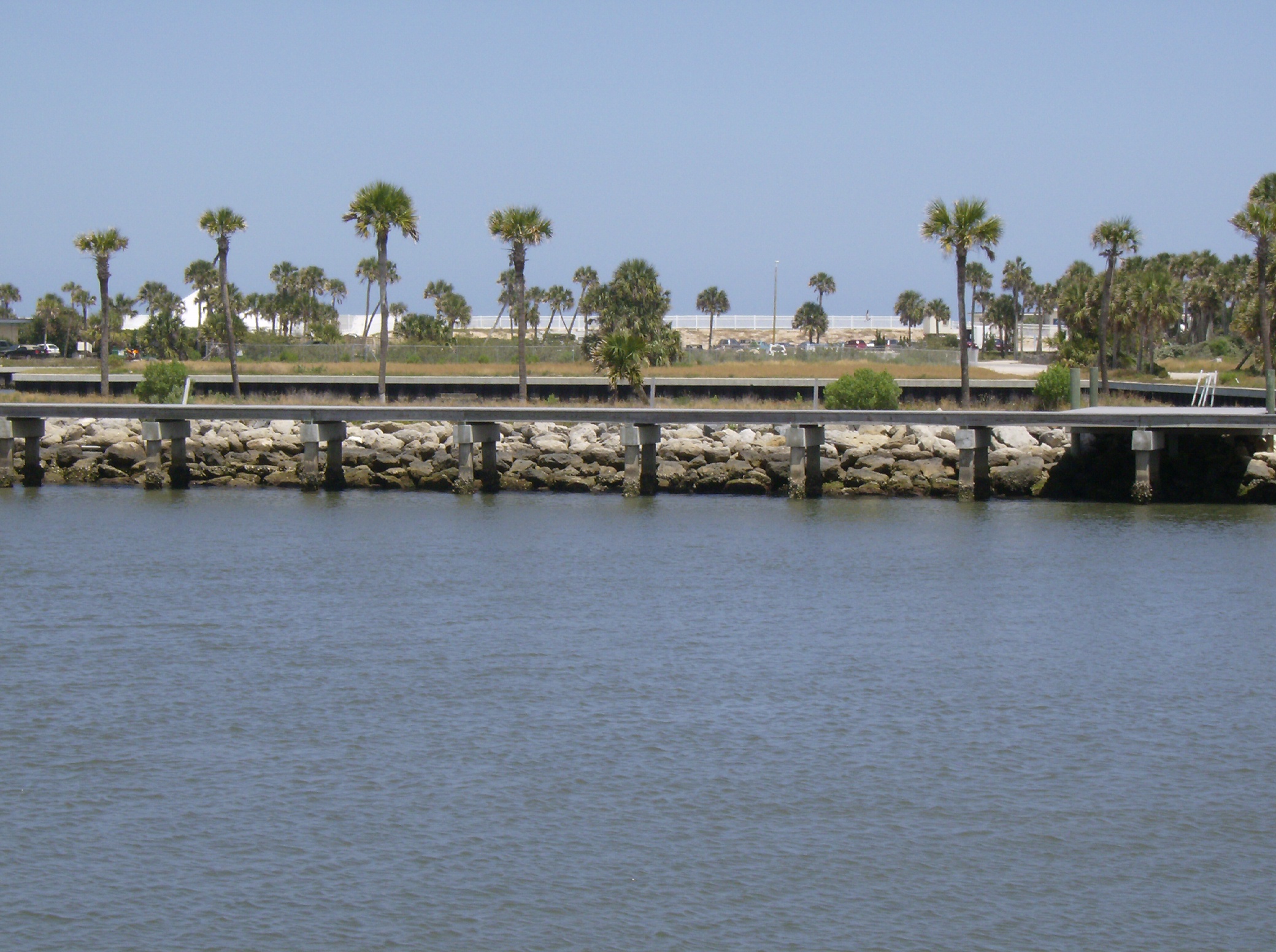 The once world renown Marine Land, is alas, no more. Just an empty boat  basin now.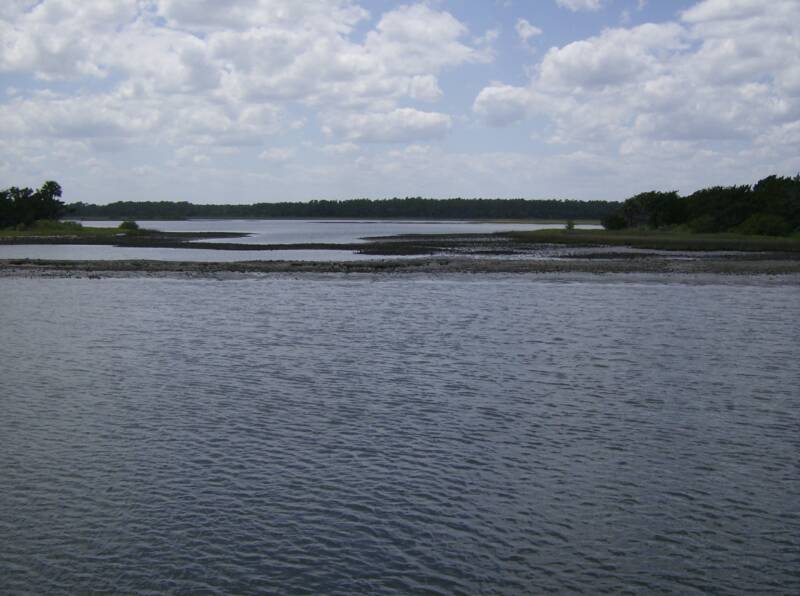 AS we approached ST. Augustine, the land became marshy.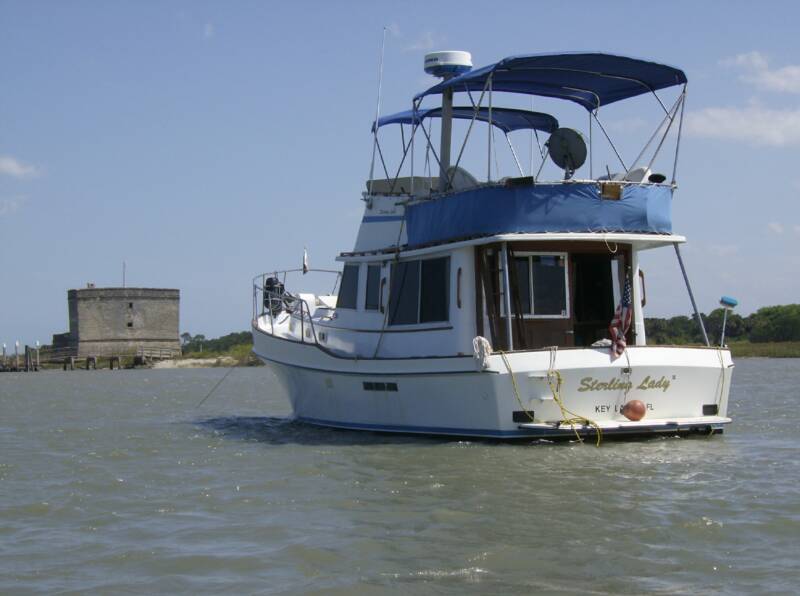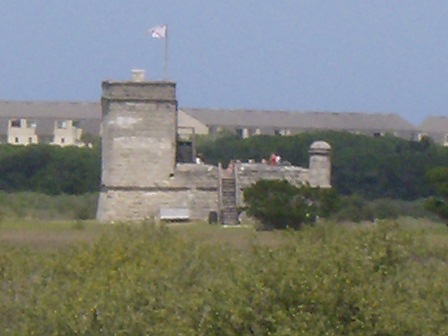 After a short lunch stop at Mantanzaz Inlet, we were pushed on up to ST. Augustine by the tides, and just before dusk, we anchored in front of the Bridge of Lions

This is the temporary bridge , they are building so they can tear down the original Bridge of Lions, and then rebuild it, and then tear down the temporary bridge, Your tax dollars at work.

All this to save those four towers.

4/27/07

Woke up this AM with no water! That means no toilet, no showers, no nothing!

On a boat , the water is stored in tanks and using a pressure system, is pumped where needed. Problem is , and was, we sprung a leak and during the nite it pumped the tank dry, so we had to go to ST. Augustine Marina and to get a boat dock and a rental car so we could get what was needed to fix the leak. Cruising is defiantly "fixing you boat in exotic places"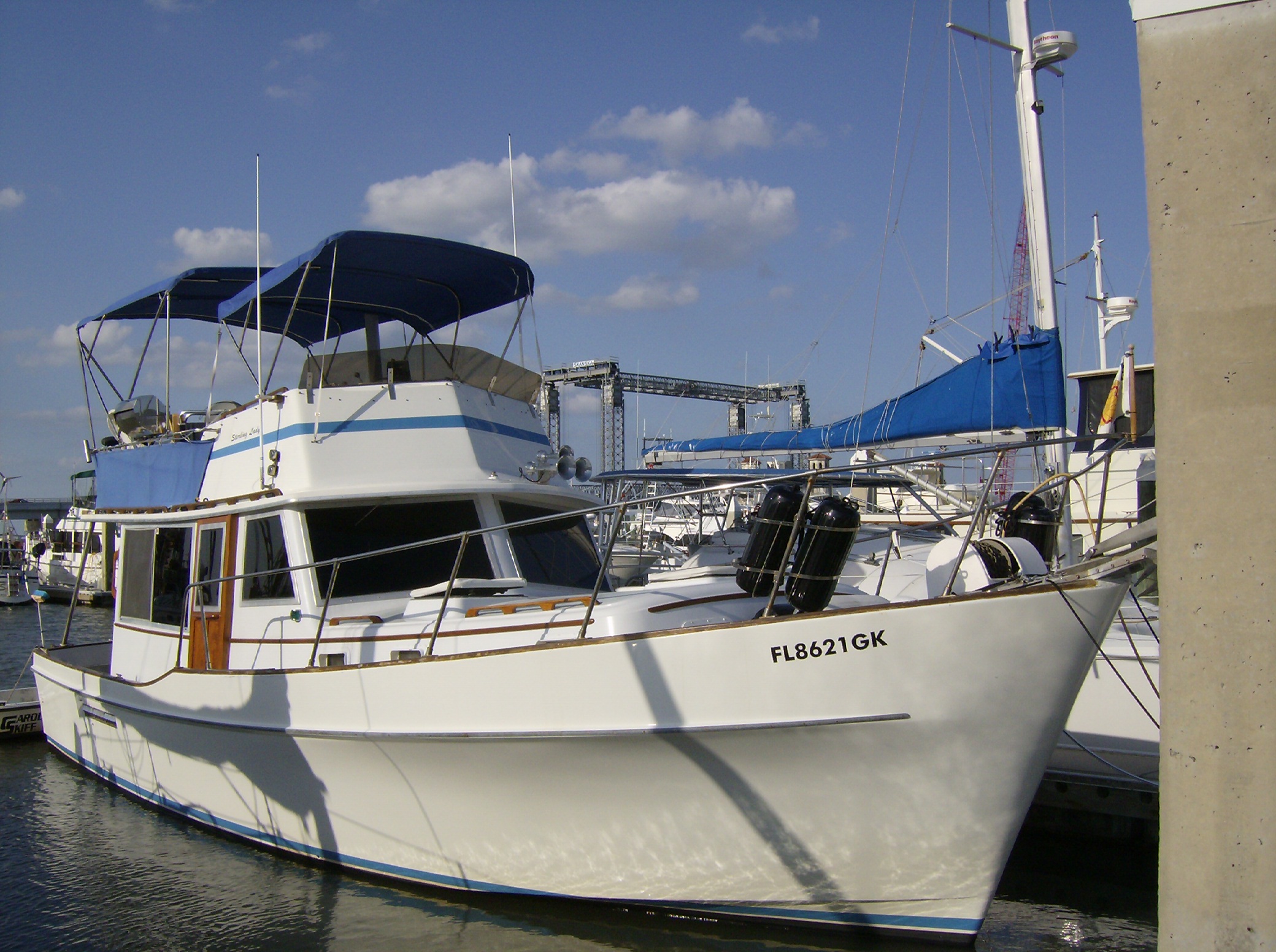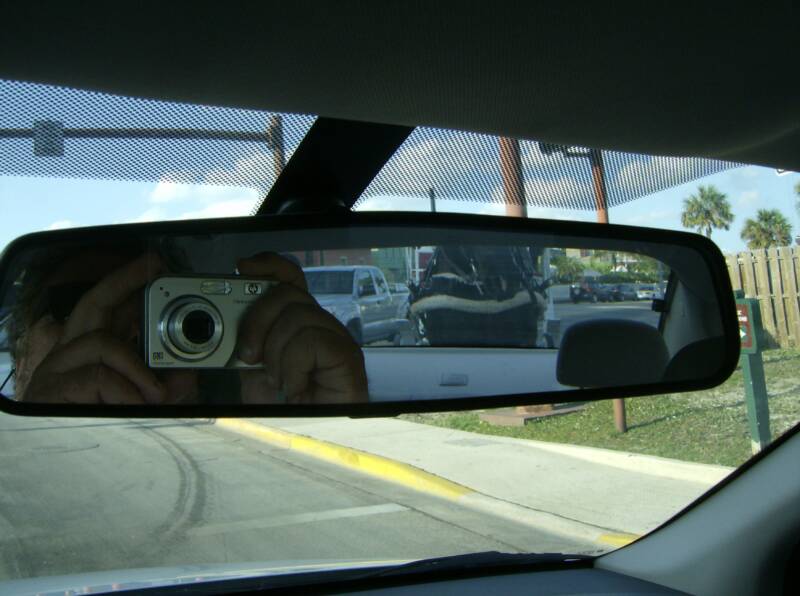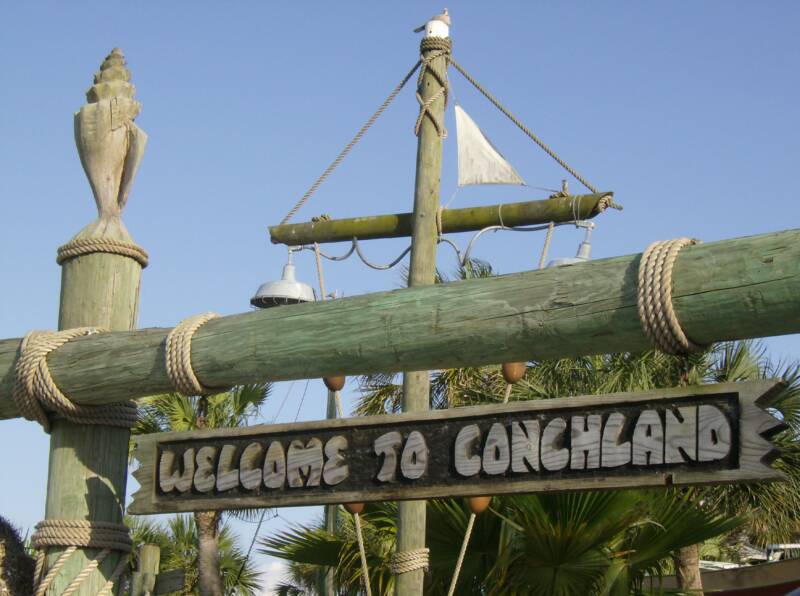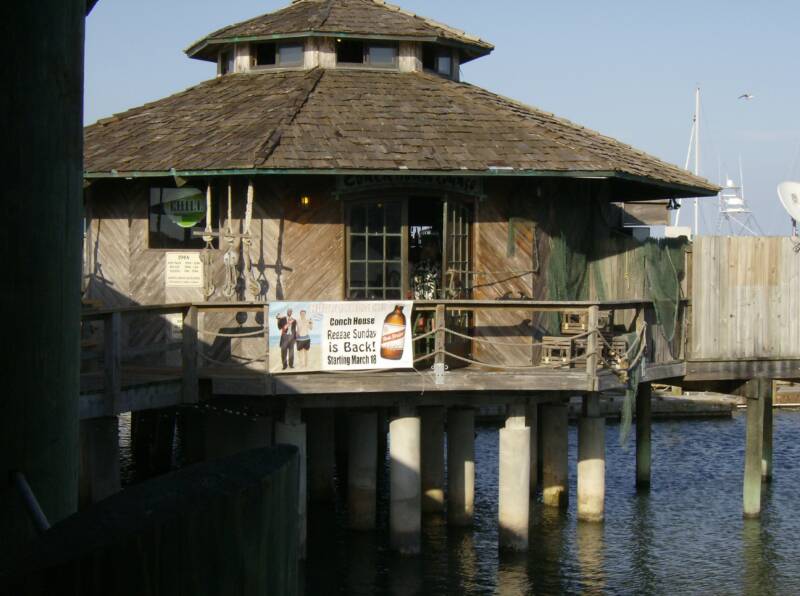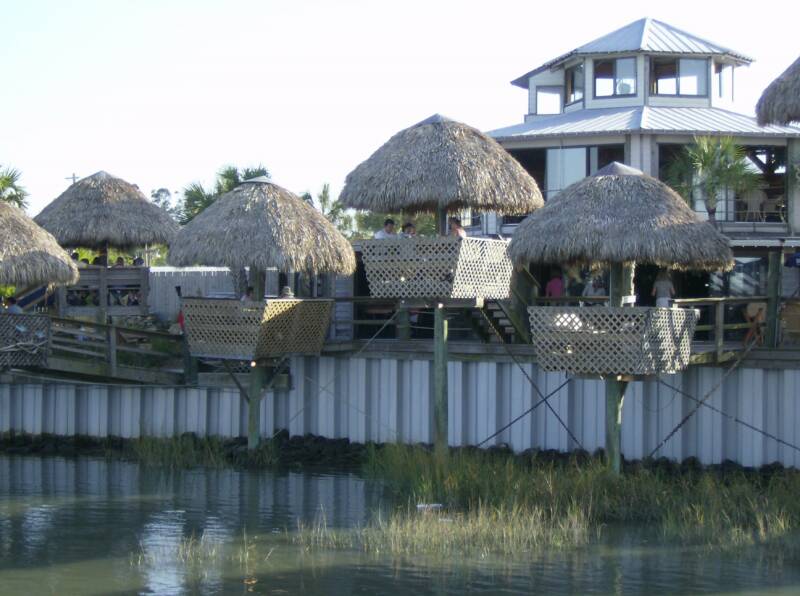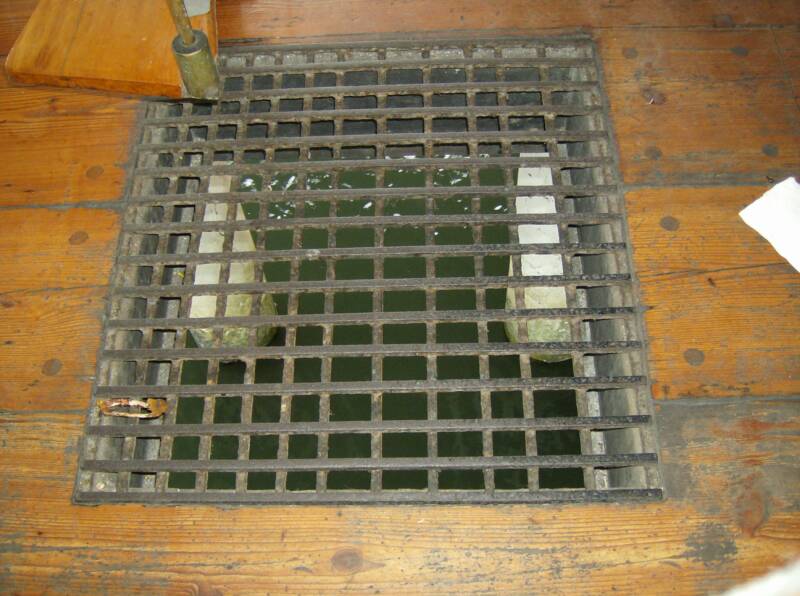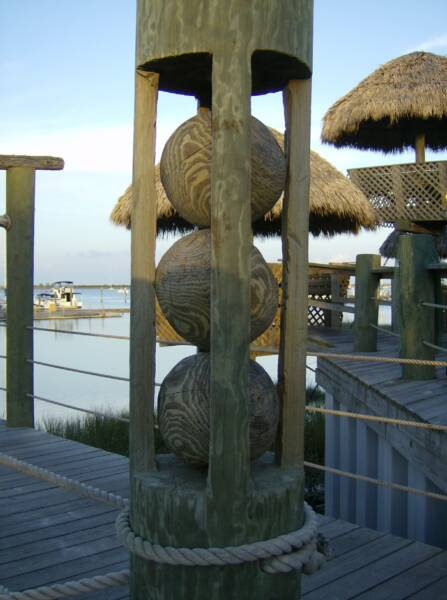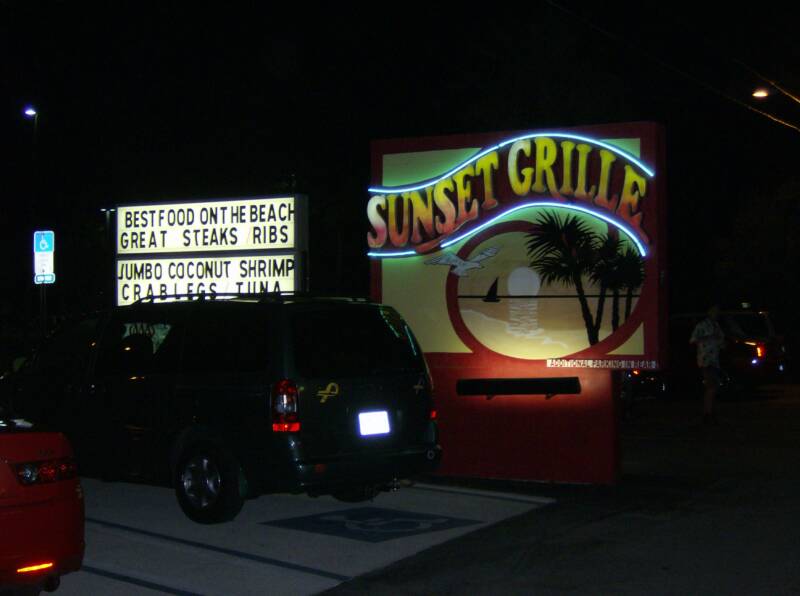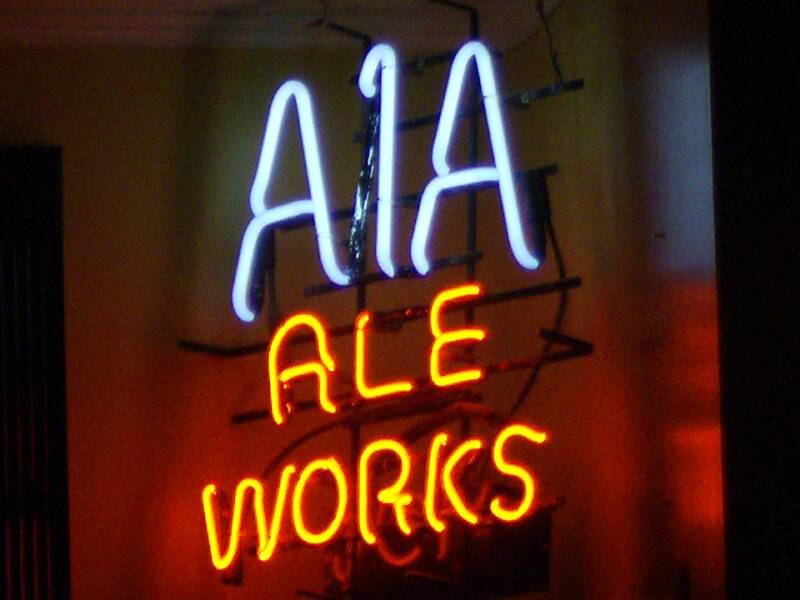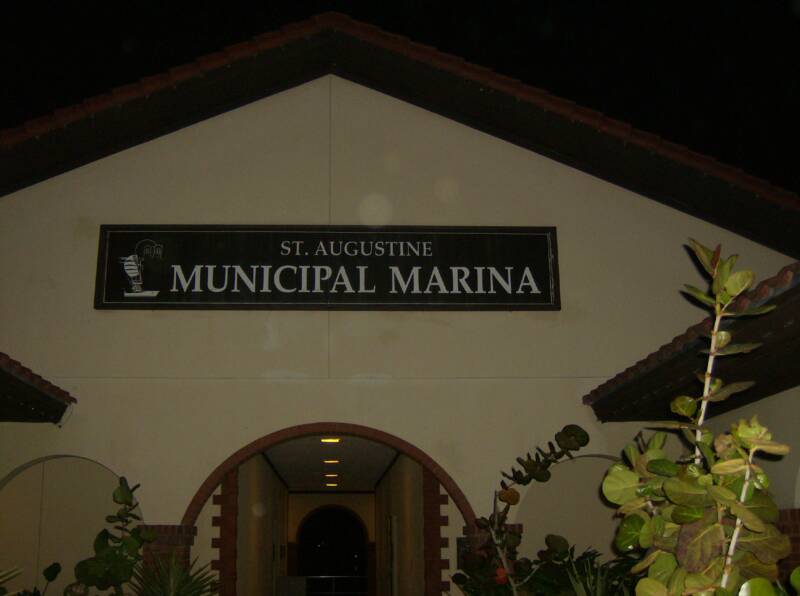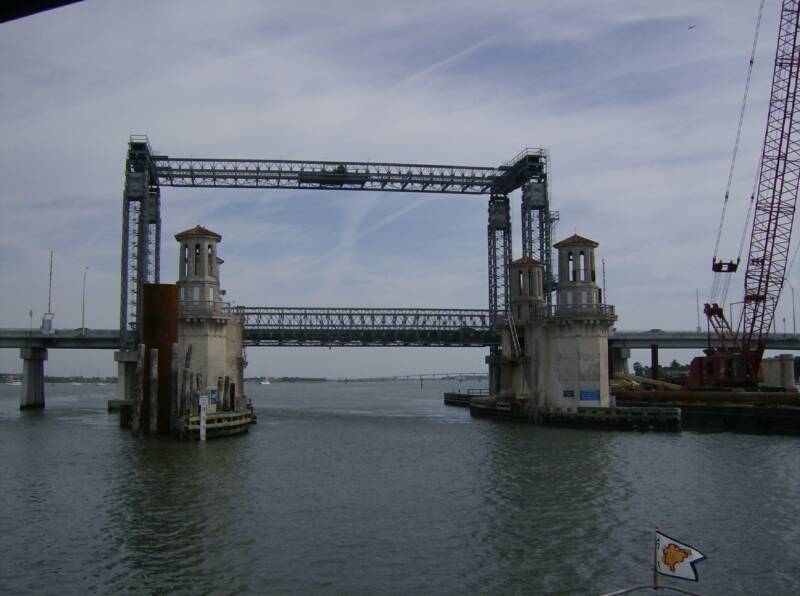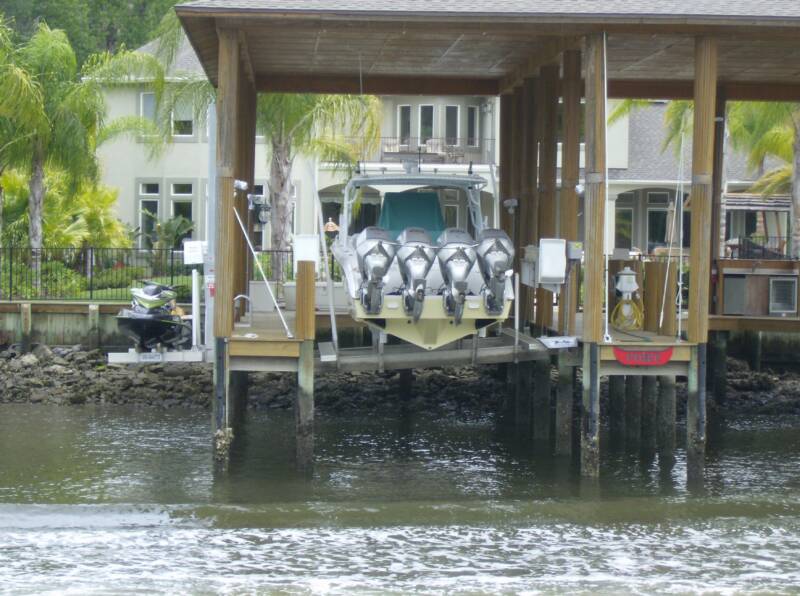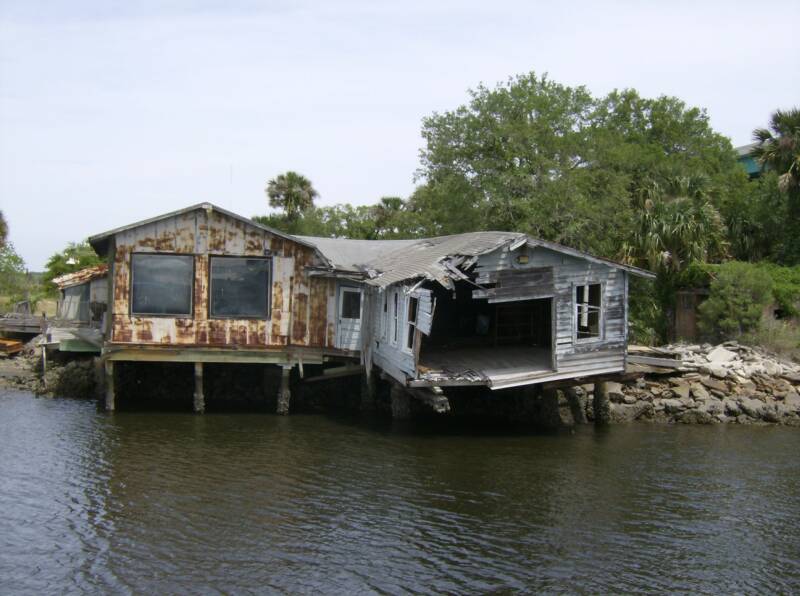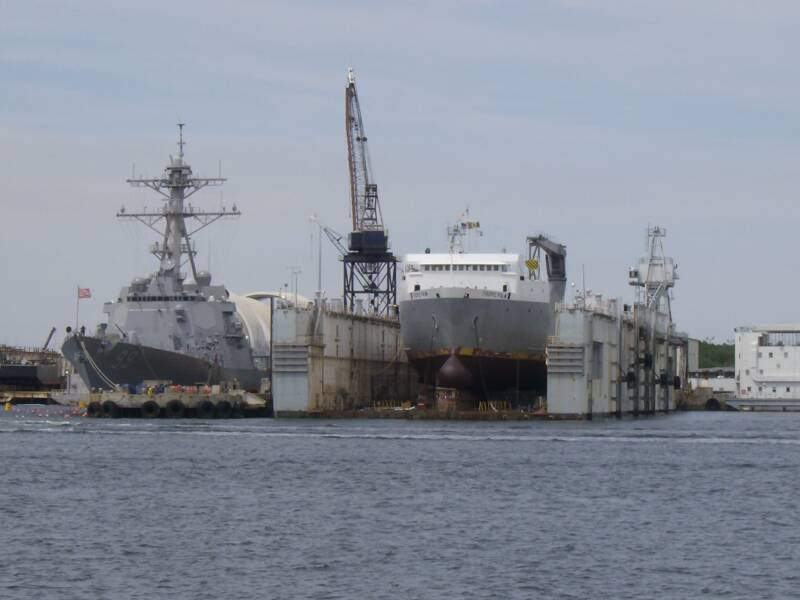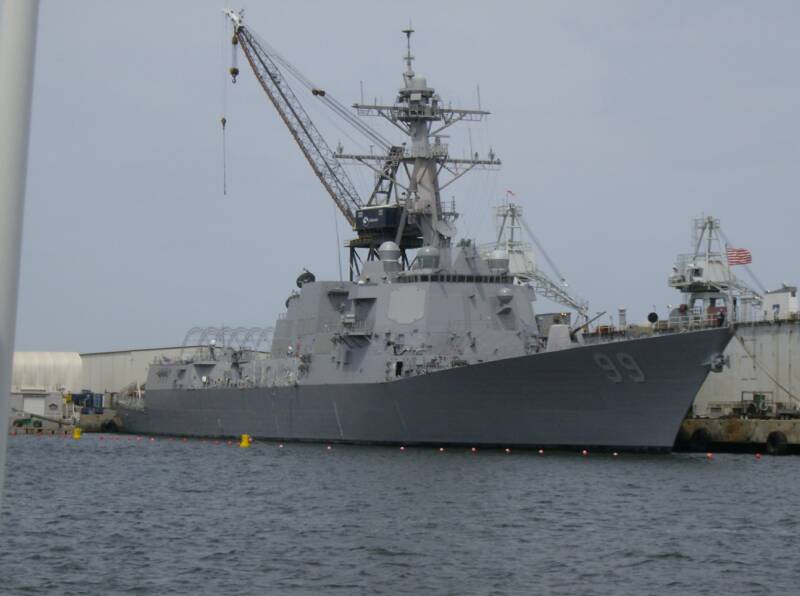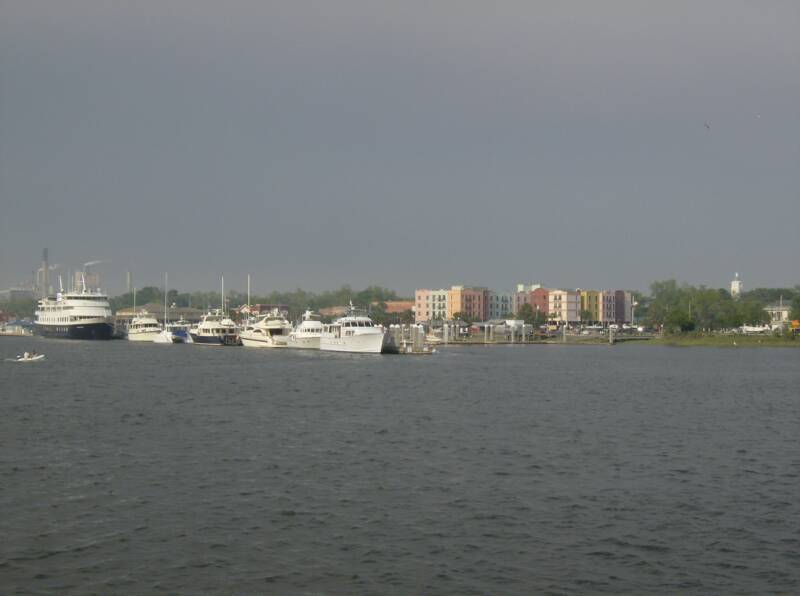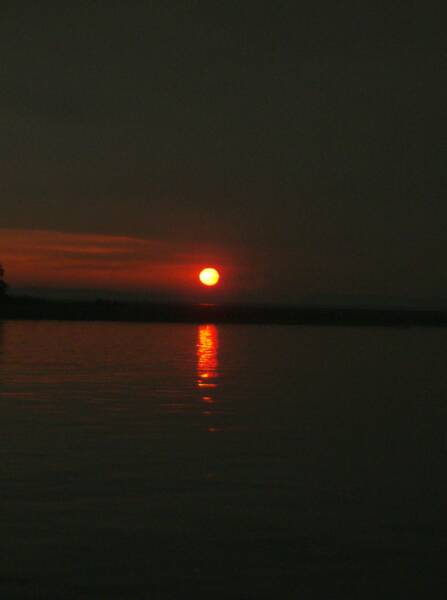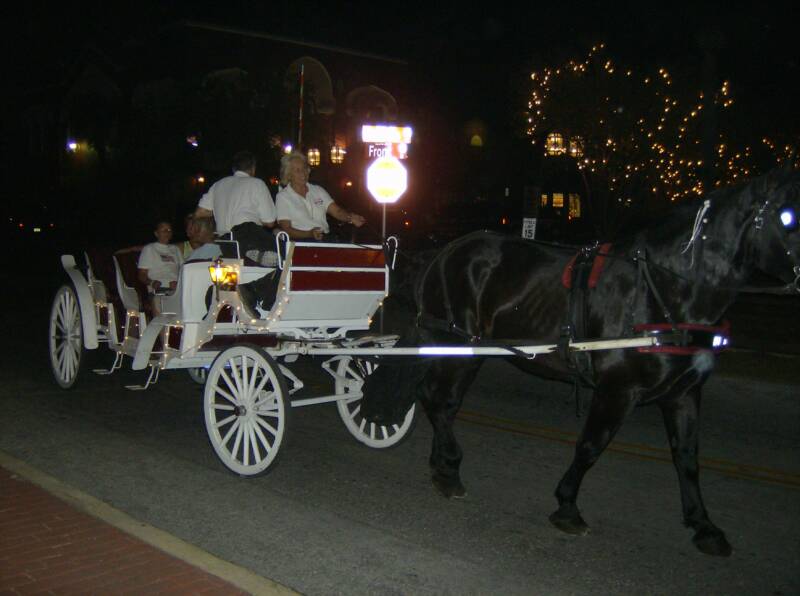 The Lady at St. Augustine. Ain't she pretty!

After two trips to West Marine, and one to the hardware store, the water leak in a very impossible place is finally fixed. So we're off to my Favorite St. Augustine place, the Conch House Bar.

Lot's of hand carved artifacts here, those balls are carved in place and move.

This is the floor a the bar, scarry. 15 ft. drop

Then dinner @ the Sunset Grill , and a nite cap at the a1a grill.

This is the Conch House restaurant. Dinner seating is in the "nests"

Returned the rental car and we are off for Fernindina Beach

Four 225 hp motors, ridiculous.

Found this fixer upper right on the icw.

Passing through the St. Johns River, this is a dry dock for ships.

Fernindina has a new mooring field, $15 a day with shoreside access.  Took Ball #5

There is a huge fire 200 miles west of here in Georgia.

It is so large the sky's were dark from smoke, and the sun and the sunset was red.

we passed Jupiter lighthouse

Things I have learned cruising, # 4

It's a continual quest for water, where to stop, and where to get food.

Lesson # 5

The cost of cruising is in direct porportion to the amount of money you have avalable. Something like 115%..