America's Great Loop

Page 7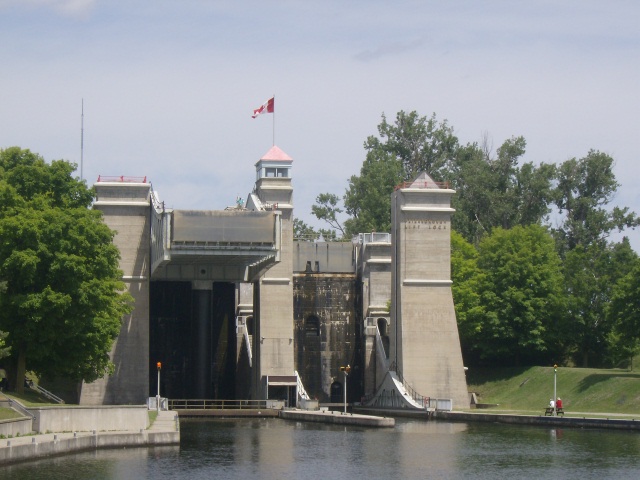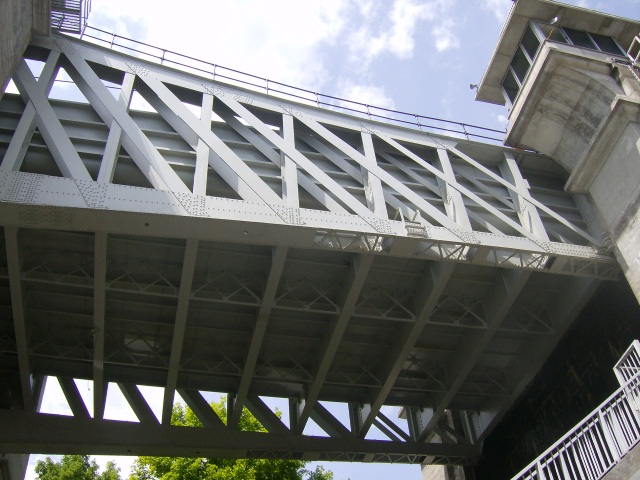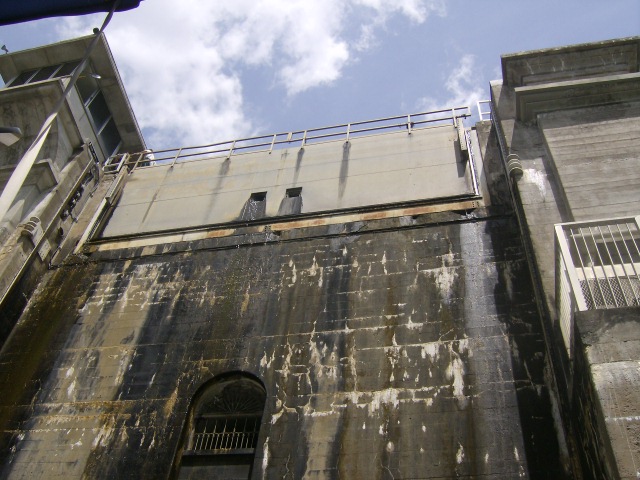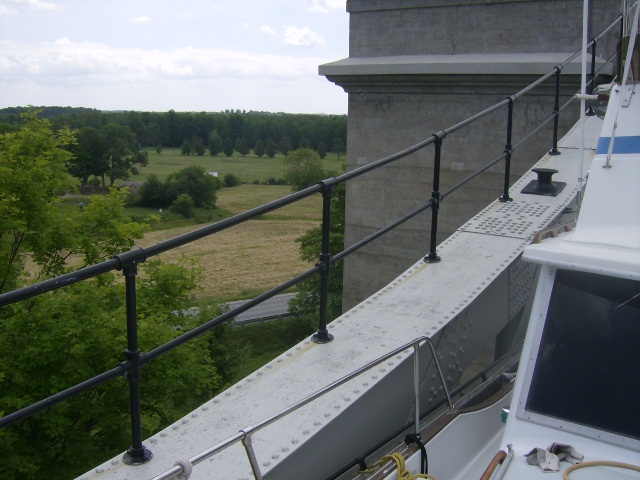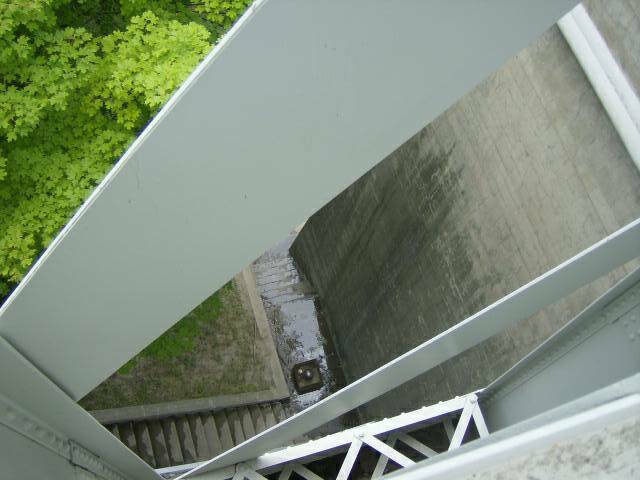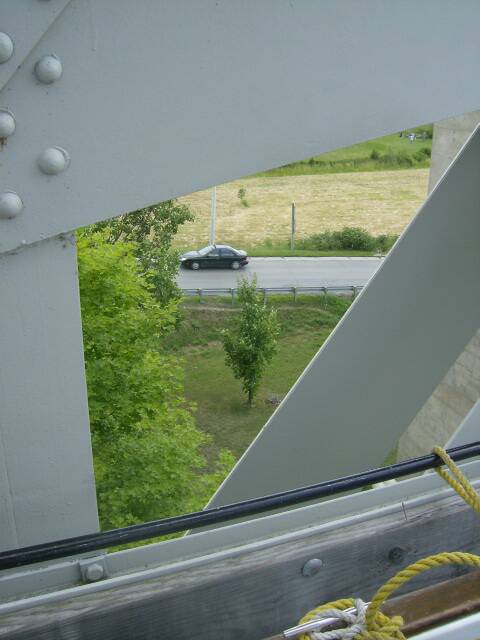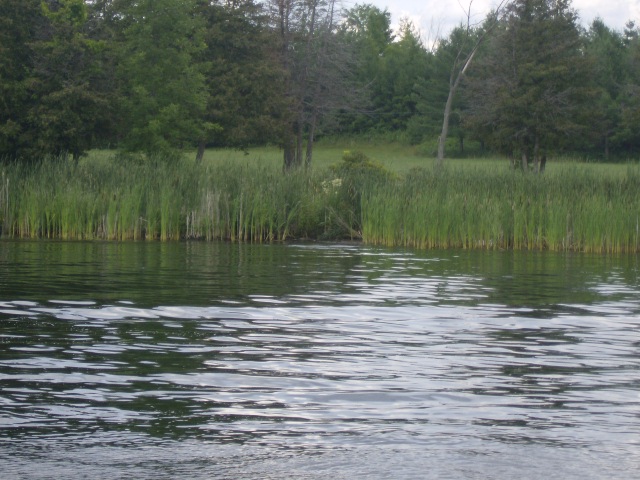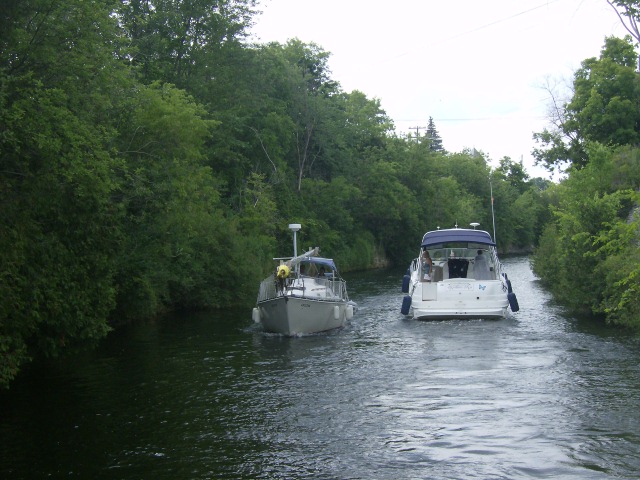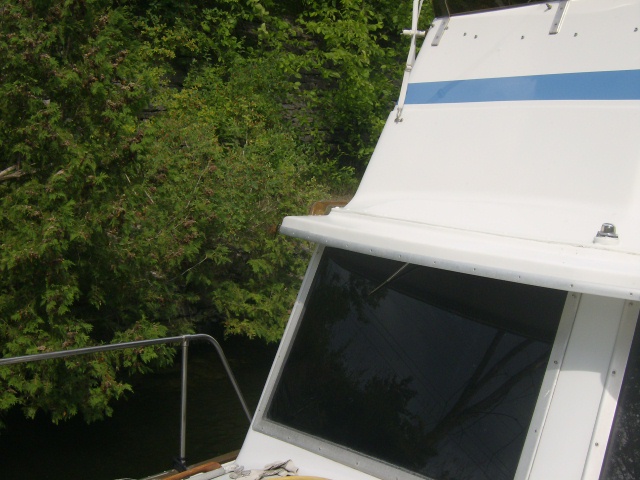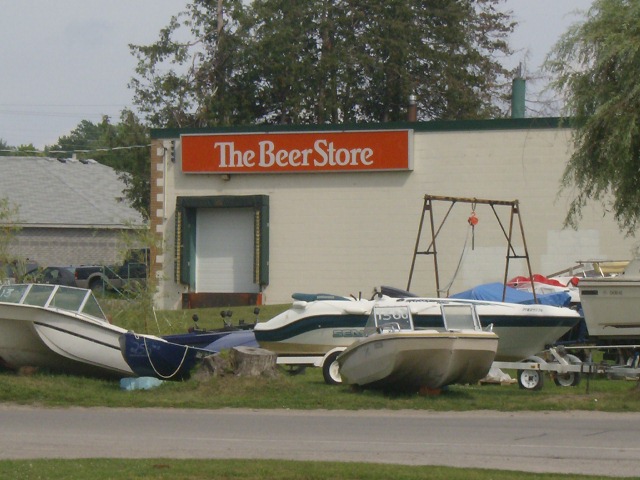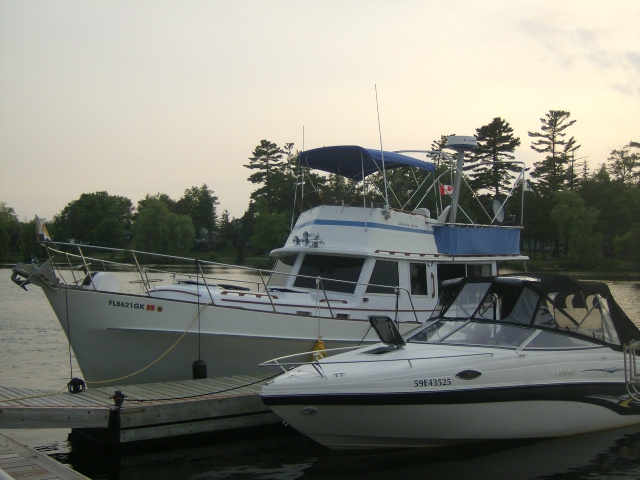 7/16/07

We are off to the one of the major thirlls of a lifetime! We are going to go thru, and up the Peterborough lift.  This will raise the boat vertically 65 feet in a pan of water.!!! The highest lock on the Trent Severn waterway.

This lock was built in 1904

This is one of Two large "pans" you pull your boat into, and tie to the side.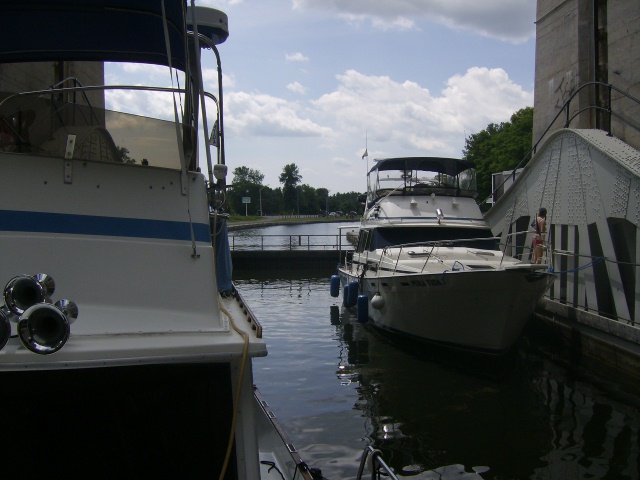 This is the other pan up at the top of the lift, 65 foot high.

The wall in front of the boat. When we are done, we will drive thru those gates at the top.

This is the view lookin down from the top

Just to give you some perspective, this is a car passing by on the road below.

After the lift, the canal was very narrow.

As I passed this sailboat, I could reach out and touch the trees on shore.

This is what Canada Marsh grass looks like.

The lady slept at Lakefield, next to the Beer Store... and now a word on the beer store...

ONLY the Government sells the beer in the beer store, and liquor in the liquor store.

This is how they support free medicine, with alcohol and cigarette taxes. It's expensive, but then Canada is expensive.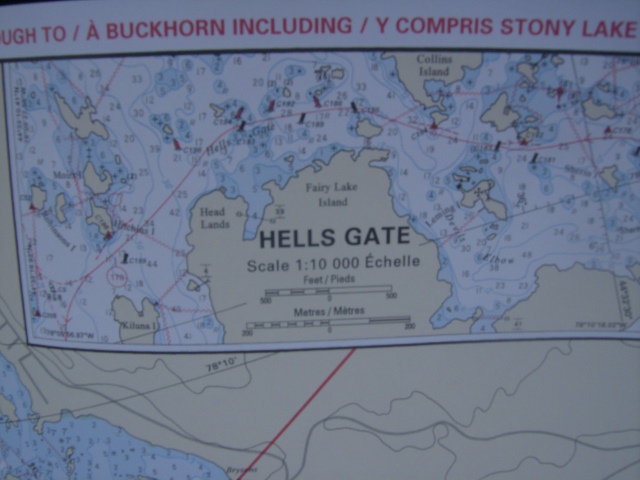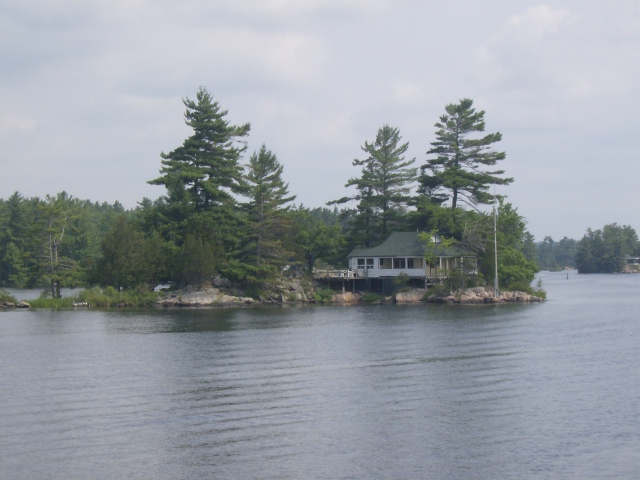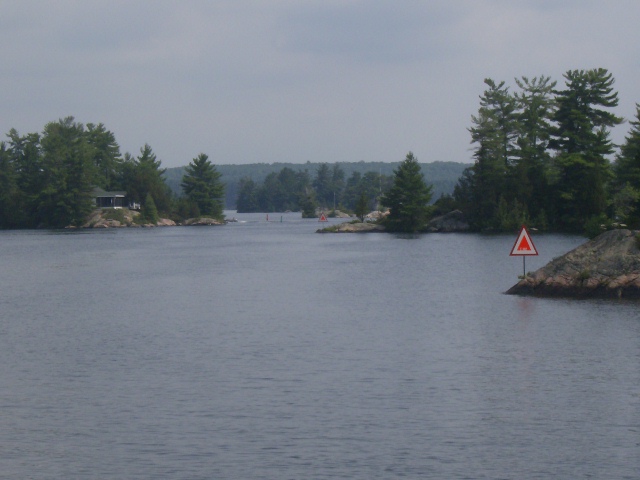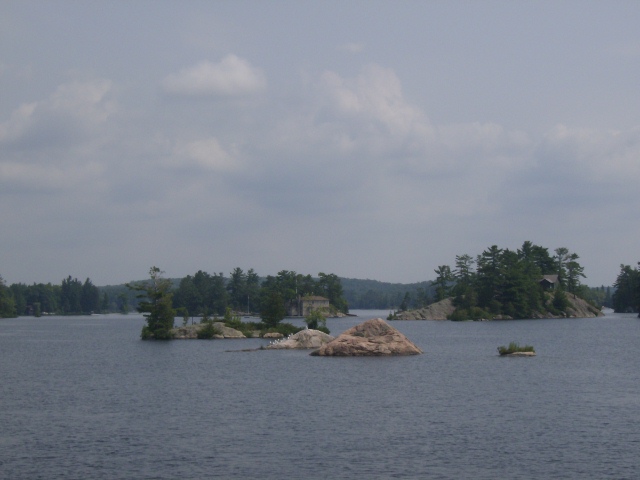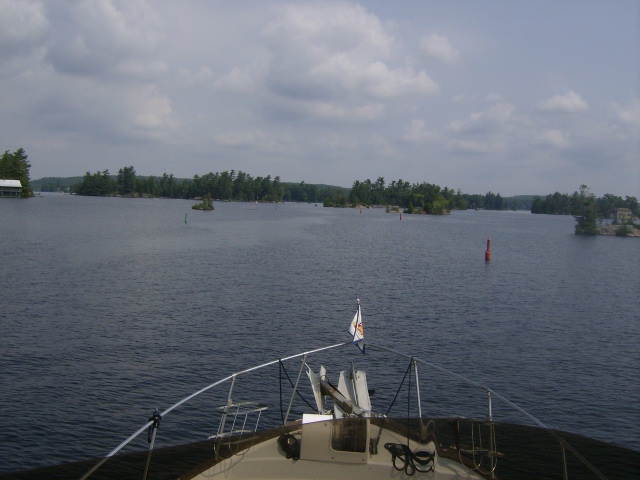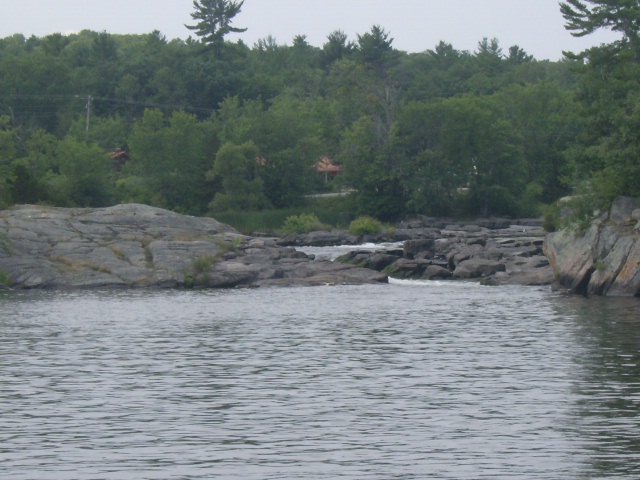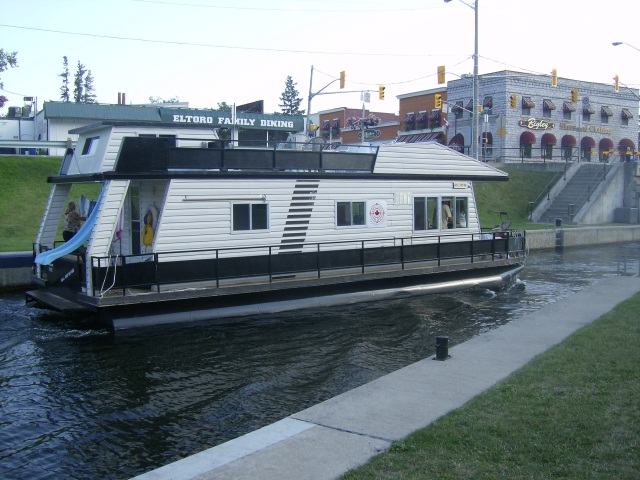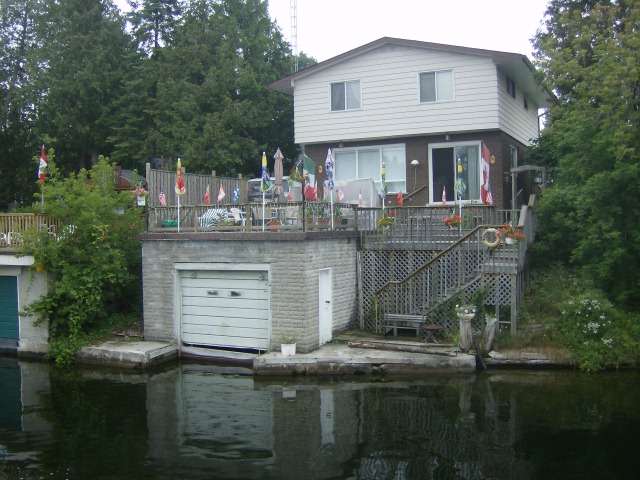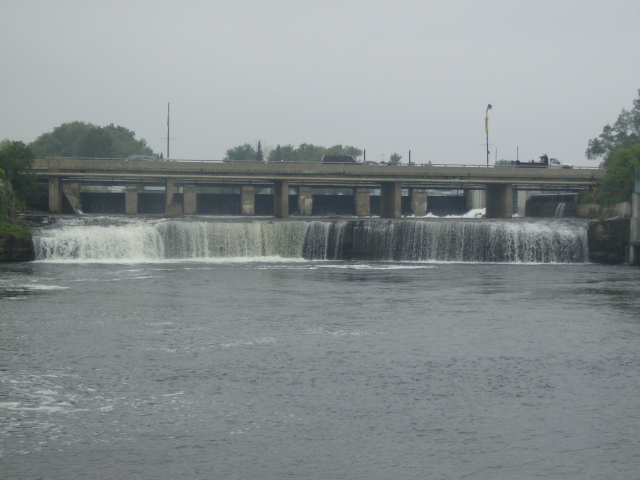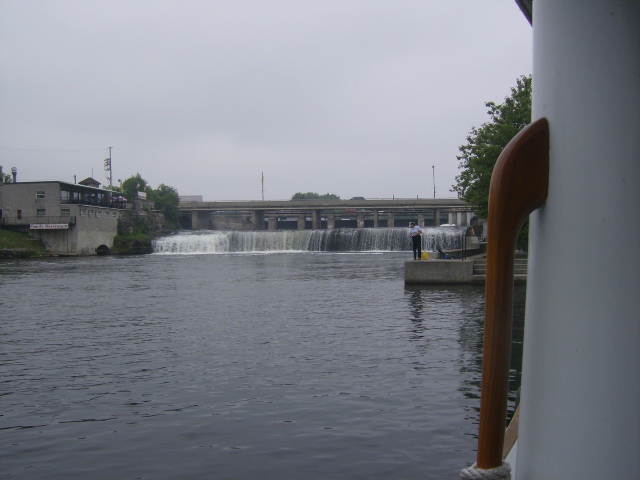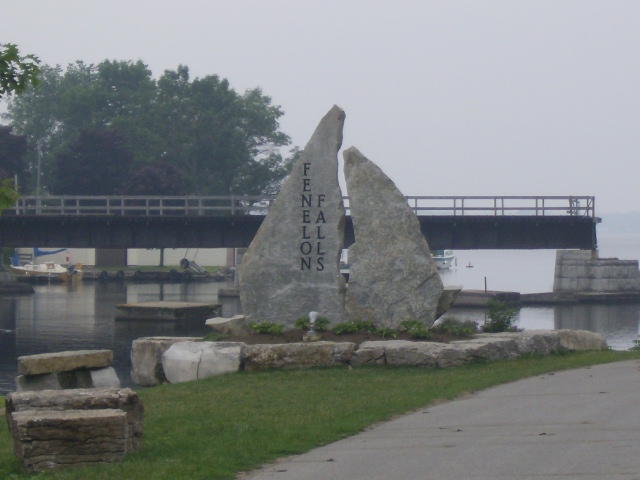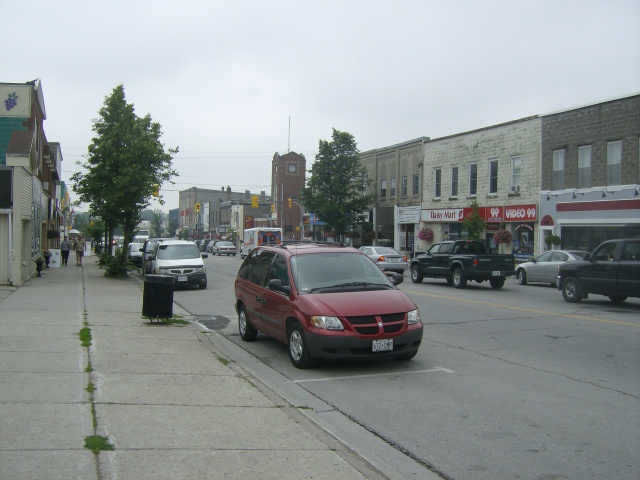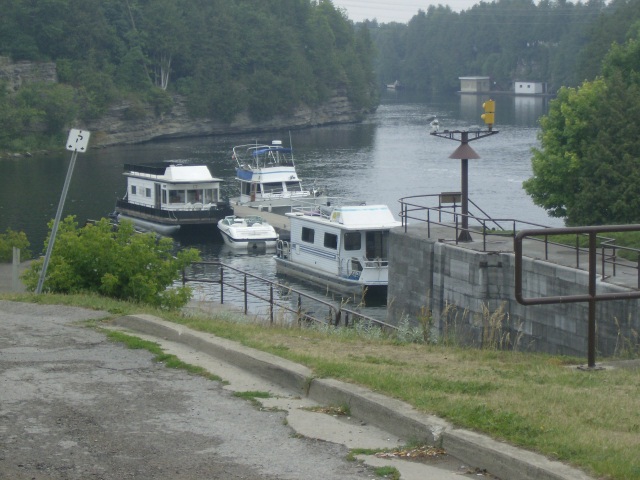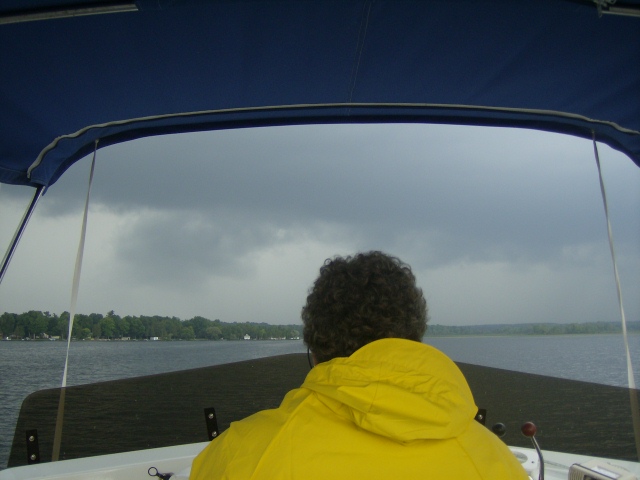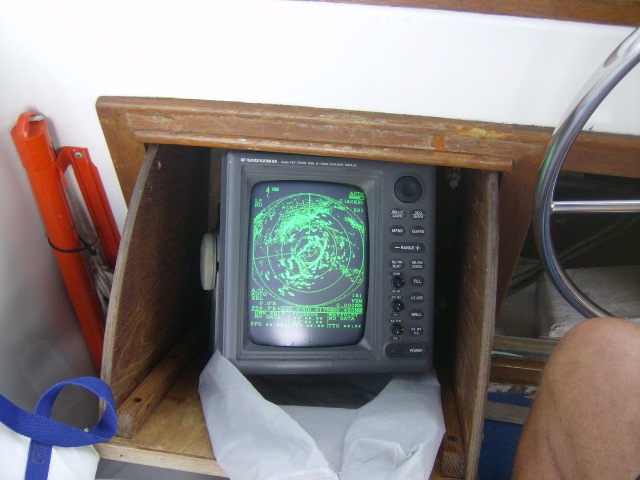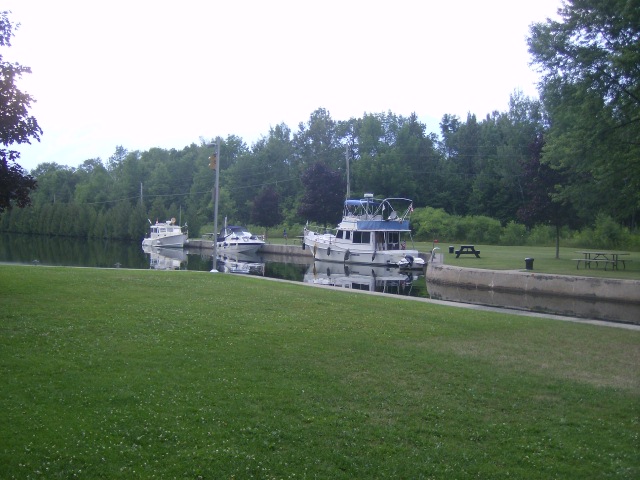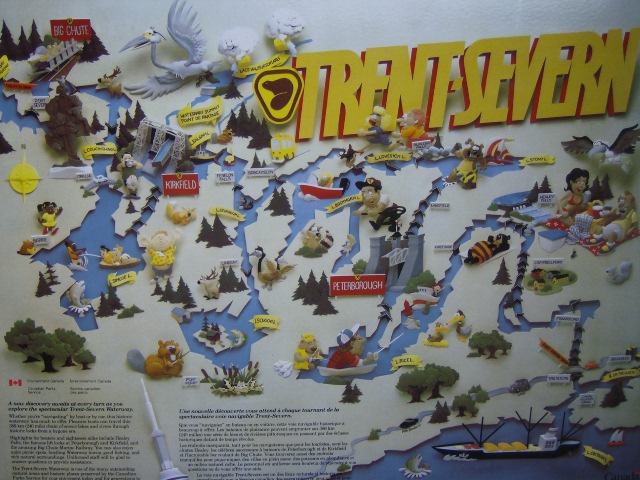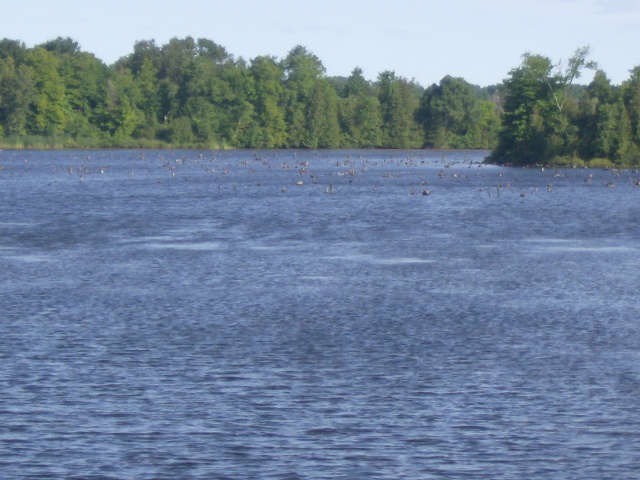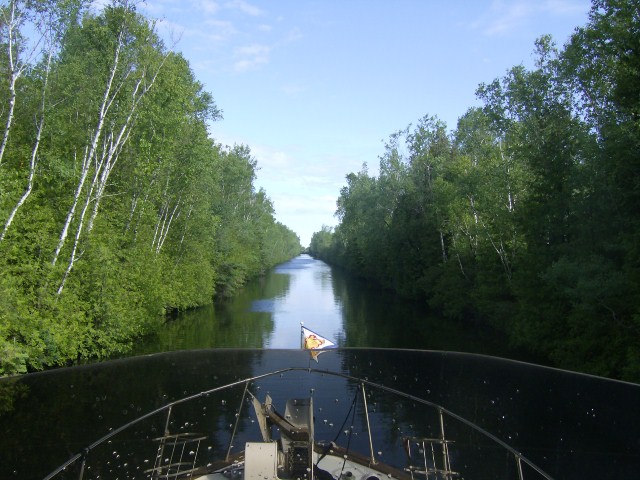 7/18/07

Stopped at BobCaygon. A tourist town, if I ever saw one.

Had a $36 lunch with a few drinks, and decided to get outa dodge the next day.

Someone is making a fortune renting these mammoth slow moving houseboats here..You have to avoid them, the drivers are untrained.

7/19/07

Headed to Fallon Falls.

This is the view from the courtesy docks

Looking forward from the aft deck.

Walked around town, did the tourist thing, then decided to head to Rosedale, So checked the weather first.

It was fine when I left, radar looked good, but after locking thru, here it came....like gangbusters

This was the storm, heading directly at us, from the bow. This was just before the heavens and winds came upon us... strongly, very strongly.

7/20/07

Hells Gate, so named because this was rock city!

Running out of the channel here would not only be costly, but dangerous. Rocks were everywhere.

Fortunately ,the channel is well marked, by markers and rocks.

See what I mean, pretty though.

Lots and lots of vacation homes on small rock islands.

Then  it changes from rocky, to shallow, stumpy, and narrow, for miles!

and this is narrow.. real narrow. for miles.

Canada Parks puts these at every lock.

7/21/07

To BobCagon

Seemed like everywhere we stopped , people were asking us if we were going to the America's great Loop Association rendezvous @ the Bay Moorings in Pentetang, which we we not...However, this plan changed also.

We spent two days there, and took virtually no pictures, and went to some seminars, etc.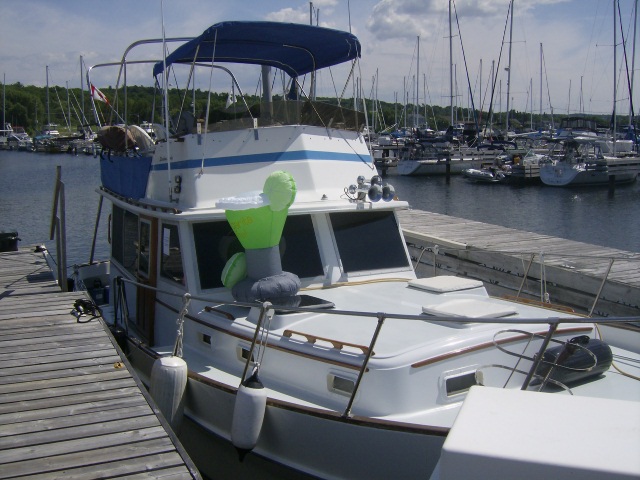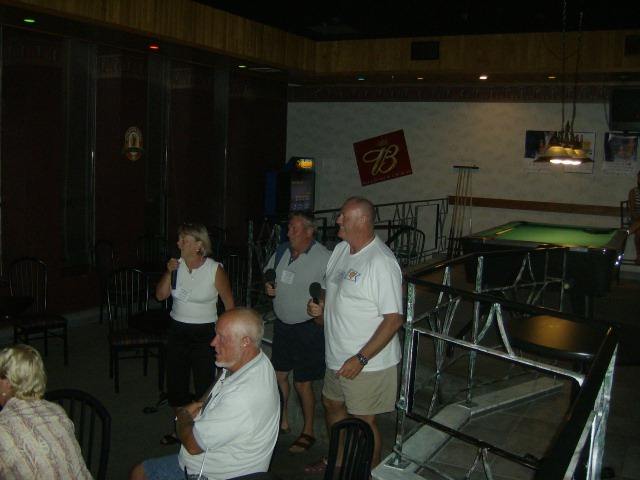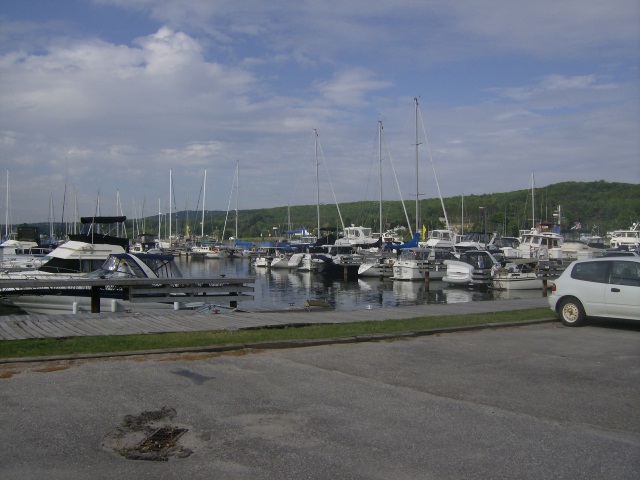 I would guess there were about 100 plus rondevouers, and about 30 ish looper boats there. They had a "looper Crawl" where we showed off our boat, and got to see other boats, bigger of course.

Being from the Keys, our theme was MararittaVille.

We ended the Rondevous with a drunken nite of Karyoke singing... twas great.

But I don't know who these folks are.

7/34/07

Off to Henerys Fish Camp, through the small boat chanel. Did I mention, Canada's small boat channel has rocks....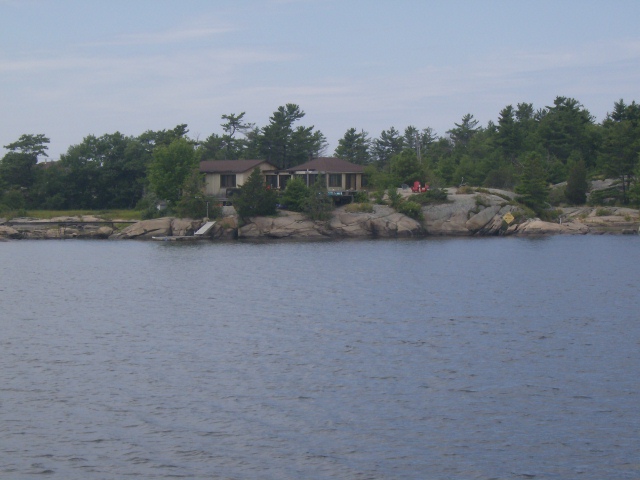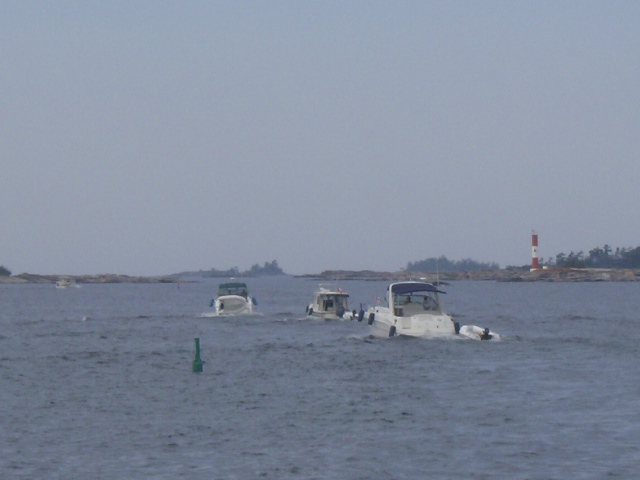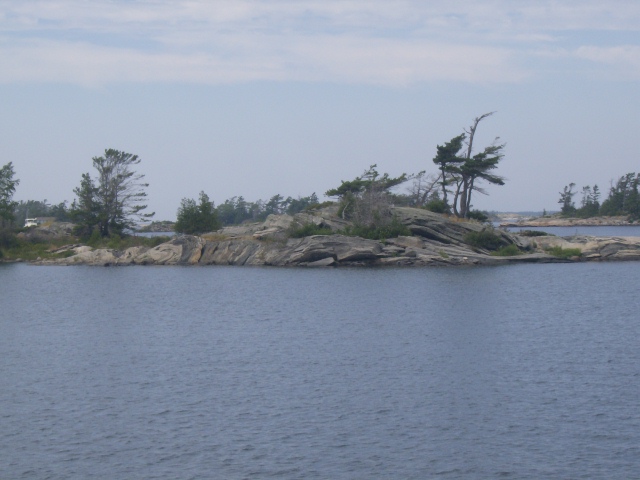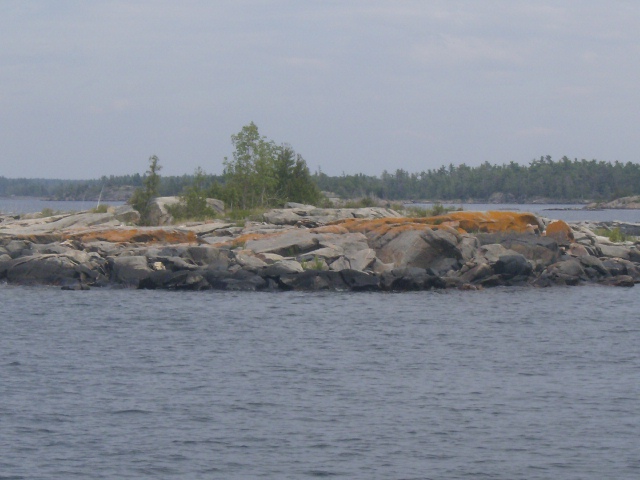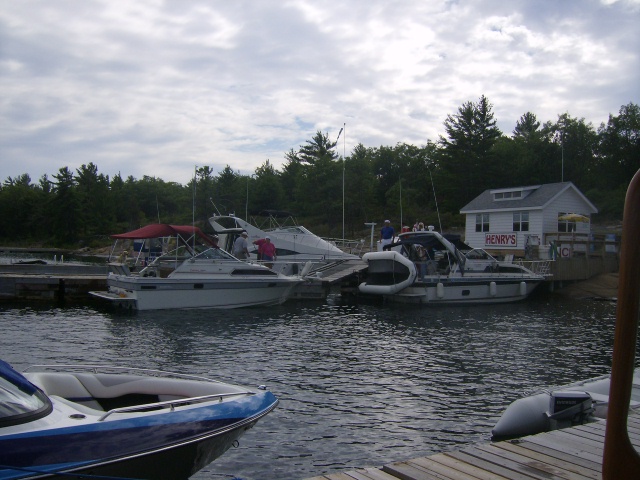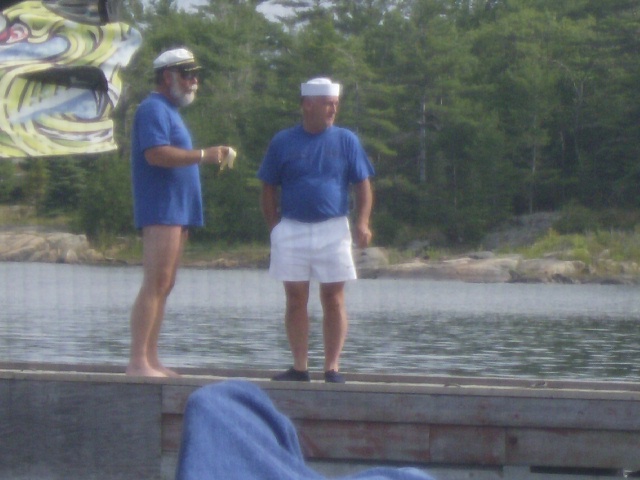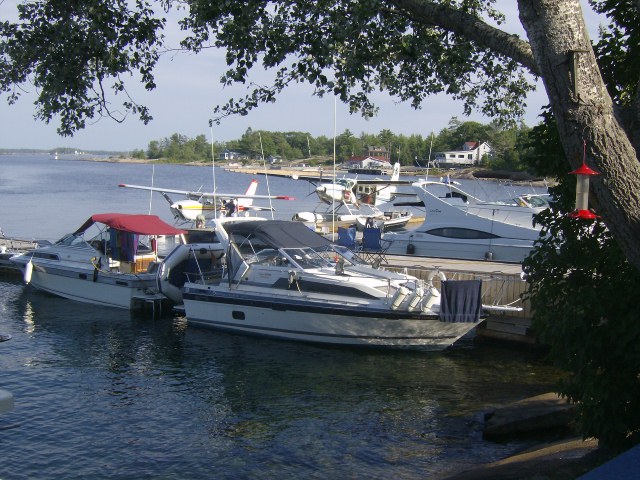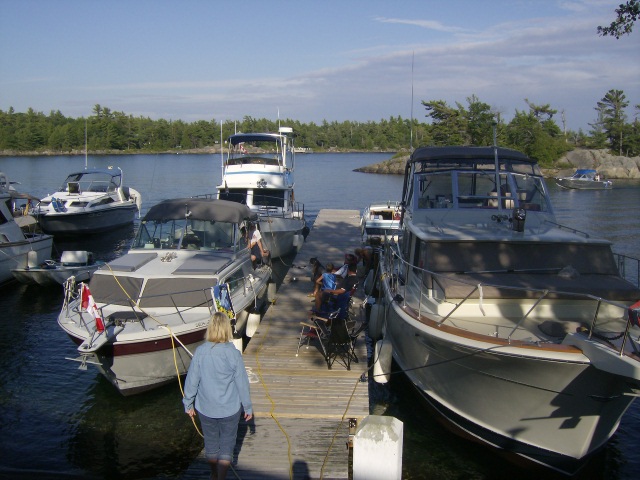 LOTS AND LOTS OF ROCKS,                                   EVERYWHERE!

Nobody goes fast in the small boat chanel, Not even the searays. I actually passed these guys.

Some of the rocks have this orange growth on them.

We arrive at Henry's, got us a slip and were suprised to find ....that....

Gilligan and the Skipper too, were on the docks. Seems the Skipper was sporting some brief, briefs... I had always suspected those two.

Seaplanes bring hungry tourist in continually. Henry's is known for it's fish, but I couldn't see spending $20 American for a fish basket and fries, so I ate on the boat.

7/25/07

Did I mention the small boat chanel is narrow and rock lined?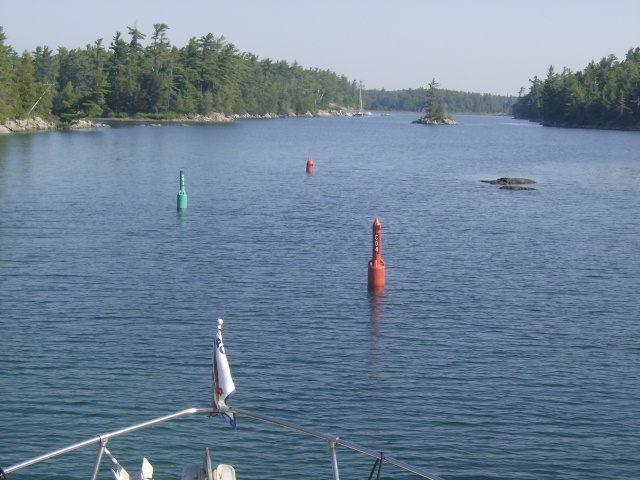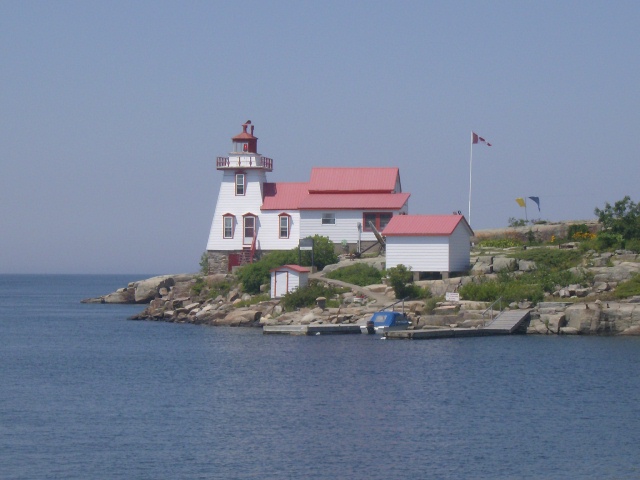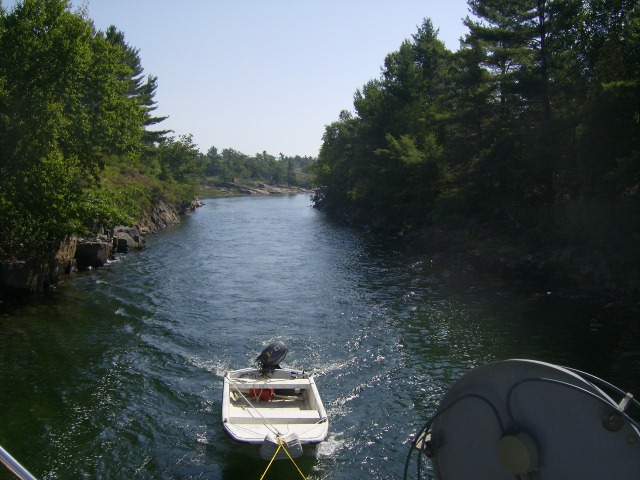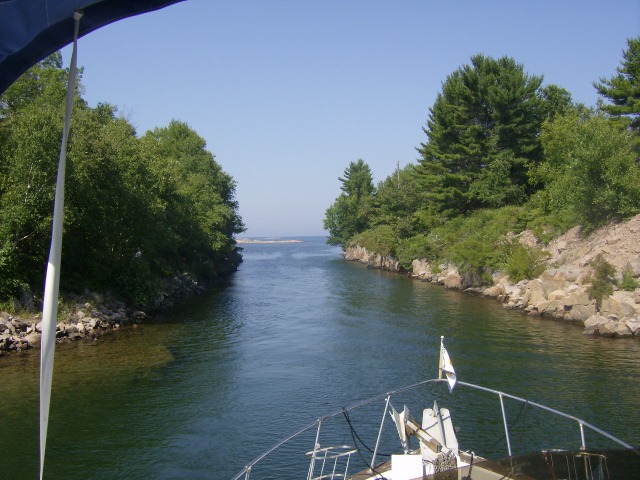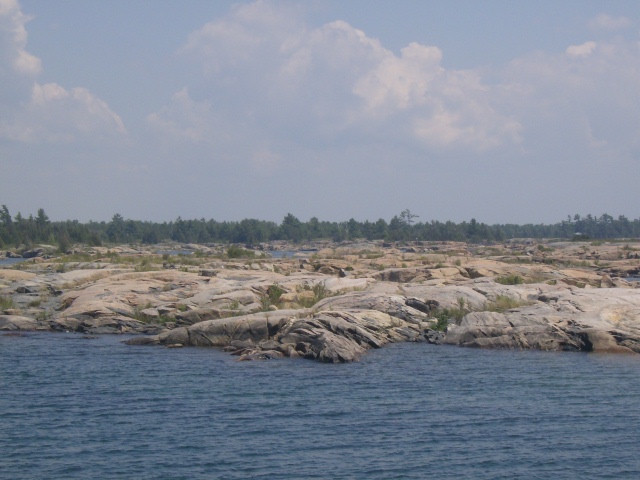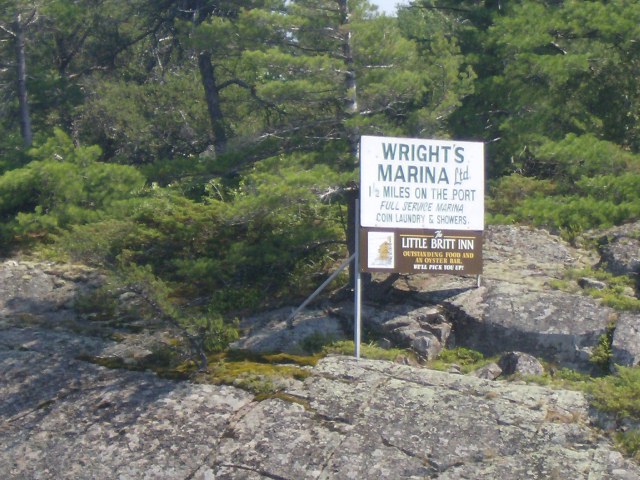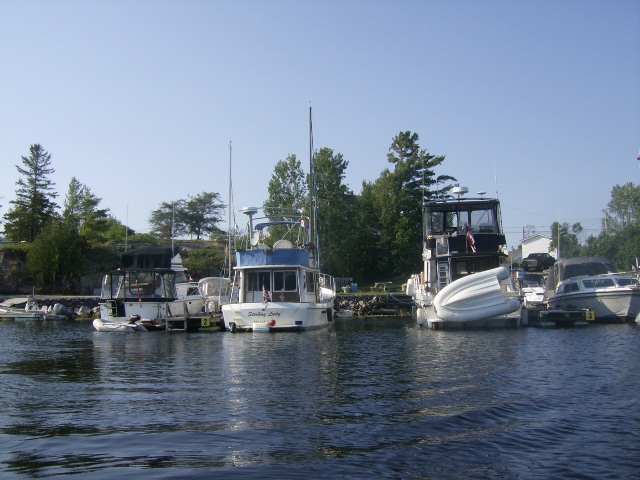 You really have to pay attention up here.

There were several of this same light house along the route.

Canoe chanel was a tight fit, but we made it.

The Lady slept at Wrights Marina, by Byng Inlet, mm 61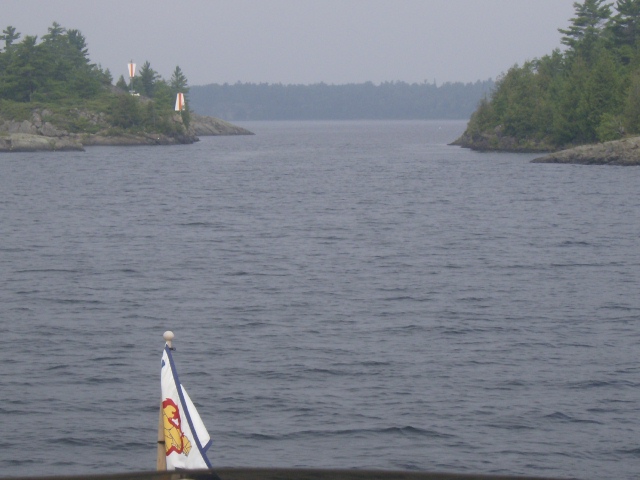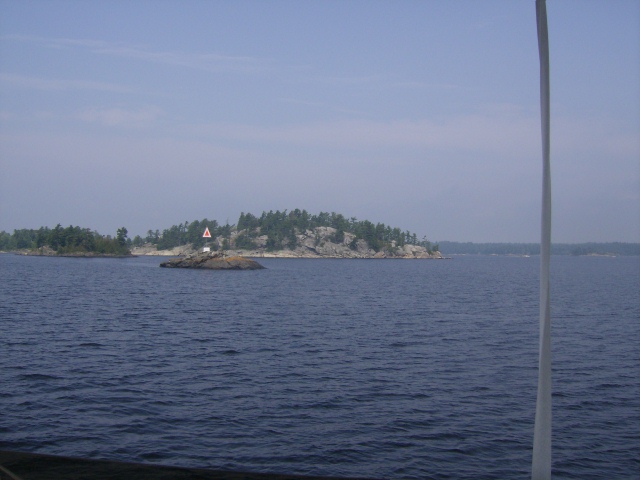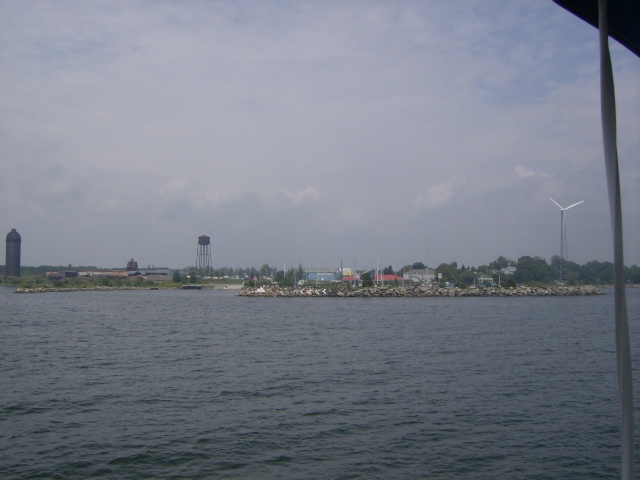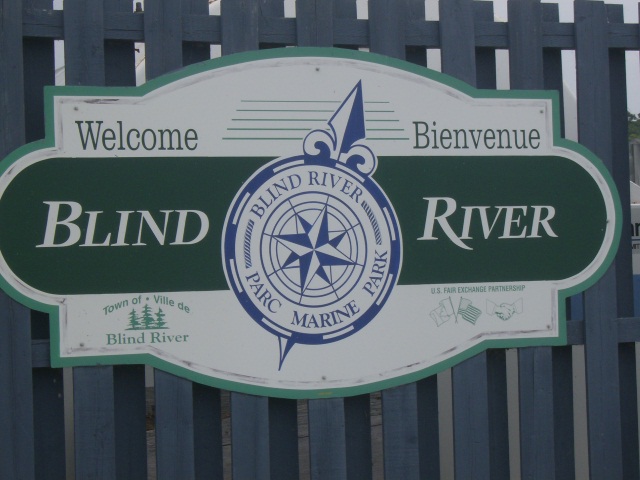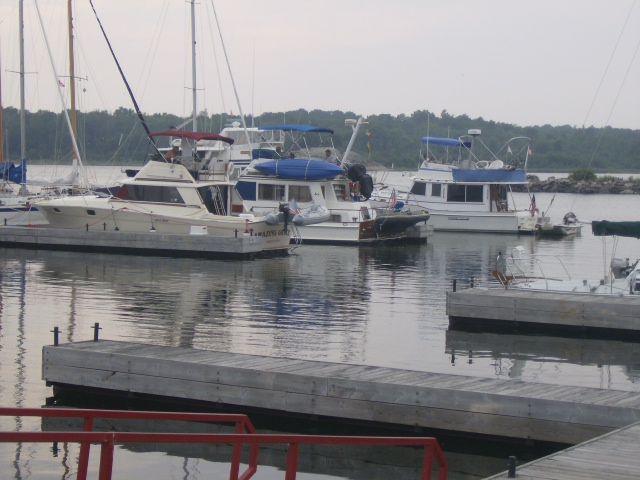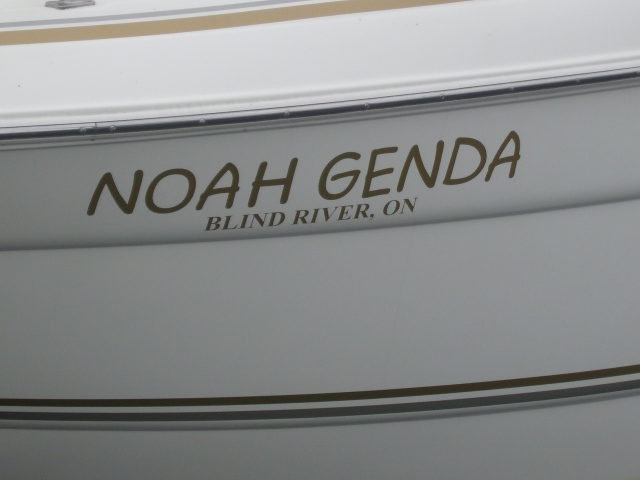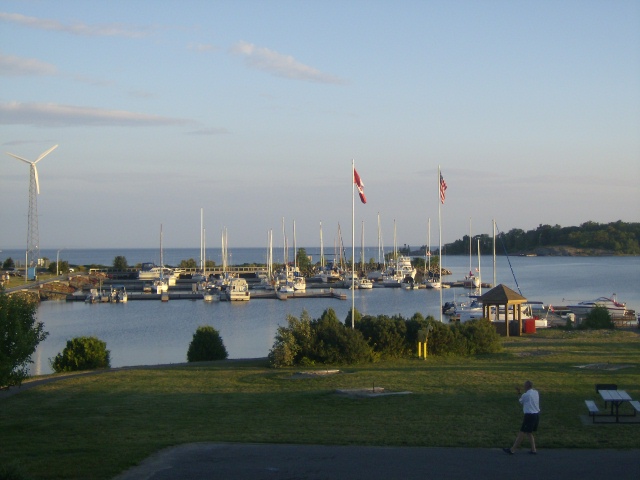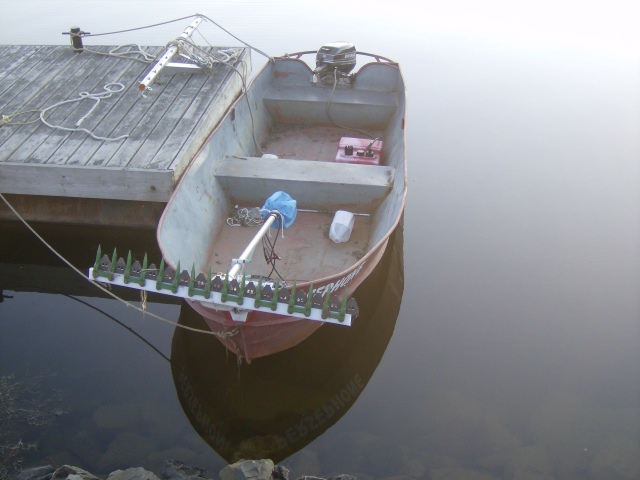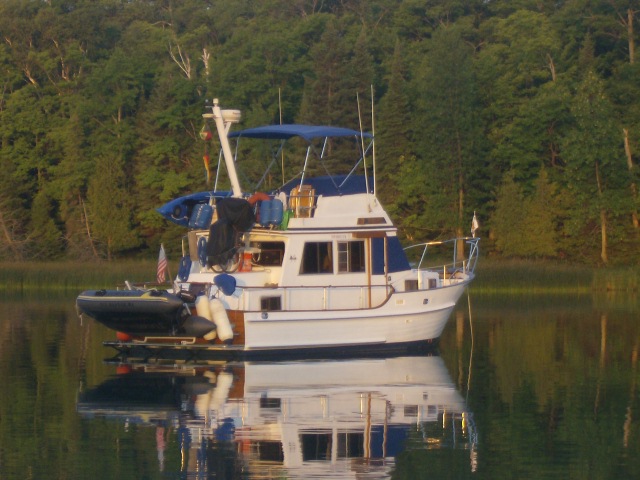 So we went thru, and stopped at Kilarney, however, I screwed up and can't recover the pictures. We stop at Little current also, and got groceries, and anchored behind picnic island, but alas , the pics may be lost in cyberspace forever.

We did find Skinwalker there,and had or de vours and drinks .

In the North Chanel, it's big and hilly, and very Canada-ish.

Decided to stay at Blind River Marina, for our "cross over" point to the good ol USA!

They had floating docks and lots of weed in the marina.

They even had their own water weed trimmer.

and in the unique boat name dept----->

Borrowed the marina bikes and went to town, sadly, nothing to report, not much there, but did get a good shot of the marina.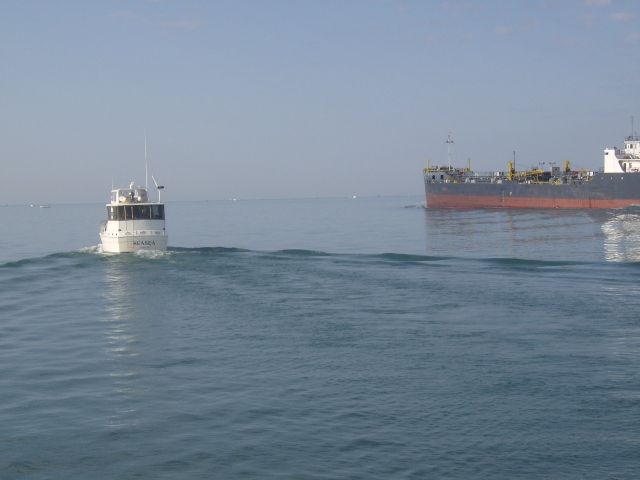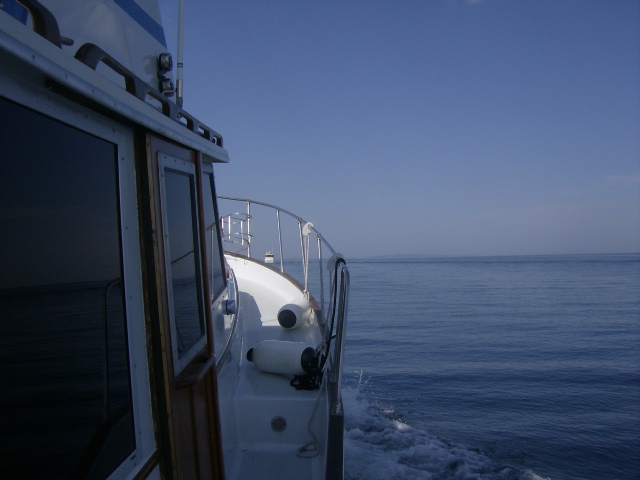 7/28/07

We met Paul and Stacy on the MV Sea Sea, and since we were all going to Drumund in the Good ol USA, (finally back home) we followed them so I din't have to navigate.

It was one of those rare Flat Calm days, so the 50 miles went by really nicely.

Here's the view looking aft

Sea Sea had a little right of way argument with a freighter, but the freighter won.

Luckily, Customs was a breaze, and we anchored behind Drumund island for the nite.

7/29/07

And we are off to world famous Mackinec Island.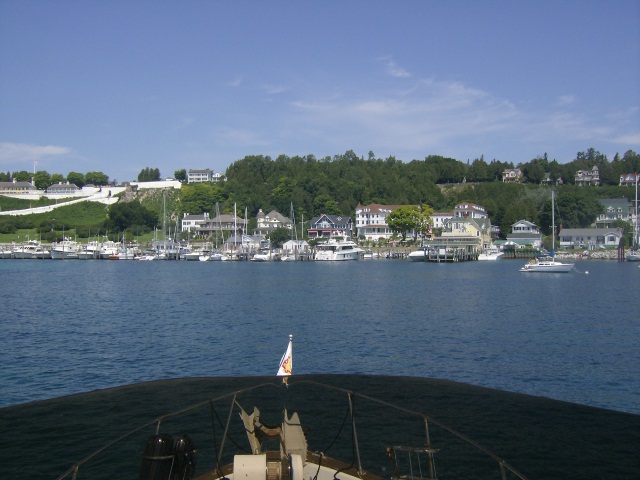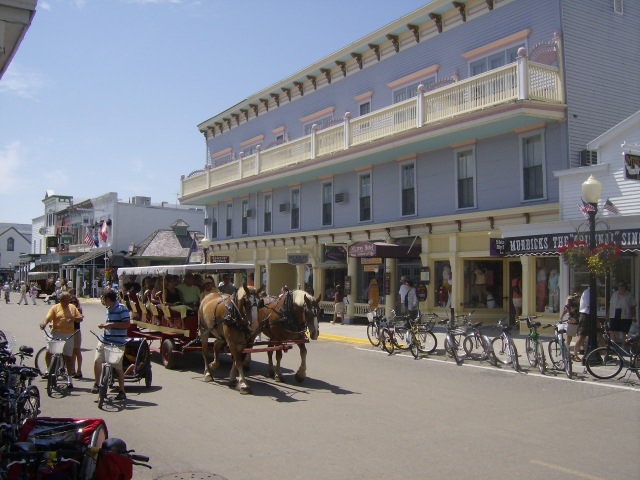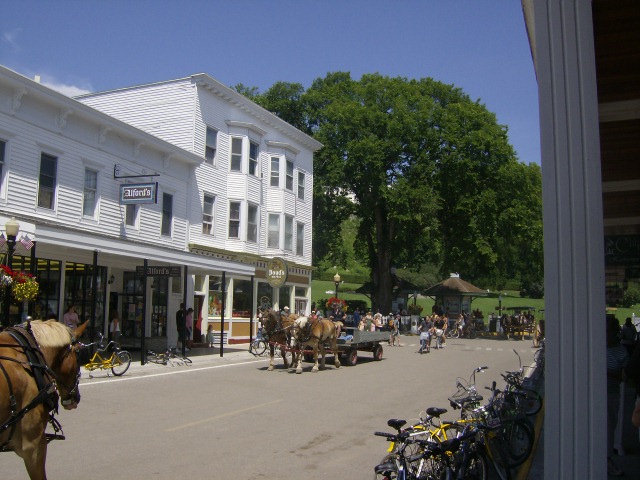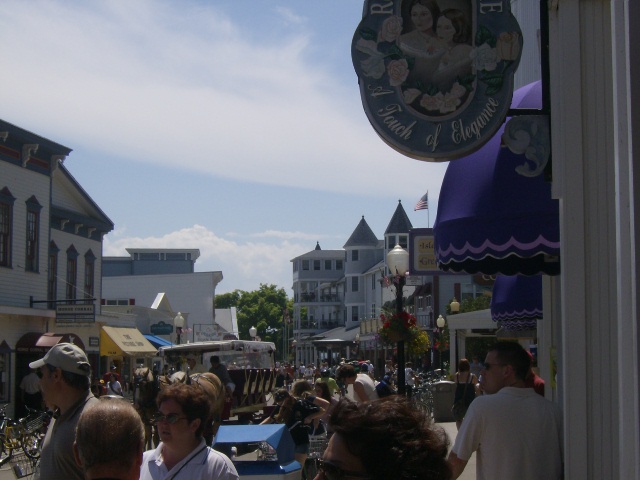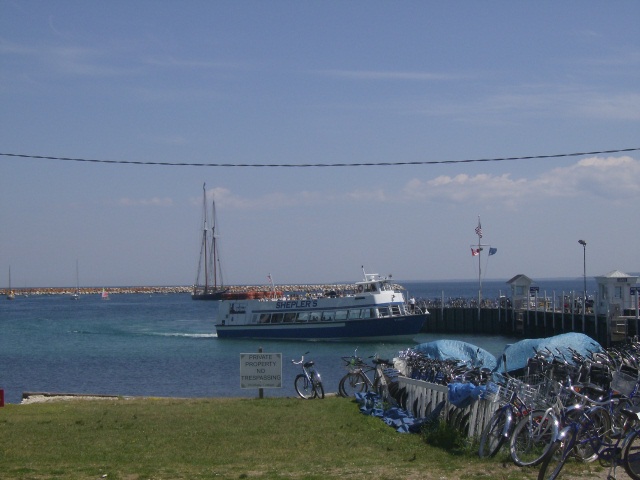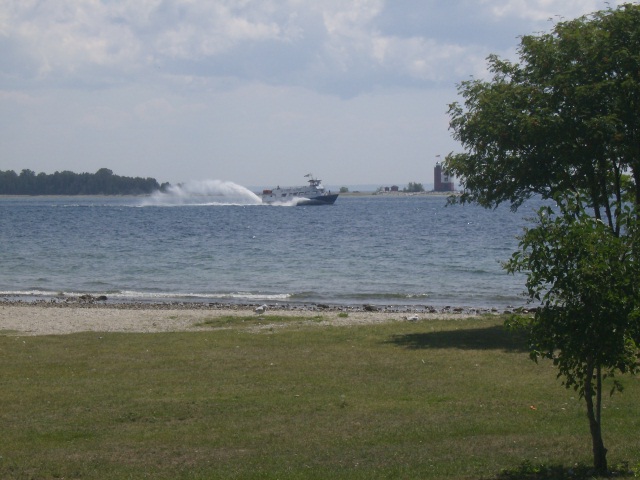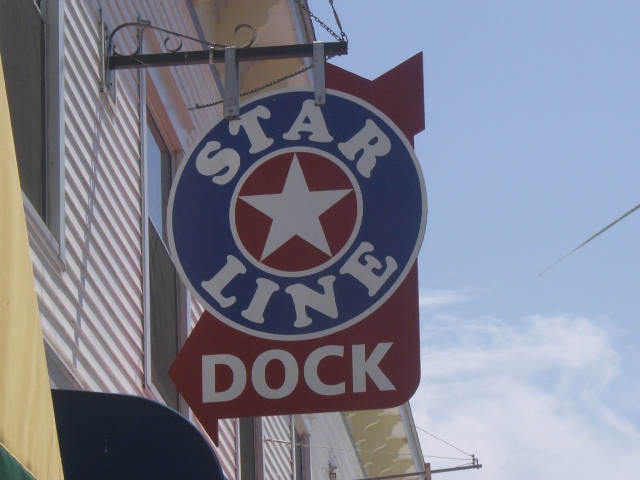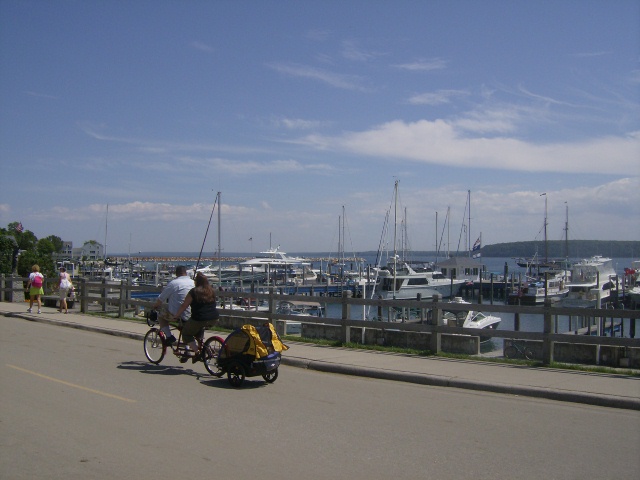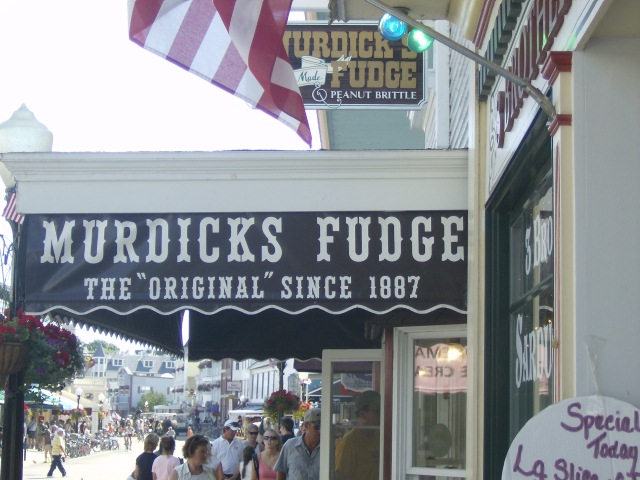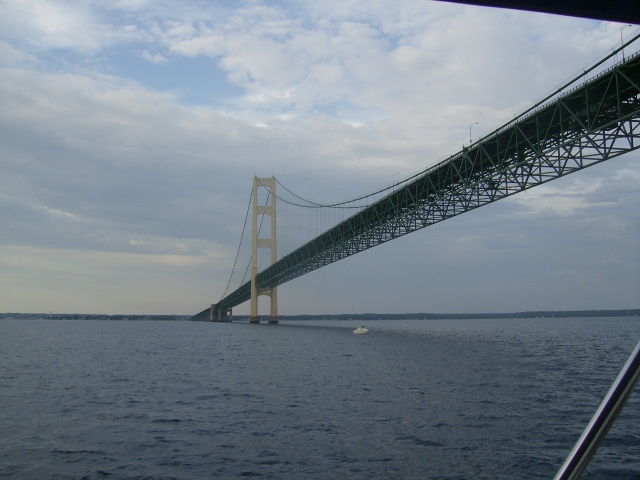 There are no cars on the island, no motorcycle, no golf carts, only horses. and the island smells like... Horses.

There are thousands of people brought here by the ferries daily.

and there were lots and lots of fudge shops..

One of the ferry company's was star line, kinda reminiscent of White Star Line, of Titanic Fame?

Underway, the ferry would had a stream of water behind... showbiz I guess.

7/30/07

Another early start, seems that.s all I do,, and we are under the bridge heading to Lake Michigan.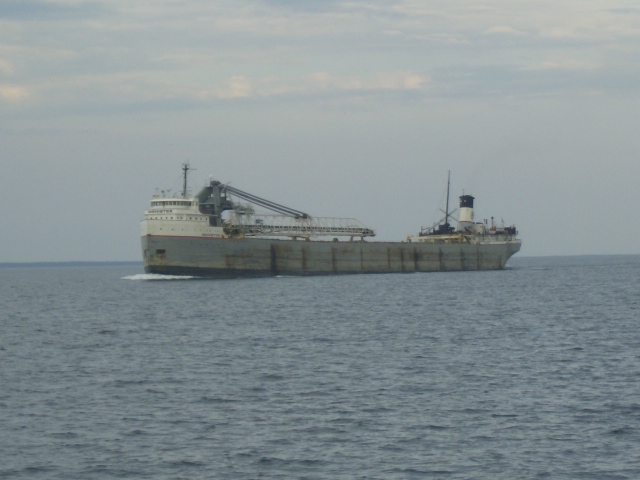 This guy passed us to port,                                               and this to starbord.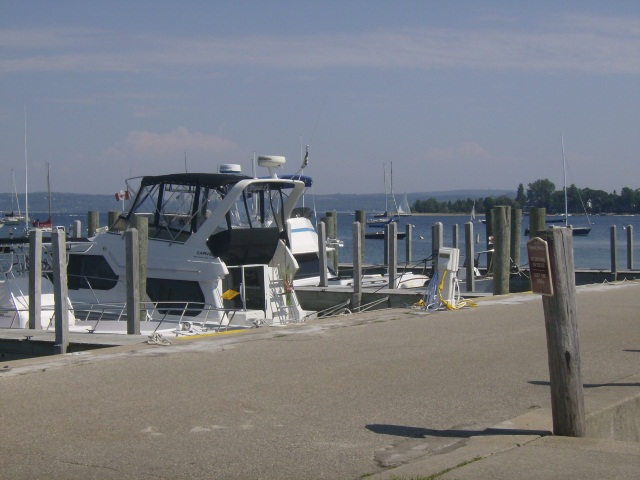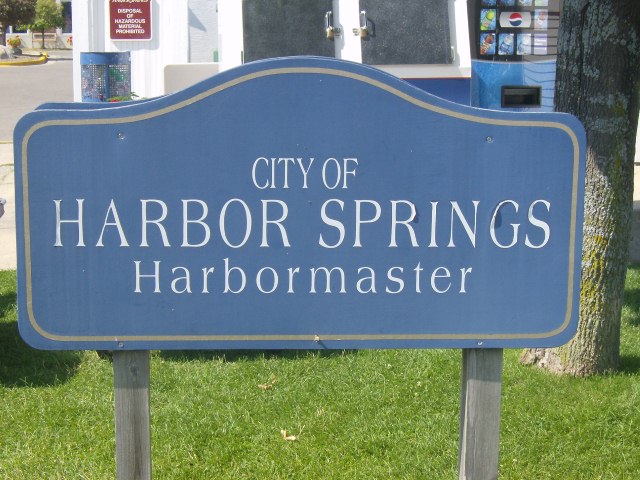 We were low on fuel, and the lake can get rough, so $785 I was full of fuel again.

Ouch!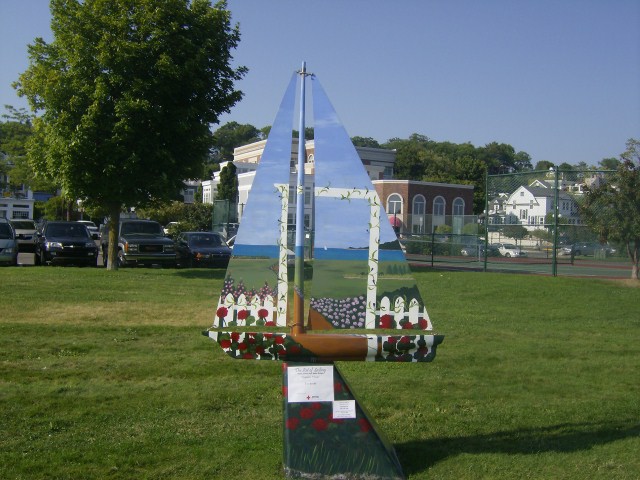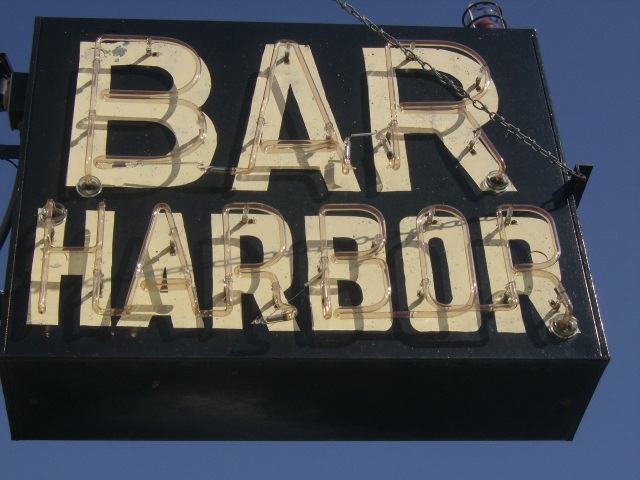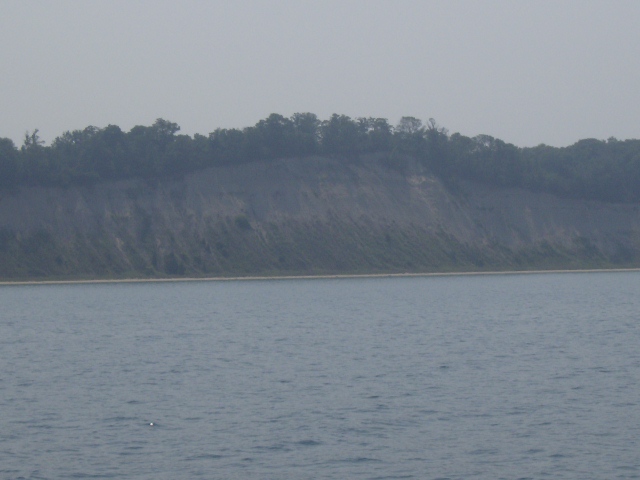 The lake Michigan shore line is sandy cliffs, nothing like Canada

It was our highest winds, and stongest storm yet, but it came on us fast and left us fast. We made it to the Rosedale locks, 840 feet above sea level, the highest spot on the canal.spent the nite on the wall.