The Sterling Lady on

America's Great Loop

for the 2nd time!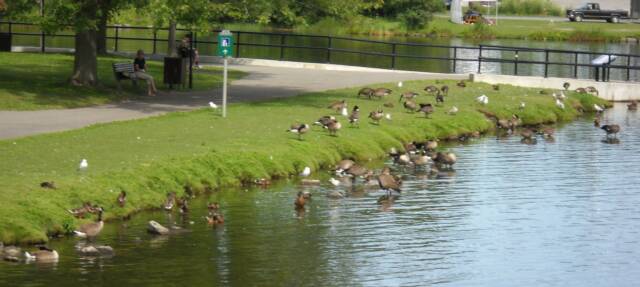 There are LOTS of Canadian Geese in Canada. They tend to be quite messy on docks and waterfront yards.  Locals use automatic sprinklers with motion sensors to keep them off their property.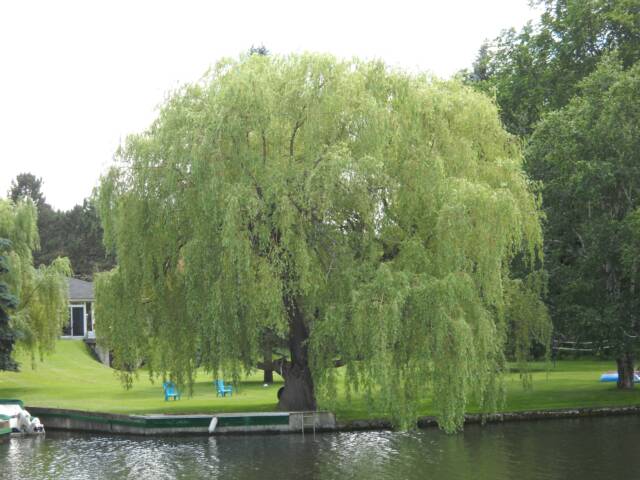 Well groomed yards and huge Willow trees line the waterway.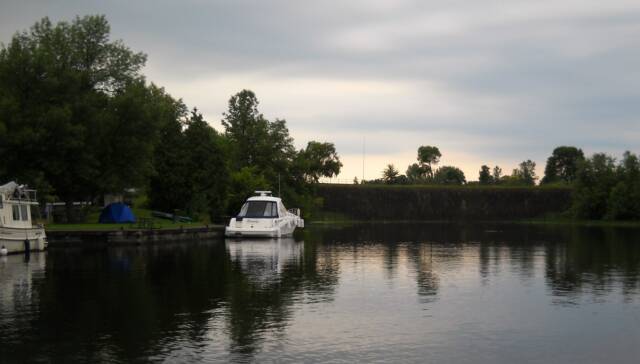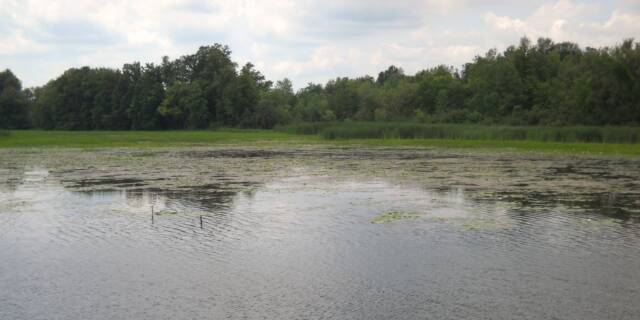 Shallow swamp waters line the chanel.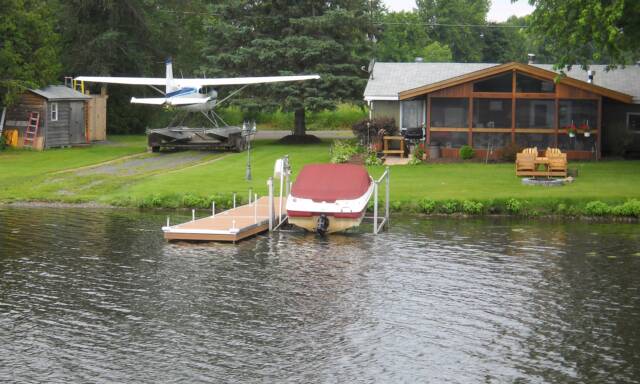 This guys has some neat toys in his back yard!

This is the dock area at locks 14,15,and 16. There is a story about the damn wall pictured here, but you will have to buy me a drink to hear about it!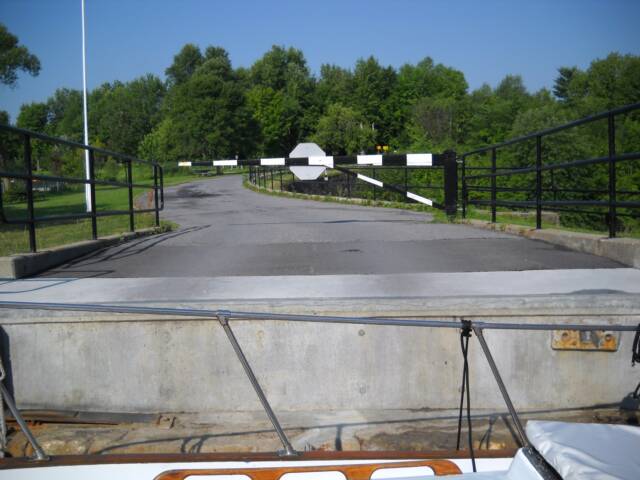 The Long Island swing bridge crosses lock 16,  and must be held open to allow boats to lock thru. The Sterling Lady is tied to the lock wall, right where the road croses the damn.

Hope that stop sign works.!!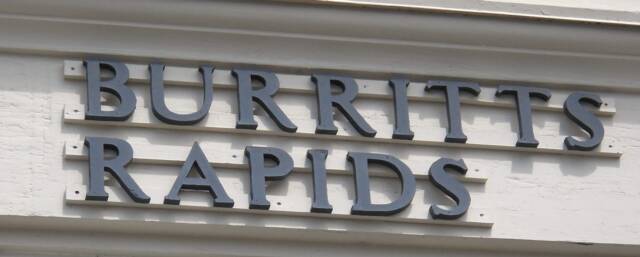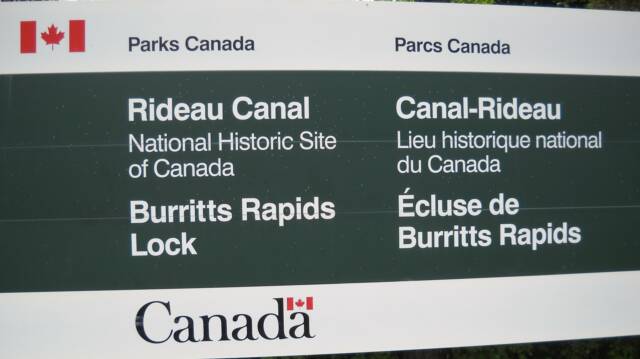 Today was an easy 4 hour, 3 lock run to Burrits Rapids Lock , where electic and water is available.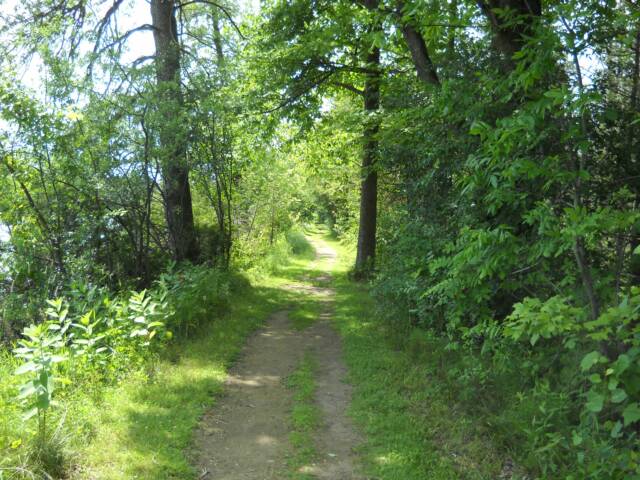 From the lock, it's about a 20 minute walk to "town"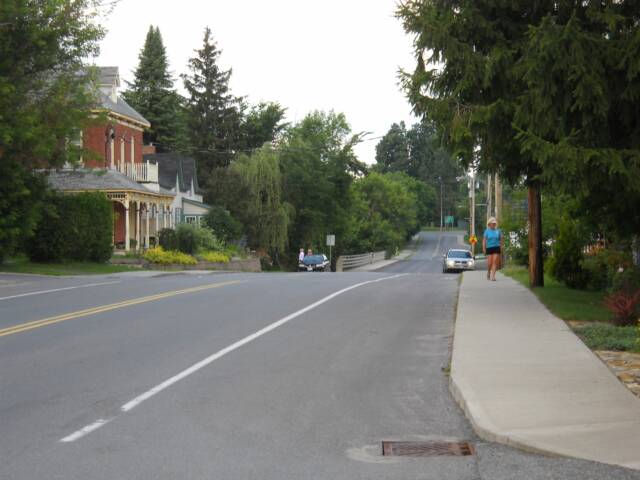 And here it is, in it's entirety. No store, no shop, no cars, Just a few houses. That's it!

Any and all Facts, dates, statements, opinions, etc are believed to be true, or typed after happy hourz, or just wrong.

Take it as you will.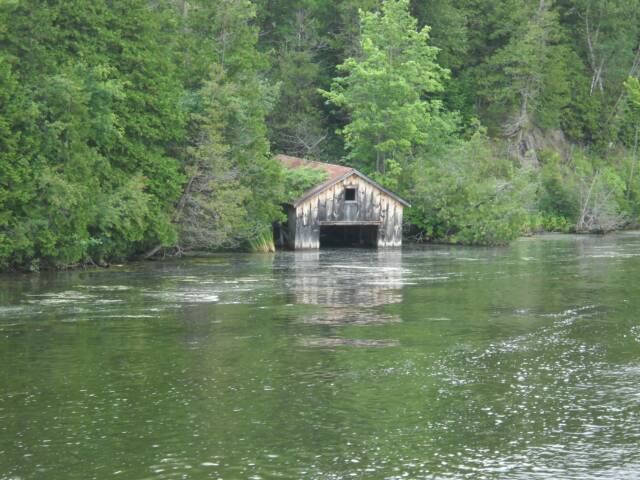 Opps! Built a little to close to the H2O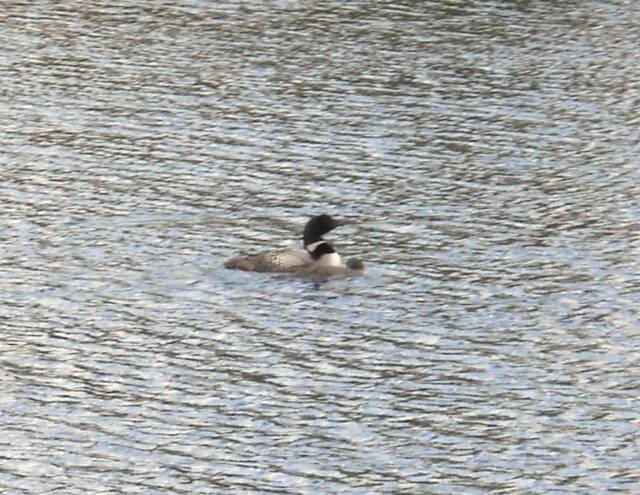 Saw, heard, and badly photographed my first Loon today! Very pretty sound.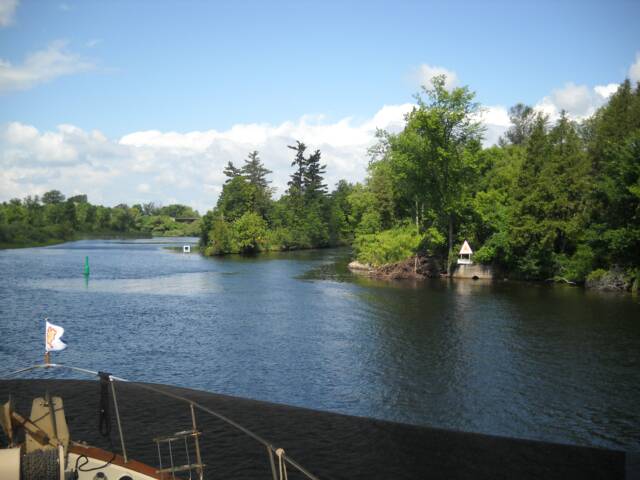 Waterways are very well marked, but do get narrow at places.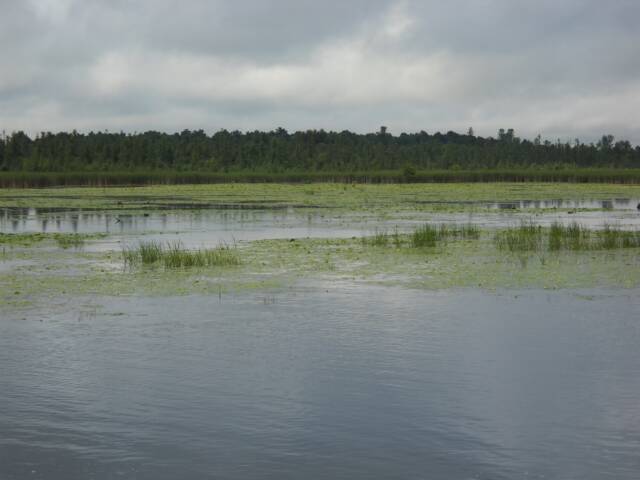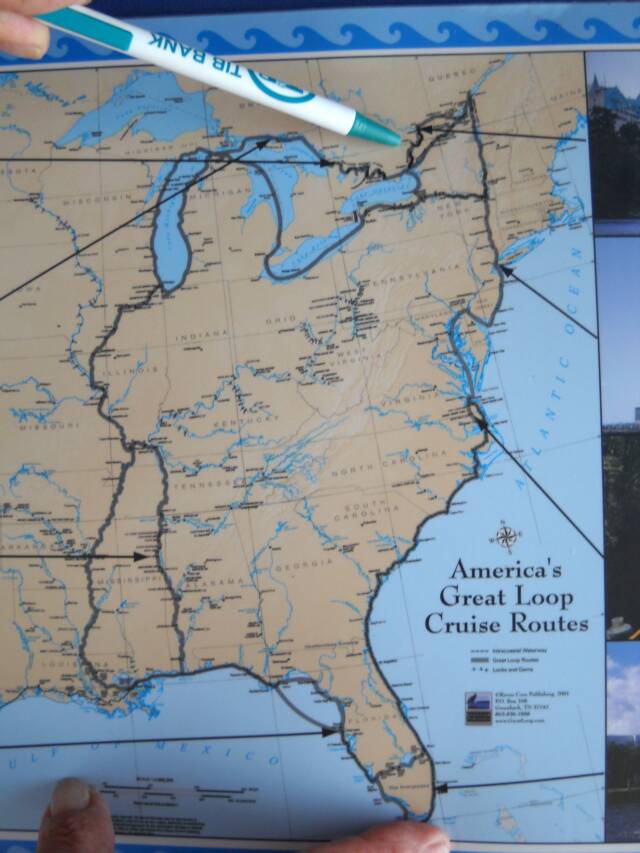 For those who ask, this is sorta almost exactly, kinda, where we are, give or take. We started May 1st where the finger is pointing, Key Largo, Fl.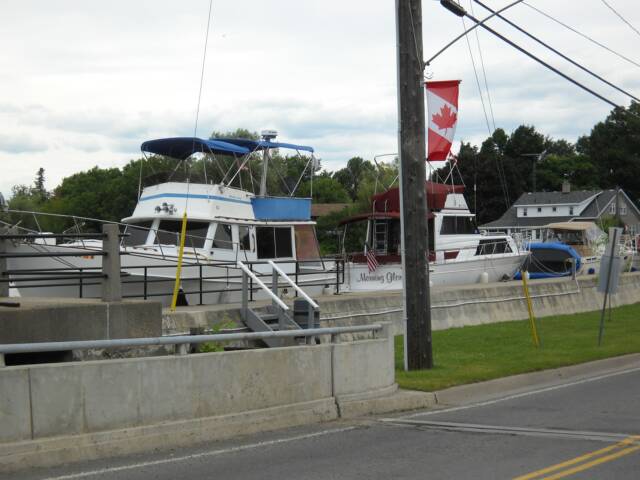 On the free wall at Mericksville. See how the water is actually higher than the street level.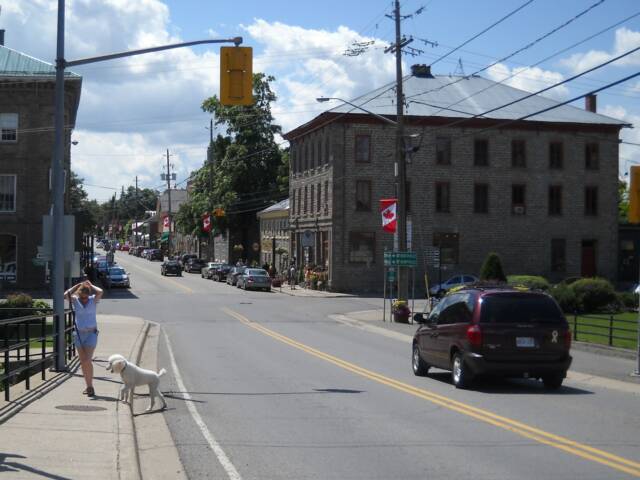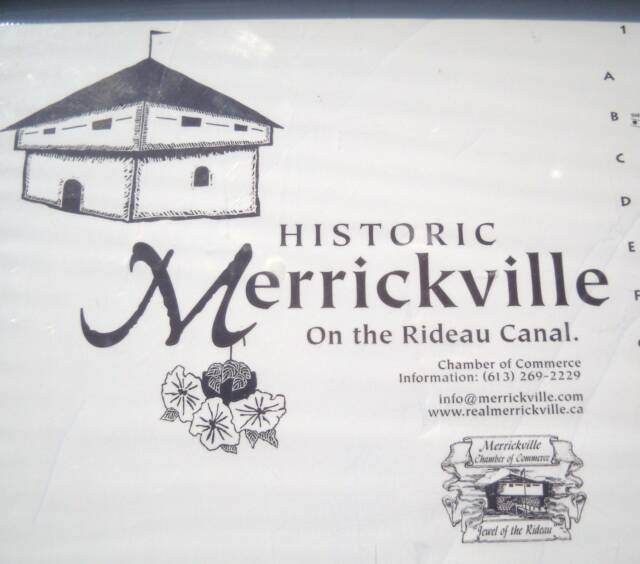 A thing to do in Merickville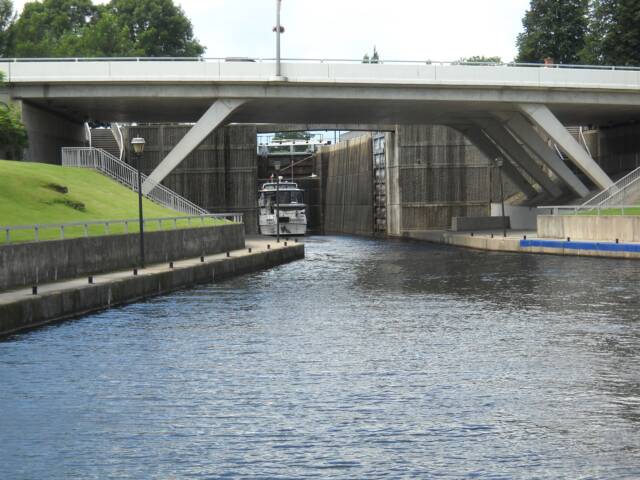 This lock takes us to Smith Falls.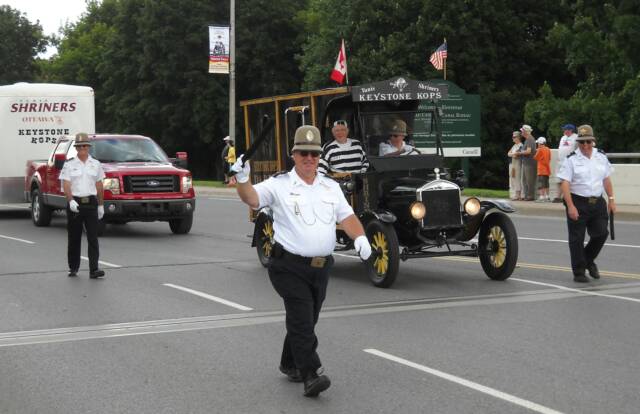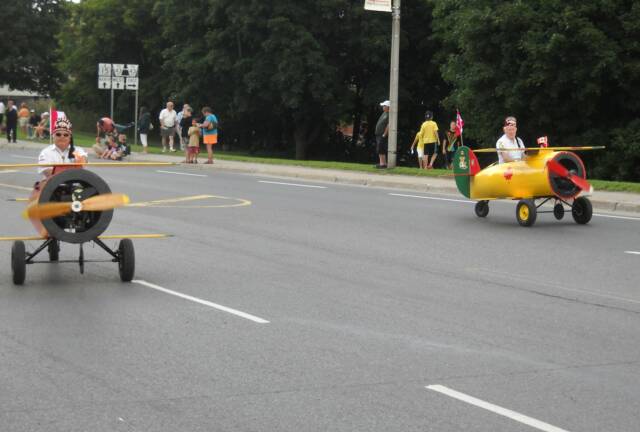 The Chocolate Festival and parade where held in honor of our arrival.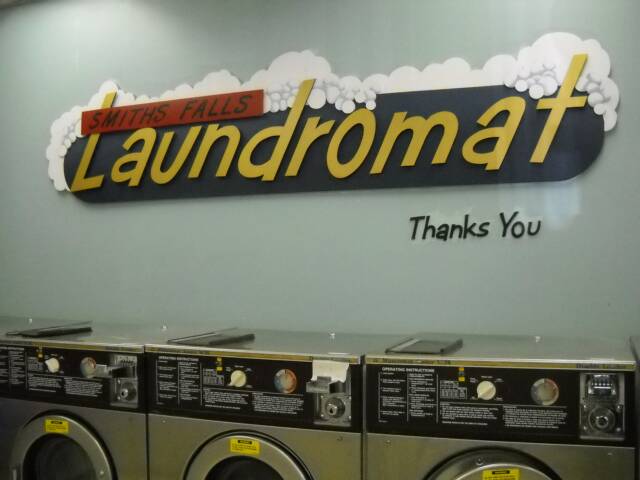 We had heard that Smith Falls had one of the greatest laundromats ever, so we managed to save up all our dirty laundry......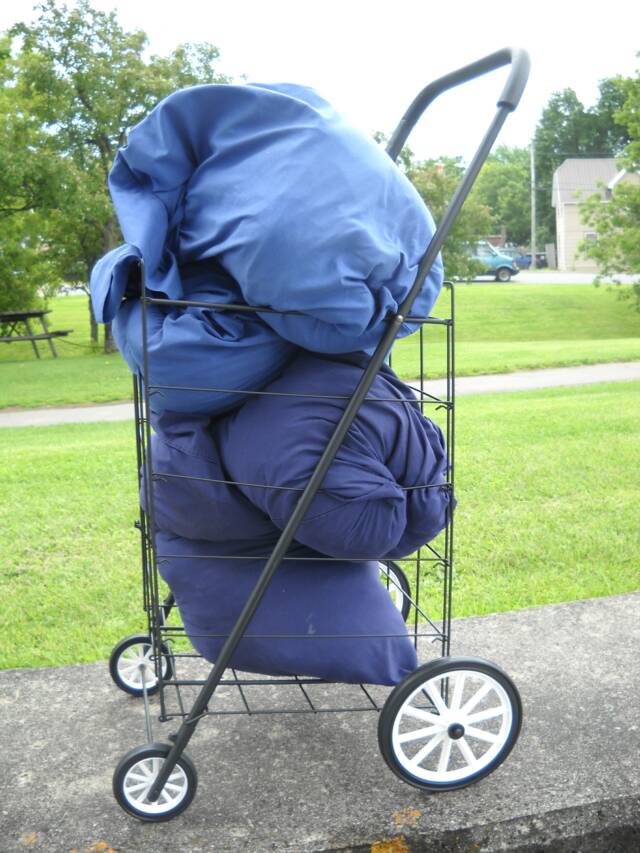 Obviously,

we hadn't seen a laundry matt in quite a while, so we loaded up our newly purchased $10 (from Canadian tire) laundry/grocery hauler and lugged it the required 5 blocks for clean clothes.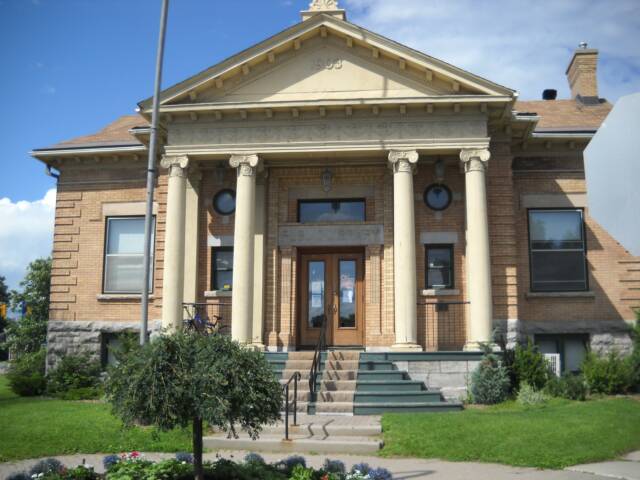 For my 6 Internet followers, and family, Today's web postings are sponsored entirely by the Smith Falls Public Library, who provided us FINALLY , with Internet access. Thanks!!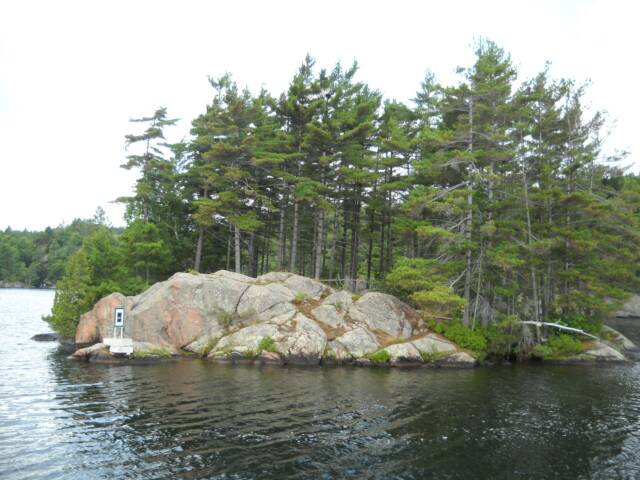 When you do America's Great loop, things just seem to get better and better. Ever day is very different than the one before. Check out the pink rock.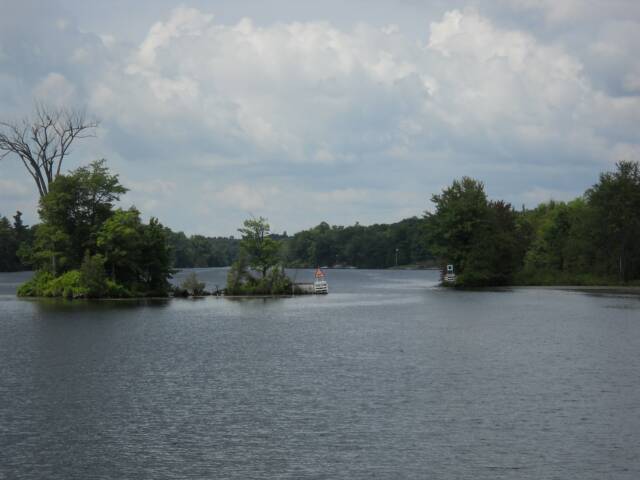 This channel pass is as narrow as it looks!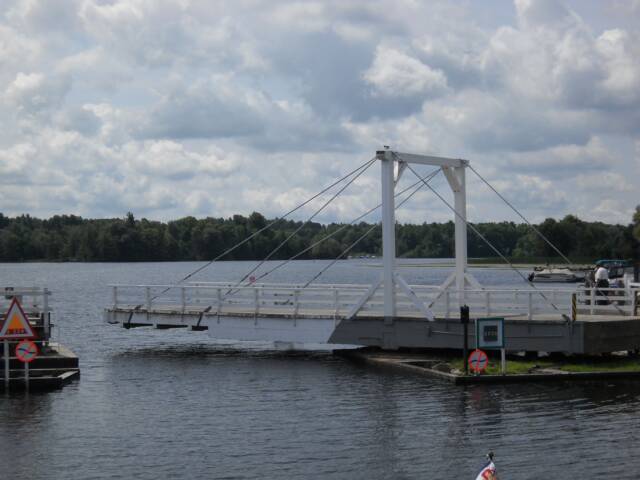 This swing bridge tender asked us where we were headed, and then called ahead to the damn to make our reservation. All the locks and bridge tenders keep each other informed as to traffic ahead and behind.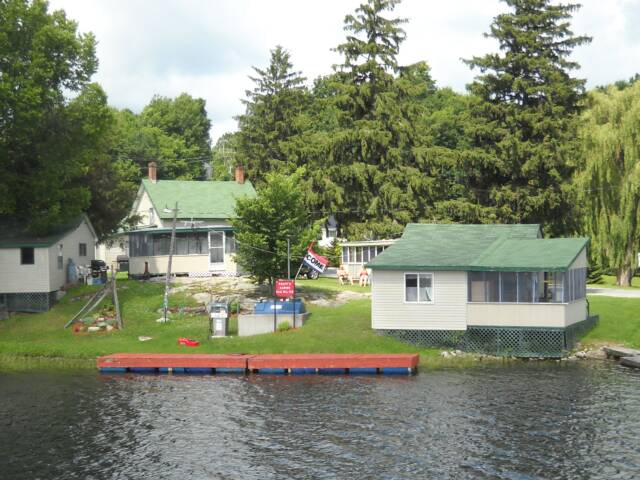 The local gas stop. A bit too tight for the Sterling Lady.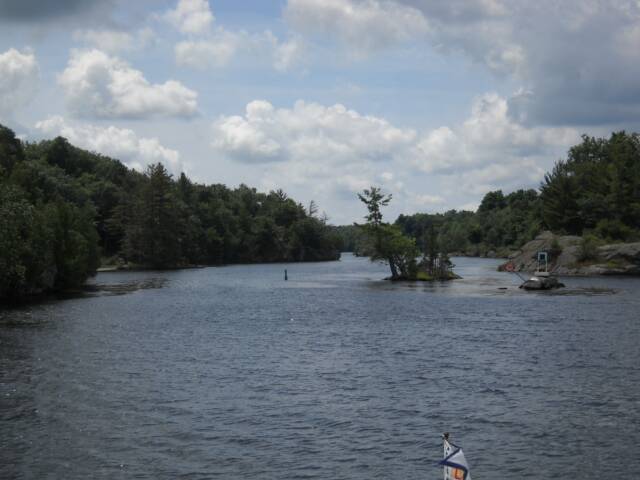 My pictures just don't do this justice. Incredible vistas and passageways.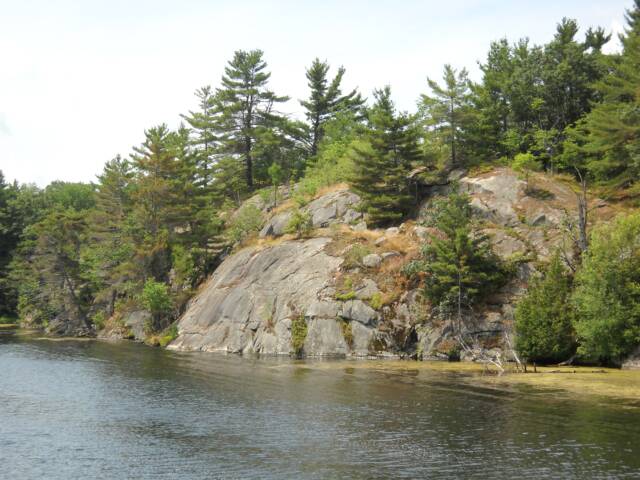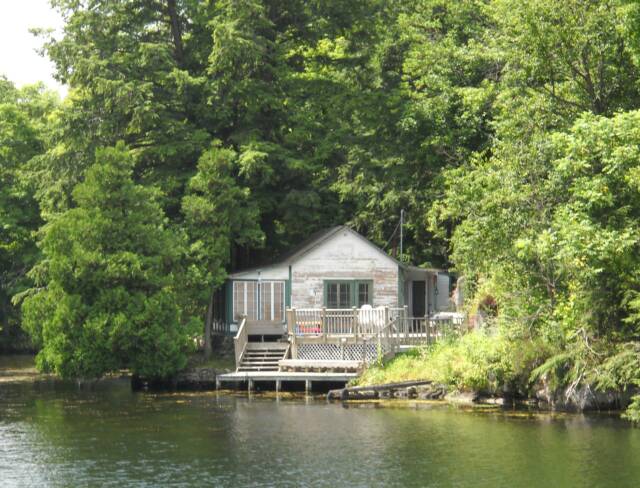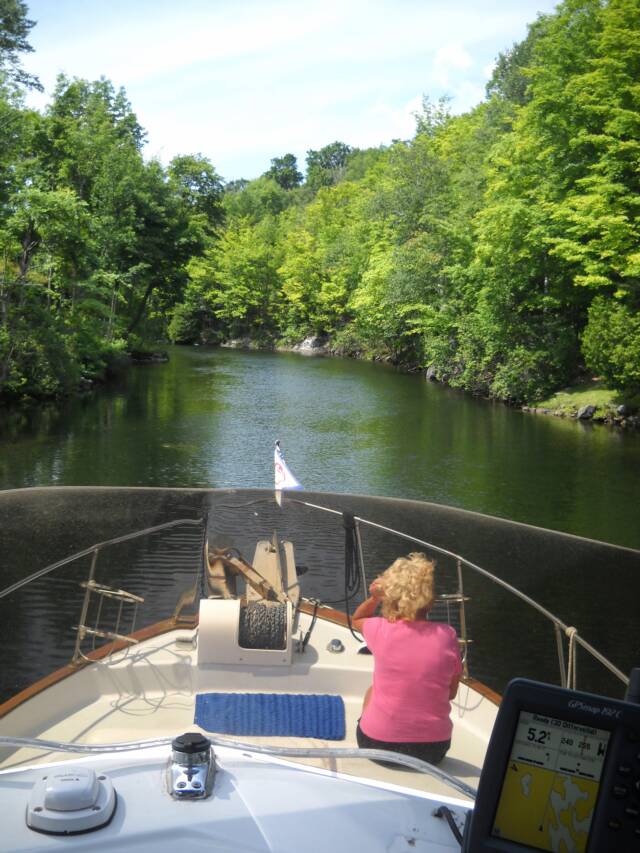 Some of the channels ask you to sound your horn before entering, did I mention they are narrow.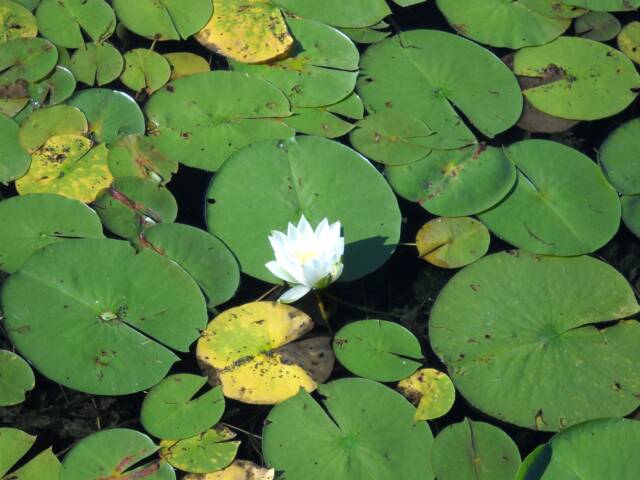 On the wall at Brewers Mills. Our own private park. Each lock on the Rideau has a park area, most with docks, some with water and electric.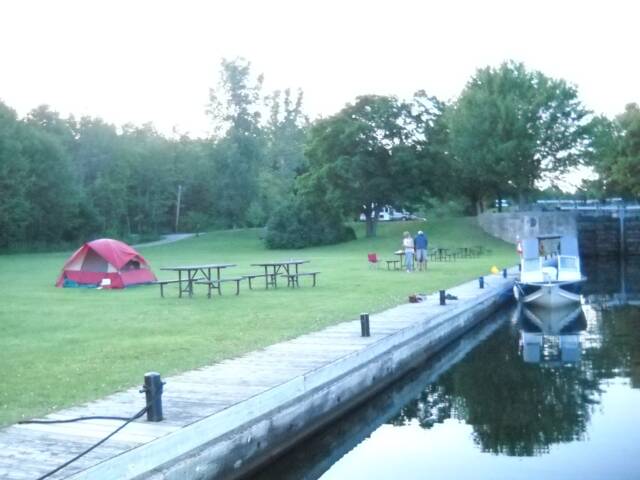 An 18 foot aluminum boat, a pup tent, and a portable chair. Cruising on a budget, Redeau style!

Cruising Rule #17a

Bring your summer chlothes,

bring your winter chlothes,

your gonna need em!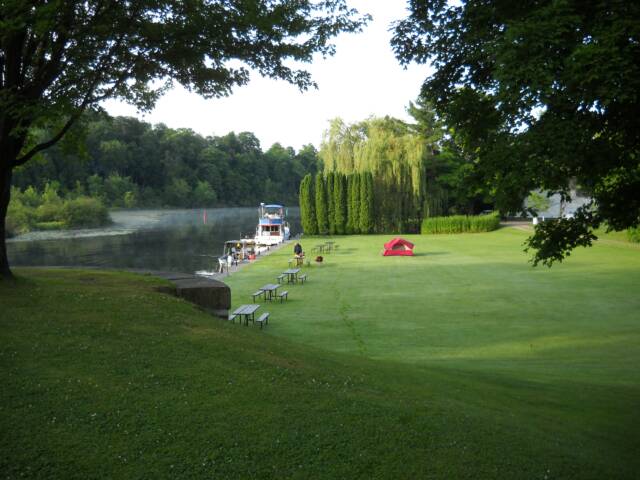 While doing my morning "honey Do's" (taking out the trash) I captured this shot of the lock wall we stayed at.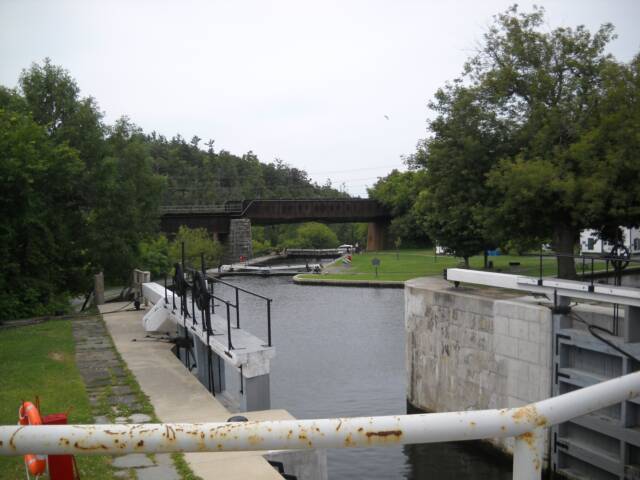 The last lock on the Rideau is a flight of 3, with a train bridge running right over it. Don't think this would be a good place to sleep.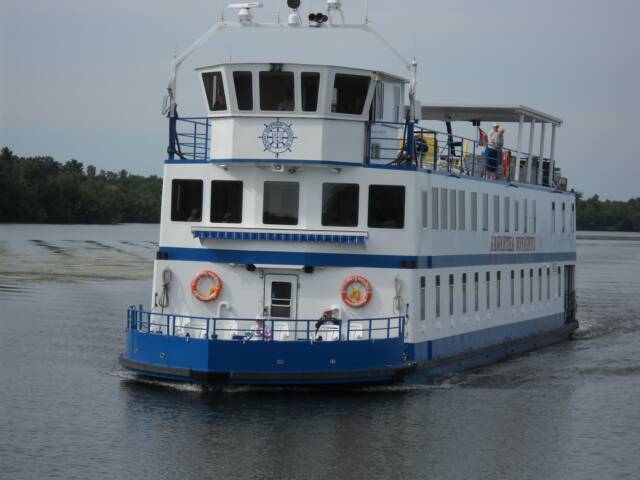 We passed the tour boat Kawatha Voyager in the narrow chanels , of course. The bow of this boat fold up to allow passage in the small locks.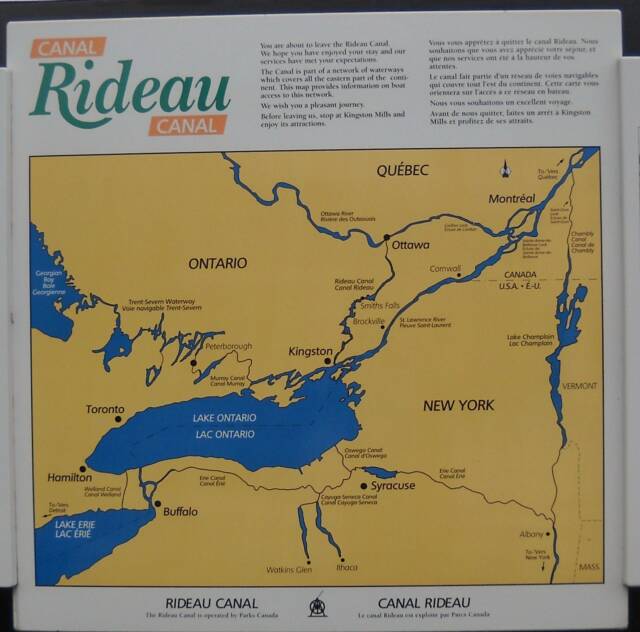 This is our route on the Rideau system.

From here we go east up the Trent Severn waterway.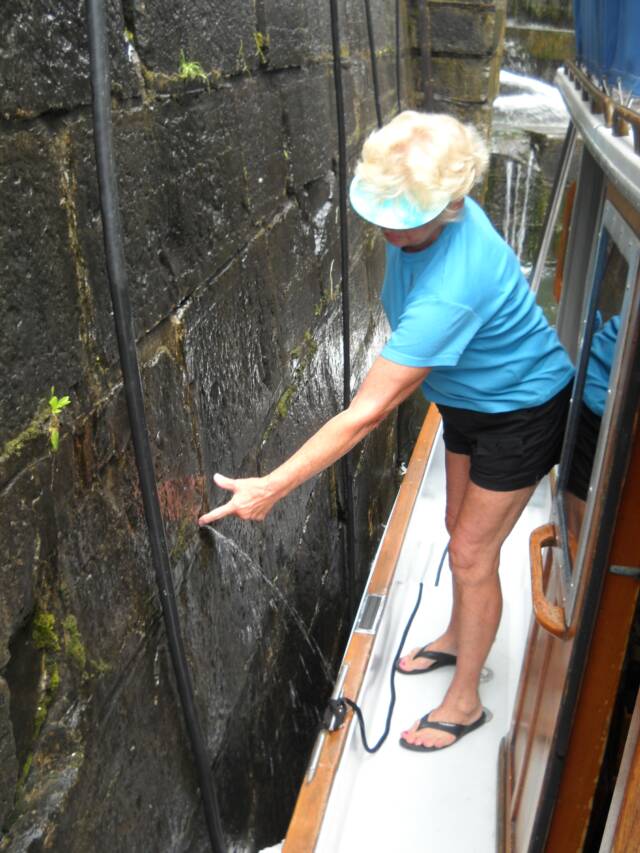 I informed the lockmaster that the last lock on the Rideau had a leak in it, which as you can see, was perfectly lined up to go into my cabin door.

Who was it that stuck their finger in the dyke?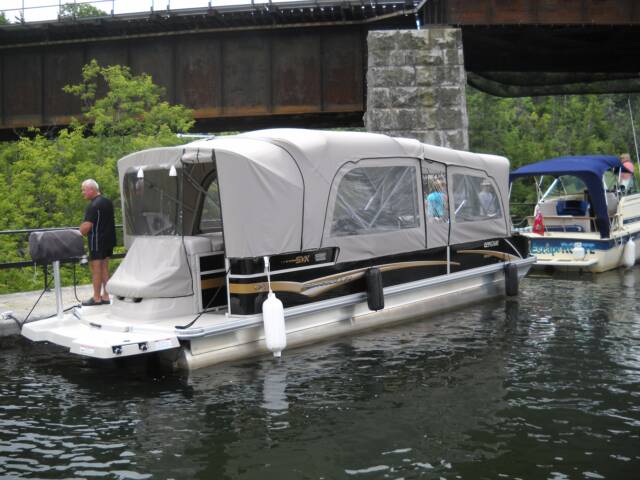 This has to be the world's most expensive pontoon boat!

Kinda looks like a funeral hearst to me. ;-}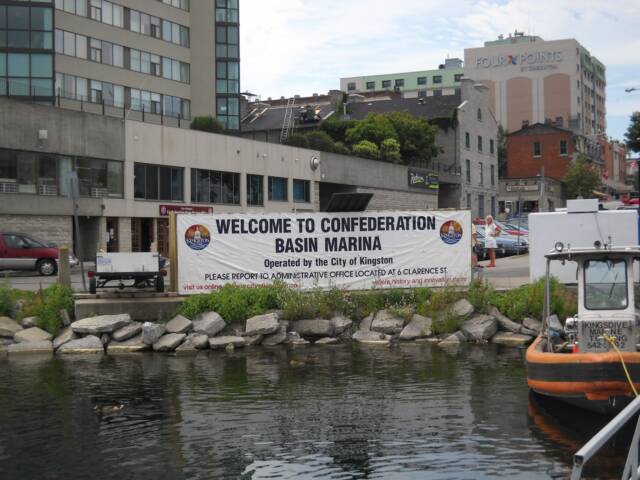 I checked the water line on the boat, we were floating about 4 inches higher, time to reprovision. Need gas for the honda generators, water, fuel soon (probably at Trent) and most importantly , we are low on Rum stocks!!

So, we will stay at the Confederation Basin Marina for a day or two.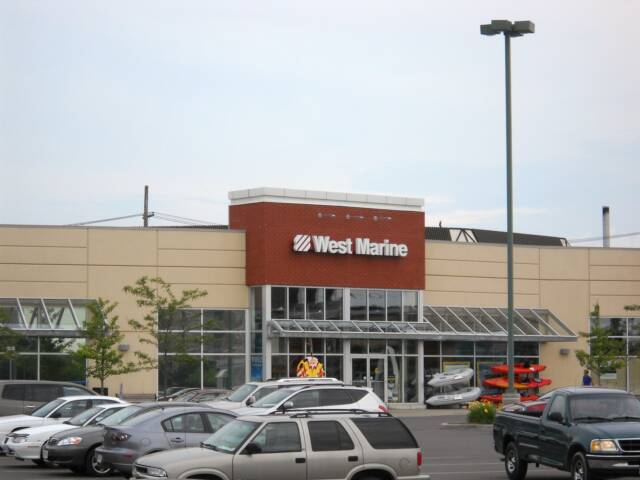 The Battery charger, my only two year old ProMariner t20, is shot.

So, a trip to West marine, a $10 taxi ride , was nessasary.

West Marine will be getting my old one back for a full refund.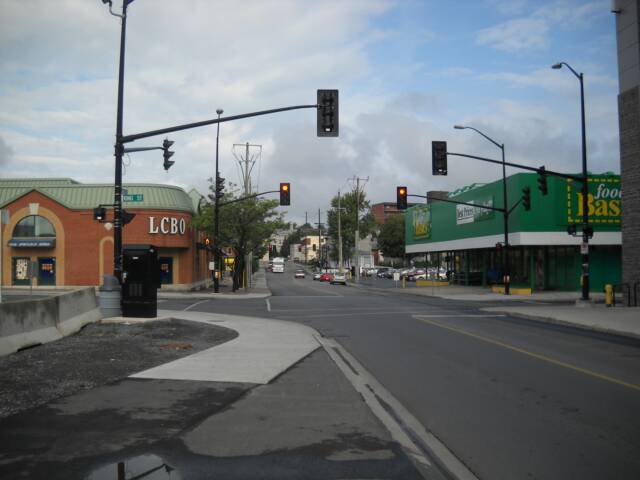 Decided to stay another day, so we could "replenish supplies" and lo and behold, there was a Grocery, right next to the LCBO (liquor control board of Ontario, government owned) liquor store.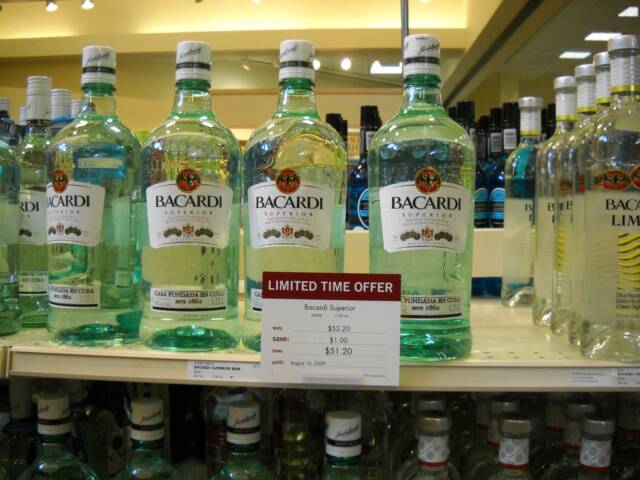 In the States, we pay about $19 for that $52 bottle of Bacardi, however, we DO NOT HAVE

free health care. I would prefer the free health care.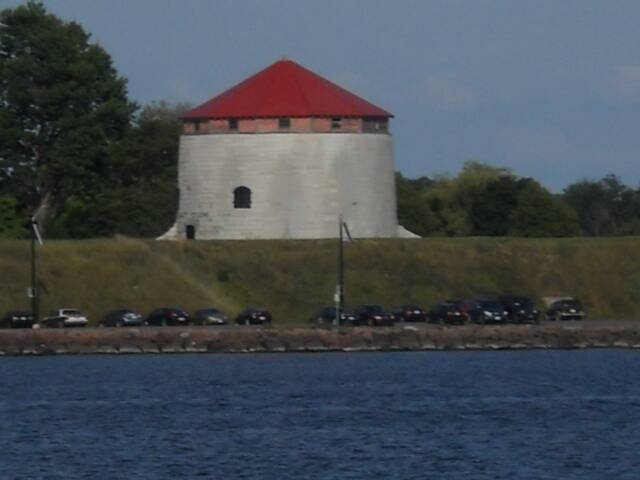 At Kingston Harbor, there are several of these turrets. They had one large rotating cannon in them. The red part would raise, and the rotating cannon was used to defend Canada from the Americans.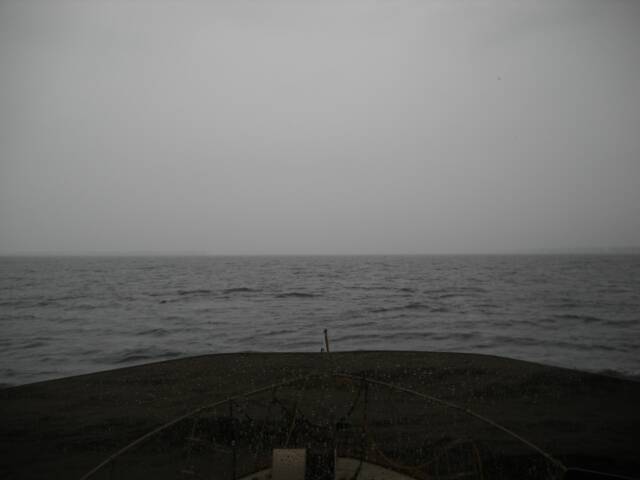 Oh look! Another cloudy drizzly, and sometimes rainy day in Canada!! Damn, does the sun ever come out here????

Since it was predicted ,and did rain ALL DAY, we chose to run ALL DAY the 65 miles from Kingston to the Trent Severn Waterway. I would rather run in the rain (not storms , rain) than sit in the marina in the rain.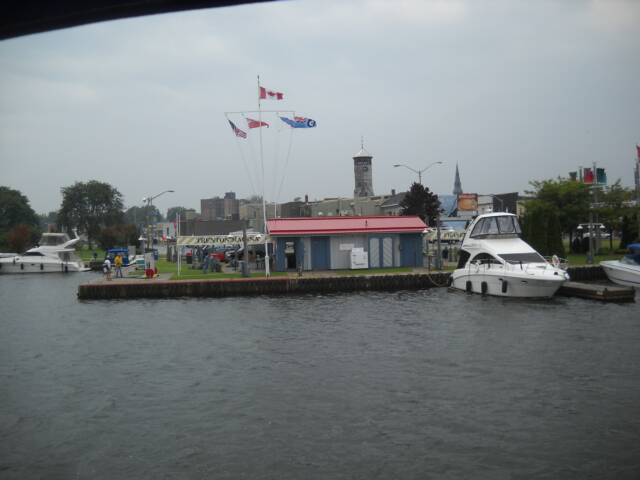 At the beginning of the Trent Severn, is the Trent Marina. A good inexspensive stop for fuel and supplies.

160 Gallons and $610 later, we continued on, to Lock 3 for the nite, the first quiet lock dock available.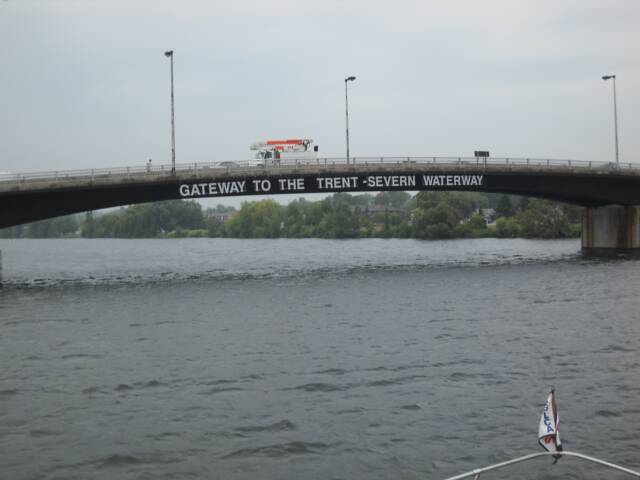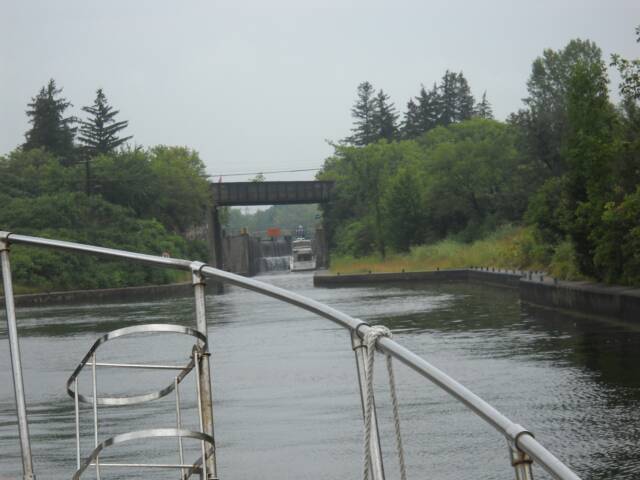 The locks here are bigger, and have larger lifts. This one was 28 feet. No more pictures as it is pouring down rain, and supposed to rain again tomorrow.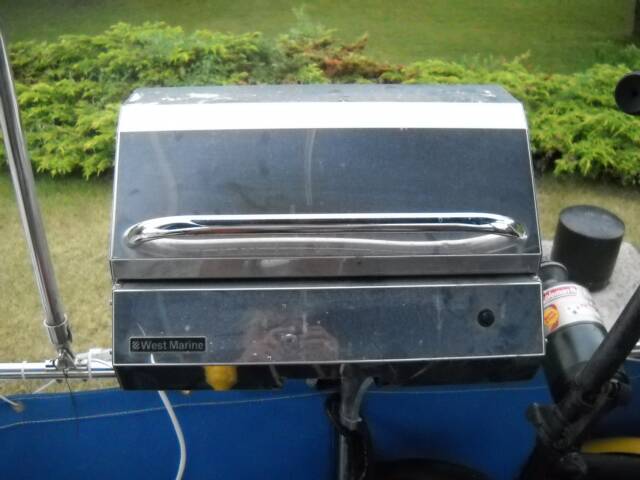 And today's final note. This is a VERY expensive grill purchased from West Marine for hundreds of Dollars. Do Not Buy one, They suck!

Your better off with a K Mart $19 portable. They actually work with wind.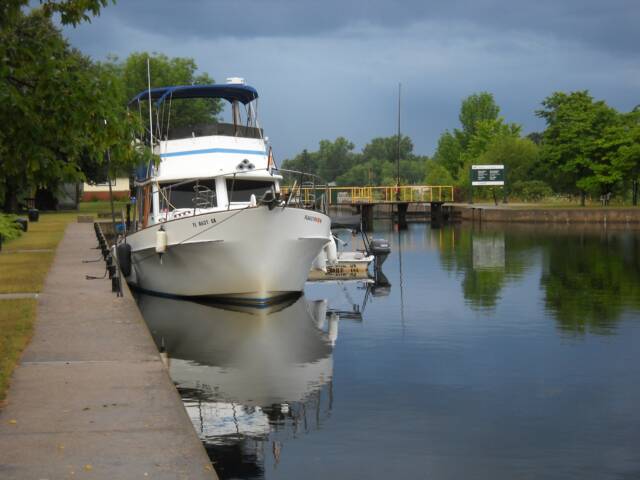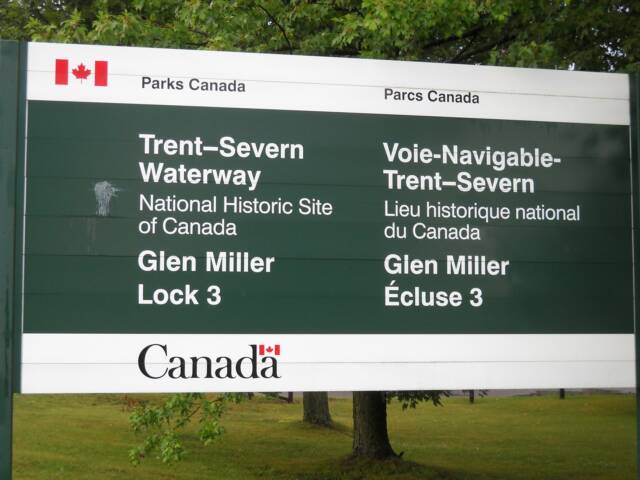 PS

Just b4 sunset, the sun tried to come out, it quit raining, so I grabed the camera and took of pic of  lock #3, tonites home

<---------Grey skys make lighter with photo shop

Cruising rule #61

You will know when your half way thru the loop when you have spent all your $$$

In the Trent Severn, the locks commuicate your positioin, and often, the locks are open and wating for you.