The Sterling Lady on America's Great Loop for the Secound time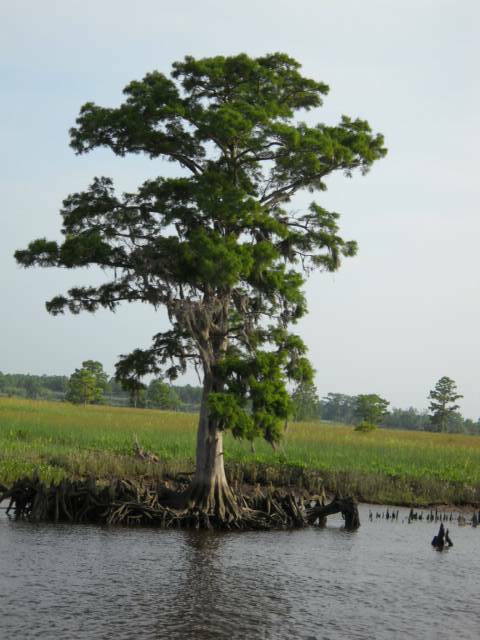 All the way up here in North Carolina, and there are huge Cypress Trees

This is what ought to be the world famous  Bucksport Marina and Grill. They make the absolutely best sausage on the planet. If you ever are within 100 mile of this place , stop in and get some. It is Fantastic!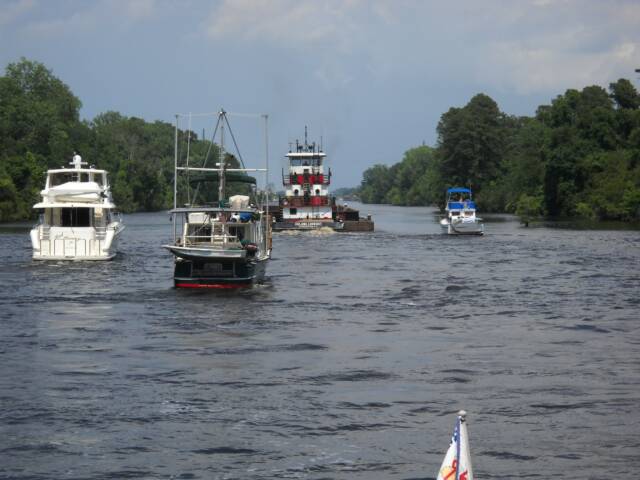 This part of the waterway is call the "Rockpile" as the channel was dug out of rock, so the sides of the channel are shallow, rocky , and treacherous. This is , of course, were we were most congested with traffic, barges, etc.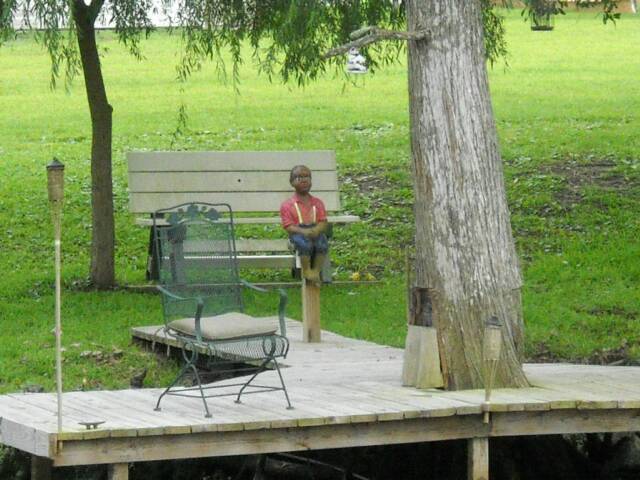 We saw what we thought was our President, enjoying the water way, but ,, we were wrong.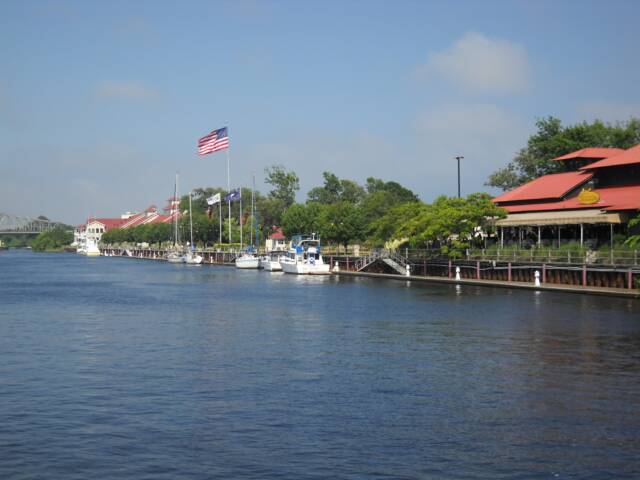 Tonites home, Barefoot Landing, a marina located at Barefoot Shopping mall. The Admiral was happy.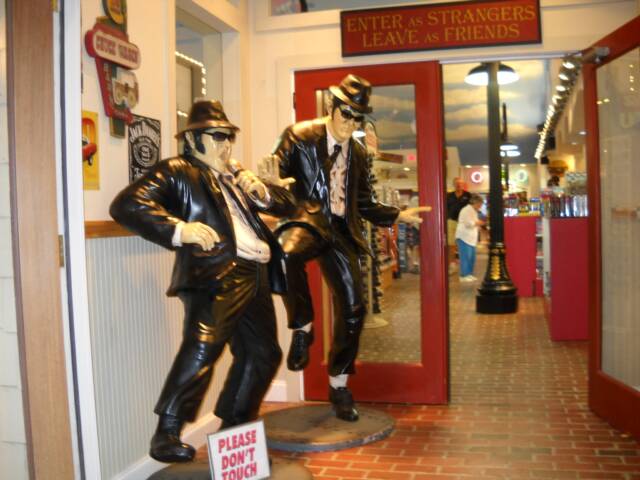 It's kind of an outlet mall, with lots of trinket stores, and bars.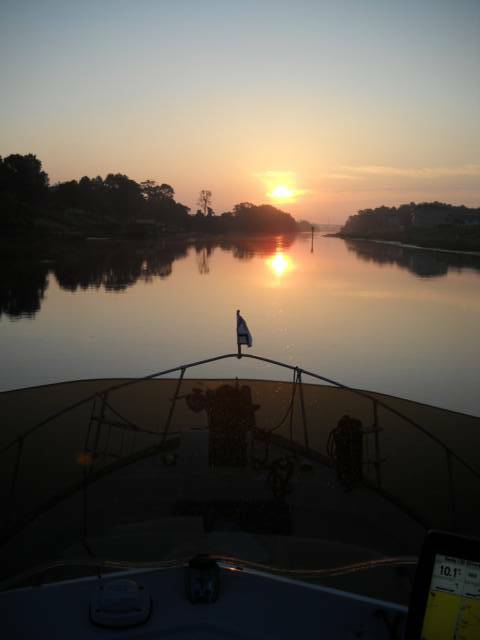 Why am I always up at dawn and outa here,, man I sure miss  sleeping in!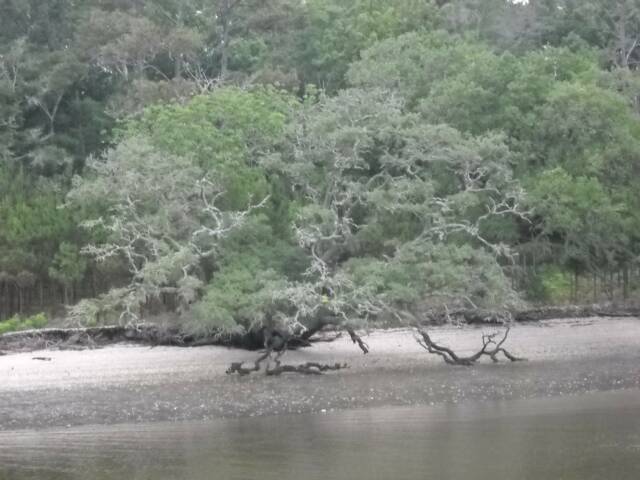 I do love how the shore line is continually changing..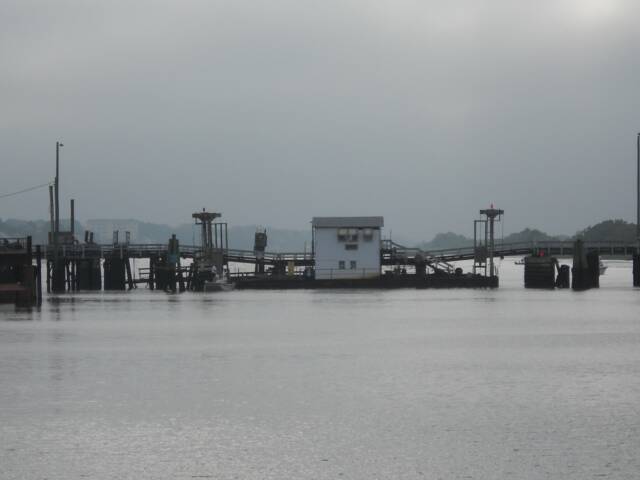 The last Pontoon Bridge in the USA, soon to be replaced with a concrete 65 foot bridge. The locals hate it.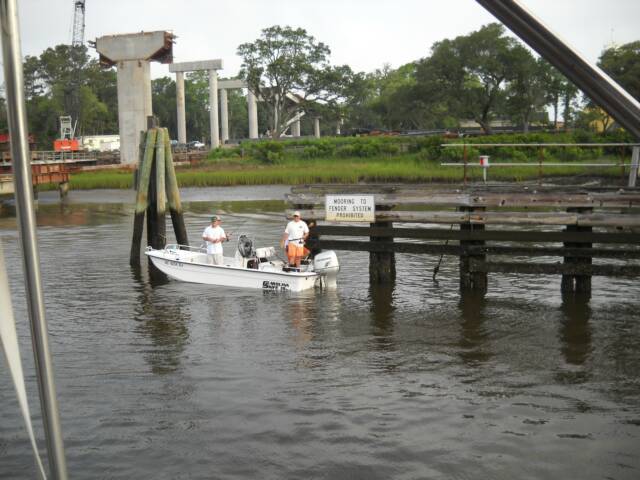 Note the "mooring to fender system prohibited" sign, mounted on the fender system theses fisherman are moored to..hmmm...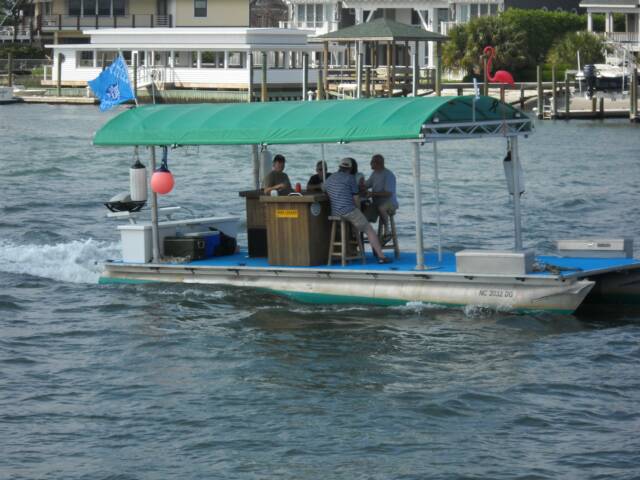 Yep, it's a portable, movable Floating bar, complete with BBQ pit, 5 drinking guys, and ice... The guy behind the bar is driving. Kewl.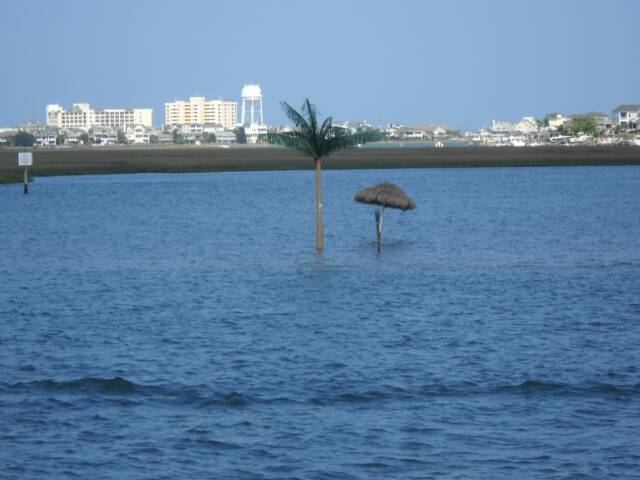 That's a fake palm tree (remember we are in North Carolina) next to a parking meter, under a small tiki, that is on a small round island that is out of the water at low tide.

Tonite we anchor in Topsail River.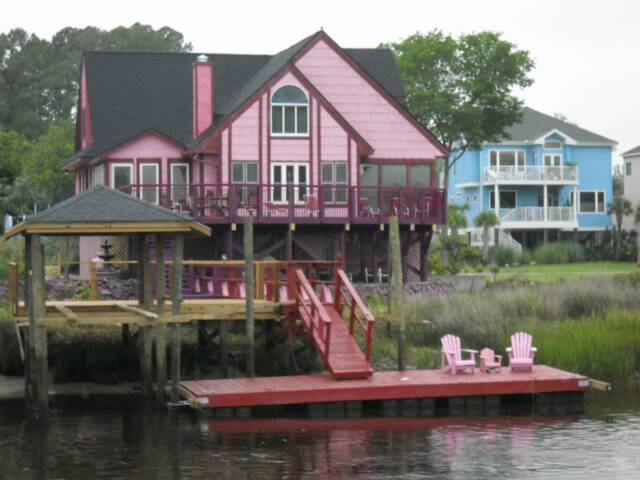 Some of the houses along this stretch have unusual paint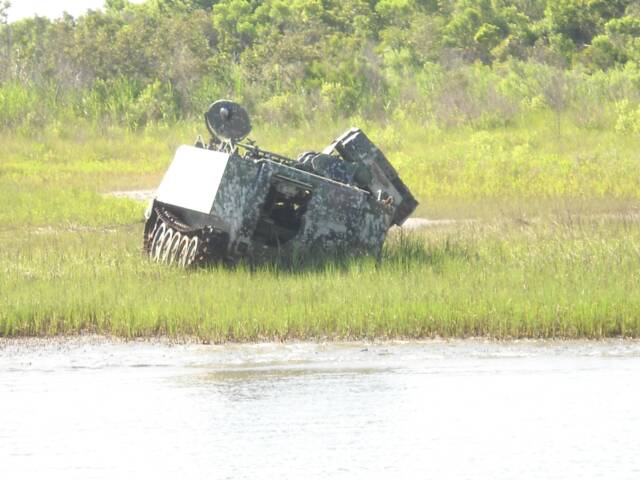 Passing camp LaJune Marine base, there was evidence of some war games along the waterway.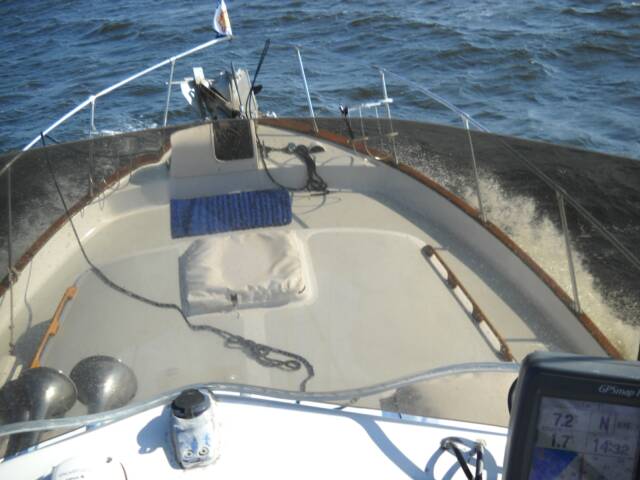 This moring, I followed this square rigged sailboat, and and as you can see, it was glass smooth... until...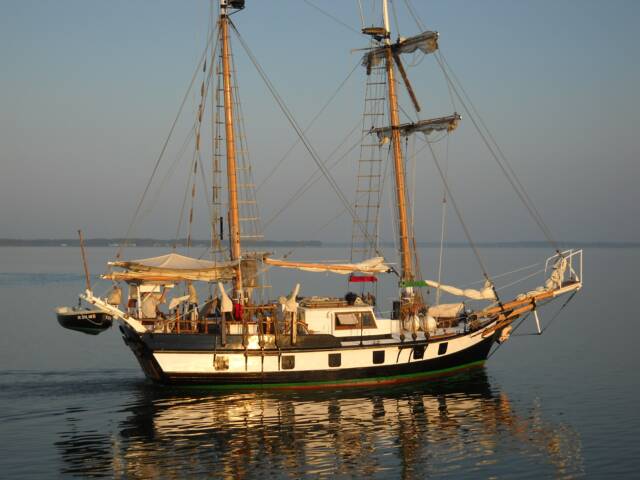 Just as the Lady entered the sound , the wind kicked up, the seas were 5 to 6 foot, and this changed our plan for today, we ran for Oriental, a well protected marina, just a few miles away.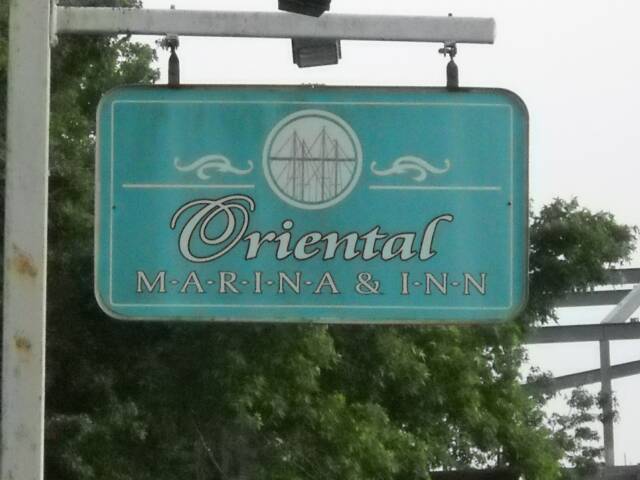 Oriental Marina and Inn gave us a slip right down town.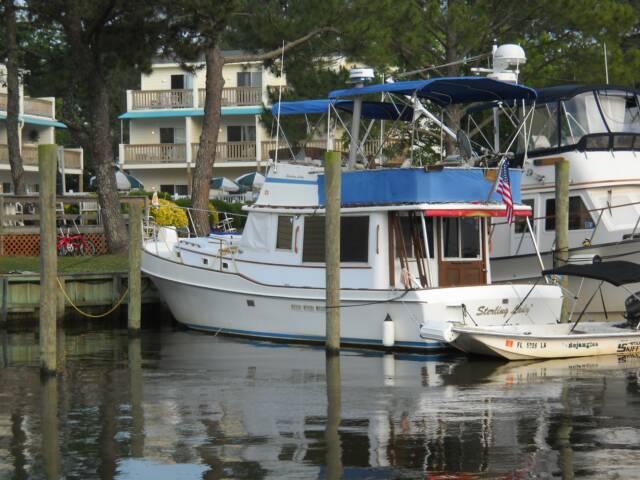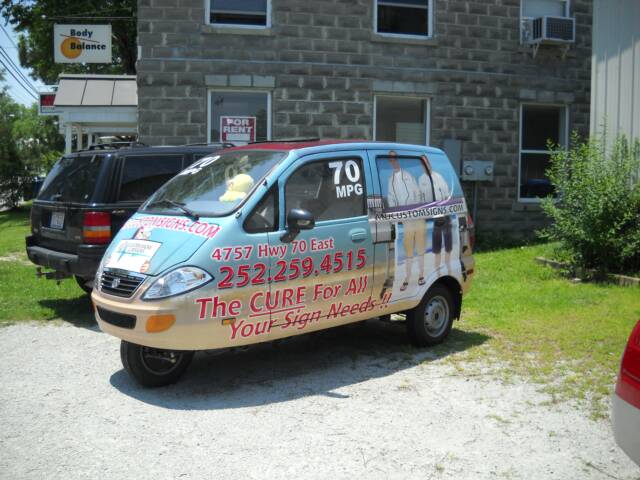 Since we arived here around 10 am, and had to wait out the wind, we did a walking tour of the entire town, took about an hour. Small town, and found this small car for sale, new, $5995.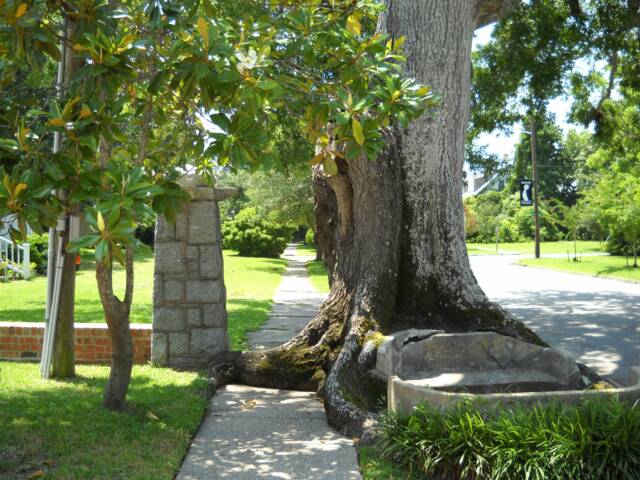 At the base of this large oak tree is a spring, and those concrete benches are built around it so in the old days, the locals could sit around the springs, in the shade of the tree , to catch up on local gossip.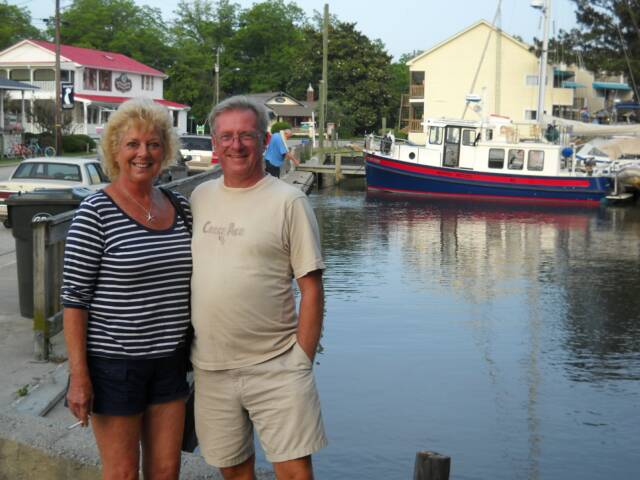 We met Fred  , who lives and cruises full time on that 32 ft. tug you see here. We all went to dinner at M&M,s resturant, as it was shushi nite.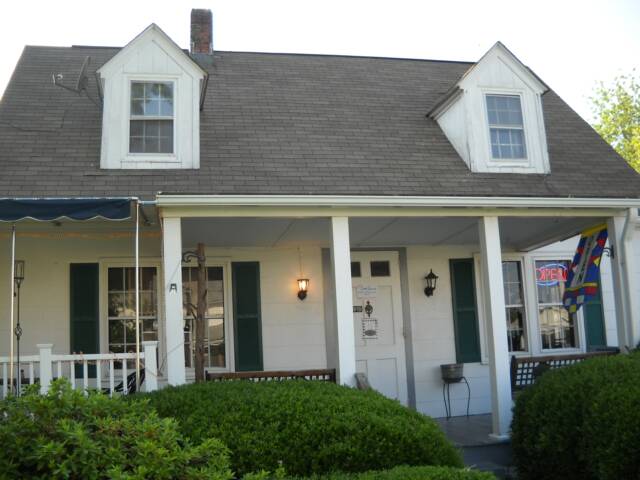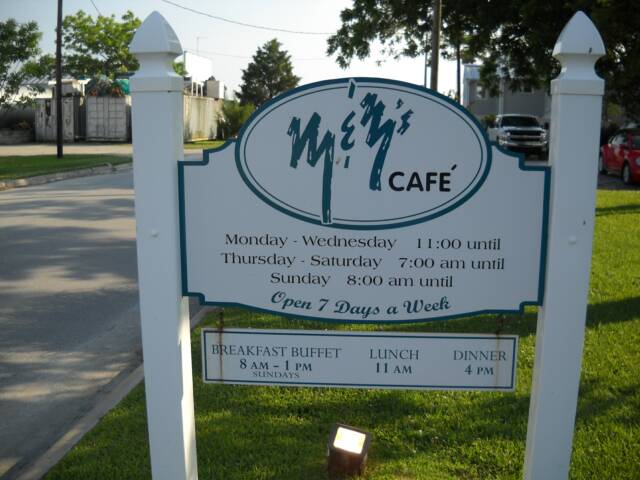 M&M's is a converted house, with a full bar, cheap good food, and local charm.

Very different shore line this am. Tall pines.

This tides were with us, the winds were down, and we arrive after a lovely 4 hours cruise at Dowry Creek Marina.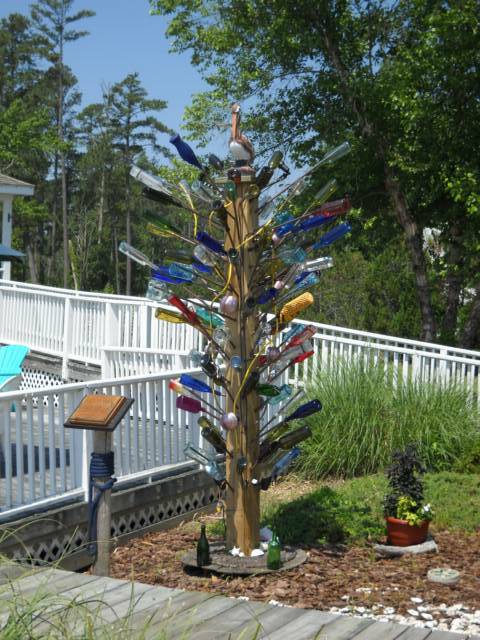 The marina has this really nifty Bottle tree.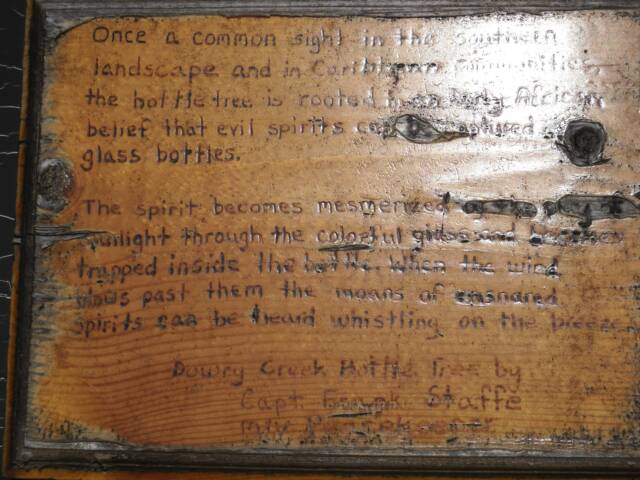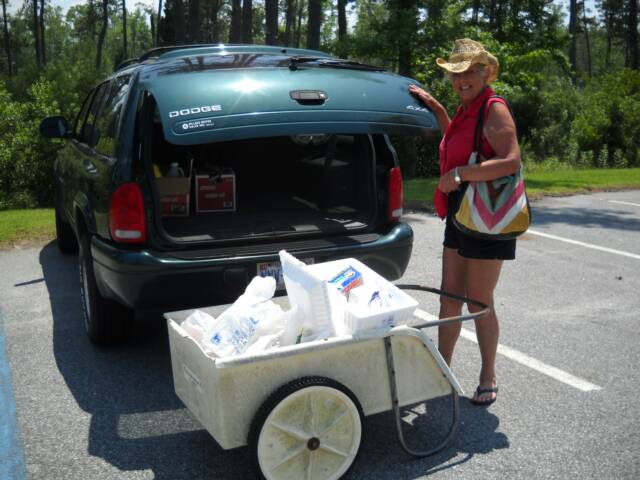 We borrowed the courtesy car, drove the 6 miles to Bellhaven Food Lion, and did our part to stimulate the economy of Bellhaven.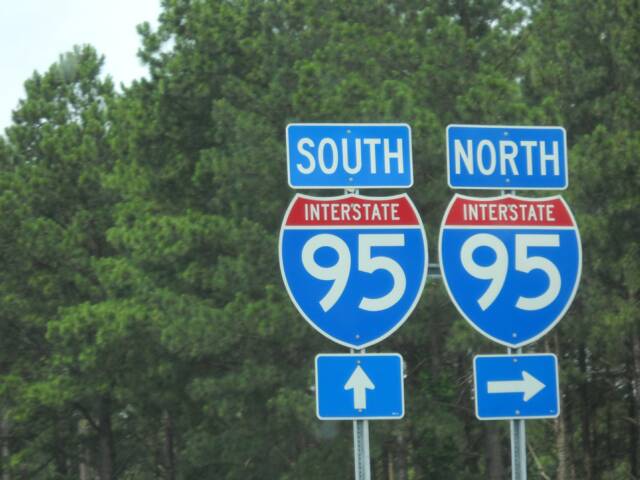 1,024 miles, one $565 dollar car rental (8 days) and a day and a halfs drive each way, we are finally back! Arrive at 10 am at Lambs marina, returned the rental car, and were back on board the Lady and crusing the dismal by noon!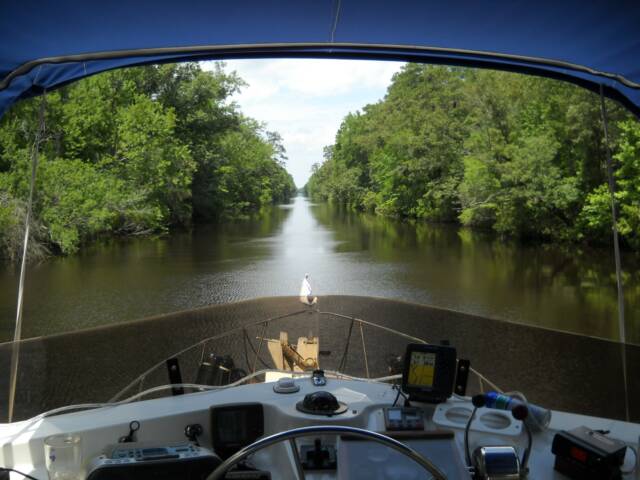 The begginning of the Dismal Swamp , and it's only gonna get better!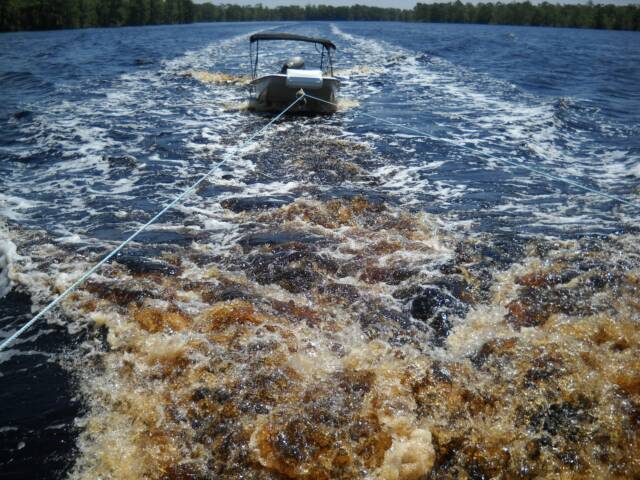 The very brown tanic waters of the Dismal.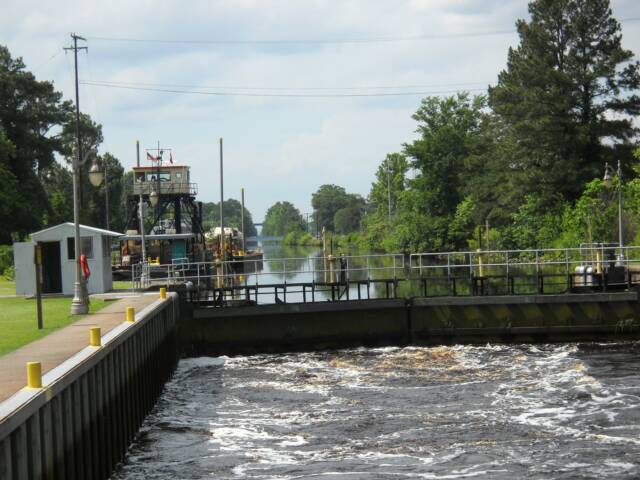 We had a timely arrival at the first dam.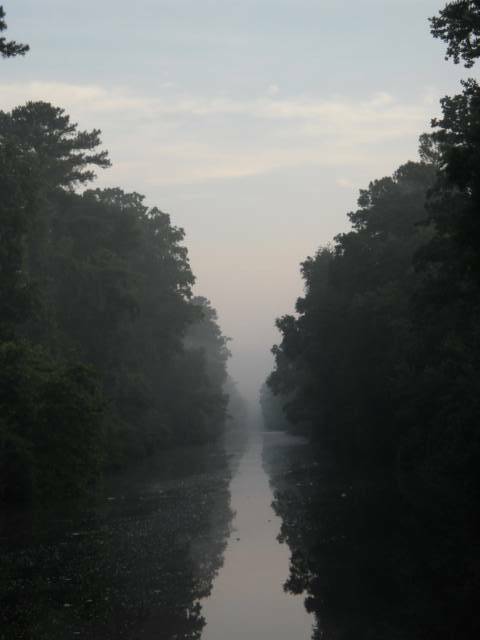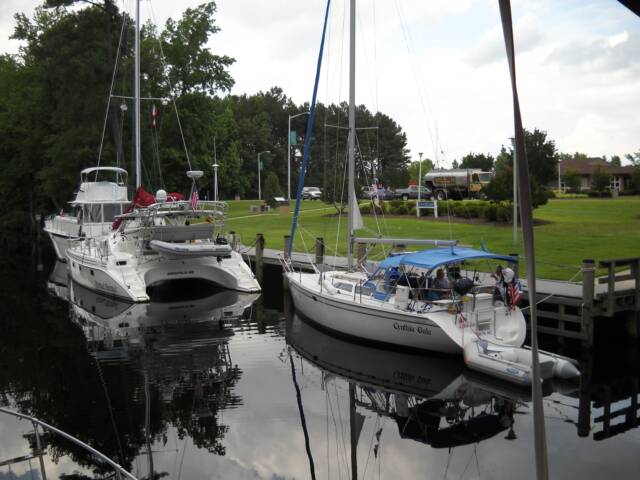 The free docks at the Dismal Swamp Welcome Center, where the Lady and crew will sleep tonite.

When you leave the Visitor Center at Dawn, this is your "yellow brick road"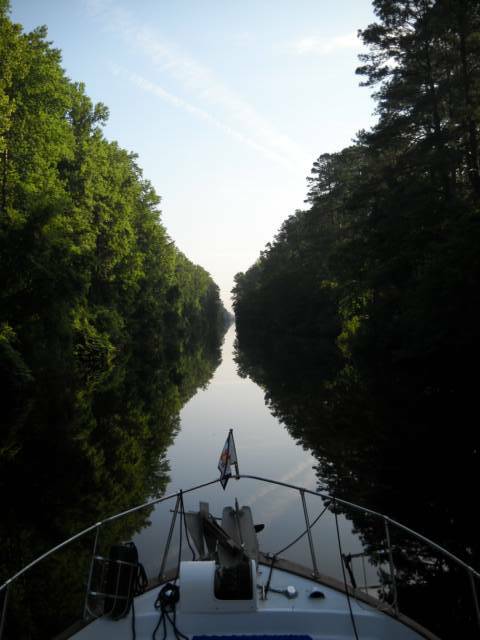 Wow, this just keeps getting bettter and better. Gonna get this picture mounted.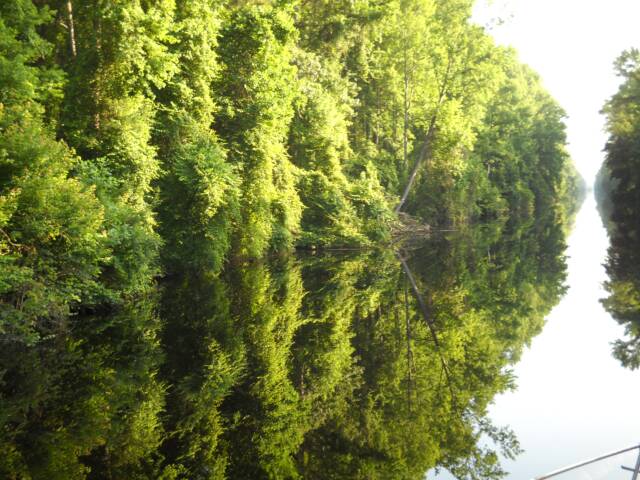 Check out the reflection in the water!

This is the same picture , only upside down.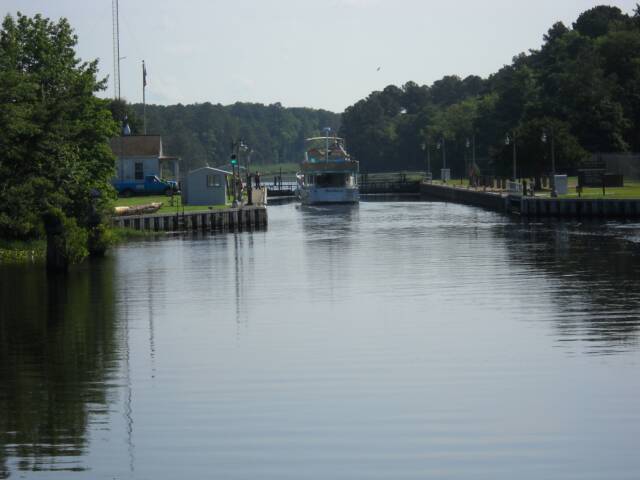 This is the 2nd lock going north on the Dismal Swamp,,, I call it Roberts Damn,, and here is why....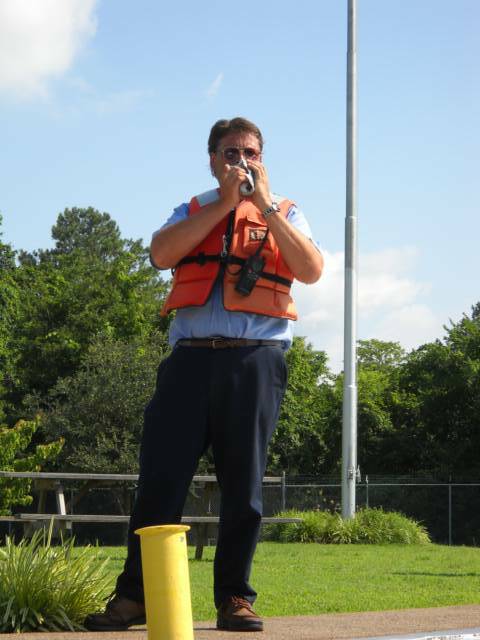 As it happens, I fancy myself a pretty fair Conch Horn blower. Part of the requirment for living in Key Largo, however, "Conch Robert" the Damn lock master, puts me to shame.

I gave him a Conch Flag in my defeat.

Over the years, Conch Robert has been performing for the boaters comming thru the lock, and a lot of cruisers will bring him tokens from the keys, i.e. Conch Shells, lobster pot balls,, so we awarded Robert an official Conch Republic Flag for his collection he has on dislplay at the lockmaster house.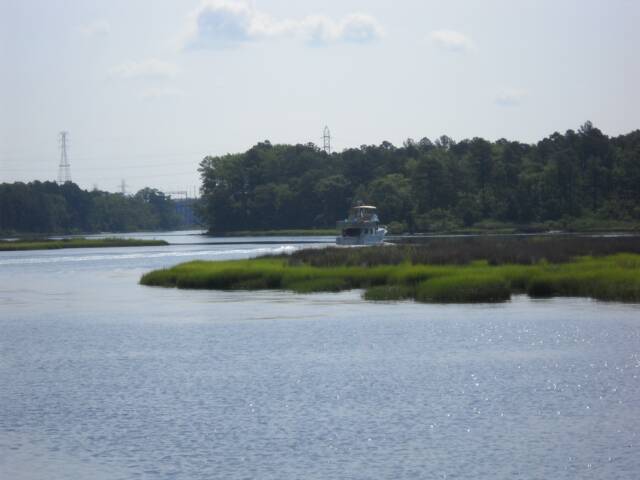 While locking thru, we met Ken and Barbra on board their 49 ft. Marine trader pilot house, and they knew of a cheap place to by fuel, just up the road in Norfolk, so we follewed them there.m Nice not to have to navigate for a change.

Just before Norfold, Chesapake Yachts offers free docking with water right on the ICW.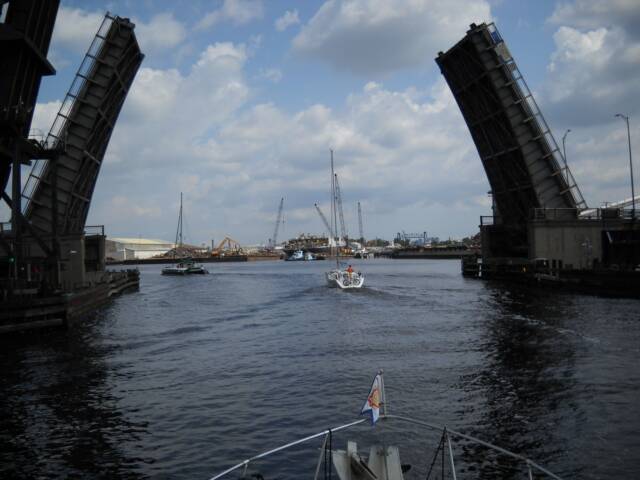 Norfold is a very large, busy, port.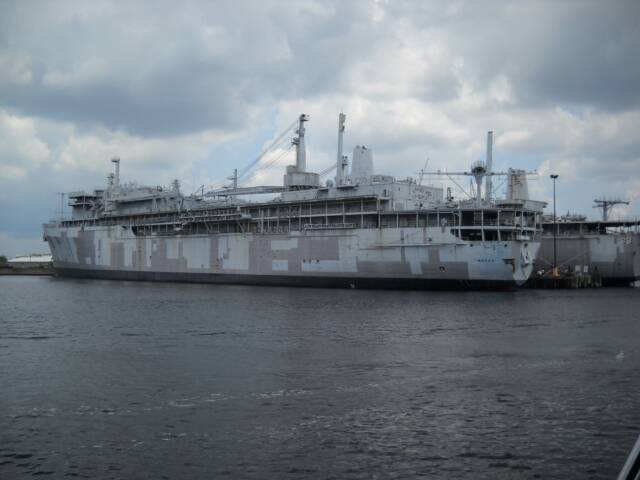 Norfolk is also a huge Navy Port.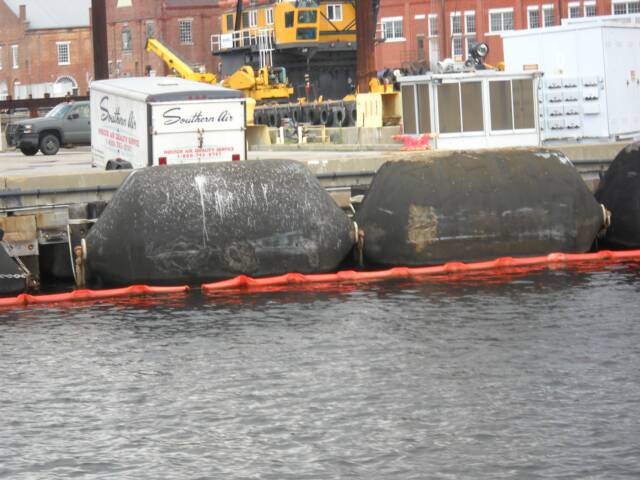 I did find these nifty Fenders, which would be handy for those difficult docking situations.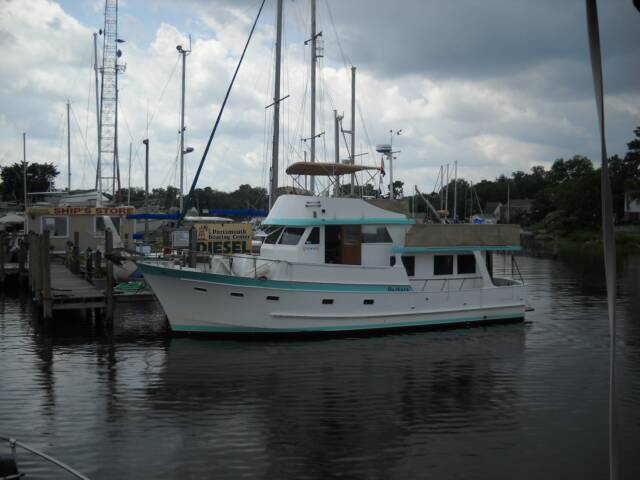 This is the MV Barbra at our secret fueling spot . Today the cost was $2.19 with tax!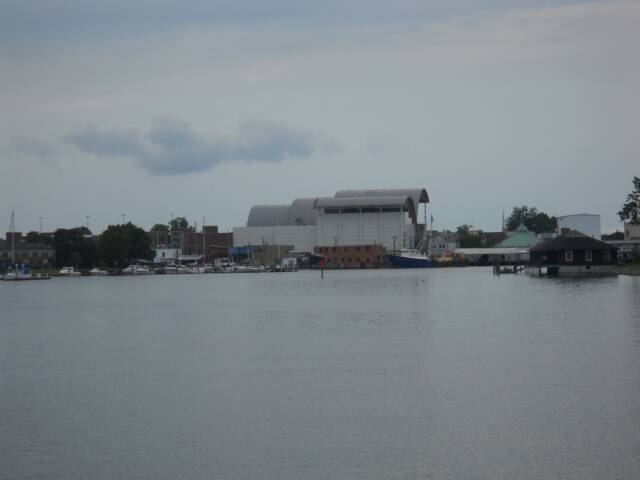 We went across the bottom of Cheasapeake Bay to Hampton, our home fort the evening. We stayed at the downtown marina, oddly enough located right downtown.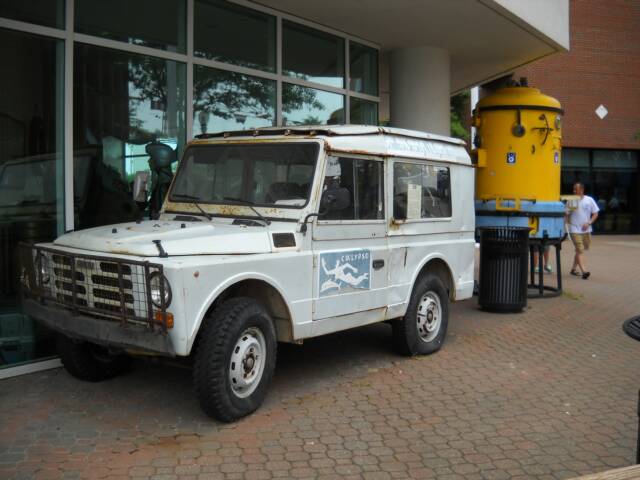 Right on property was the Calypso Museum, small but nice.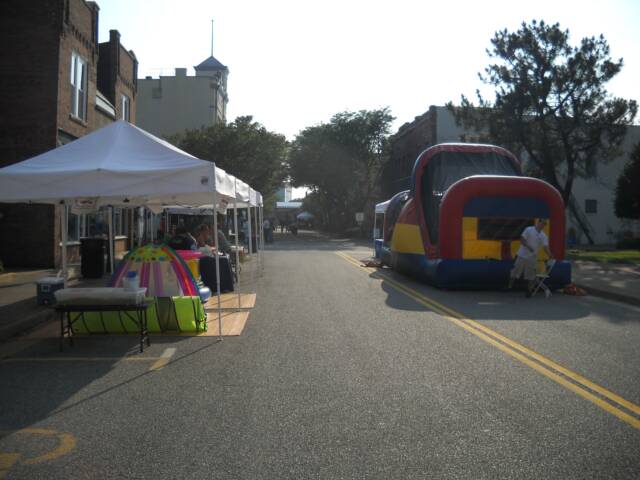 Two blocks away , they were setting up for this evenings street fest.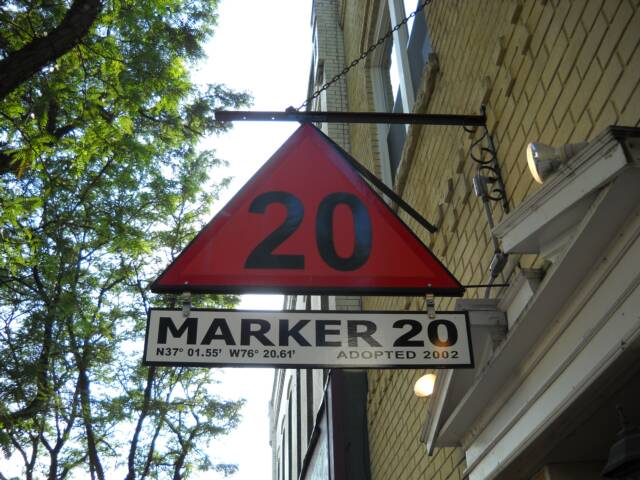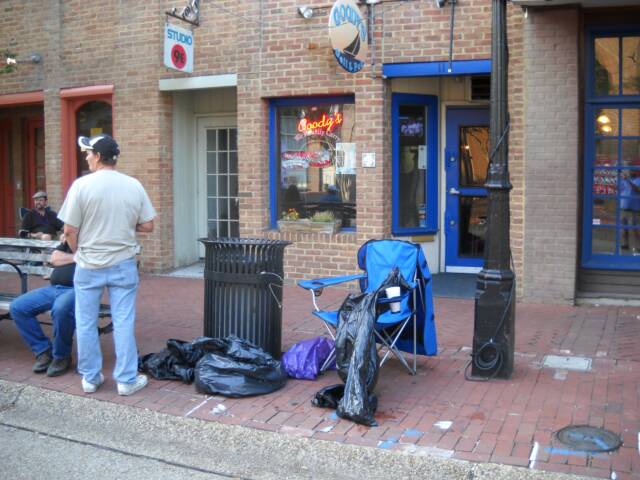 This is "Aluminum Guy", he is a profesional aluminum can collector. He was all set up with his chair with aluminum can bags, his drink holder, cooler, and a beer. Yep, that's what he did all afternnon.

We knew this to be a fact as while we did "dinner" an libations , we observed Aluminum mans technics.....he had his wife collecting cans, while he sat and drank..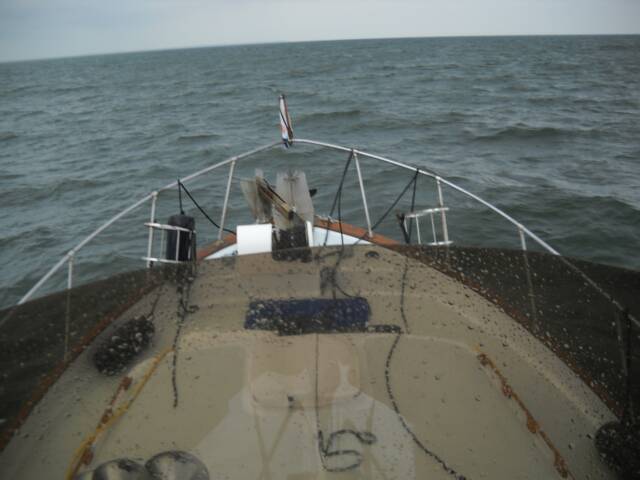 T'was a rough wet day on Chesapeake Bay today, as we head to Deltaville.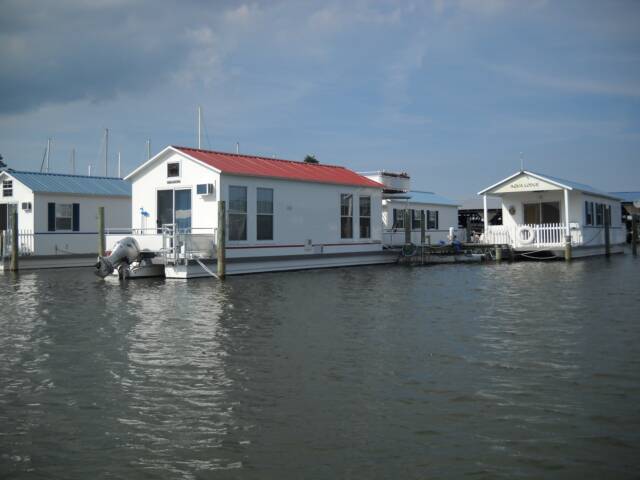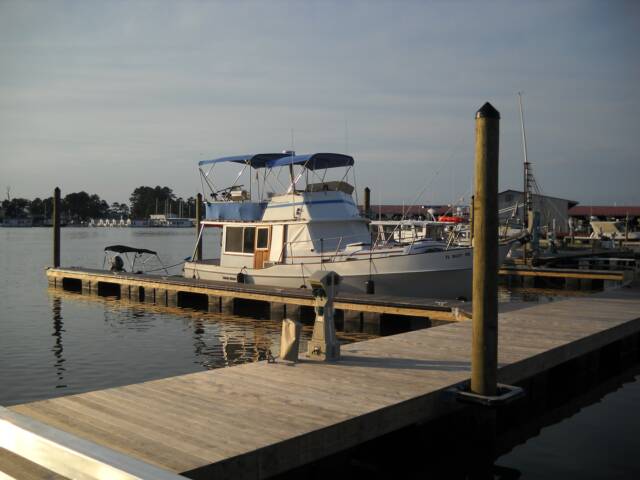 Docked at the NEW floaing docks.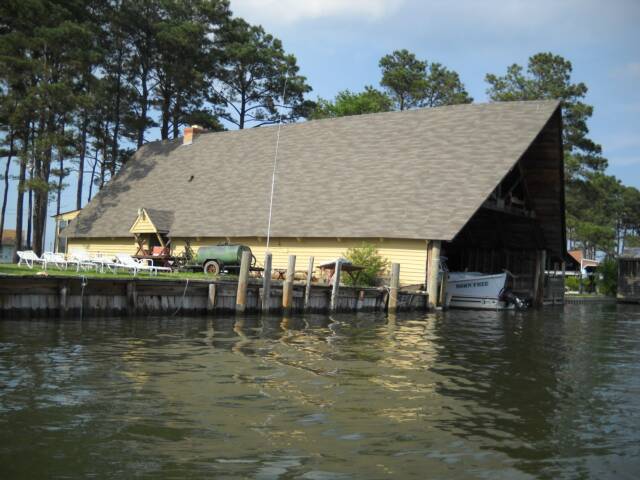 Did a little dinghy tour of the Deltaville area. They havem  really huge Boat houses, to keep your boats in.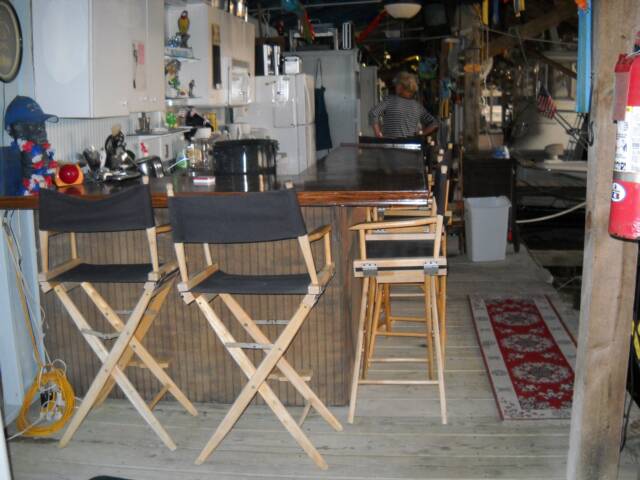 This boat house had it's own bar,complete with tv, full kitchen, and frig.

The marina sells and rents these little weekender house boats, most had no motors. Notice the deck on top of the front porch?