The Sterling Lady on the Great Loop, again

for her Second time!

2/1/09

May 1St, 2009, is our planned departure date for our SECOND time around America's Great Loop! That's plan A anyway.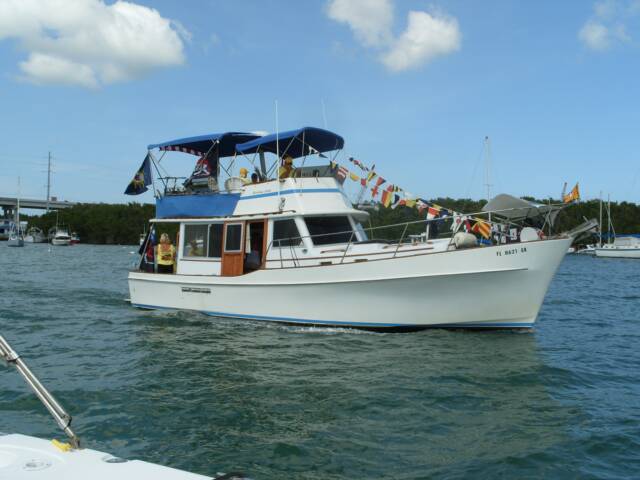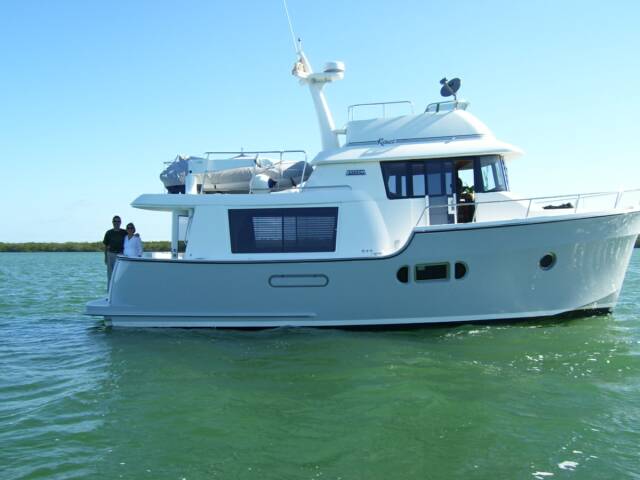 57 days and counting, till our May first Great loop 2nd time around, departure.

Besides running My Tour Boat business here in Key largo, and sticking every penny I can in the bank, (and under the bed) we have also been working on the Sterling Lady, getting her ready for the trip.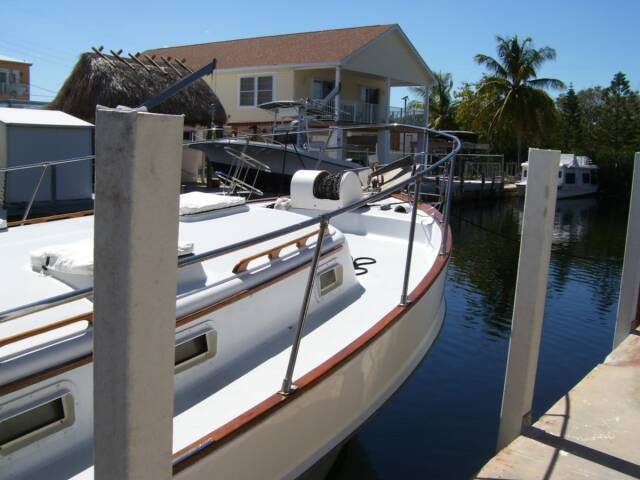 Oh my God! The teak, it's cetoiled!  As much as I HATE teak, I did do the teak on the boat, but I used good ol seatoll, not Varnish.

And please note the NEW 6 inch square bolted to the concrete PVC sea wall pilings.

Yes, we have the nicest pilings on the canal!!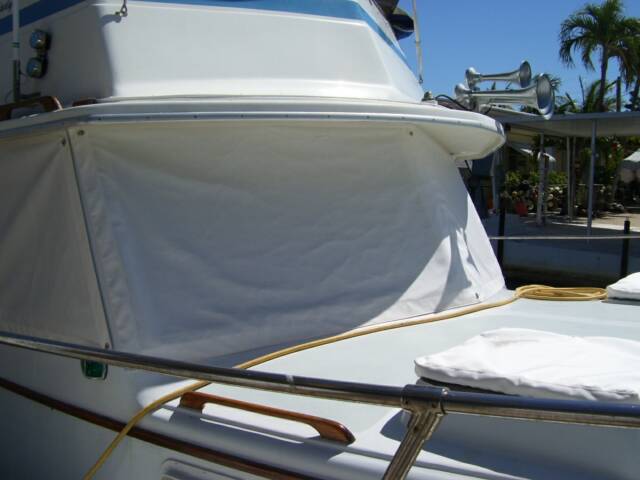 Since the Admiral likes her privacy, when we are docked bow in at a marina, I had these windshield covers made on the front and...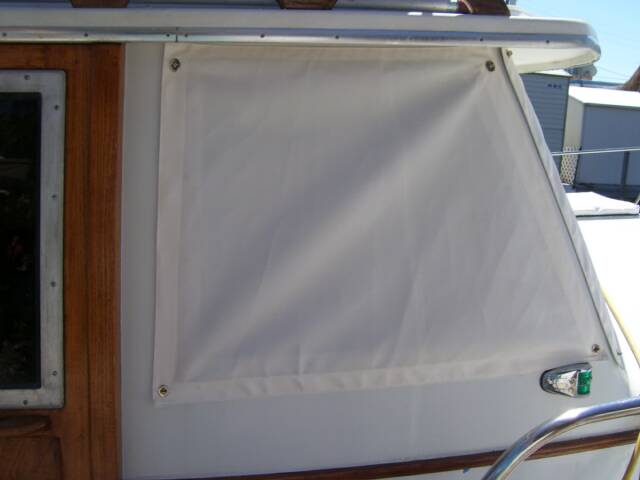 on the side windows. I tried it out, I can

still operate the windlass from the lower station with the shades up.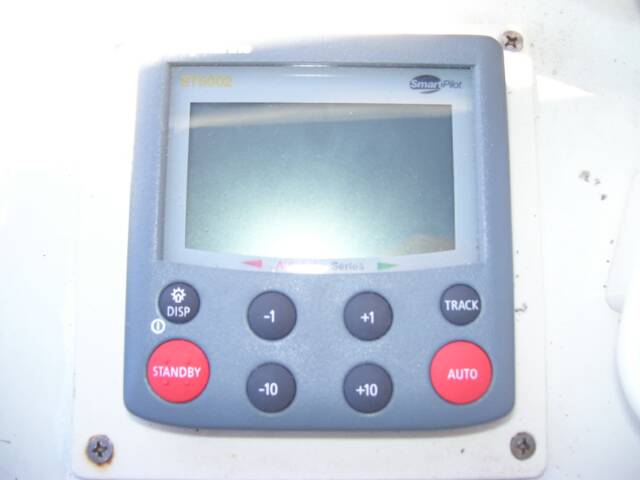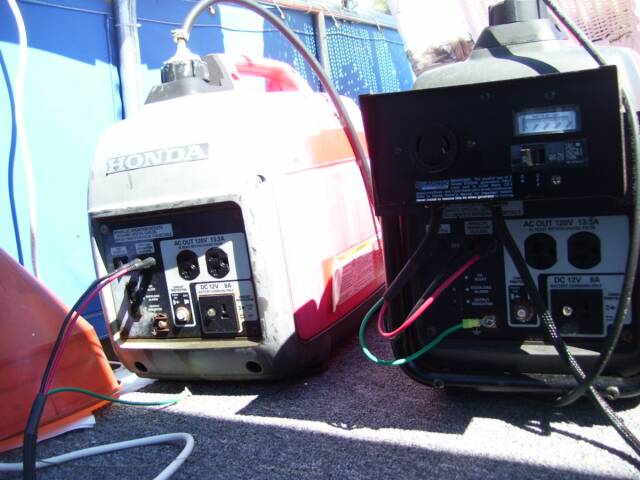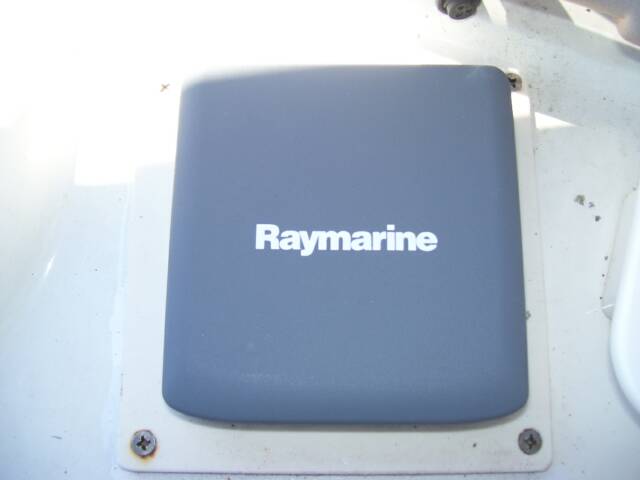 West Marine had a close out sail on auto pilots. Over the past 3 years , I have put over

$1,000 in auto pilot repairs on the old Simrad, and it never worked right, or for long

Now we have a new Raymarine!!

I added another Honda Genny, and a combiner, which puts both gennys together to produce 4,000 watts of power, enough to run EVERYTHING on the boat! The best part, we can run just one genny , unless we need more power for AC or cooking , then all ya have to do is fire up the other genny.

For those doubters, my diesel 5.5 kw genny onboard is functional, I just seldom use it.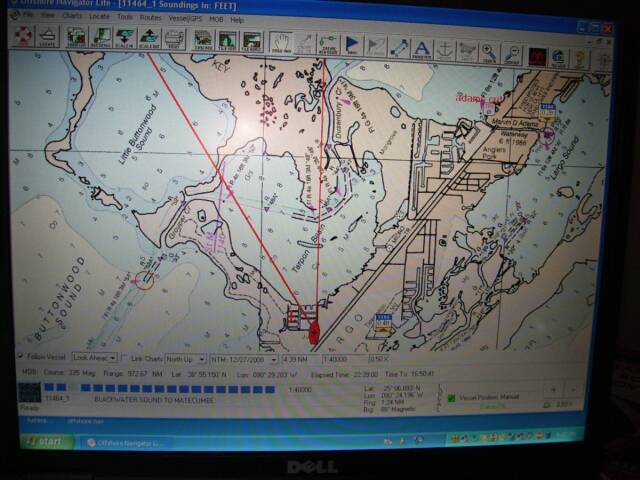 3/12/09

My new Offshore Navigator program for my laptop , with it's own gps, arrived today

and works great. This shows you exactly where I live!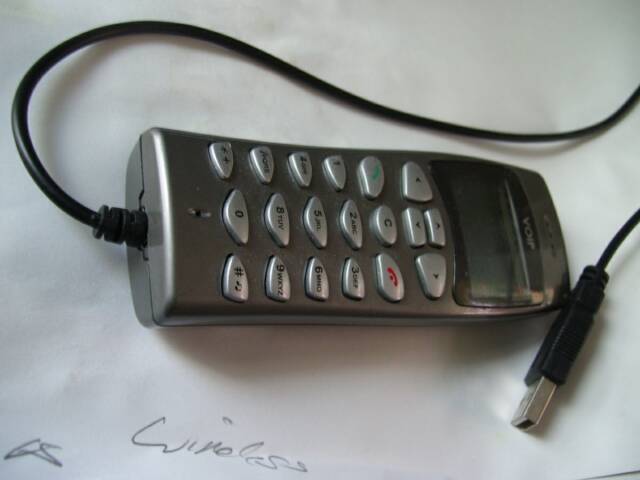 Also got installed a Skype internet phone, cheap service, and works anywhere there is internet.  This will be the phone I use in Canada. Verizon wants 49 cents a minute.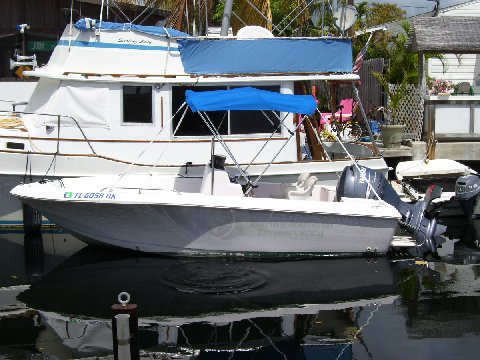 In the believe it or not category, I purchased this Proline center council boat for $300 with no bimini and an old force 90 hp out board on it. Sold the outboard to some Cubans for $150, put on a bimini, and a NEW 115 Yamaha, and presto, I got a toy boat!

Only 42 days left till our Great loop departure date!

3/29/09

So today, FINALLY, I finished the work in the "holy place" the Bilge. Changed the impeller( what a pain in the az*), near impossible to get to, did the oil, the zincs on the motor, the transmission fluid, the

coolant fluid, the Water strainer on the intakes, and everything else I could think of! dang. Let's go cruising, only 34 days left!!!

4/13/09

This is my  14 ft. Carolina skiff (the unsinkable boat that sank twice, but that's another story) which I dragged , in the water, behind the Lady, all the way around America's Great loop on the last trip.  Today I put the AGLCA flag on the transom as this boat did it, earned it, and deserves it!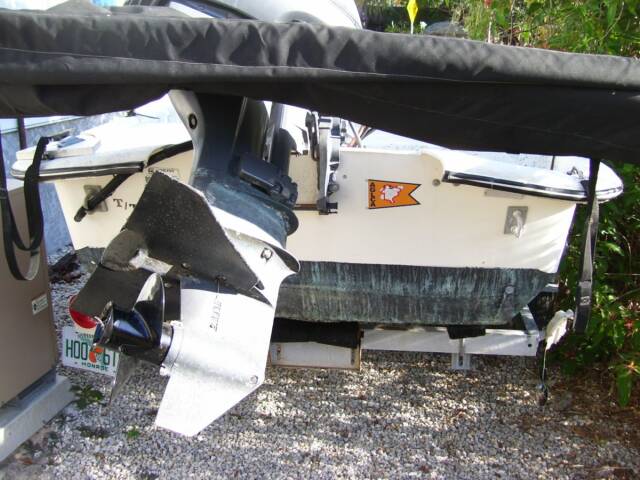 Also spent some $$ and time preping and maintaning the dink for the upcomming loop. She is ready. Even got a new prop!

Put the Flag Decals on either side of the bridge also, guess I am a little proud of having done the looop, what d ya think?? 17 days and counting.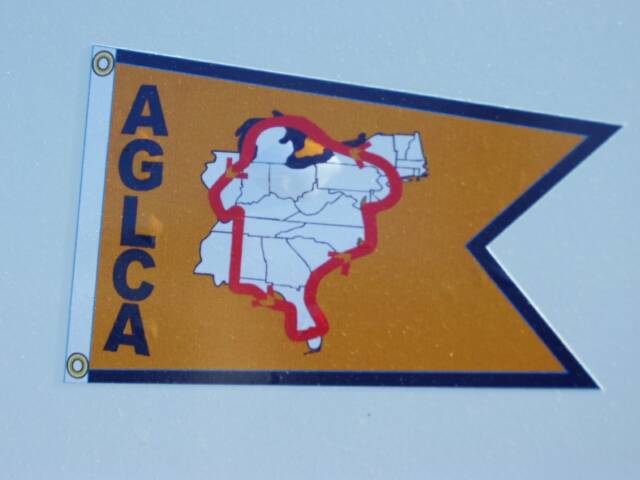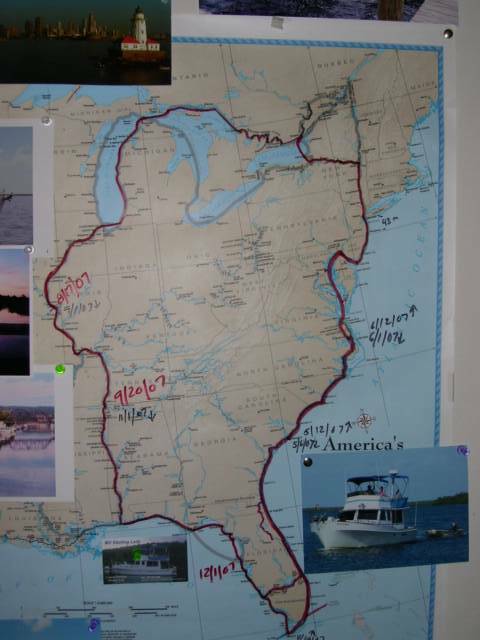 4/24/09

7 days remaining till cast of time!

For those who don't know, this is a map of America's Great loop, I live at the very bottom of it, right under Florida. The red llines are where we have cruised over the years.
4/30/09

Just 1 day till departure, and I have rented my house , so am living on the boat, at the dock. This afternoon, I hear a beating on the hull every few seconds. At first I thought is was a stupid fish running into the hull , but then I went out to investigate and this is what I saw....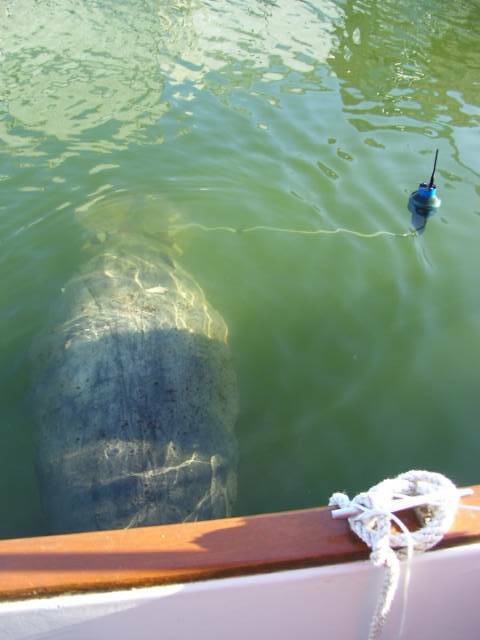 T'was a Manatee, (actually two of them) and one had a tracking transmitter on his tail. He was hanging out under the lady, attracted by the ac water, and the floating transmitter was hitting the hull.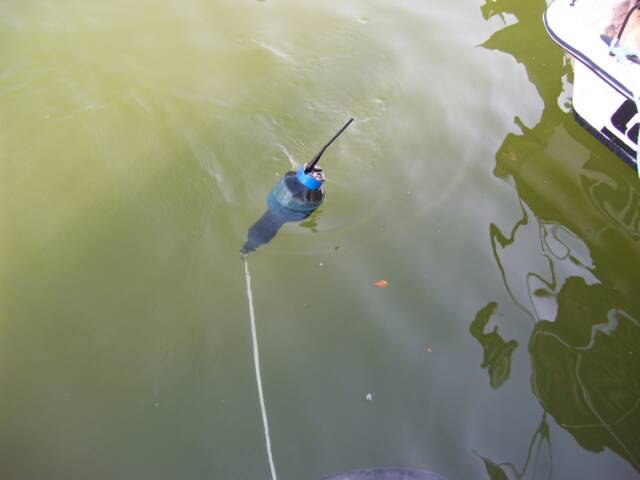 They put these satellite tracking devices on injured manatees after they fix em to see where they hang.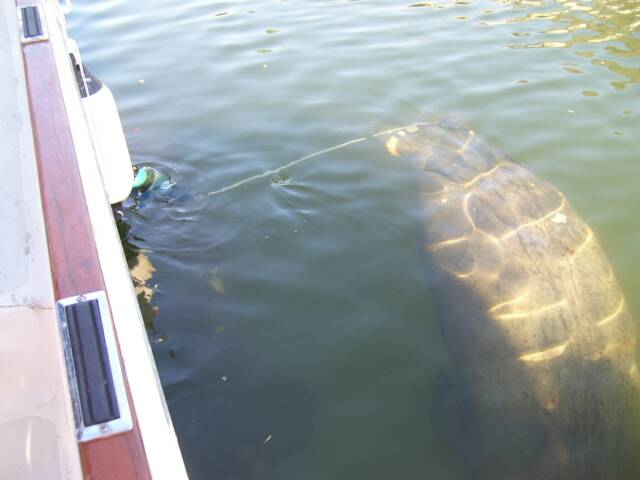 See?

Ya know, ya gotta love living here!!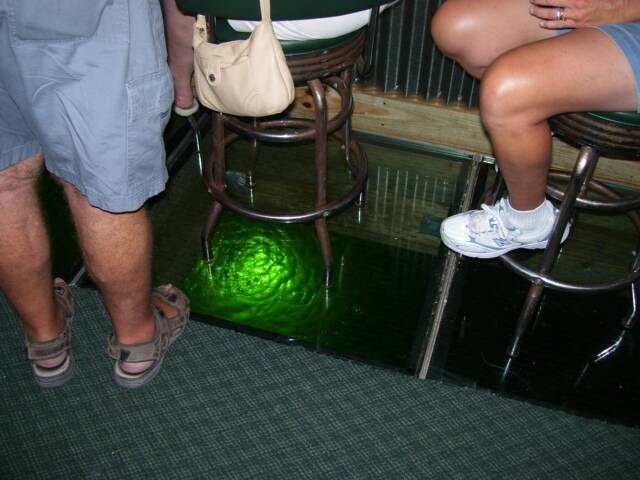 5/2/09

Since we postponed our departure until  Sunday (to avoid all the SeaRay wakers in Miami) we spent our last nite in Key Largo at the best bar on the Island, the Pilot house, the world's #1 Glass Bottom Bar!!

As it happened , tonight was the Kentucky Derby, and they had a ladies Derby hat contest. The third woman from the left won it.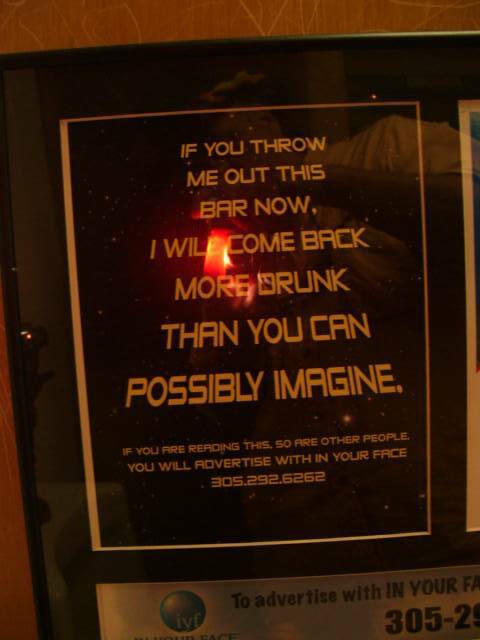 And as a final tribute to the Pilot House, this is one of my favorite sighs that hangs in the men's bathroom.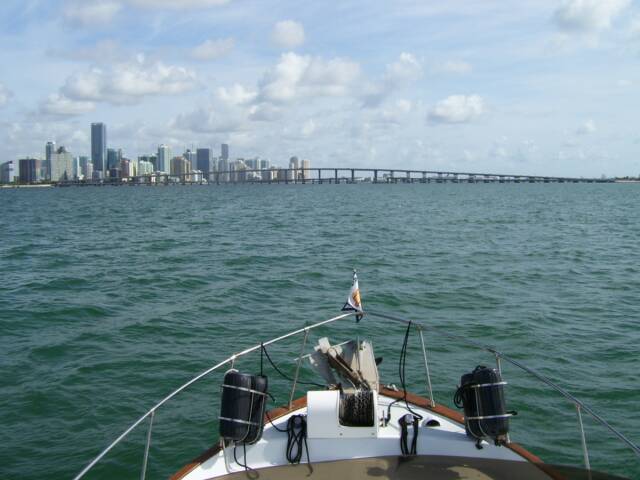 After a final great get together raft up send off at Dog Beach off Main Key in Card Sound, we head up to Elliot for the nite, and now are coming to Miami.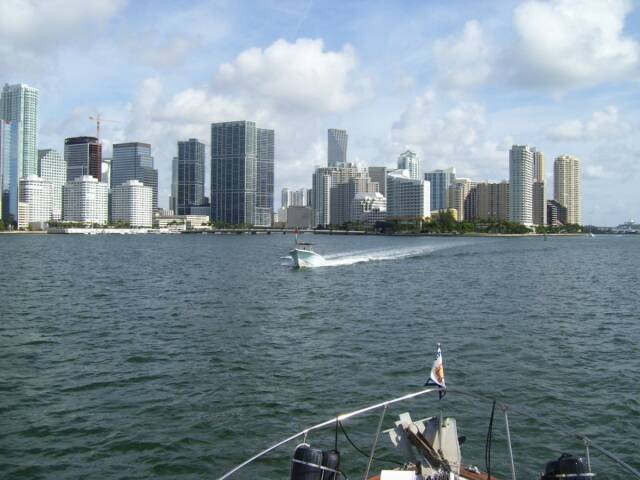 Miami is a great place to cruise through. Lot's of things to see. But we NEVER stop there, too mean a town.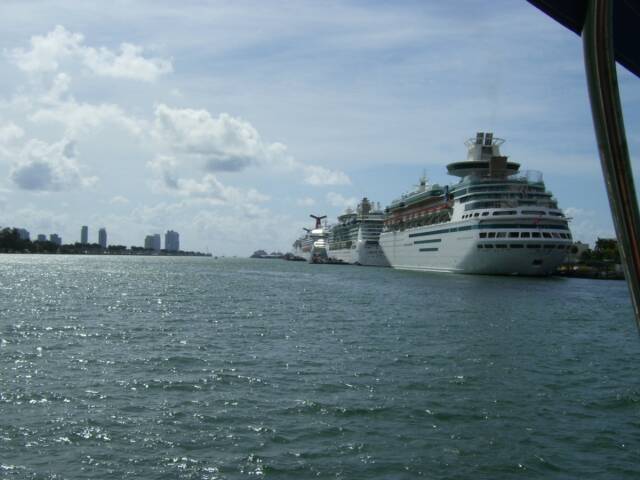 Since all the cruise ships were in, the port of Miami was closed to all traffic, vessels had to use the south channel.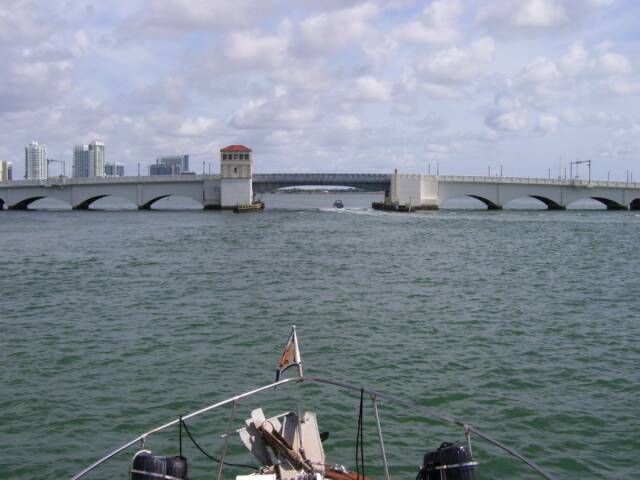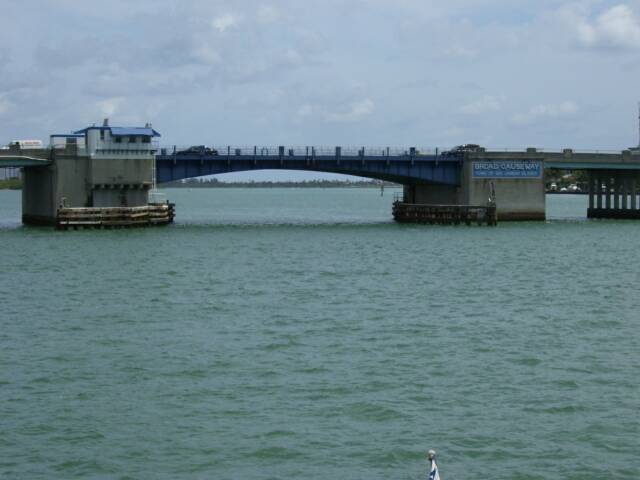 There are two bridges in Miami nearly every cruiser will have to wait for, this is them.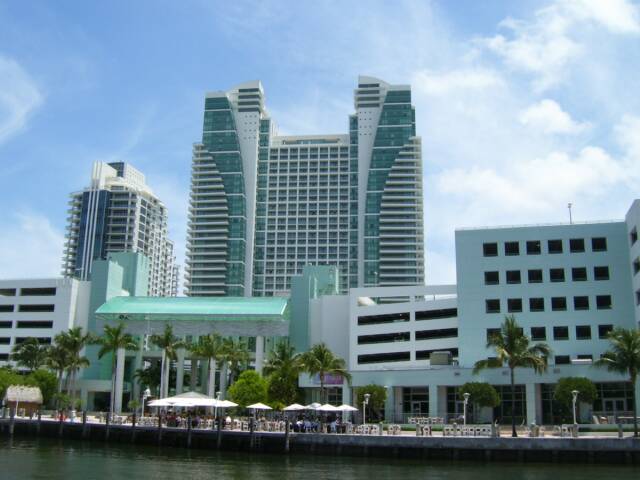 Another Miami hotel I will never stay in..most likely.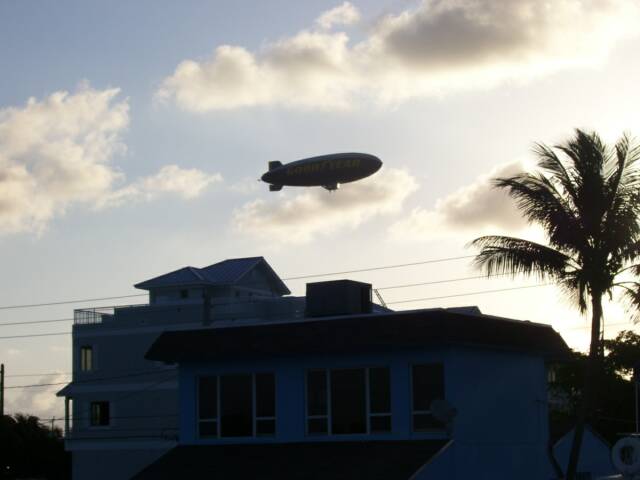 There are just as many reasons to like Fort Lauderdale, as there are to dislike Miami,

The Goodyear Blimp for one.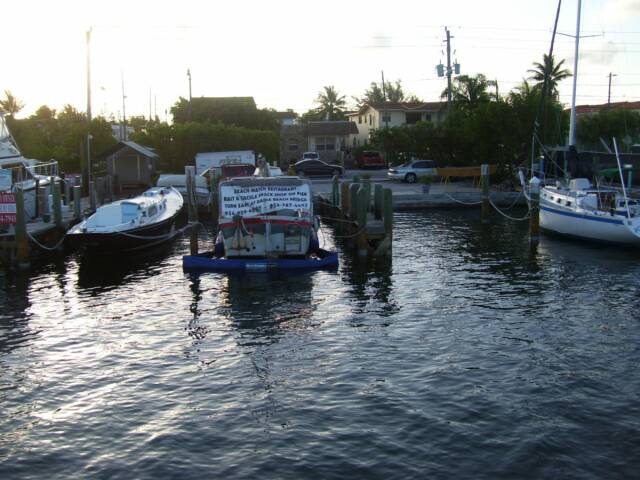 If you can't afford a billboard, hang a banner on a crapy sailboat.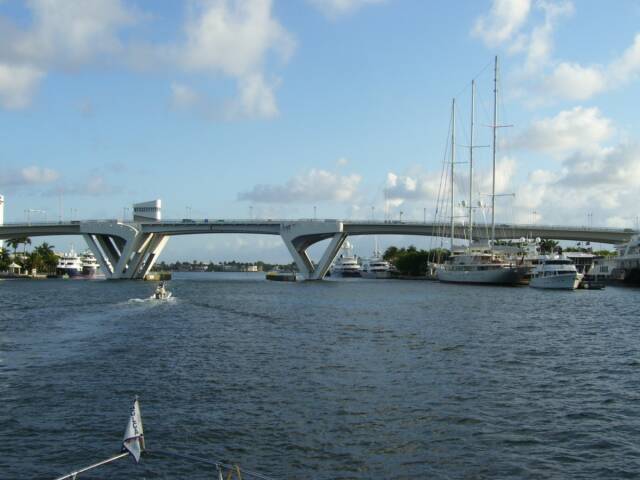 Welcome to FLL (Fort Lauderdale) better known as Fort Licquordale......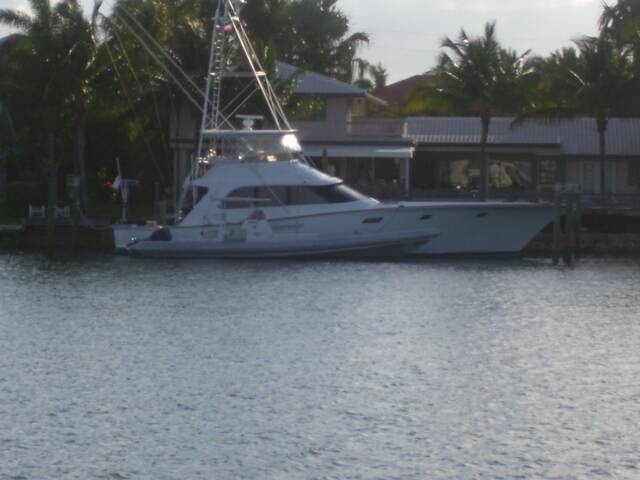 Home of the worlds largest inflatable dink (tied to the sportfish) and...

the "yacht capital of the world"!~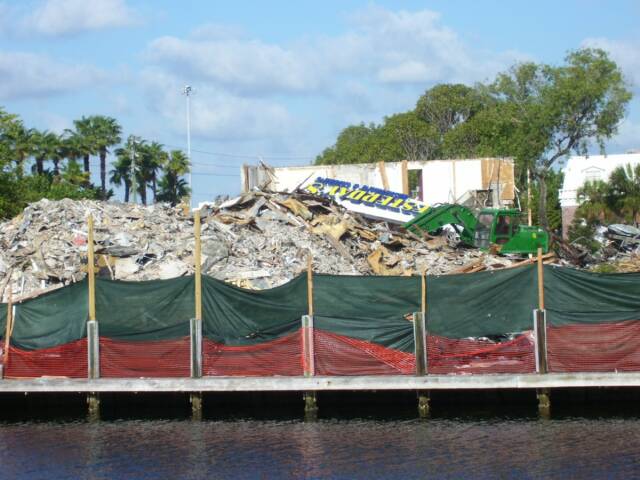 On a positive note, there was a lot more new construction going on, but on a sad note Yesterdays is No more!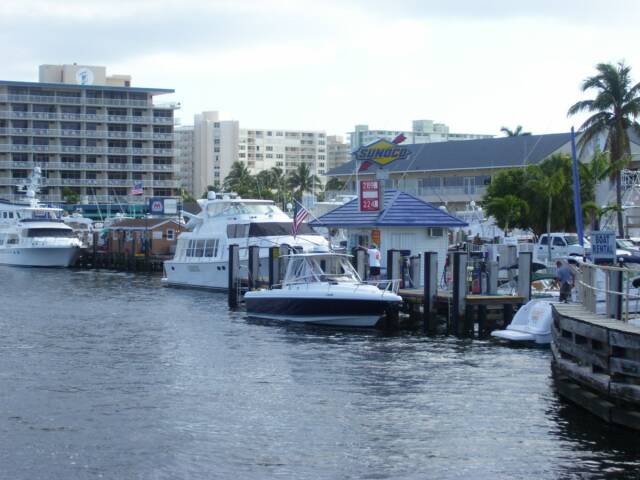 Today diesel is $2.24 and Non Ethonal fuel is $2.48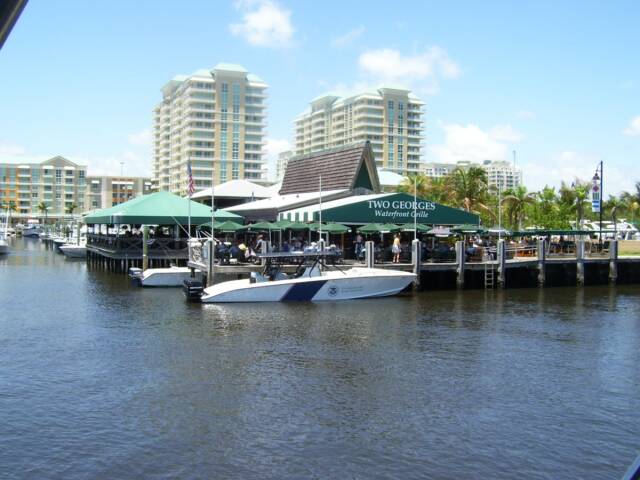 Today the goal was Two Georges (dockage $1.50 a foot) to meet some friends who live here.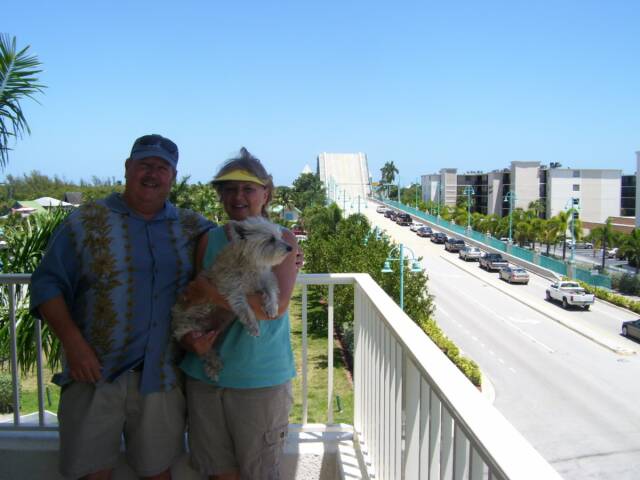 This is Mickey and Karen, Two great people who live, as you can see, in a condo , right at the Ocean Drive draw bridge in Boynton Beach, and were terrific hosts!!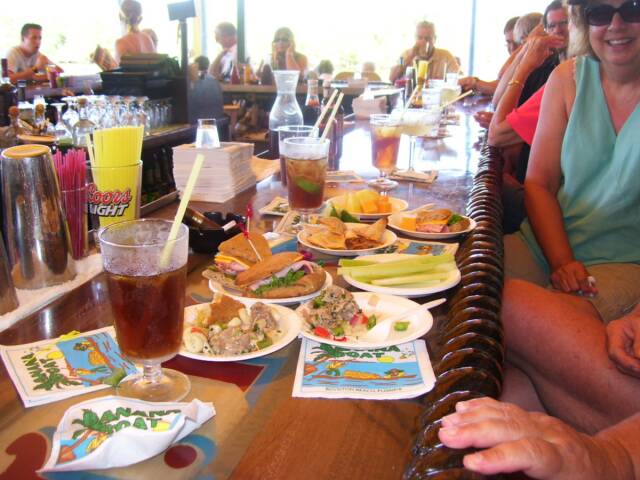 Bananna Boat  Bar offers a great happy hour buffett, and cheap drinks , Monday thru Friday, cruisers don't miss it.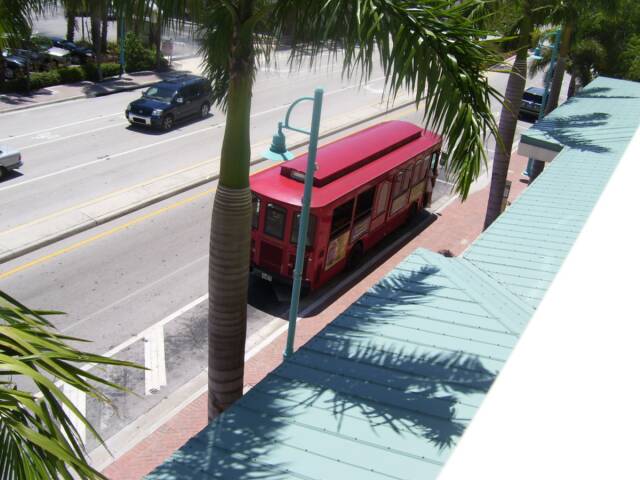 And FWIW, there is a free trolly, right of the marina ,to take you shopping, etc.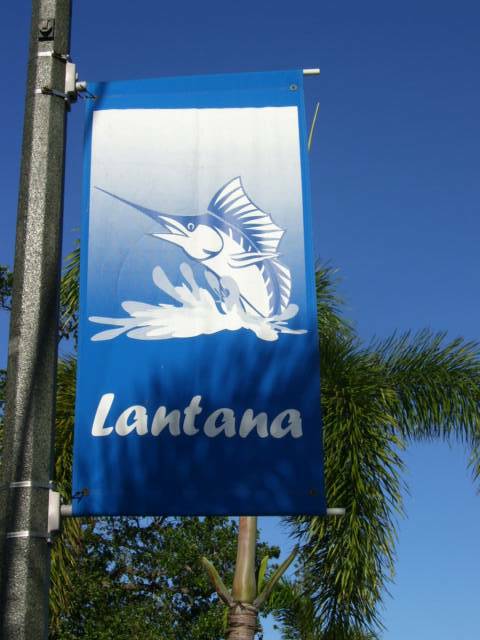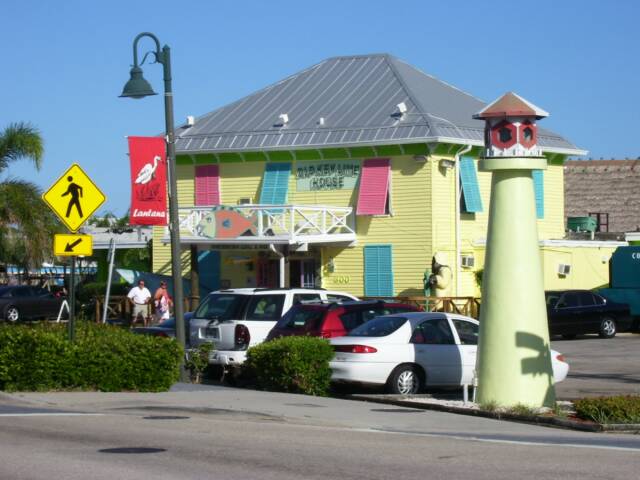 5/6/09

This afternoon, around 4 pm, after a grueling 4.3 miles on the icw, we dropped the hook at one of our favorite stops, the anchorage at Lantana Bridge, home of the Key Lime House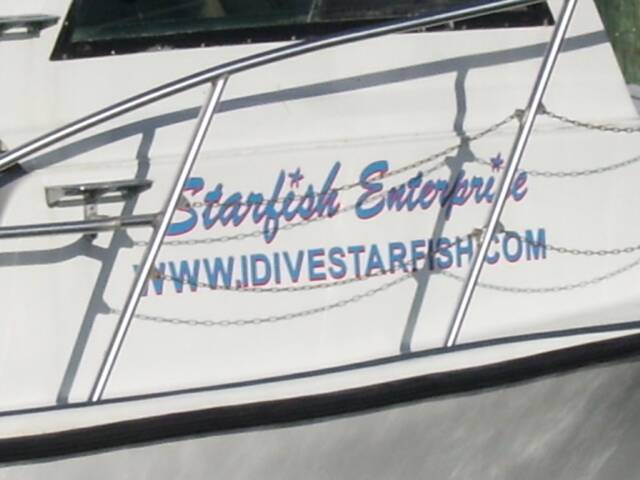 IN the strange name department, this dive boat runs out of there.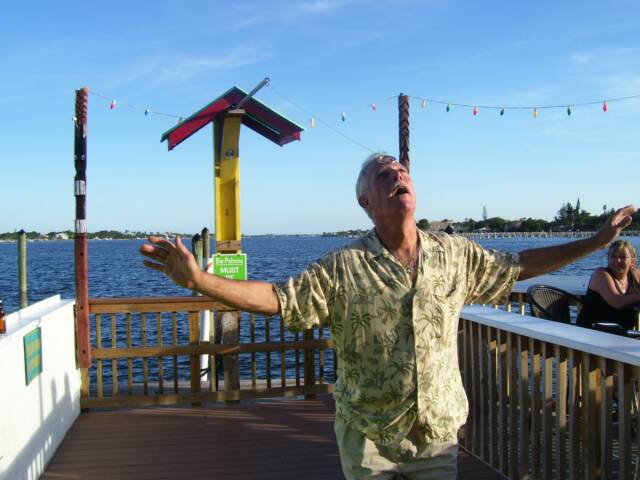 Now comes the story of the "ring toss man". this guy puts the ring on his head facing away from the ring toss,  and......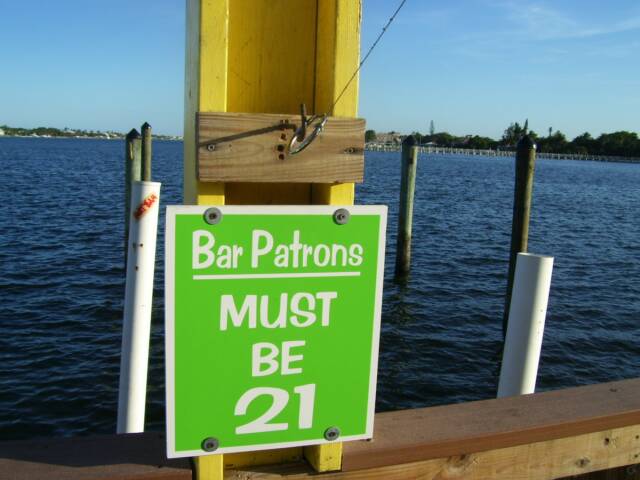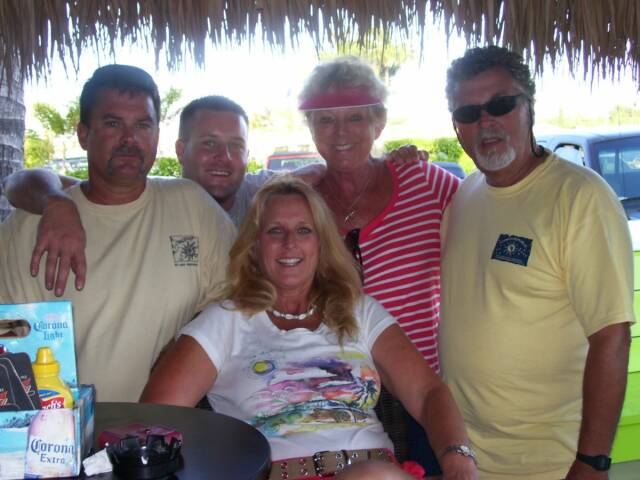 This is the crew we met, from left to right, Jim, Judy's grandson J,p, Judy's daughter Vicki,  Admiral Judy, and of course, the ol' captain his self!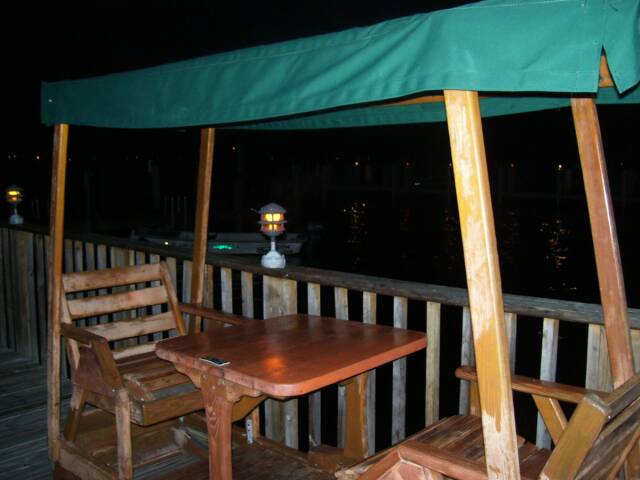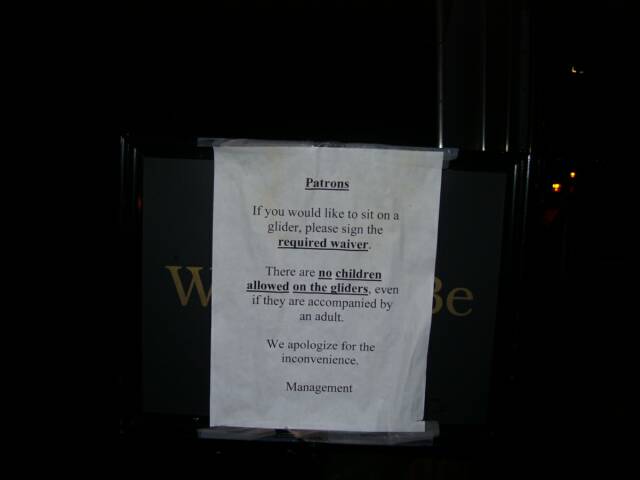 To sit in these swinging chairs, one must first sign the waiver below,,

5/7/09

up and outta here at the 7:30 bridge opening, heading north.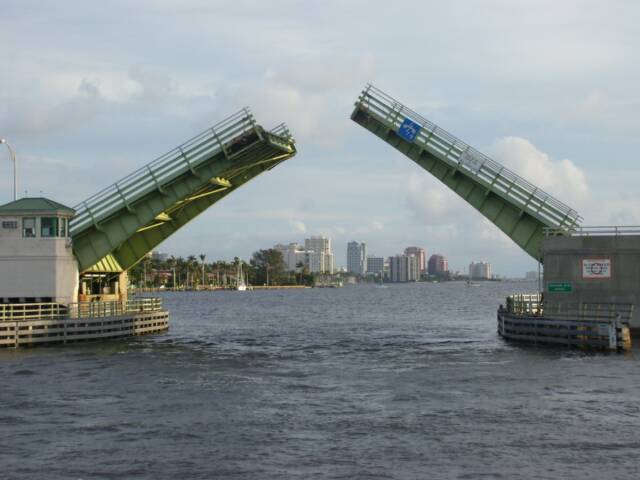 Coming into West Palm Beach, and it was rush hour. 8 am. I know those drivers were either cussing me or jealous .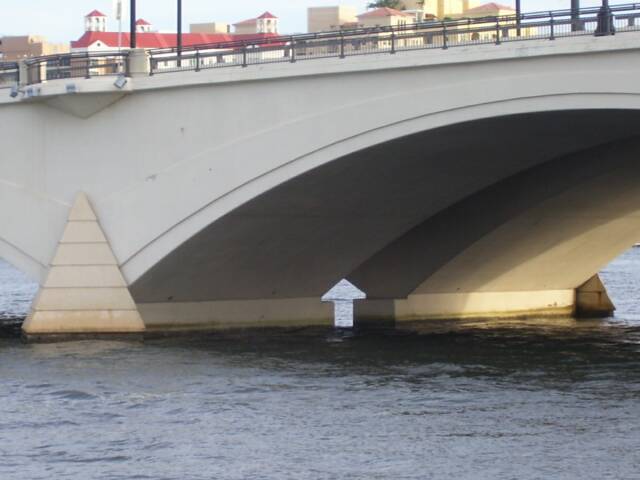 the arrow is an illusion that expands as you pass thru the bridge. Its the gap between the bridges.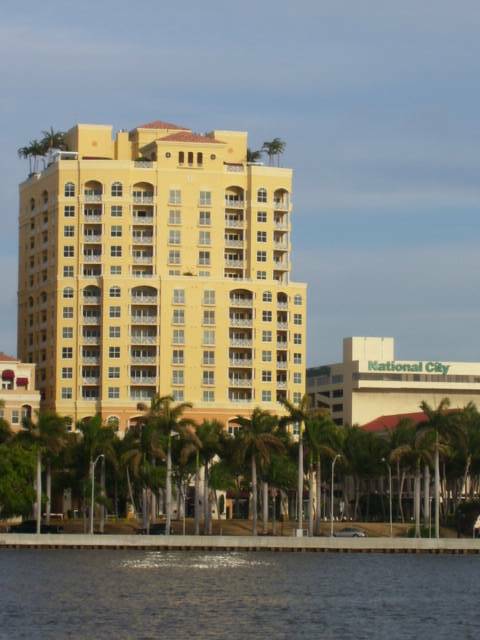 I especially like the real palm trees ON TOP of this building.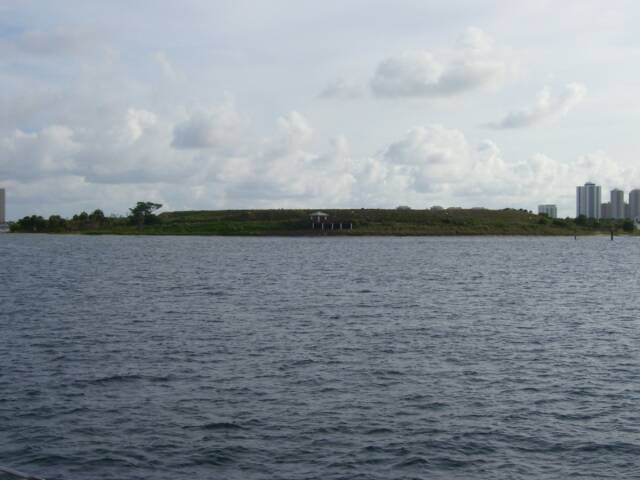 Peanut Island, at the West Palm harbor, is where President Kennedy's family had its bomb shelter undergound. It is now a park.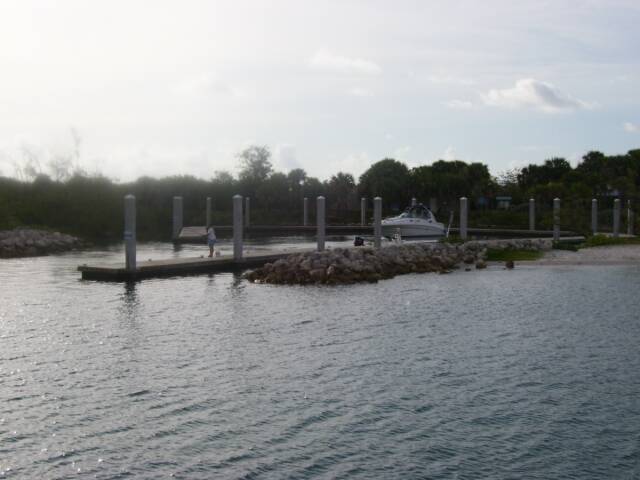 Peanut Island has a small harbor, but I don't know how deep it is, or if you can dock there overnite. I didn't see any electric posts.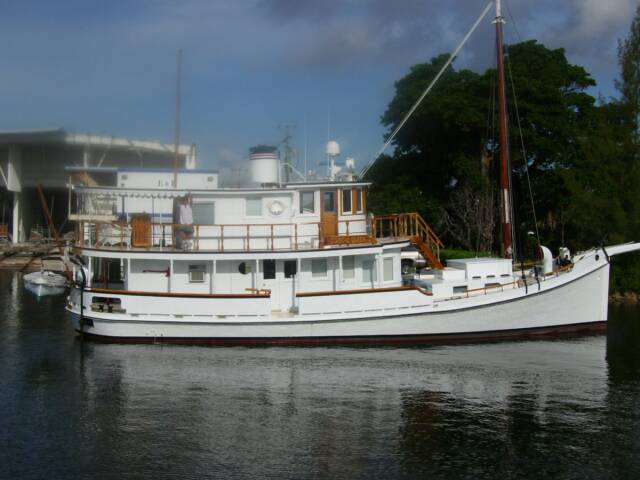 A really neat ol' wooden boat.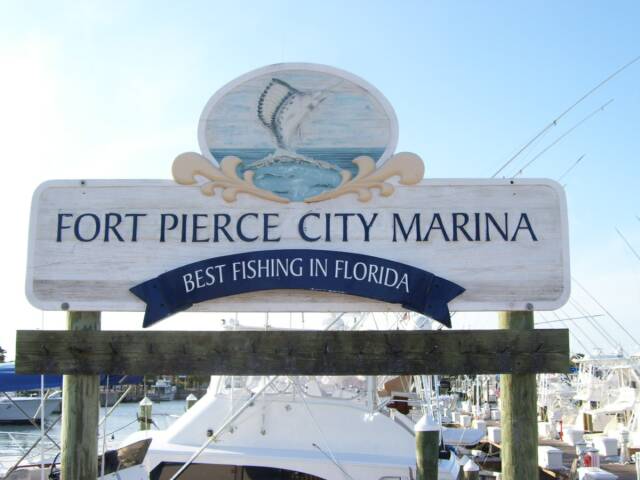 Tonite's home will be Fort Pierce Marina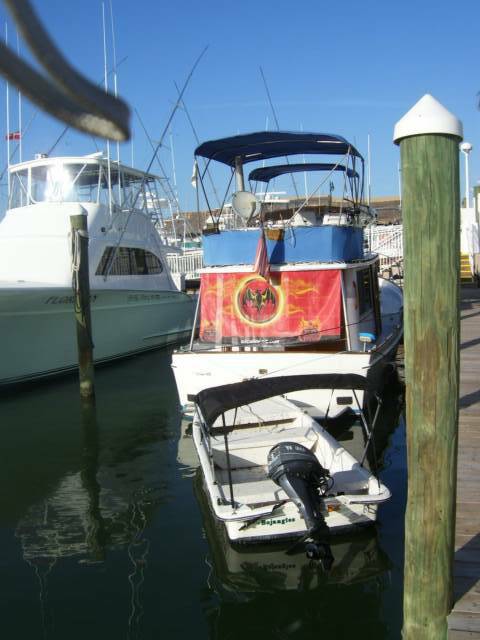 Got the first slip, stern to the west, hence the Bacardi Sun screen came out.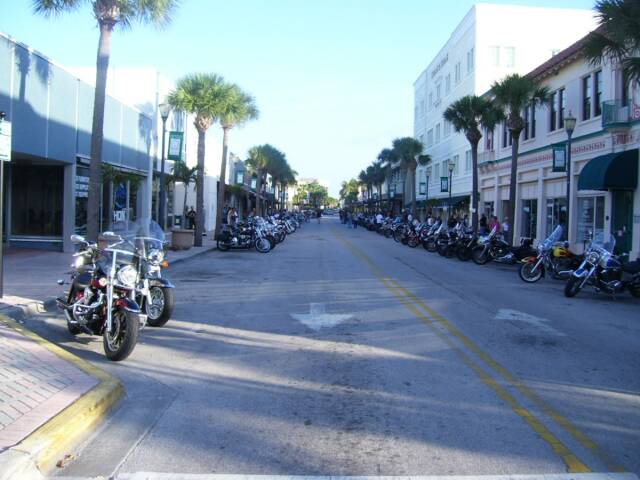 It was bike night in downtown

Fort Pierce, where the marina is located.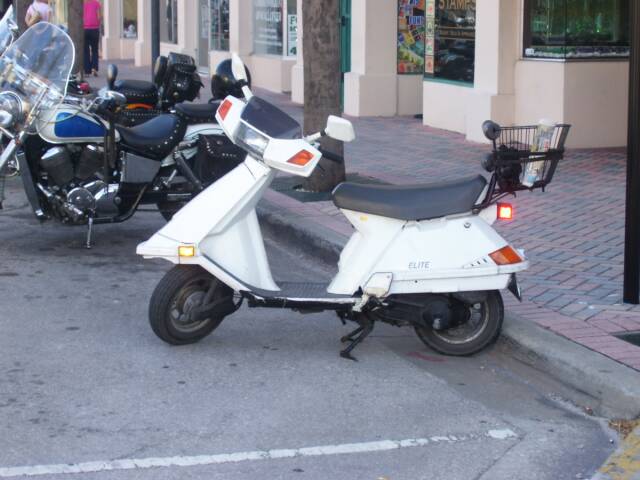 This brave sold brought his scooter amongst all the Harleys.